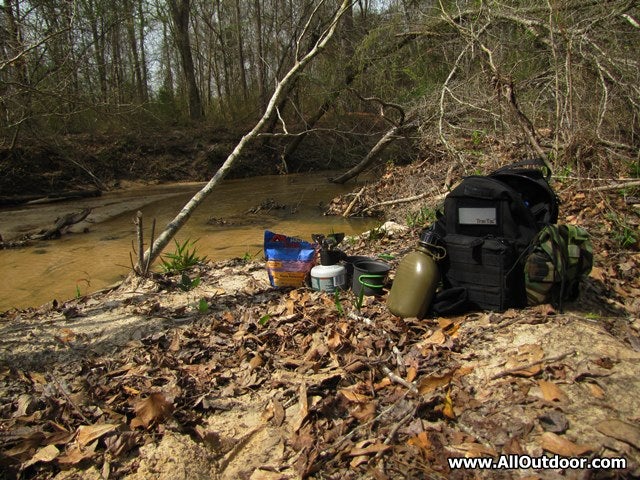 Day packs are something that are used to get out of the house for the day. It must be able to carry enough gear to spend the day away from home, but not overly large or cumbersome. It can be a backpack, sling pack, courier/messenger bag, etc.
Next, let's define the "essentials." This is going to vary depending on the trip. Once a year I go to the Renaissance Festival in Plantersville, Texas. I take the same pack there that I take on wilderness day hikes.
My typical day hike gear list:
Water bottle and/or canteen
Water filter
Snacks such as a Mountain House meal or peanut butter sandwich, depending on trip length
Knife or multi-tool
Maybe my Coleman Max stove and fuel. This is to boil water for the Mountain House meals.
Mosquito repellent
TOPO map, compass and GPS if I am not familiar with the wilderness area
Rain poncho
Now that we have defined everything, let's move onto the list of daypacks.
TravTac Onyx
Until recently, I had not heard of TravTac. A representative from the company contacted me through my youtube account and asked if I would like to do a review of the TravTac Onyx. At first, I was not too enthusiastic. It looked like just another sling pack. When the pack arrived and I looked it over, I realized how different this pack was.
SHOP NOW
Your standard sling style pack has a fixed shoulder strap so that it can only be carried on one shoulder. After a few miles on the trail, the strap starts grinding into the shoulder muscle. The TravTac Onyx can be swapped from one shoulder to the other. The sternum strap is not fixed and can be adjusted up or down.
Travtac Onyx specs:
Total estimated capacity of 686 cubic inches.
1050D ballistic fabric shell
TMC and MOLLE attachments
Completely assembled in USA with double stitched construction
Lifetime material and workmanship warranty
Maxpedition Noatak
I have several Maxpedition packs and all of them are built to the highest standard of quality and workmanship. The Noatak is no exception.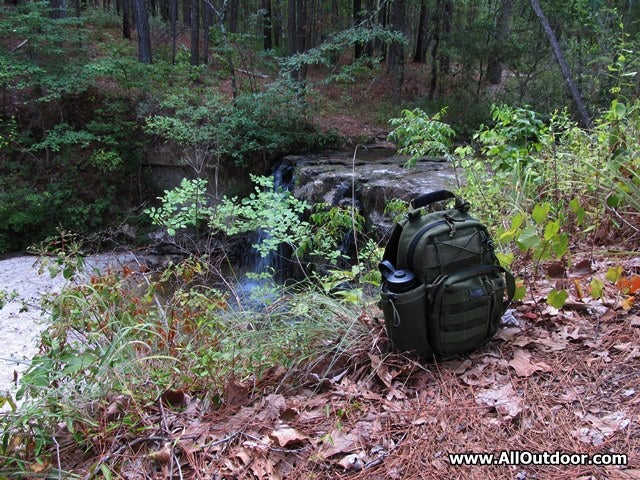 This is one of my favorite lightweight day packs. It has a built on water bottle pouch and is large enough to carry the essentials. I use this pack for short trips that are usually a couple of miles.
Maxpedition Noatak specs:
Volume: 500 cu.in.
YKK high strength zippers with paracord pulls
Triple polyurethane coated for water resistance
Whistle on the sternum strap
The shoulder strap is fixed and can only be worn on the left shoulder.
Maxpedition Pygmy Falcon II
One of my all time favorite day packs. When I want to grab and go, this is the pack I reach for. The Pygmy Falcon II has two attached mesh water bottle pouches, one on each side. The main compartment is large enough to carry just about all of my essentials. The TOPO map and GPS go in the rear external pouch.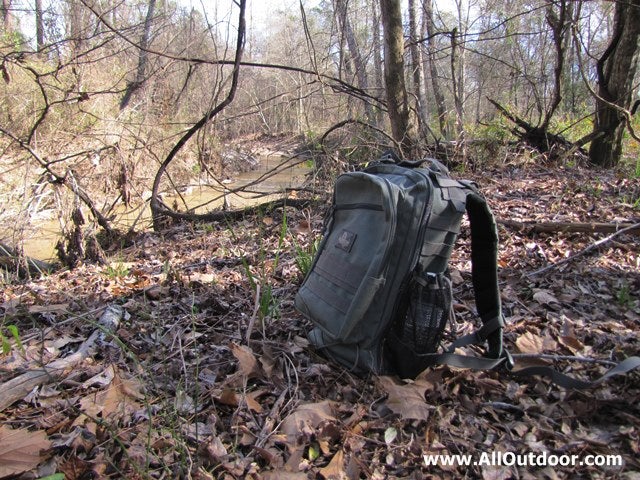 The Pygmy Falcon II is a regular backpack and has two shoulder straps.
I recently did a full review of Pygmy Falcon II, you can read it here – Maxpedition Pygmy Falcon II Review.
Maxpedition Condor II
If I am going to spend all day on the trail, this is one of the day packs I reach for. This the largest pack we have talked about. It has a large main compartment and two outer pouches.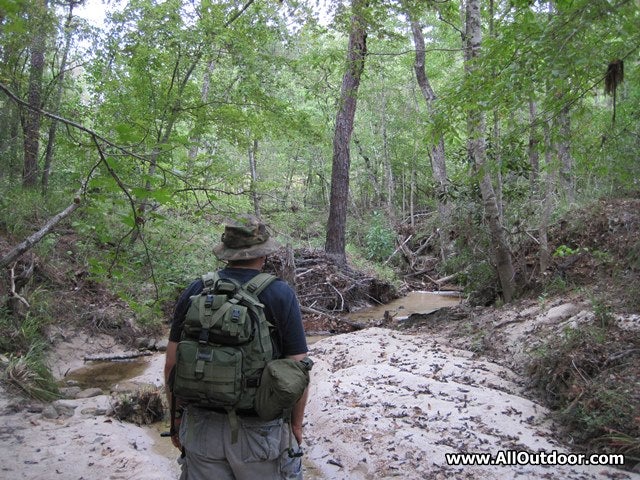 SHOP NOW
The larger of the two outer pouches is big enough to store TOPO maps, compass, GPS with room to spare. The smaller outer pouch is large enough for mosquito repellent, multi-tool, and toilet paper with room to spare.
There is webbing on the sides and back for pouches, water bottles, or canteens.
Maxpedition Condor II specs:
Volume: 1400 cu.in.
4 channels of PALS webbing
Removable sternum strap made from 1″ webbing
Removable waist strap made from 1.5″ webbing
Jansport Classic Black Nylon Backpack
One of my first day packs was a Jansport black nylon backpack that cost $25. I bought it sometime in mid-1990s and used it for close to a decade. I use to cram that pack with a hammock, MRE, spare shirt, knife, canteen, rain poncho, poncho liner for warmth while sleeping in the hammock, and other odds and ends.
Twenty years later this is still one of my favorite day packs. After a decade of use, some of the stitching started to come apart. Because of the stitching, the pack was retired to a box in the closet.
This goes to show that you do not need to spend a lot of money on a day pack. Get something that fits your budget, carries your gear, and is comfortable to wear.
Day Packs and the Outdoors
The most important thing is to enjoy the outdoors. Get out there, enjoy the peace and quiet and have a good time.
There is nothing like having lunch next to a peaceful stream far away from the hustle and bustle of modern life.