Side-by-Side Comparison: Ruger 57 vs. FN Five Seven
Russ Chastain 06.02.20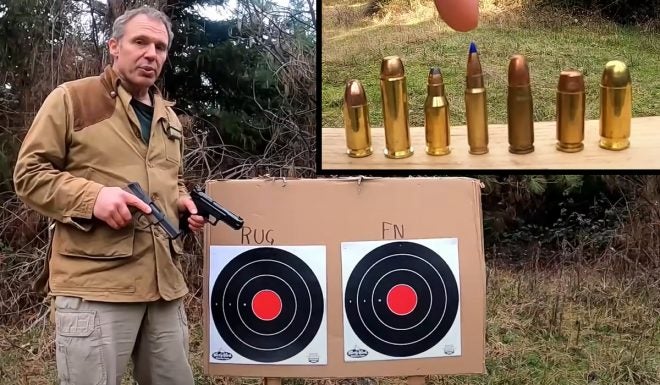 Several months ago, the Ruger-57 pistol made a big splash because, for folks who want to shoot the 5.7×28mm cartridge, it's pretty much the only alternative to the FN Five Seven, which is ridiculously priced at more than a thousand bucks. I told you about shooting the Ruger at the 2020 SHOT Show Range Day.
At the time, I mentioned that the FN pistol was priced at $1,435. Well, it would appear that Ruger's presence on the market has already brought down FN's huge ask by a couple hundred bucks to $1,199.
For folks who want a side-by-side comparison between the two pistols, Paul Harrell has made a video (see below).
He starts out without any nonsense, which is nice. I'm not a big fan of lengthy intros.
The accuracy comparison shows the Ruger producing a better group than the FN, and then he talks about the fact that he had to replace the FN's adjustable sights with fixed sights because they wouldn't hold zero, while the Ruger's sights stay where he sets them. Big difference, and certainly disappointing to hear about an apparently poor design on FN's part.
Another notable failing of the FN, in my opinion, is that it has a magazine safety which prevents it from firing unless a magazine is in place. I'm not a fan of such things… in fact, if you click here you can learn how I deleted the mag safety from a Zastava M57/Tokarev pistol.
Paul takes quite a lot of time discussing trigger pulls, which would have been more appropriate in an education video about pistols and their different types of triggers… but in the end he simply reveals that, although both the 57 and the Five Seven are single-action pitols with internal hammers, they both have poor trigger pulls. His Ruger's trigger pull is pretty bad, apparently considerably worse than the FN's.
For reasons unknown, Paul decides it's a good idea to compare the power of two similarly-sized pistols chambered for the same cartridge. With barrel lengths that differ by only 1/8″, I would be stunned if there was any meaningful difference in power between the two guns.
Paul's results? Less than stunning.
Continuing in the vein of unrelated and arguably valueless experimentation, Paul fires the Ruger into the meat target — then follows up by firing a 357 magnum into same. What the??
He spins it by pointing out that the 5.7×28mm is perhaps overrated by its fanboys. (My choice of phrase; not his.)
When he gets done shooting, he does misspeak when he says each pistol comes with two 20-shot mags; the FN apparently comes with three magazines.
Another disappointment for FN fans is that his Five Seven was extremely unreliable when new and remains somewhat unreliable to this day, whereas his Ruger 57 has produced zero malfunctions, and that says a lot.
I know which one of the two I would select if I were in the market for some way to burn 5.7×28mm ammo. Wanna guess?
Enjoy the video.