38th Parallel? 3 Deer in 38 Hours in my 38th Deer Season
Russ Chastain 11.13.20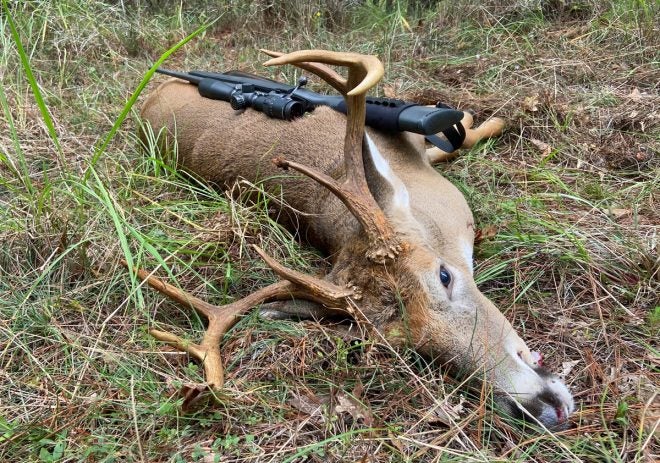 A thoroughly unexpected (and greatly appreciated) buck.
(Photo © Russ Chastain)
There are days which engrave themselves into a hunter's heart the way a river carves its way through a mountain. And oddly enough, it can be the long years in between such days which allow them to create such deep impressions.
I'd started my first deer hunt of the 2020-21 season with fairly low expectations. The big bucks wouldn't be rutting, but my buddy and I would have a good time and probably bring home a couple does for the freezer. Then I'd return a week or two later to hunt the rut in hopes of catching up with a mature buck.
How wrong I was.
The hunt began on Saturday, and the first thing we noticed was all the rut scrape activity. There were scrapes just about everywhere, from the main roads to the deep woods and every place in between. And within a few days it became apparent that at least the younger bucks were feeling their oats, as every hunter watched antlered bucks pursuing does in the late-October woods.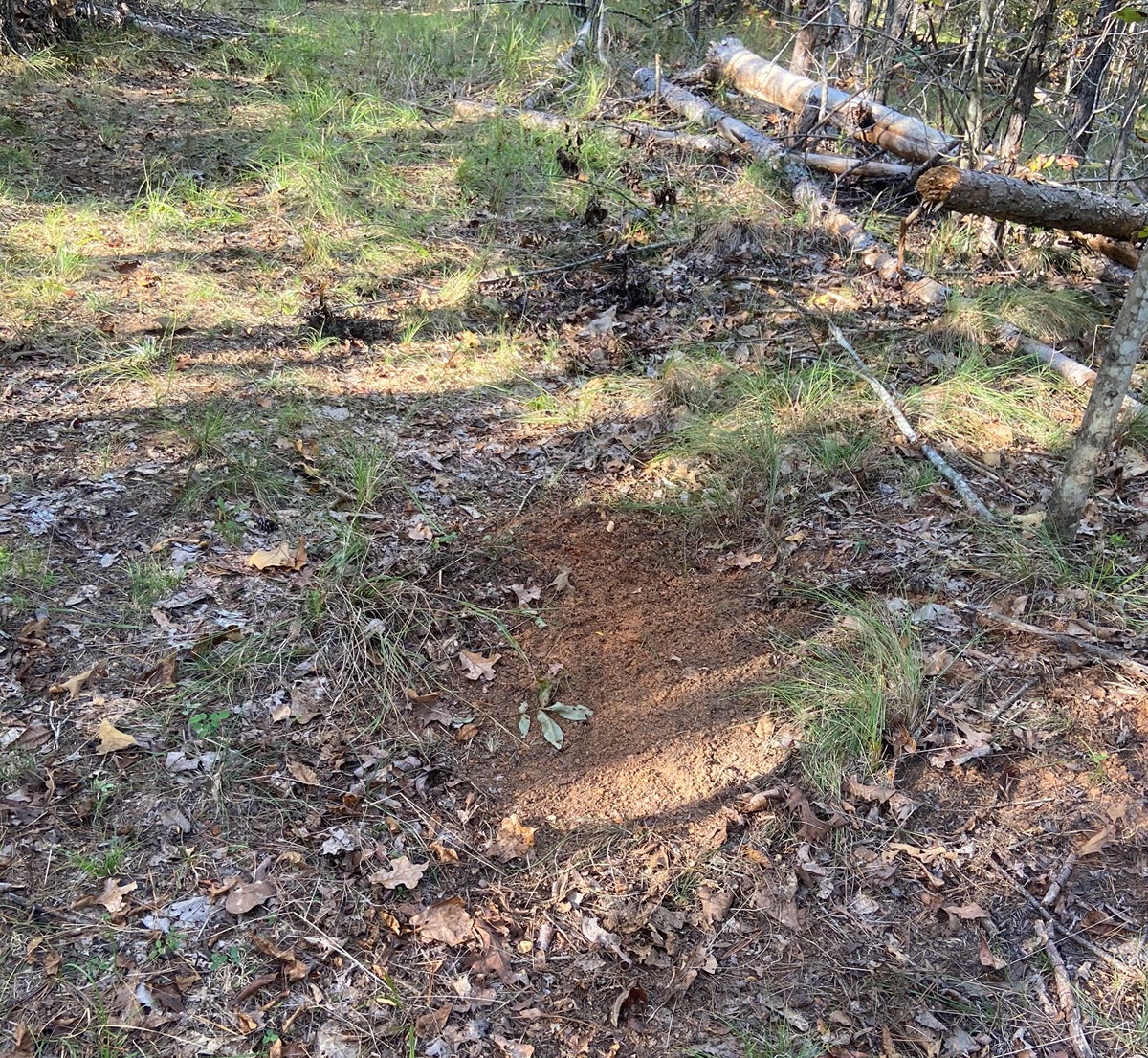 I started the hunt with Dad's old 30-06 "SpringMaus" rifle because I'd found some Sierra ammo it really liked, but on Tuesday evening tragedy struck when the rifle fell from an overhead gun rack where I'd apparently done a poor job of securing it. A subsequent trip to the range told me the scope would no longer hold zero, so I switched to my old faithful 308, also using Sierra GameChanger ammunition.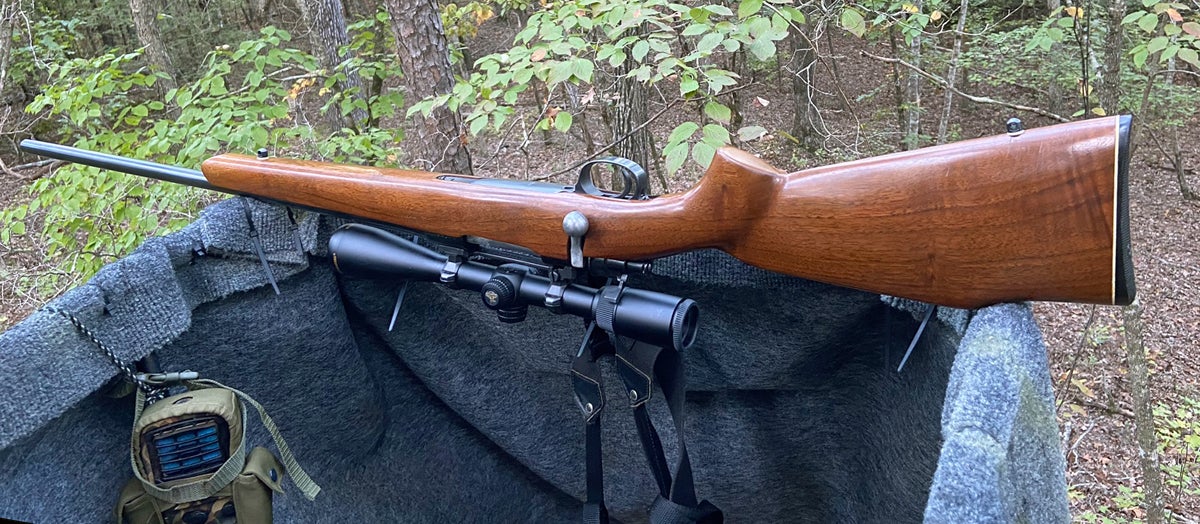 After shooting both rifles at the range midday Wednesday, I went to a nearby stand which was well-known as a great place to get a doe, on the advice of a friend. About 2.5 hours later, I'd laid down a nice mature doe. One shot into its chest dropped the whitetail in its tracks.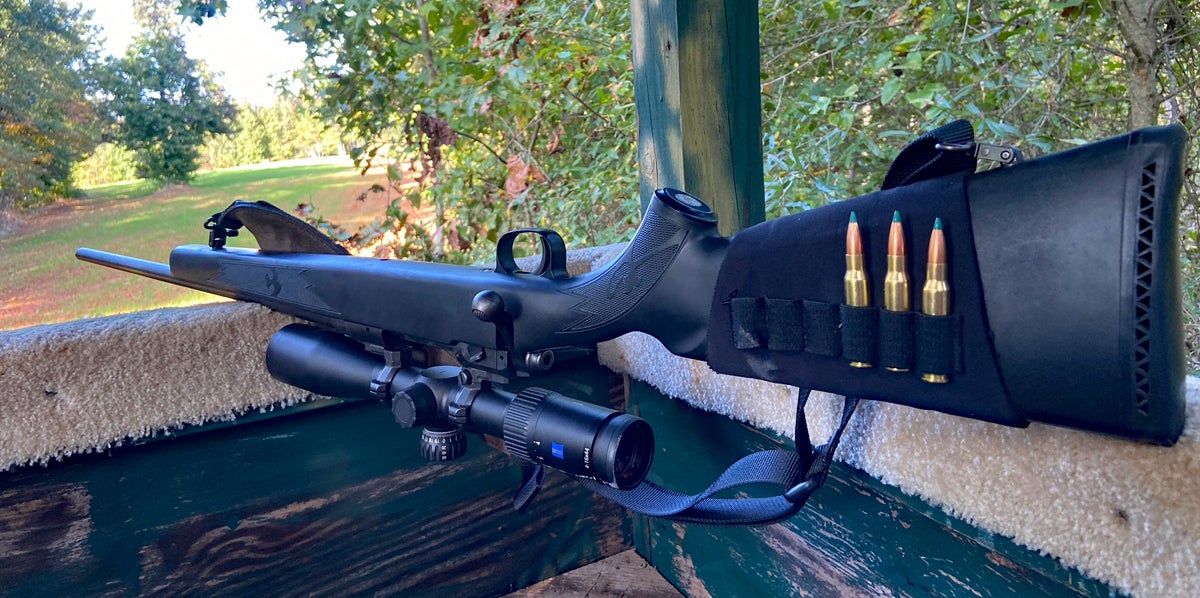 Four minutes after the shot, a spike buck approached the lifeless doe and claimed her as his own. He sniffed and stood over the deer, and chased away another deer that approached. I didn't have my "real" camera, and could only get one pic using my rifle scope as a zoom lens. In this photo he's facing to my right with his head behind the vertical crosshair. The doe is lying pretty much at his heels.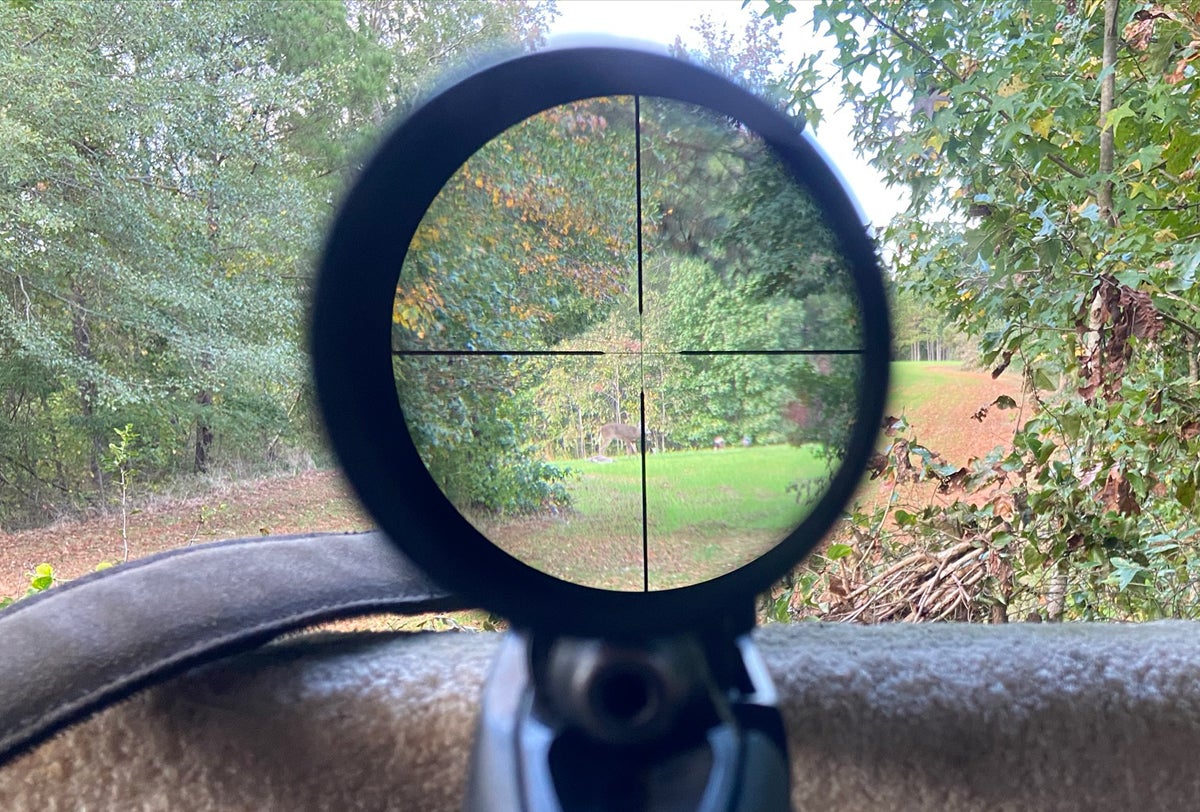 When I walked to the deer to take photos and pace the distance, the little buck didn't even notice me until I was 50 yards from him. Even then he hesitated to leave the doe; perhaps she was the first doe he'd ever approached that hadn't run away from him!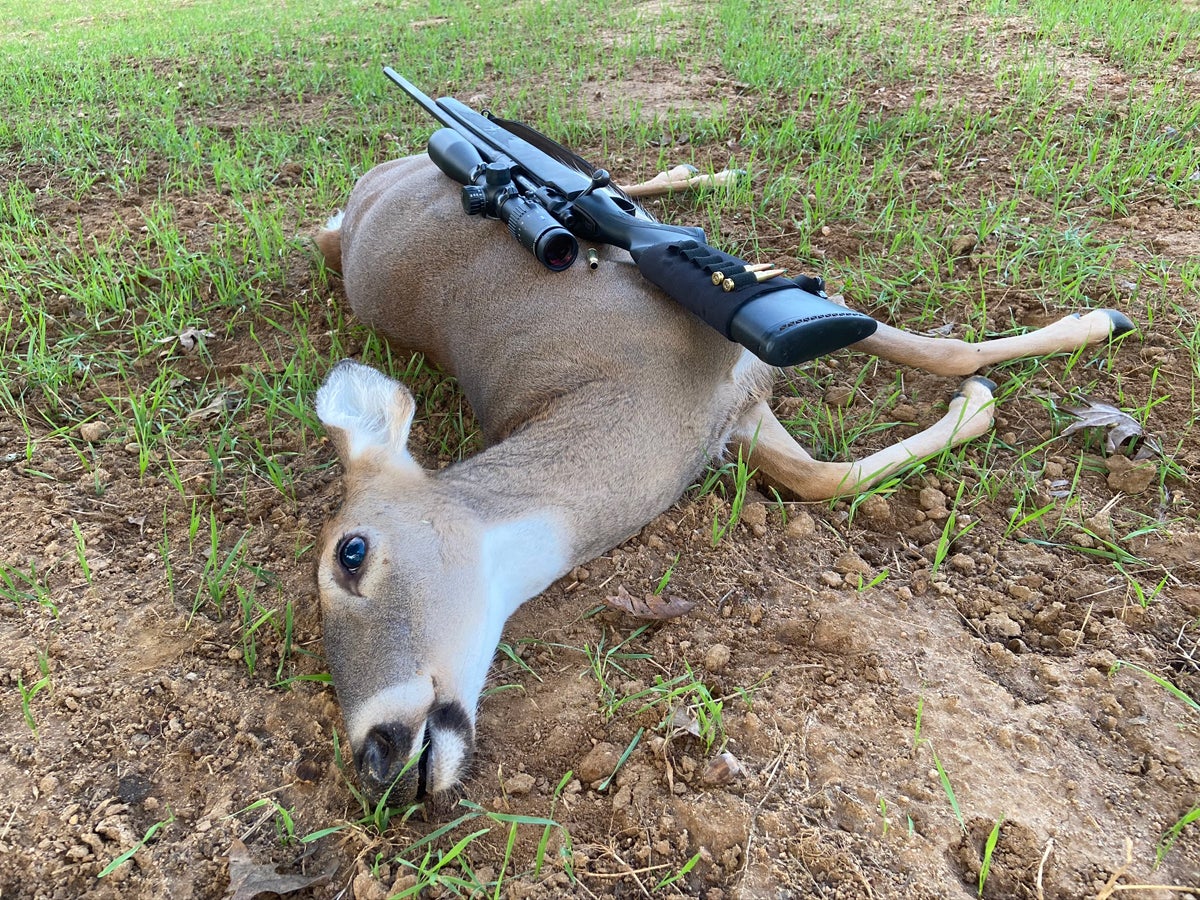 Hunting is not all about killing, but I'm here to tell you a hunter feels better when he successfully bags some game. And I was feeling fine.
Now that I had gotten a little blood under the fingernails and put a nice doe in the cooler, it was time to get off the beaten path. Thursday morning, I eased my way to a stand I'd set up a couple months earlier. I didn't have a long view, but it had only been hunted for a couple hours total, so it was as good a place as any to sit and wait for a nice buck.
I settled in at 7:00 and less than an hour into the hunt, a small buck crossed the dim woods road that was essentially my only shooting lane. The activity continued throughout the morning, and by 11:30 when I watched a nice doe cross the trail I'd seen a total of 6 deer and had heard several more pass by. Then I looked down where the doe had crossed and spotted a large deer colored much more yellow than all the others I'd seen. From its size I could tell right away it was a buck.
Scoping him showed me a nice legal rack and a large mature body. I knew his antlers weren't the biggest in the woods, but they weren't small either. Here was a mature buck and that's what we hunt for, and by golly I wanted him.
The buck crossed the trail and began coming towards me along its edge. I was looking for a good shot, but he walked with his nose stuck straight out ahead of him and I wasn't going to head-shoot him. Finally, he stopped and raised his head. At 11:32 I settled the 308's crosshairs on his chest and sent a 165-grain Sierra TGK GameChanger through his vitals at a range of 98 yards.
The buck collapsed on the spot and that was the end of it. He'd thrown his head back as he fell, and buried one antler tine deep in the Georgia clay.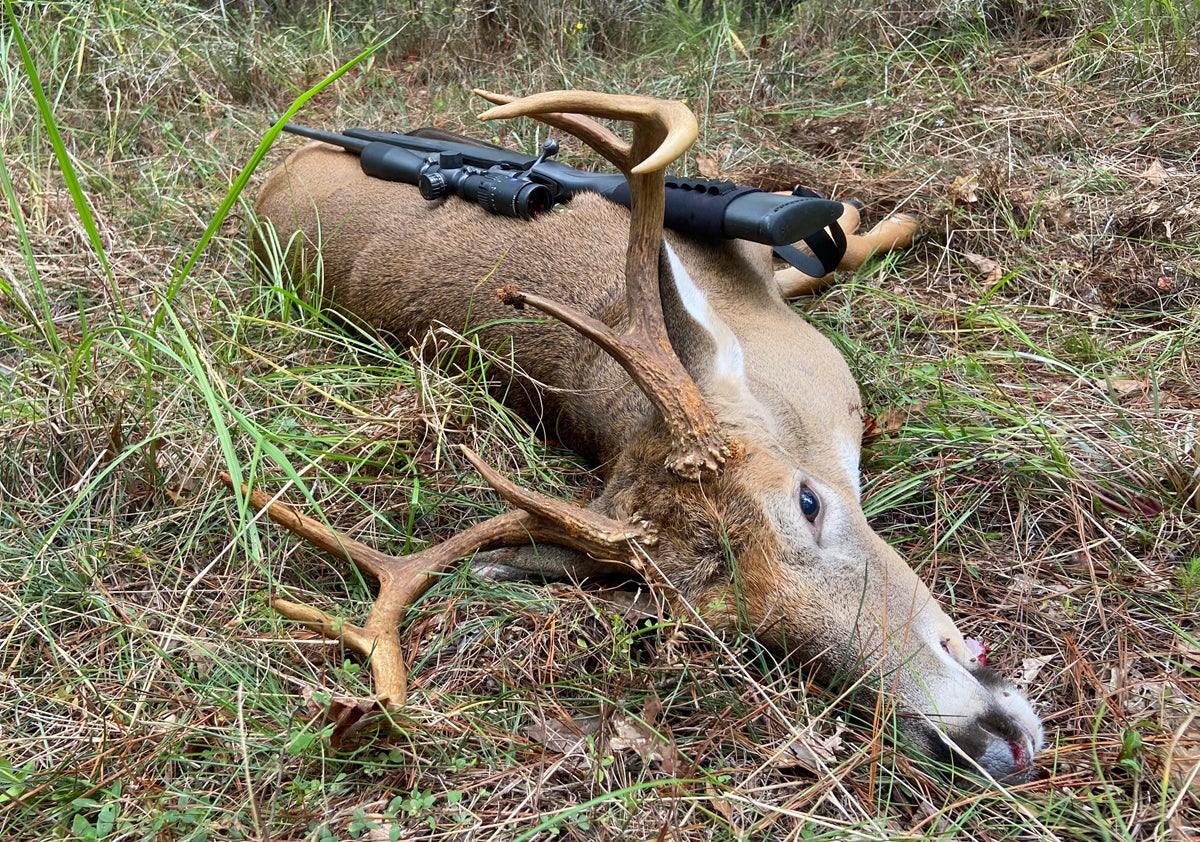 A "sticker" point near his right antler base made the buck a 9-point (later scored at 121-6/8), and back at the skinning shack he weighed in at 185 pounds. This made him my heaviest whitetail to date, and I aged him at 6.5 years old.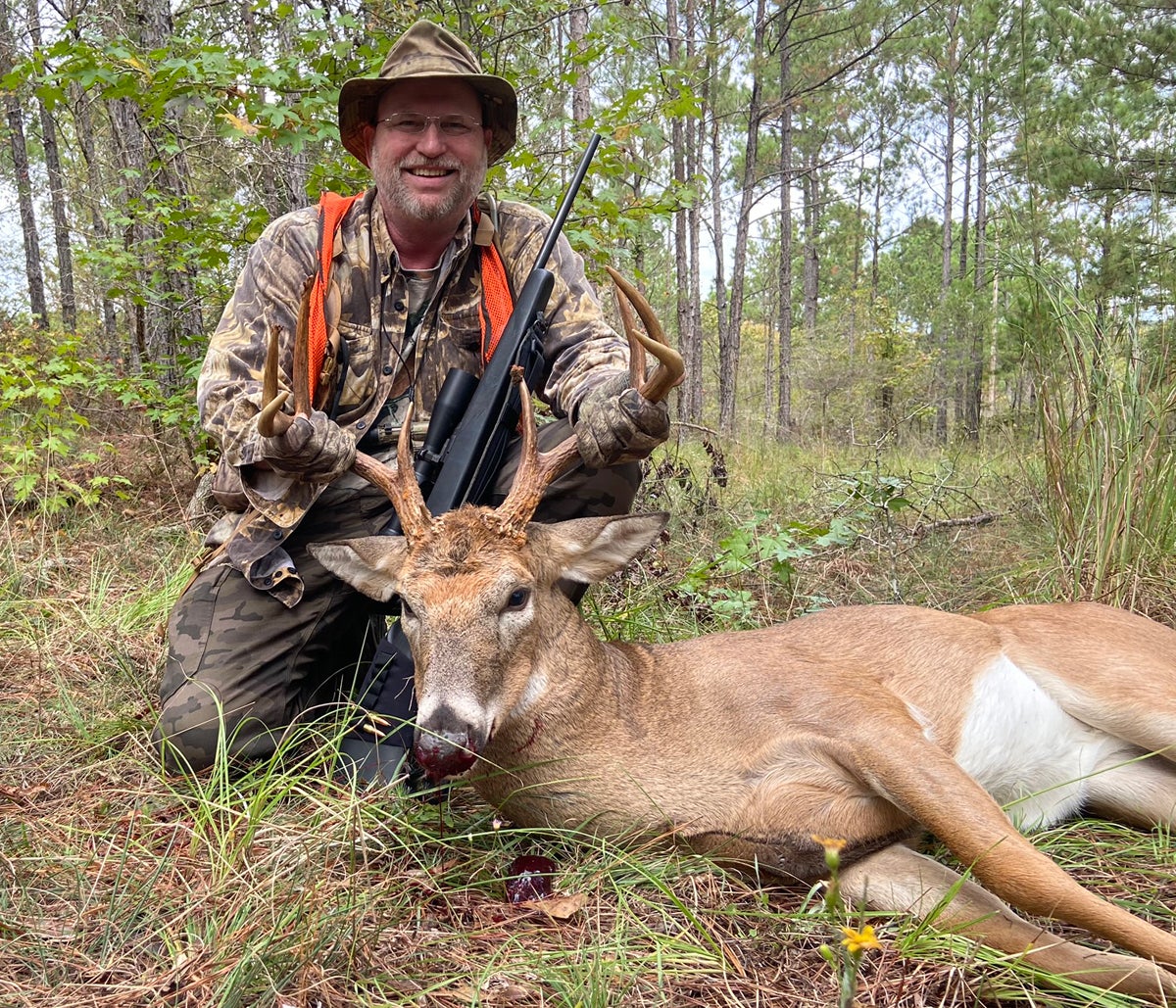 On two consecutive days, I'd taken two fine whitetails — and the buck's stinking tarsals showed that even mature bucks were well into the rut, a good 2.5 weeks earlier than what's typical for these woods. This proved that I'd been utterly and happily wrong when I'd predicted that only young bucks would be following does around.
I was fat & happy, and would be heading home in a couple days. My buddy had been planning to go home early Friday morning, so I didn't even know whether I would hunt that day, but we decided to hit the stands for a couple hours in the morning just to see what would happen.
What happened was that, less than 30 minutes after daybreak, I spotted a big gray body down the road, where I'd first seen my 9-point. It sure looked bucky… and the scope showed me a mighty tall 8-point rack on the body of a mature whitetail.
He stood there as I marveled. I thought about how I would shoot the hell out of him if I hadn't just shot that buck yesterday, and I asked myself whether I wanted to end my buck season so soon.
He took a step or two and stopped perfectly broadside. Man, he was nice.
I fired, and he fell.
After ensuring he wasn't able to get up and run off, I had to approach him and place a second shot through his vitals, as he'd been paralyzed by the first shot but was not entirely dead.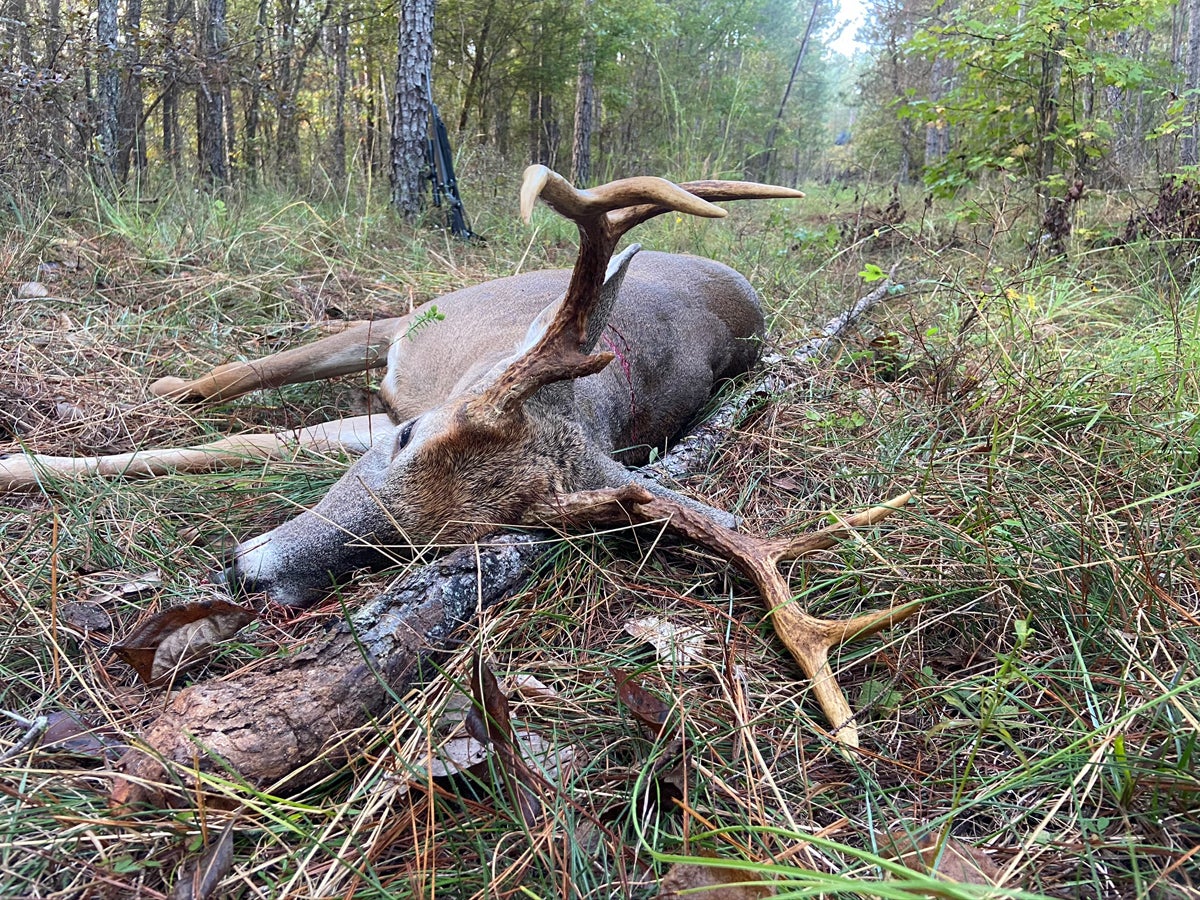 At 105 yards, he lay 7 yards farther from my stand than the previous morning's buck. My mind was blown as I tried to comprehend the actual extent of my blessings.
The range had been 105 yards. I loved the buck's unique rack, which was quite unusual although not the highest-scoring ever (106 2/8), with its forward-swept brow tines and main beams that reached for the sky. A friend would later name him "jackalope," and although he'd seemed smaller than Thursday's buck, he tipped the scales at a whopping 200 pounds! As far as I know, it's the heaviest buck ever taken on this piece of land.
He, too, was well in rut. I've estimated his age at 5.5 years.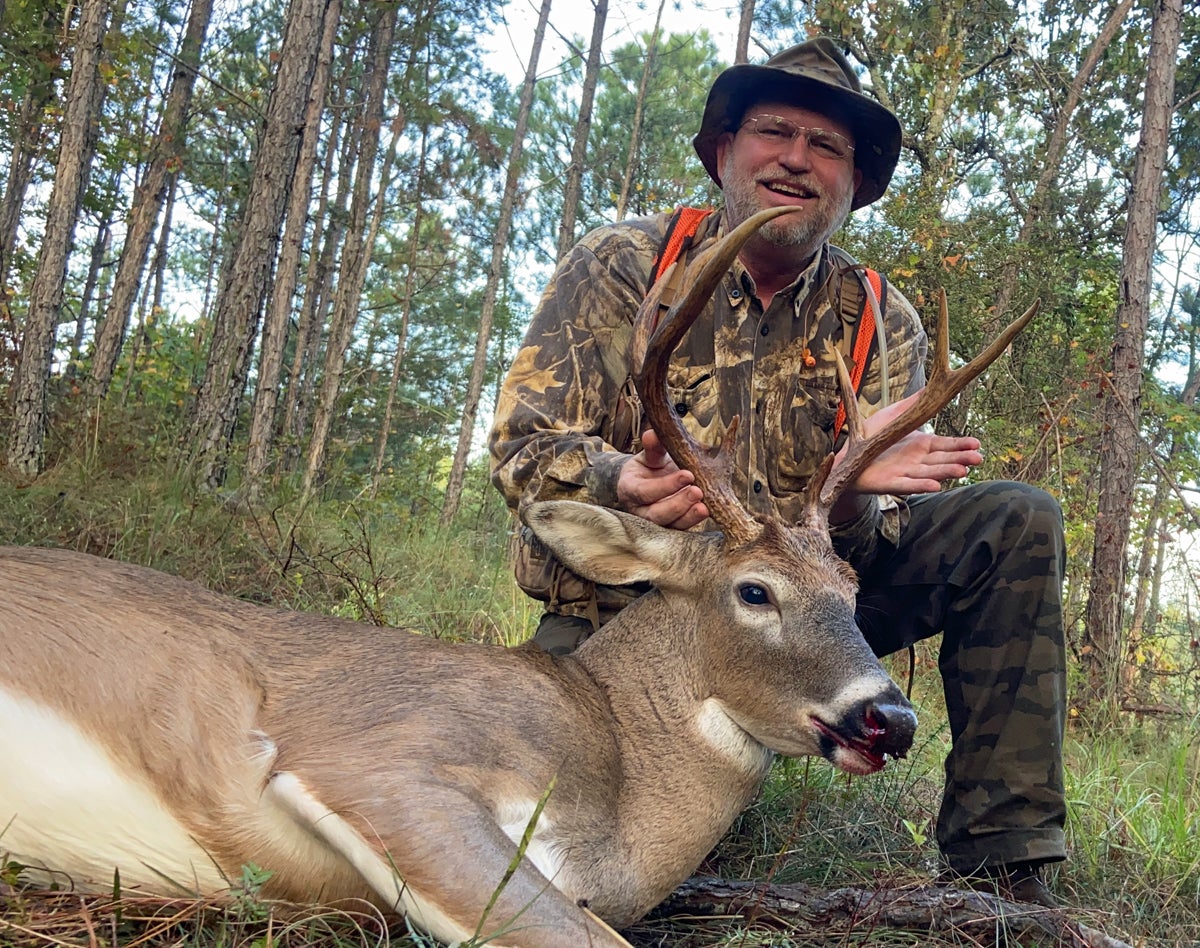 I dropped the hammer on this buck exactly 38 hours after firing the fatal round at the doe. Three deer in three days is pretty good for any hunter. Three mature deer — and two of them bucks shot 7 yards apart from the same stand — in 38 hours is utterly magnificent. Add to that: 1) Each deer fell on the spot and required no tracking, and 2) Each buck was my heaviest whitetail ever.
And you know what? This is my 38th season hunting whitetail deer. And it might be a stretch as far as the whole "38" thing, but a friend pointed out that I'd taken 385 pounds of buck!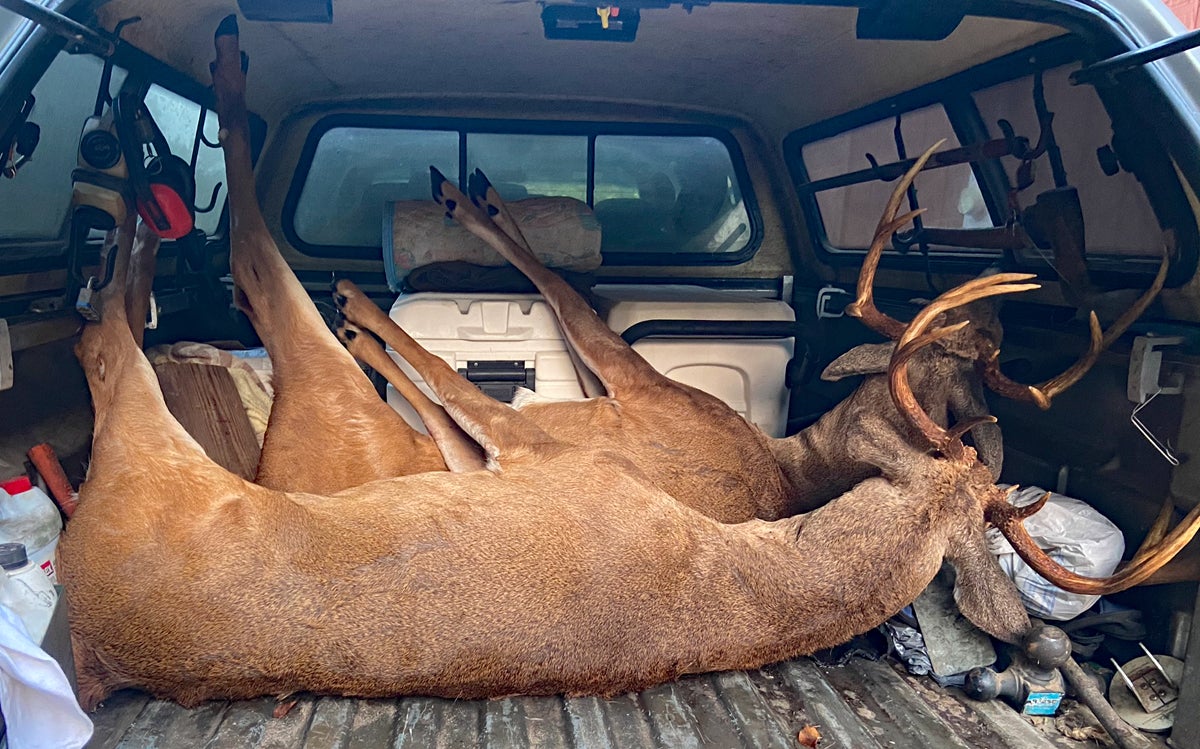 I know there are many hunters in the world who've had great hunts, and many of those have outdone mine. But 38 years in, I can truly appreciate the extraordinary circumstances of this hunt.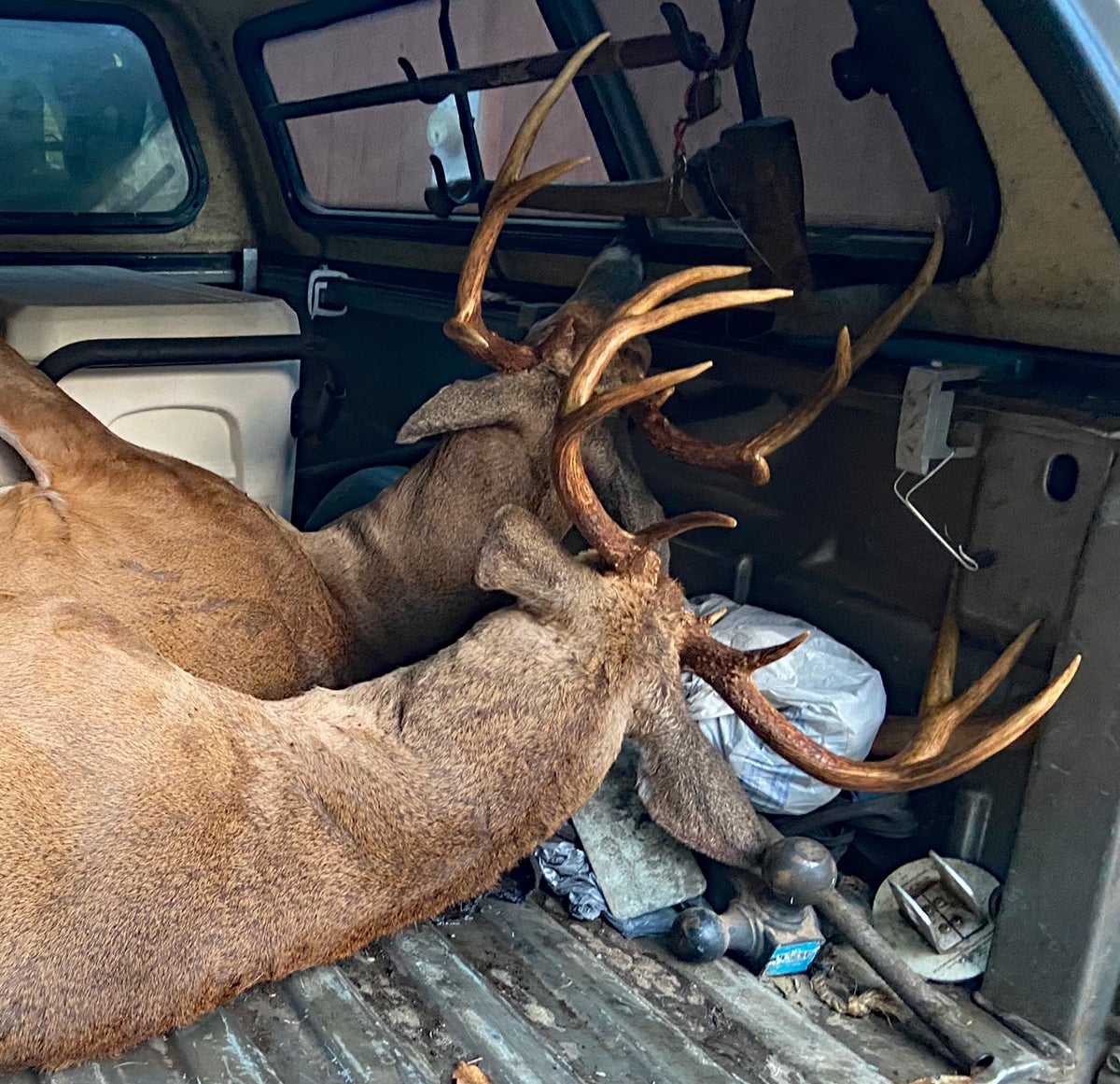 As I drove away from camp with the most amazing truckload of bucks I'm ever likely to haul, I could only grin and try to wrap my head around it. I will probably never see its like again.
But hey, there's always a chance!