Talon SNAP System and Barrel Buddy: Stocking Stuffer Solutions
Eve Flanigan 11.23.20

Talon Grips just released a new gun cleaning toolset and I got to try it out, along with another new-fangled product from a new company. To jump right to the spoiler, this is a great combo to gift to yourself or someone else. But of course, I'll explain how I came to that conclusion.
This set is a departure from business as usual for Talon. They're a company that has, until now, sold only high-quality adhesive grips to fit specific handguns, giving the gun a professionally stippled look and traction without the permanent commitment. So it was a surprise to learn that their latest product is a gun cleaning kit, called SNAP. That's not an acronym; it refers to the quick-attach nature of the implements. [Editor's note: We have reviewed an earlier version of SNAP, which was then called GunGenics.]
The SNAP system is built around a pistol-length Quick Click cleaning rod, made from glass-reinforced nylon and featuring a freely-rotating, T-shaped handle. On the distal end, it has a socket that initially looks like any other cleaning rod, but it's not threaded. Instead, it's made to accommodate any of the current three caliber sizes of implements Talon makes to accompany the rod. The implements click into place, and can be released with the simple push of a very low-profile rocker that lies in-line with the rod.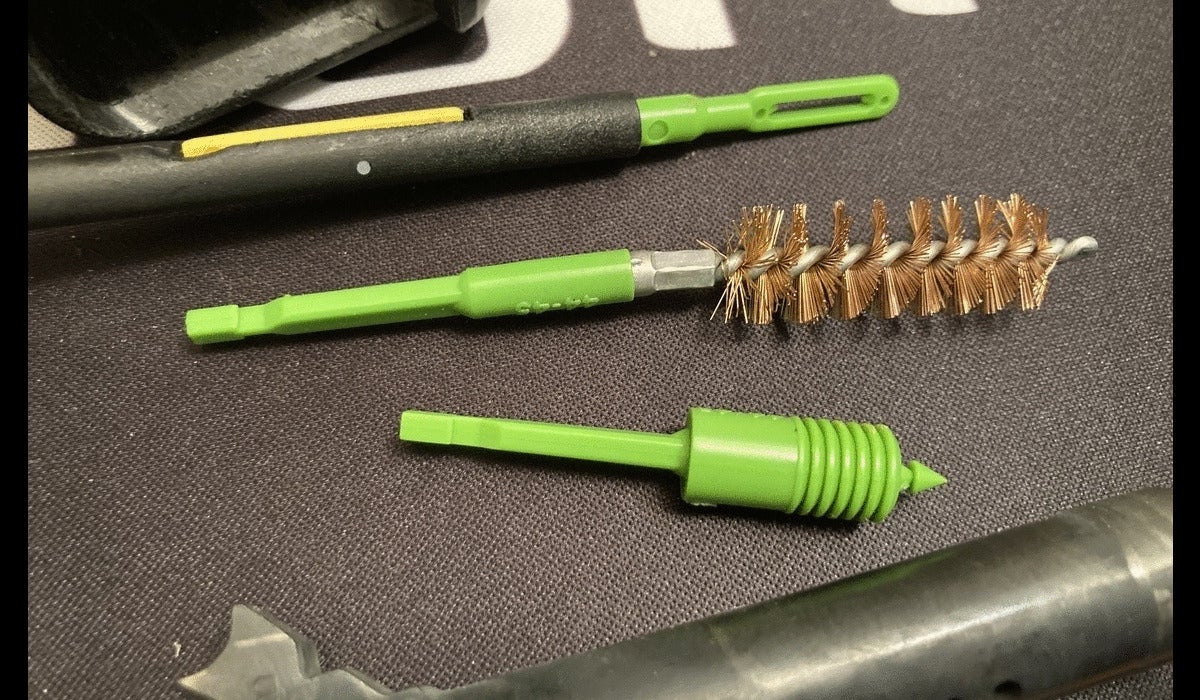 As a complete kit, the system includes one brass-bristle brush and one spear-tip jag per caliber. There's also loop attachment for threading a patch.
The rod is vivid yellow in color, easy to find in a crowded safe or bag. The implements are blue for .380/9mm, red for .40/.41, and green for .44/.45 calibers. Those designations are stamped on the stem in case you forget, but even with magnifying glasses the tone-on-tone stamps are hard to decipher.
If reading the caliber stamps is hard, keeping a multi-caliber kit organized is easy with another snap-together gadget I received with the SNAP kit, a tiny tool table of transparent plastic with a total of six slots to keep the implements ready to grab in short order. This does require about as much cubic storage space as half an egg carton. Or just throw the set in a Ziploc and mark the bag with the color/caliber codes.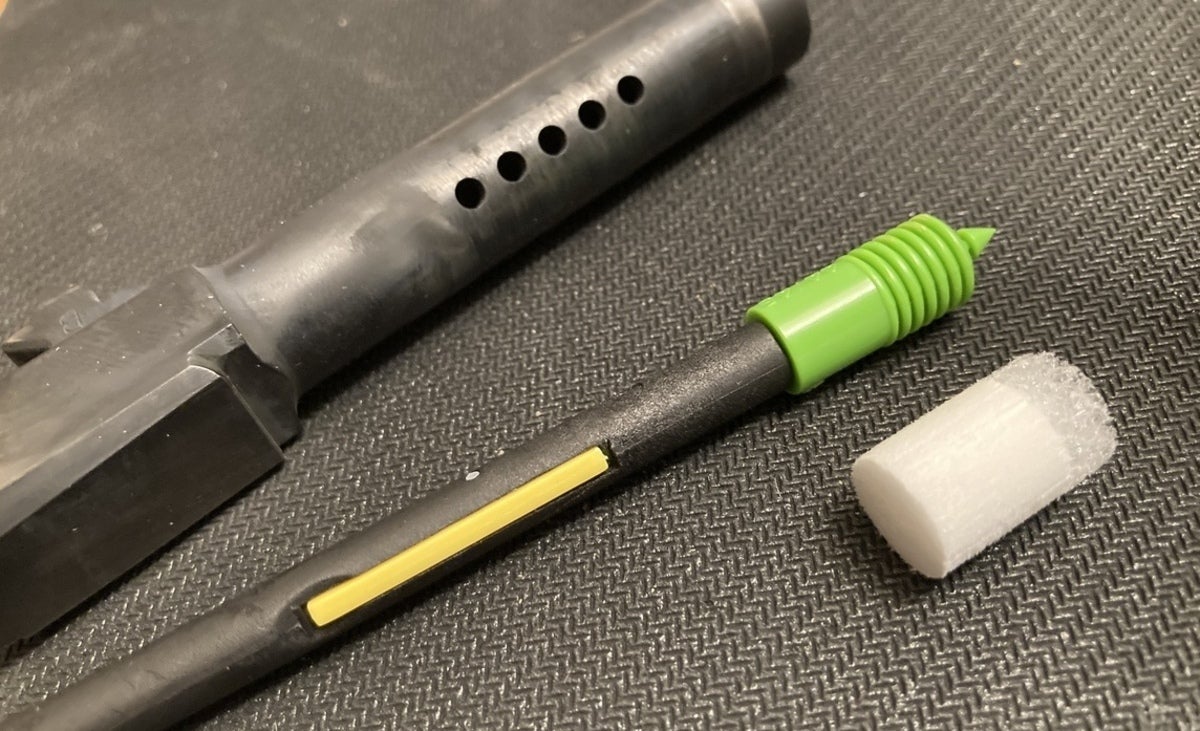 I was skeptical about the strength of the cleaning rod. I gave it a workout, including trying to force too-large patches through the barrel in an attempt to get it to crack or break, but it never showed any sign of weakness.
Barrel Buddy
Since I had another new and compatible product on hand, I combined this test with another. Barrel Buddy is a new alternative to patches that's shaped like a cylinder and is thus caliber-specific. These little disposable sponge-like doodads are packaged with several handfuls to a bag. They have a cellulose texture on the top half, which enters the barrel first, and a firmer, closed-cell-foam-type material on the rod end. The top half provides gentle scrubbing and can also deliver solvents or lubricants to the recesses of the barrel. Made for disposal after use, they help reduce the lead and carcinogen contamination associated with rags and patches.
Using the spear-tip on the SNAP cleaning rod with a Barrel Buddy made for a slick and easy cleaning procedure. I was pleasantly surprised with both the convenience and strength of both. That carbon-stained rag remains, though; with the spear tip jag behind it, there's no better way to get grime out of the internal rails on a slide and frame.
Final Thoughts
Both of these products are USA-made. Barrel Buddy is especially committed to veteran causes and donates a portion of sales to 22 Kills, a veteran suicide prevention project. Unlike the SNAP system, Barrel Buddy cleaning inserts are available for virtually any barrel size, including rifles and shotguns.
The Talon SNAP kit is $34.99 including all three sizes, or get a single size set for $24.99. A matched set of jag & brush costs $9. All SNAP parts (except the brushes) carry a lifetime warranty. Order direct from Talon Grips.
Look for Barrel Buddy to emerge any place gun accessories are sold, or order direct for $11.98 per bag.