Curious Relics #004: ArmaLite AR7 Part II The Design Survives!
Sam.S 01.13.21

Welcome to our recurring series of "Curious Relics." Here, we want to share all of our experiences, knowledge, misadventures, and passion for older firearms that one might categorize as a Curio & Relic  – any firearm that is at least 50 years old according to the ATF. Hopefully along the way you can garner a greater appreciation for older firearms like we do, and simultaneously you can teach us things as well through sharing your own expertise and thoughts in the Comments. Understanding the firearms of old, their importance, and their development which lead to many of the arms we now cherish today is incredibly fascinating and we hope you enjoy what we have to share, too!
Welcome back everyone to Part II of the ArmaLite AR7! Last time we covered a Condensed History, Notable Design Features, and Specifications. When I have a chance I will come back and link to Part I here if you are just tuning in. Today we are covering Variants, Range Time, After Market Parts & Accessories, and some Final Thoughts. Let us jump right in!
Variants: ArmaLite AR7
As I mentioned in Curious Relics #003, ArmaLite produced the AR7 from 1959 to 1973. In 1973 ArmaLite allowed Charter Arms to license and produce the design in order for ArmaLite to move onto bigger and better things. Charter Arms would end up producing the AR7 Explorer all the way up until 1990. After that, the design changed hands at short intervals from Survival Arms(1990-1997) to AR-7 Industries(1998-2004 when it got bought out by ArmaLite), and meanwhile, the design was produced and utilized by Henry Repeating Arms from 1998 to the present day. Notable variations over time are listed below:
Charter Arms: Produced stocks, receivers, and barrels in varying finishes and colors (silver was called AR7s, and camo was AR7c). The internal stock still only held one magazine and the functional design was a perfect copy of the ArmaLite rifles. Charter Arms would also go on to making an AR7 Explorer II which was a pistol variant that had varying barrel lengths from 6 inches, 8 inches, and 10 inches.
Both Charter Arms AR7 Explorer guns were capable of having a scope mounted on them via 3/8 dovetail scope rings. The Explorer II Pistol featured a fully adjustable rear sight since the front post was not adjustable.  Accessories such as wire collapsable stocks and heat shield looking barrel covers were produced here and there. This time in the AR7 lifespan was also the first introduction of higher-capacity magazines going from 8, 10, and 15 rounds. Ram-Line would eventually make plastic banana style 25 round magazines.
The final and important note on Charter Arms AR7 Explorer Rifle and the Explorer II Pistol is that although their internal parts are interchangeable, their barrels are not. Due to NFA regulations regarding barrel length on rifles Charter Arms had enough foresight to make it so the pistol barrels could not be put on the rifle without illegal outright modification.
The AR7's barrels have a peg(for lack of a better word) on the barrel and a corresponding notch in the receiver where the peg inserters and allows the barrel to be threaded on. The Explorer II Pistol barrels have the notch on the bottom rather than the top and the notch and peg are larger than on the rifles. Therefore if you attempted to put the pistol barrel on the rifle(even upside down) it still would not fit!
AR7 Industries: Only notable takeaway is heavy all-steel barrels were offered.
Israeli Military: Although the US Airforce did not adopt the AR7, the Israeli Airforce did! ArmaLite themselves made AR7 Rifles for the Israeli military which were later modified with adjustable wire stocks that held two magazines, a shorter 13.5-inch barrel with a K98k Mauser style front sight, and a pistol grip. These rifles have seldom made their way into the US and can fetch a pretty penny if found without further importation modification.
Henry Repeating Arms: Henry has arguably improved the overall design by making a more durable plastic stock that is able to store three 8-round magazines total. The barrel is steel-lined ABS plastic that is coated for corrosion resistance. Henry Repeating Arms also produces the AR7 in a few different finishes such as Black, True Timber Kanati Camo Pattern, and True Timber Viper Western Camo Pattern. A massive and underrated improvement is the bright orange front sight wedge.
Range Time: ArmaLite AR7
As far as actual range time goes with the AR7 design I have only gotten the chance to enjoy the Charter Arms Explorer II Pistol and the Henry Repeating Arms U.S. Survival .22 AR7. I have handled an older Charter Arms AR7 rifle and besides the improved efficiency in the stock and barrel material design changes the operation and sights are practically the exact same. The Henry Repeating Arms AR7 has the same rear adjustable peep as the older versions but the front sight is a bright orange wedge and it really helps in low light environments.
Accuracy was always a surprise on any of my woods walks with the Henry. I never felt like my point of impact shifted nor that the removable barrel had any bearing or striation on my accuracy. To put it plainly it impressed me with its consistency. Then enter the Charter Arms Explorer II! I always had this pistol on my list cause I admire unique older firearms. I had always heard tales of these older models being jam heavy and unreliable junk. Word to the wise: always do the maintenance. Take care of your guns and if they really are made well they will run well.
My research into the AR7 has brought to my attention that proper care for the design was always vague in most manuals. This can be extremely detrimental to the consistency of your firearm especially if it is a rimfire and prone to become dirty easily. Henry does an excellent job outlining maintenance steps and it can be applied to older AR7 designs. I cleaned and properly lubed my Charter Arms Explorer II Pistol and it functioned flawlessly and was a joy to work with. Also as I have mentioned before the magazines are a monumental part of the adequate function of this firearm. Take care of them!
After Market Parts & Accessories: ArmaLite AR7
A major factor in owning a firearm that is either out of production or an older design, in general, is the ability to find spare parts or even accessories to complete your personal gun. Excellent gun parts resources like Numrich or even CFNParts.com are out there for basic repairs or available replacement parts. A really cool resource for new production accessories like adjustable stocks, heavy or even threaded barrels, and even barrel shrouds can be found at AR-7.com! Henry Repeating Arms is also a valuable resource in that they sell magazines and have free PDF manuals available that can apply to your AR7.
Final Thoughts: ArmaLite AR7
The ArmaLite AR7 Survival Rifle is a lasting design and it shows. The idea of being able to pack up and carry a useful firearm whether you are off camping or ejecting out of an aircraft lives on. It is oddly attractive to the civilian market and the fact that the design as unchanged as it is, still exists today means it does what it is supposed to do: it survives! I hope to see its continuation live on and thrive.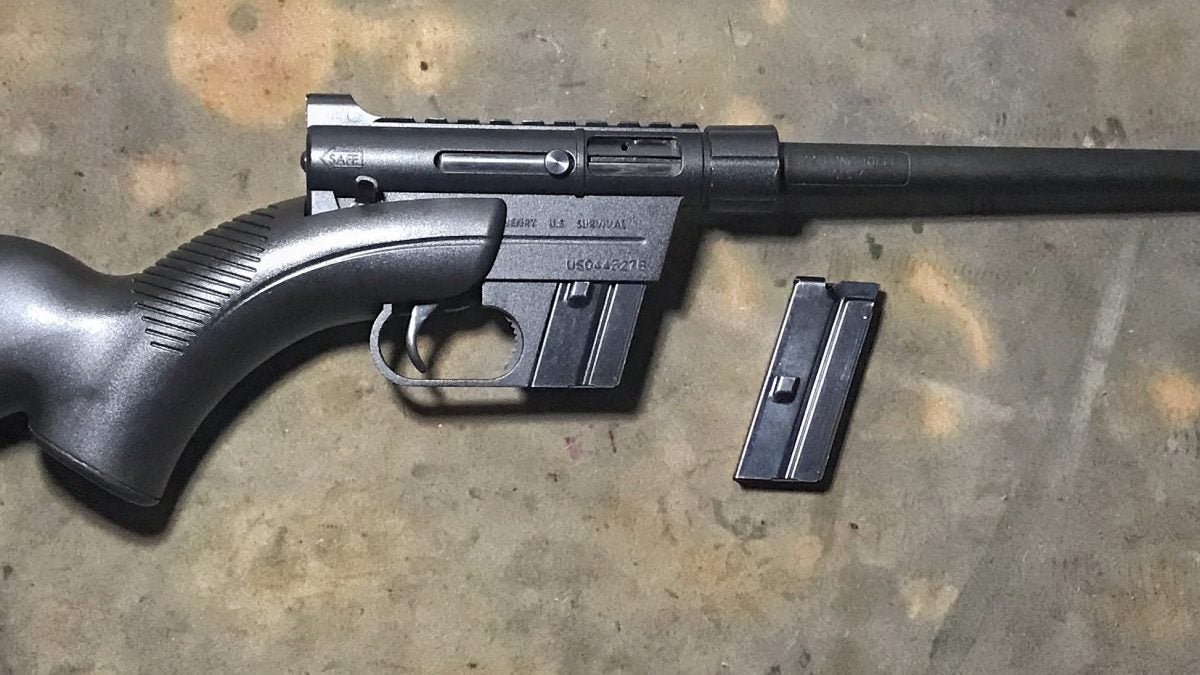 In closing, I hope our Curious Relics segment informed as well as entertained. This all was written in hopes of continued firearm appreciation and preservation. We did not just realize how guns were supposed to look and function. It was a long and tedious process that has shaped the world we live in. So I put it to you! Is there a firearm out there that you feel does not get much notoriety?  What should our next Curious Relics topic cover? As always, let us know all of your thoughts in the Comments below! We always appreciate your feedback.
More reading on the AR7 Survival Rifle: