AO Review: Exploring the Apocalyptic Abandoned Pennsylvania Turnpike
Luke Cuenco 05.18.21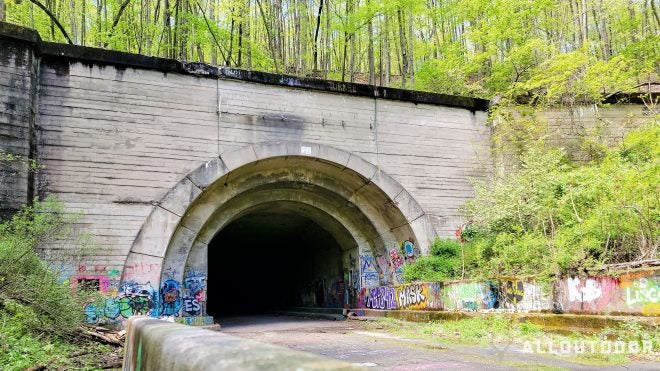 Forests, state parks, national parks, and sandy beaches are all well and good, but sometimes I get a yearning to get even more off-trail than the state wants me to. Since I recently moved to Pennsylvania I had the opportunity to explore what is probably one of the most popular places for explorers to visit within the state – the Abandoned Pennsylvania Turnpike. However, while I was there I was sad to learn that this once great place to explore will soon be shut down to overnight campers and turned into a more regimented park intended for bike riders. So, in memory of the once apocalyptic-looking set of abandoned tunnels and roads, I'll share my experiences and pictures of one of the greatest hikes I've ever been on.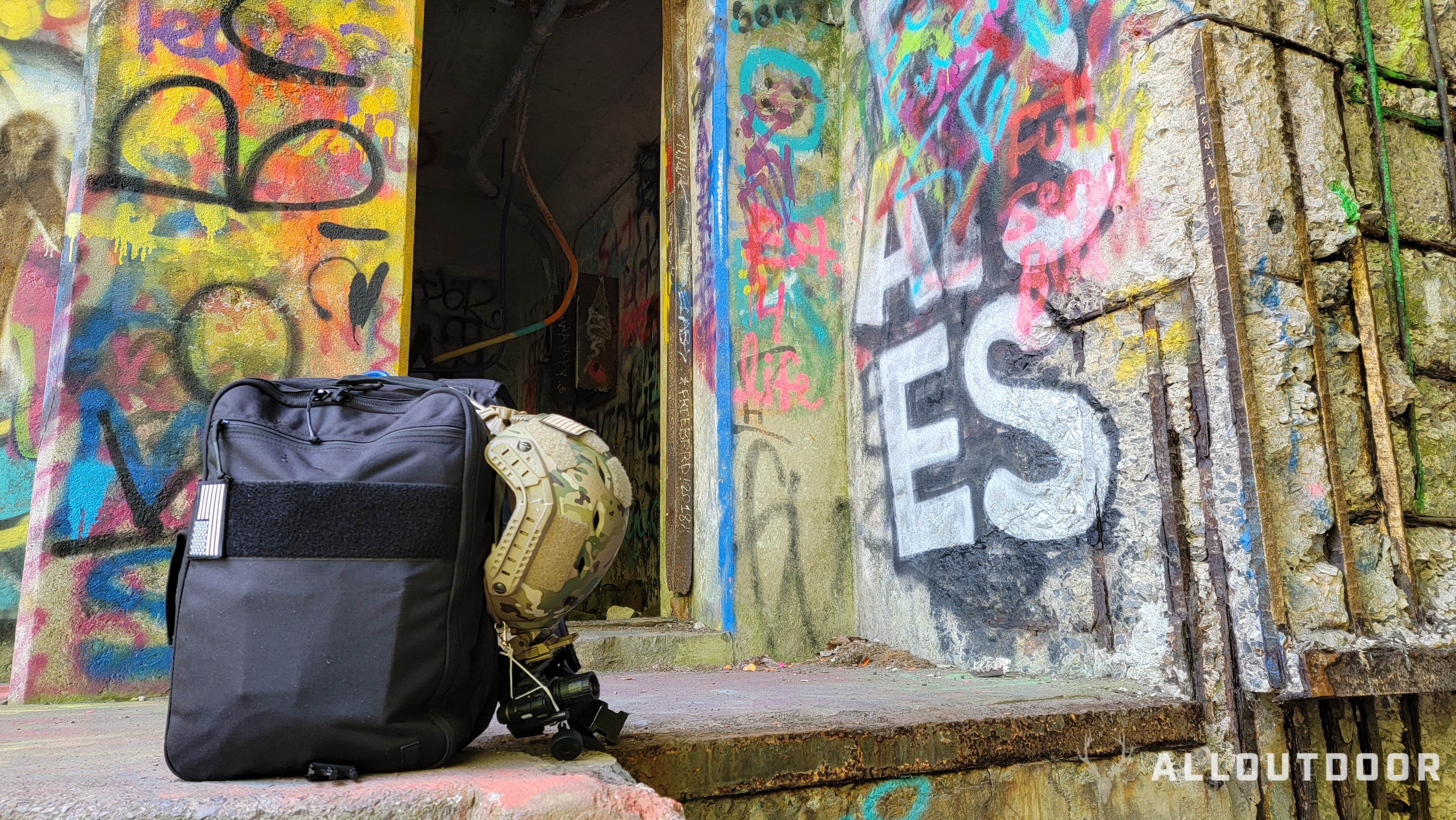 More Hiking and Exploring Content:
AO Review: Exploring the Apocalyptic Abandoned Pennsylvania Turnpike
The abandoned Pennsylvania turnpike was first opened in 1940 and known as the "Tunnel Highway." The Turnpike traveled from east to west through various hills and featured a total of seven tunnels and eventually became one of the busiest roads in the state. The Turnpike became so busy by the 1950s that it was decided that a bypass was needed; thus, a new 13 mile stretch of highway that sidestepped the Sideling Hill Tunnel and Rays Hill Tunnel was constructed. By 1968 the bypass had been completed, and the two tunnels plus 13 miles of road were left to face the forces of nature unmaintained.
Coincidentally, this made the 13-mile stretch of road a great place for hikers, bikers, and sightseers to stretch their legs and get a bit of indoor/outdoor activity away from home. The Abandoned Pennsylvania turnpike has been a popular tourist and hiker destination since its closer and this in tandem with its unmaintained state has led it to become somewhat dilapidated and spooky looking. The tunnels and surrounding roads often feature vulgar and graphic graffiti with much of the original signage either stolen or vandalized beyond recognition.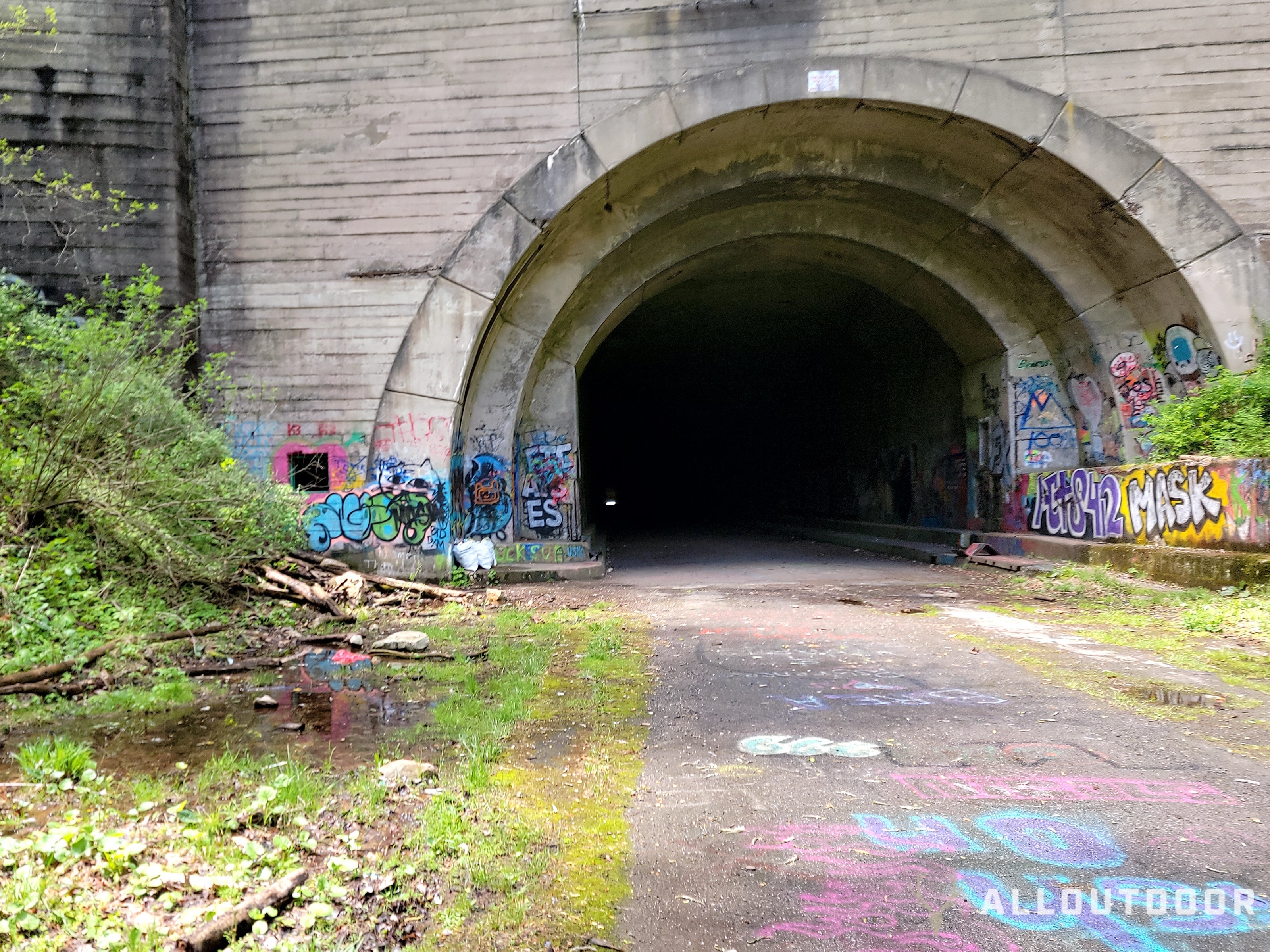 Sections of the abandoned Pennsylvania turnpike are now being turned into a proposed 8.5-mile bike trail with the roads being reconditioned, graffiti removed, access to the overhead ventilation shafts permanently closed, and overnight camping and exploring prohibited. While we were there, we were confronted by a member of the Fulton County Wildlife Conservation Law Enforcement division who stated that in just a few weeks from the time of writing, citations would begin to be written for trespassers who were found within the confines of the trail at night.
Roads
Excluding the tunnels, there are about 11 miles worth of unmaintained asphalt along the trail. The roads overall are in very poor condition and obstacles like loose asphalt, downed trees and garbage can be found along the path. There are several entrances to the roads all of which are publicly accessible and have parking, but no bathroom facilities exist anywhere along the abandoned turnpike. So, if you're planning on doing a daytime bike or ride through the whole place, I'd make sure to bring a good pair of ankle-supporting boots and make sure you use the restroom before setting off.
The graffiti on the roads was fairly obscene and crude, mostly tagged using what looked like spray paint so this is one hiking or biking spot I wouldn't recommend bringing your younger children to unless you plan on doing a lot of explaining later on during the car ride home. On the safety side of things, a time ago the entire turnpike was unpatrolled by any type of law enforcement, but daily patrols are now routine. Cell phone service is very strong throughout all parts of the roads and surprisingly inside of the tunnels as well (the lower portions anyway) so calling for emergency services or posting pictures to Instagram shouldn't be a problem for the casual photographers who go there.
Tunnels
Aside from length, both Rays Hill Tunnel and Sideling Hill Tunnel are nearly identical. Each of the tunnels features a concrete constructed road with ventilation shafts overhead that are now closed off to the public. The two-lane tunnels feature much more graffiti than is seen on the roads outside of the tunnels and there are occasional overhead water leaks inside of the tunnels.
Overall the pavement has held up much better than the asphalt outside and there is very little debris inside of the tunnels. If you're planning on going through these tunnels at any point I would recommend a decent flashlight and a light jacket as even in the summer, the tunnels can get chilly. While there is a lot of garbage around normally, it seems that some thoughtful and responsible soul had come through and bagged up most of the garbage in the surrounding area either hours or days before I had arrived.
One of the highlights of my hike was getting inside of the ventilation shafts that go over each of the tunnels. The ventilation shafts are accessed via maintenance buildings located on either end of Sideling Hill Tunnel or the westernmost end of Rays Hill tunnel. Potential explorers should know that the Rays Hill Ventilation shaft can only be entered or exited from the western end of the tunnel. Each of the ventilation shafts terminates with a 3 story maintenance building (where I chose to make camp on my excursion). Each of these maintenance buildings houses a set of large impellers which were used to extract exhaust gas out of the tunnels via slits cut into the floor of the shafts.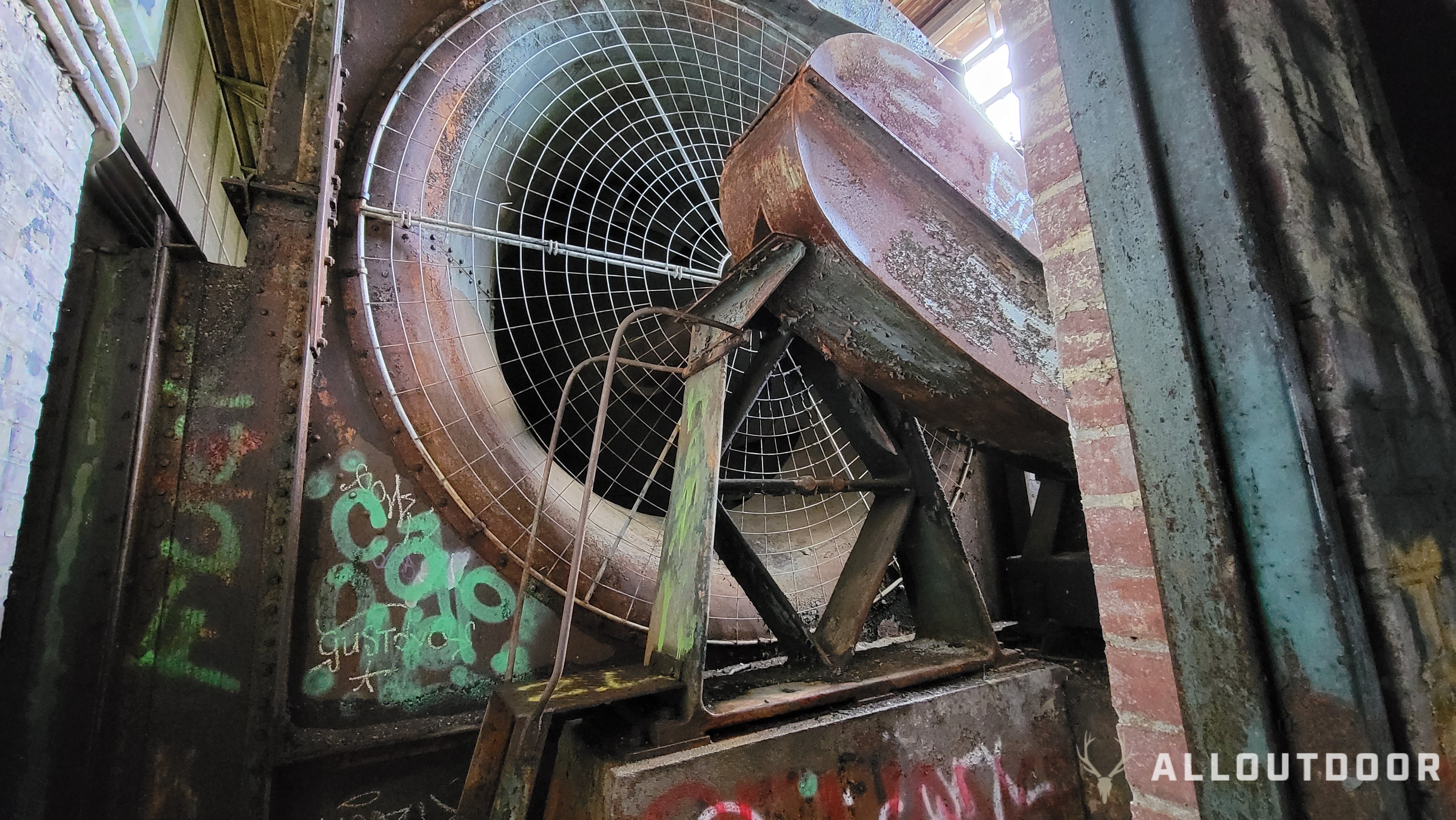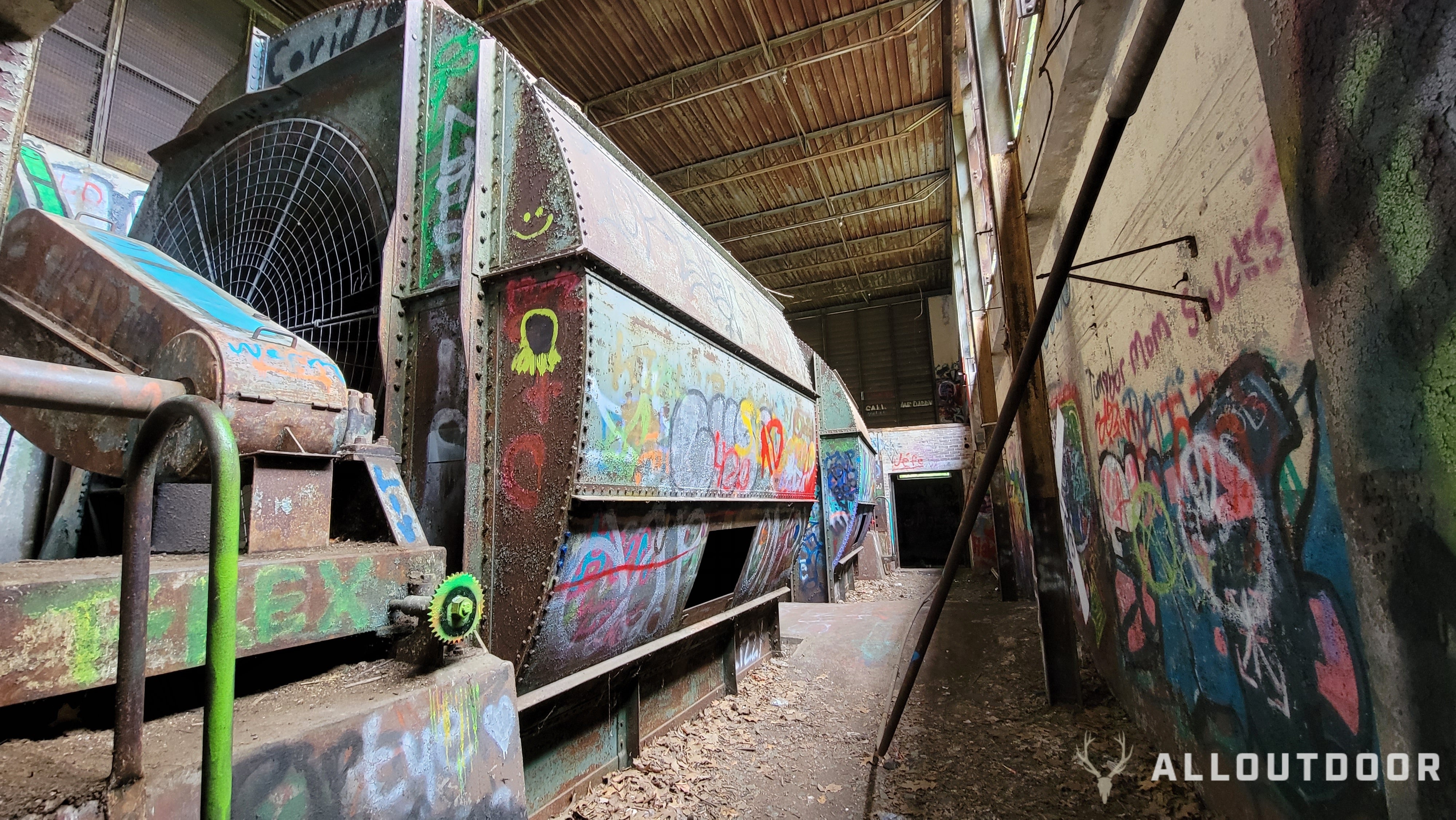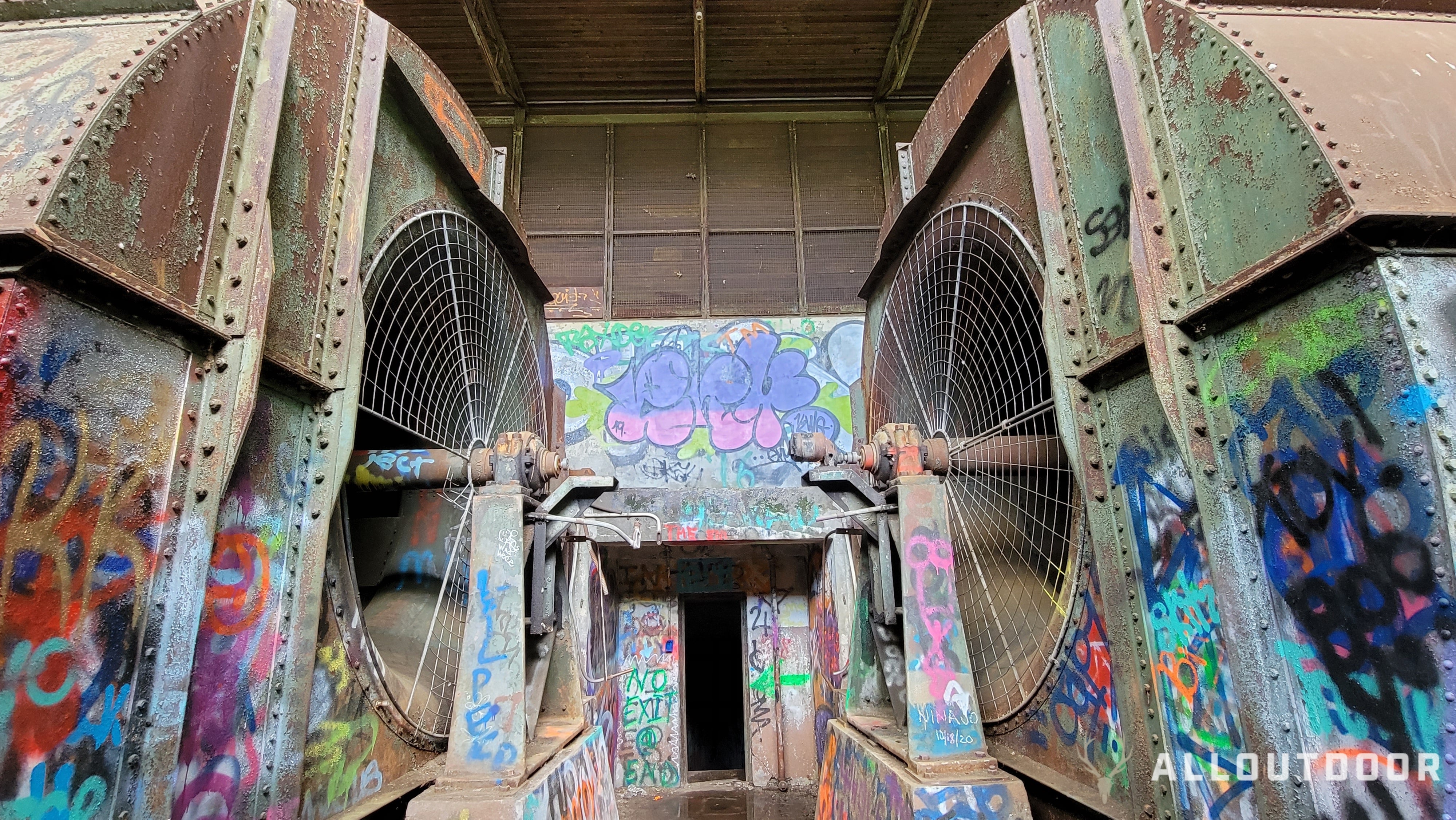 Exploring these ventilation shafts proved to be quite rewarding when using a night vision device. I had brought along my personal NVM-14 night vision with me and it also turned out that my helmet was helpful too as the Tunnels ceilings shrink to about 5'5″ as you walk towards the center of the shafts. The Sideling Hill tunnel's shafts can be accessed from either end and each half of the tunnel's ventilation shafts are independently serviced by impeller fans at either end of the tunnel. Halfway through the Sideling Hill Tunnel is a dividing wall with a small hatch that is easy enough to get through as the door has been long since absconded with. One neat thing about the ventilation shafts is that they feature some long-unused railroad tracks which were presumably used by maintenance crews for easy traversal of the length of the shafts for electrical or inspection work.
Conclusion
The Abandoned Pennsylvania Turnpike is by far one of the coolest places I've visited and really evokes that "end of the world" feeling you get from movies like The Road,  or Mad Max. It is a shame that the Abandoned Pennsylvania turnpike will now be somewhat tamer with it being restored and turned into a more serviceable bike path, but I suppose for hardcore cyclists out there this will be more of a win than a loss. One positive thing that will come out of it is the elimination of a lot of the graffiti and illicit activities that have taken place during nighttime hours, but I suspect that people will still attempt to gain access to both the Pennsylvania turnpike and the tunnel's ventilation shafts even after citations start being issued. If you have any leads on similar semi-urban or abandoned areas to explore, feel free to leave them down in the comments, I'd love to check them out!