AllOutdoor Review: Springfield Armory 1911 Emissary 45 Auto
Adam Scepaniak 07.29.21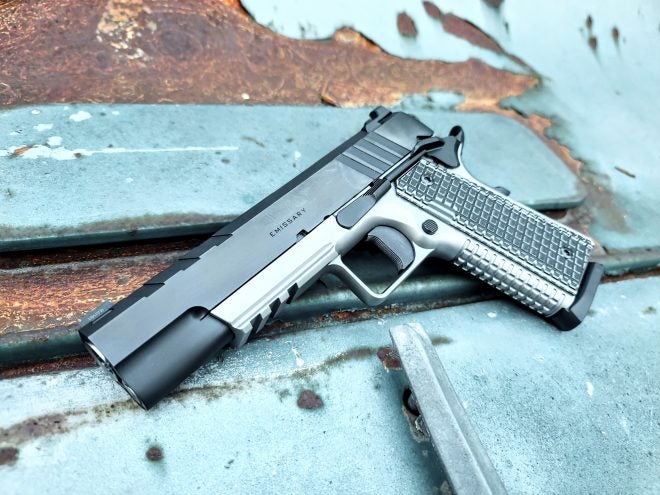 When you least expect it Springfield Armory adds some new drip and flair to one of the oldest firearm designs in existence in the 1911. Yesterday Springfield Armory debuted their NEW model 1911 Emissary chambered in 45 Auto and it has looks that could kill. With an illustriously, deep hot salt bluing slide finish and a unique tri-top cut to match, the 1911 Emissary is not just another 1911.
Springfield Armory was generous enough to send one of these new 1911 Emissary pistols to AllOutdoor to get our thoughts on it. While it definitely has the curb appeal and immediate "Wow" factor you like to see in a pistol, we took it to the range and examined it for what it is completely worth. Let's dive right in and share our thoughts!
Specifications – Springfield Armory 1911 Emissary 45 Auto
Most of us seasoned shooters are acquainted with the Model 1911. We understand the legacy and history behind this 100+ year old model. With that being said, it takes something truly unique, different, and essentially custom to pique our interest. The Springfield Armory 1911 Emissary chambered in 45 Auto evokes all of those thoughts and emotions as its aesthetic is truly one-of-a-kind.
CALIBER: .45 ACP
BARREL: 5″ Forged Stainless Steel, Match Grade, Bull, 1:16
SLIDE: Forged Carbon Steel, Blued
FRAME: Forged Stainless Steel
SIGHTS: Tritium/Luminescent Front, Tactical Rack U-Notch Rear
RECOIL SYSTEM: One Piece Full Length Guide Rod
GRIPS: VZ Grips® Thin-Line G10
MAGAZINES: (2) 8-Round
WEIGHT: 40 oz
LENGTH: 8.4″
HEIGHT: 5.25″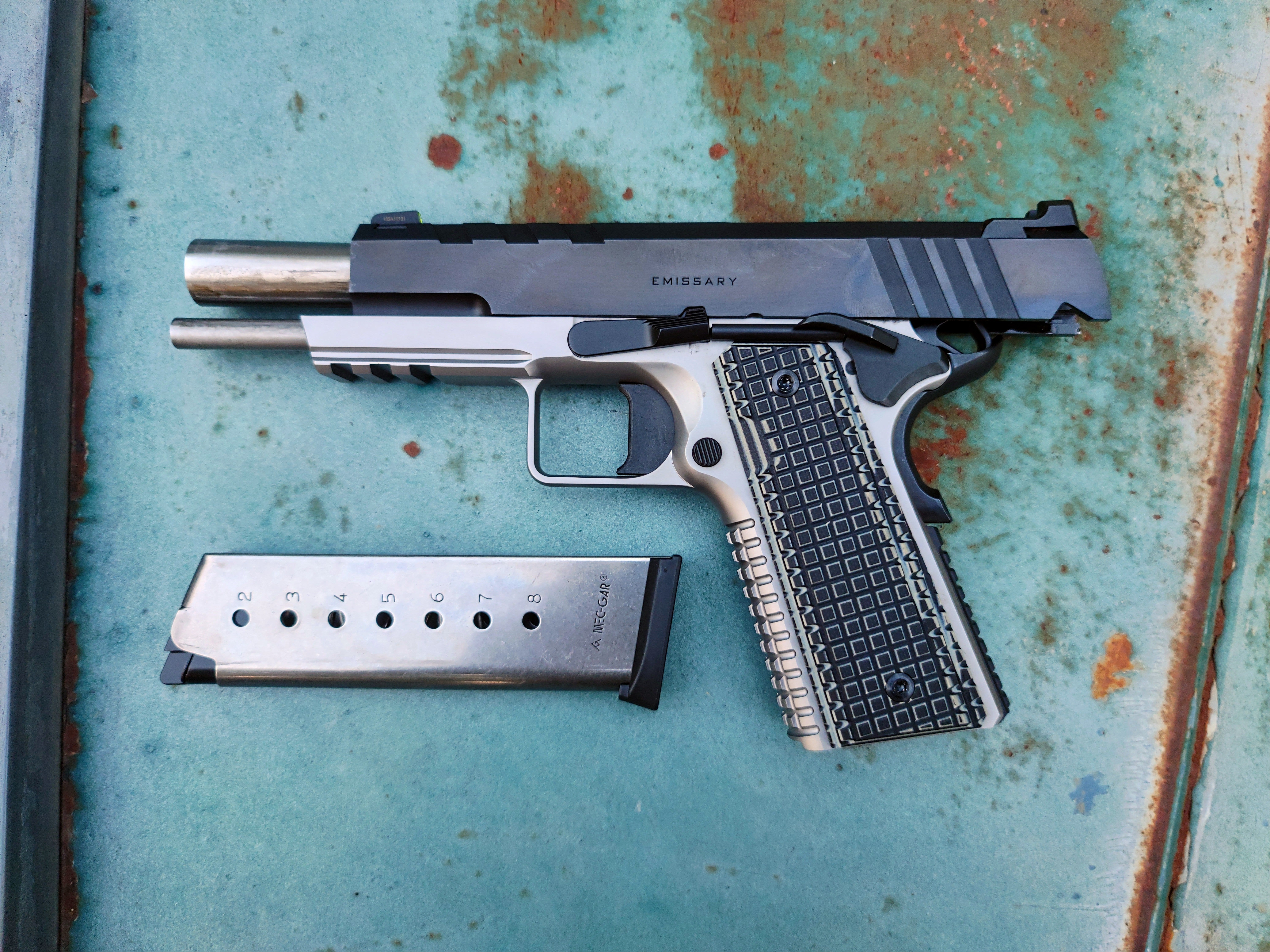 The initial MSRP for the Springfield Armory 1911 Emissary is benchmarked at $1,279. As always, in the rare event that you should ever need service for your firearm Springfield Armory has a Lifetime Warranty that stands behind all of their firearms. One final snapshot into what the 1911 Emissary is all about can be read below in Springfield Armory's Press Release statement:
Tasked with a special mission, the Emissary bridges defensive and custom pistols delivering a bold and capable addition to the Springfield Armory family of 1911's.

Built on a durable foundation of forged steel in its barrel, slide and frame, the Emissary offers a defensive pistol with an air of custom refinement. The pistol has a beautiful two-tone finish, with a blued carbon steel slide and a stainless-steel frame with squared trigger guard. A "Tri-Top" cut to the slide gives the pistol custom-grade styling, while a heavy-profile bull barrel delivers maximum accuracy and reduces felt recoil.

The Emissary blends form and function seamlessly in a defensive-minded firearm loaded with custom-grade features.
Field Use – Springfield Armory 1911 Emissary 45 Auto
The Springfield Armory 1911 Emissary has curb appeal for days, but the question that begs to be answered is how does it perform?… For me, a lot of the features prove their salt once you hit a firing line and put this pistol to use. One of the most noticeable elements of the pistol for myself was the grenade pattern texturing that surrounds the entire circumference of the grip. Springfield utilized a set of slim line VZ Grips® machined from G10 material with the rear mainspring housing and front strap machined to match perfectly. At first look, I thought the grenade pattern texture would not afford the shooter ample dexterity since the LPI (Line per Inch) of the grenade pattern was set so far apart. To my surprise, the grenade pattern was cut deep and crisply enough where you had all of the positive grip you needed.
The next feature that caught my eye was the Tri-Top cut slide. This unique slide has forward lightening grooves and a flattened and serrated top strap which reduces glare in nearly all lighting conditions. While this is a really attractive looking slide, my one concern is that it might impede your selection of kydex or other form-fitting holsters. Thankfully, Springfield cut the slide in a way where it is still compatible with no issues at all.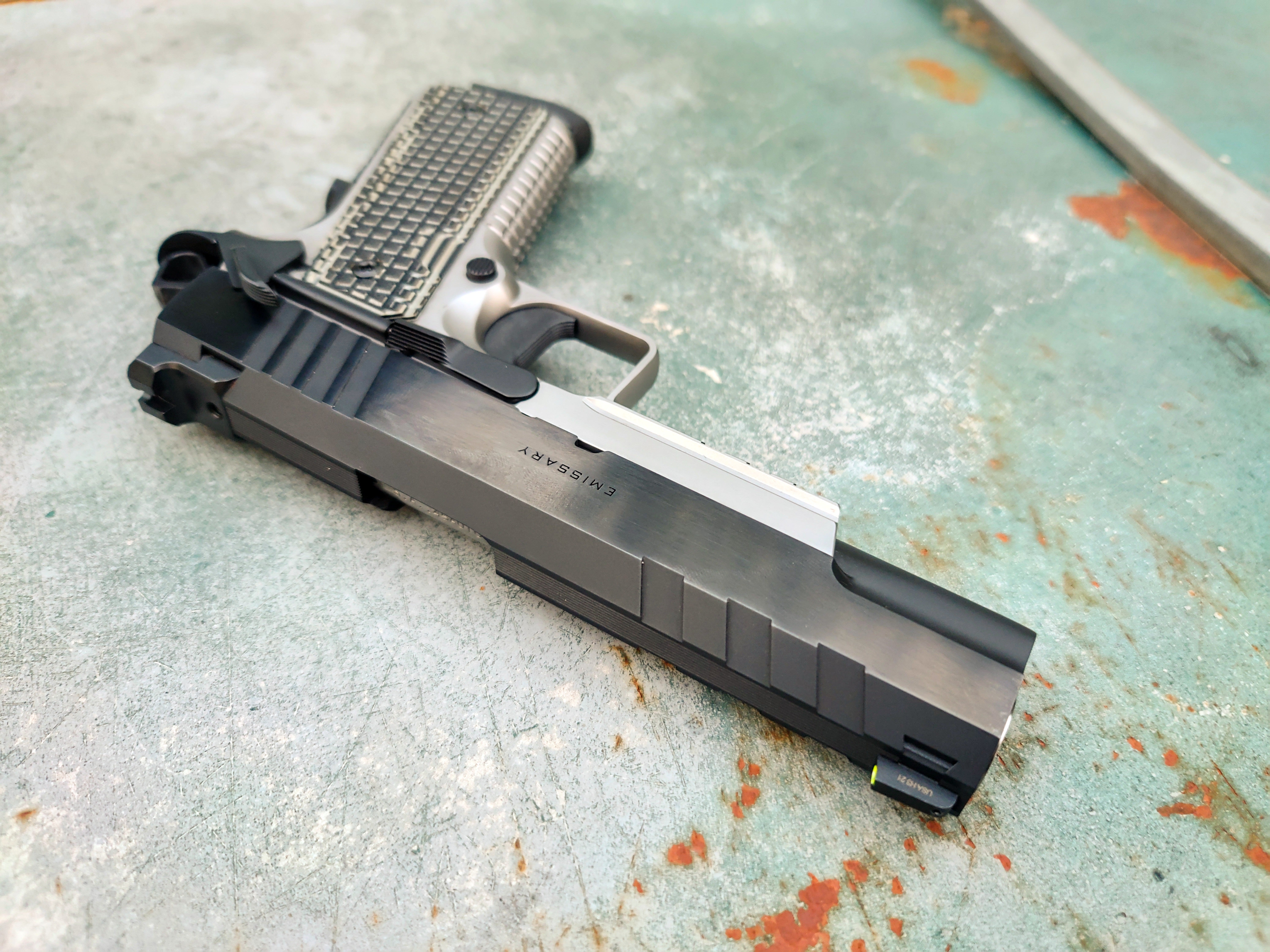 Another component that will draw your eye is the square trigger guard which is uncommon for a model 1911. This affords the shooter more room for their trigger finger and is more conducive to gloved shooting. Also, the solid-body, flat-faced trigger touts a simplified and streamlined design so owners will have a more consistent trigger pull; thus, equating to more accuracy on paper.
Something that will be familiar to recent Springfield owners are the sights. The Emissary deploys a similar U-Dot™ sight picture as their award-winning, micro-compact Hellcat. The tritium and luminescent front sight is paired with a Tactical Rack U-Dot™ rear. This makes for easier sight and target acquisition in all lighting conditions.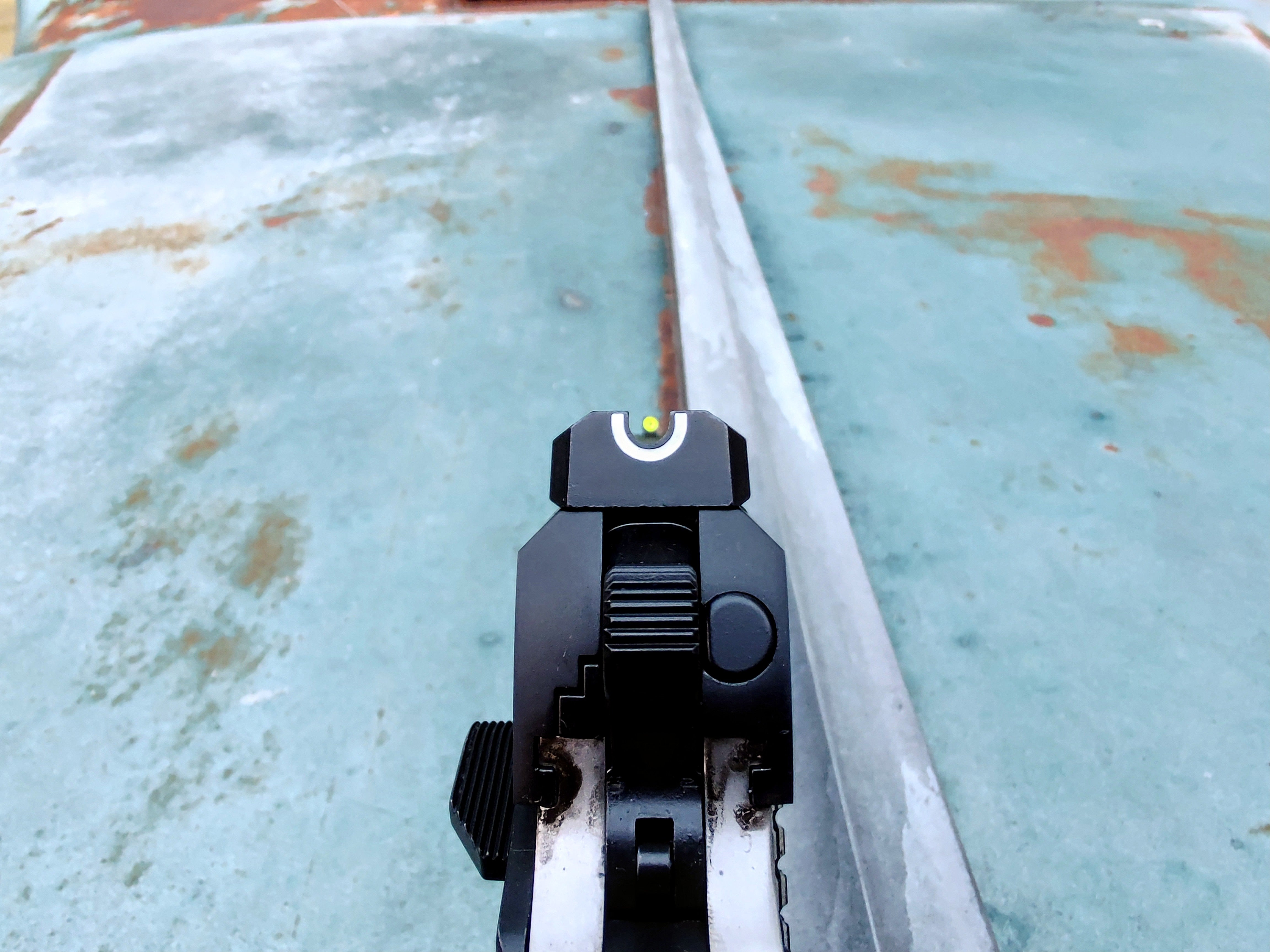 Once you get past all of the exterior features, you can start depositing lead down range. The accuracy of this pistol is on point and it has a lot to do with the build process and component choices Springfield made. This pistol utilizes a heavy-profile, bull barrel which improves the accuracy, mitigates recoil, and lessens muzzle flip. Also, by using a bull barrel no barrel bushing is needed so that means less moving/reciprocating parts. The tight slide-to-frame tolerances exhibit no play from the upper to the lower. The action is buttery smooth –  one of the smoothest I have ever hand cycled or fired – that does not hail directly out of a Custom Shop catalog.
As long as I kept my coffee jitters at a minimum, the Emissary put rounds into steel and paper at will out to 20 – 25 yards. If the pistol ever missed its mark it was most definitely user error and not a mechanical shortcoming.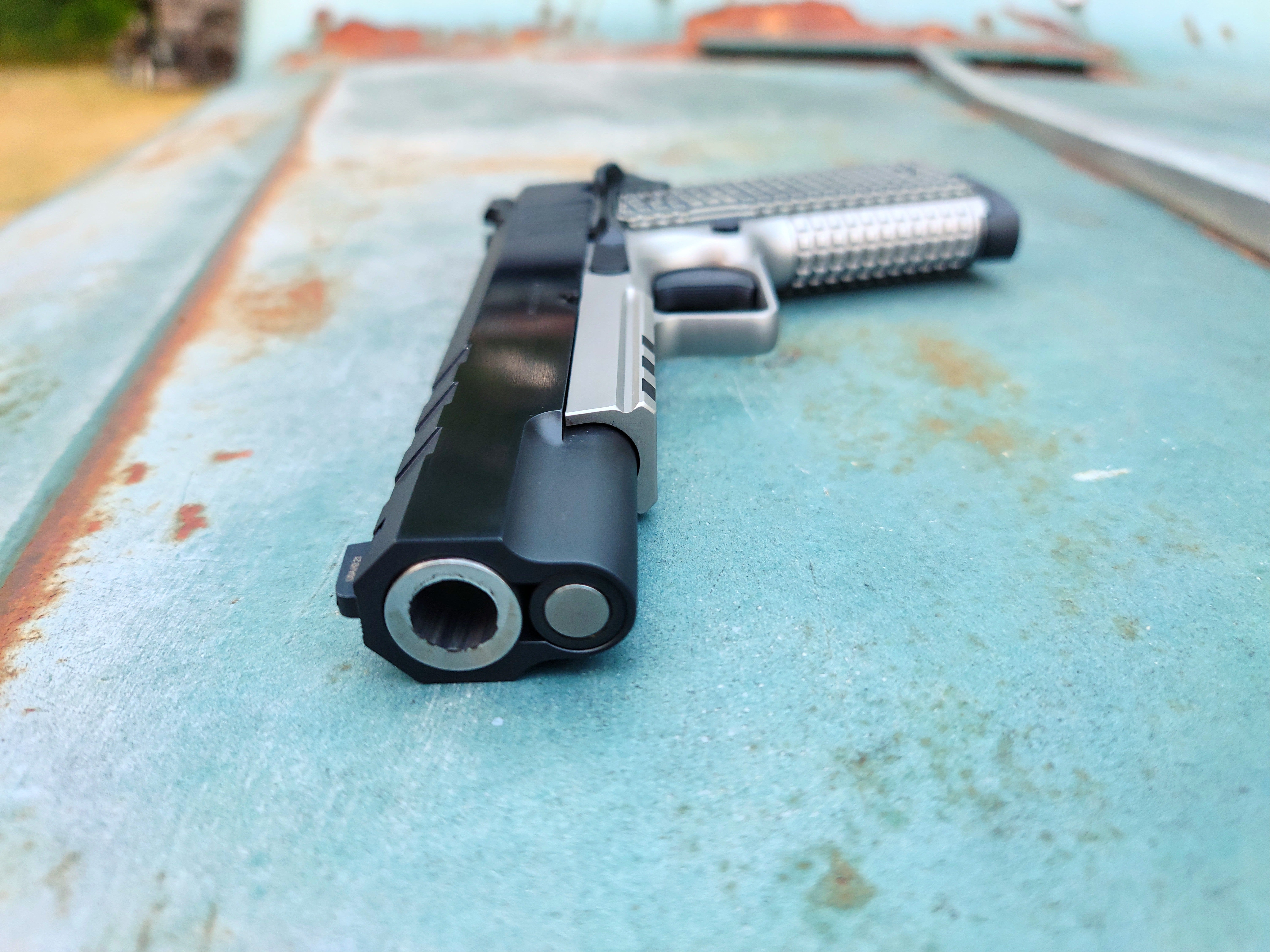 Final Thoughts – Springfield Armory 1911 Emissary 45 Auto
The Springfield Armory 1911 Emissary undoubtedly has looks for days with a fresh new aesthetic that does not compare to anything else out in the market around that $1,200 price-point. Moreover, its attractive features have utility in that you have more dexterity, accuracy, a cleaner sight picture, and an overall better application for field use.
If I have anything negative to say about the Emissary it would be small personal tastes in that I would prefer an even more aggressive grip texturing (tactile like sandpaper; literally). Also, the squared off trigger guard will not fit all molded holsters, but it will fit most. Again, these are personal preferences of mine so take it like a grain of salt. Overall, I firmly believe Springfield has a winner in the 1911 Emissary at the full MSRP of $1,279. You would be hard-pressed to find another 1911 with similar or more features at this same price-point.
In closing, I want to say thank you to Springfield Armory for allowing AllOutdoor and myself the opportunity to try out their Springfield Armory 1911 Emissary 45 Auto. That is greatly appreciated. Also, we would like to know what all of you guys and gals think? Do you believe that the Springfield Armory 1911 Emissary 45 Auto is something worth spending your money on? As always, let us know all of your thoughts in the Comments below! We always appreciate your feedback.