NEW Remington Core-Lokt Tipped – Elevated Accuracy & Terminal Performance
Adam Scepaniak 09.01.21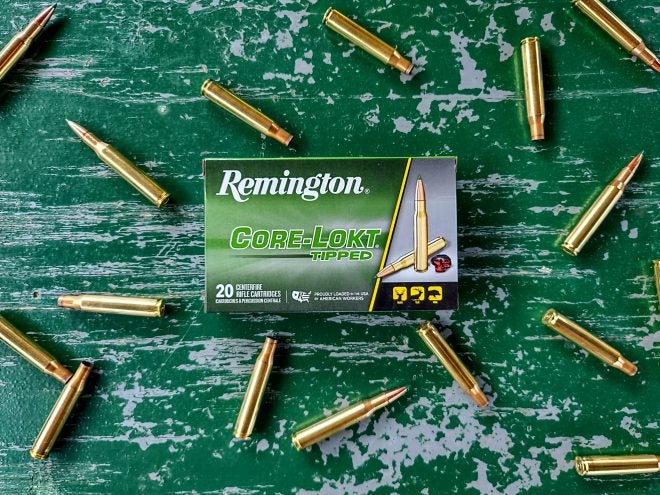 If the mornings are feeling more cool and that has your focus turned towards fall hunting seasons, we can assure you, that you are not the only one. The 1st thing that comes to mind for me when getting ready for hunting season is: Is my firearm sighted-in and do I have enough ammunition for it?… Well, if you are in need of more ammo like many of us Remington Ammunition has introduced a new series of ammo in their Core-Lokt Tipped offerings that boast improved accuracy and terminal performance on big-game.
AllOutdoor Coverage of Remington Ammunition
The Core-Lokt series of ammunition by Remington has been one of the most reliable and bread 'n butter offerings out there when it comes to rifle ammo for decades. Remington has offered a vast catalog of cartridges to pick from and they all perform well on big-game animals. Remington will look to continue in this trend with the improvement of the Core-Lokt Tipped series. All of the major features are presented below by Remington:
BIG GREEN POLYMER TIP – Improves long-range ballistics, in-flight accuracy, and initiates rapid expansion
PROVEN CORE-LOKT JACKET – Tuned for optimal performance on big game
MATCH-GRADE ACCURACY – Center of gravity adjusted rearward to maximize accuracy
POLISHED BRASS – Factory-fresh Remington brass of the highest quality
POWDER – Premier propellent blend specially chosen for optimal performance
PRIMER – Dependable Remington primer for fast and sure ignition
If you have been following along in the news on AllOutdoor for the past year, you are likely aware that Remington Ammunition faced some difficult times in 2020 – like many of us – and are starting fresh in 2021. For that reason, it is impressive that they not only are cranking out ammo for all of us, but also introducing new products like Core-Lokt Tipped. Remington Ammunition's Director of Marketing, Joel Hodgdon, shares his thoughts on pumping out ammo and unveiling the NEW Core-Lokt Tipped line of ammunition:
We've been talking about Big Green's comeback all year and nothing says Remington like Core-Lokt. We have made many advancements since restarting the Remington brand and working 24/7 to get ammunition on the shelves. But this is the biggest news yet. Team Big Green can't wait to get Core-Lokt Tipped in the hands of dedicated Remington fans that have depended on classic Core-Lokt for decades in the deer woods.
Like the original line of ammunition of Core-Lokt, this new series of Core-Lokt Tipped will be available in multiple cartridge offerings in standard 20-count boxes from the outset (with likely many more to come). The 13 initial offerings include some of the most popular hunting rounds for whitetail deer and other big-game animals. All of those selections and their associated MSRPs are listed below:
.243 Win 95 Grain | MSRP $41.99
6.5 Creedmoor 129 Grain | MSRP $46.99
.270 Win 130 Grain | MSRP $46.99
.280 Rem 140 Grain | MSRP $50.99
7mm Rem Mag 150 Grain | MSRP $54.99
.308 Win 150 Grain | MSRP $46.99
.308 Win 165 Grain | MSRP $46.99
.308 Win 180 Grain | MSRP $46.99
.30-06 Sprg 150 Grain | MSRP $46.99
.30-06 Sprg 165 Grain | MSRP $46.99
.30-06 Sprg 180 Grain | MSRP $46.99
.300 WSM 150 Grain | MSRP $61.99
.300 Win Mag 180 Grain | MSRP $58.99
Remington has impeccable timing with the launch of their NEW Core-Lokt Tipped ammunition because many of the hunting seasons around the United States and Canada are close to starting. This should give hunters ample time to sight-in their rifles and get ready for the many outdoor exploits they have planned this fall. I would be personally interested in seeing how the 6.5 Creedmoor or .308 Win offerings perform in some of my rifles. What do you think? As always, let us know all of your thoughts in the Comments below! We always appreciate your feedback.