Remington Bullet Knife Returns – "Prospector" 2021 Baby Bullet Knife
Adam Scepaniak 09.21.21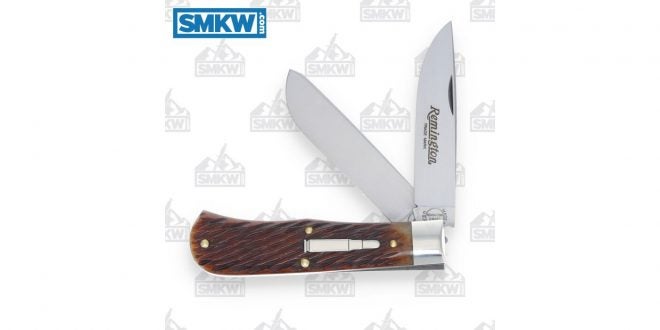 For those who are nostalgic for all things Remington, there is exciting news on the way regarding one of their most sought-after and collectible knives in the "Prospector" – the Remington Bullet Knife. Remington has entered into a licensing partnership with Smokey Mountain Knife Works (SMKW) to develop and distribute their Bullet Knife. The 1st Remington Bullet Knife was produced back in 1922 and now blade collectors can once again add that knife to their collection.
Remington Coverage on AllOutdoor
As Big Green begins churning forward again on all fronts it is fantastic to see them execute on even the little things like bringing back a much-respected knife for collectors. SMKW is known for having a longstanding relationship with Remington and all of their licensed products so striking up this collaboration seemed like an effortless and logical conclusion. All of the specifications for the Remington Bullet Knife can be read below as presented by Smokey Mountain Knife Works:
Specifications: "Prospector" – Remington Bullet Knife 2021
Blade Length vs Closed Length: 3.125″ | 3.75″
Blade Thickness: 0.07″
Edge Type: Plain
Frame / Liner: Cartridge Brass
Opener: Nails Nicks
Lock Type: Slip Joint
Blade Style: Drop Point/Spey
Handle: Jigged Bone with Molasses Finish
# Of Blades: 2
Blade Material: 1095 Carbon Steel
Type of Shield: Nickel-Silver Bullet
This knife is authentically made in the USA, is ambidextrous for all of our lefties out there, and it will come with its own Certificate of Authenticity to commemorate this nostalgic and historic blade. The Remington Bullet Knife will retail for $169.99 directly off of SMKW's website. SMKW Founder, Kevin Pipes, shared his thoughts on the collaboration below:
"The most important fact about the Bullet Knife is that it has always been USA made. We partner with the finest knife craftsman in the country to produce our knives, including Great Eastern Cutlery who is making this year's Bullet Knife. The overwhelmingly positive comments attest to the knife's quality and collectability. You can't go wrong making an investment in The Prospector."
The Prospector is currently available at the time of this writing and could make for a great folder this fall while out in the field hunting, or even as a gift to a fellow outdoorsman. As always, let us know all of your thoughts in the Comments below! We always appreciate your feedback.