UPDATE: Henry Raises Over $46,000 For 6th Grade Maryland Girl
Nicolas Lenze 11.09.21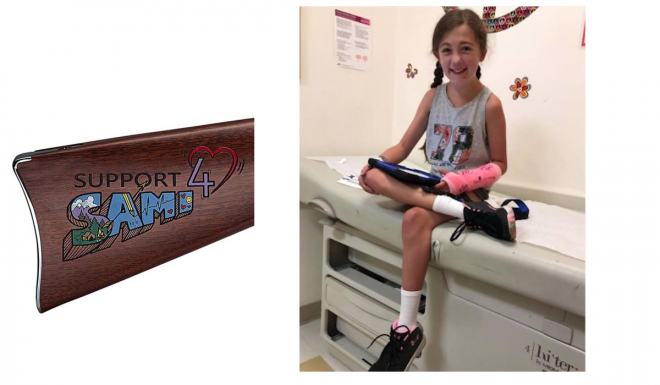 Last month, I wrote an article about an 11-year-old girl who was receiving help from Henry Repeating Arms. Battling through multiple congenital heart defects, leading to five open-heart surgeries, Sami Bernadzikowski and her family were facing some daunting medical expenses. To help them out, Henry Repeating Arms donated 65 special edition "Support 4 Sami" rifles. With generosity from supporters, Henry raises an excess of $46,000 for the Bernadzikowski family.
Henry Repeating Arms Coverage on AllOutdoor
Henry Repeating Arms is pleased to announce that a donation of 65 custom "Support 4 Sami" rifles raised a total of $46,700, all of which will benefit the family of 11-year-old Sami Bernadzikowski of Elkridge, Md. The money provides relief for the medical expenses incurred throughout Sami's treatments for multiple congenital heart defects, including five open-heart surgeries and over thirty catheterization procedures.
Henry Raises Over $46,000 For Sami

Thanks to the overwhelming support of the firearms community, and the contributions of Henry, every last custom Golden Boy Silver lever-action rifle was sold. In fact, the rifles were sold out within 24 hours of becoming available, raising $46,700. The first and last serial numbers were put up for auction; one selling for $2,725, and the other for $3,025. Anthony Imperato, CEO and Founder of Henry Repeating Arms, had this to say:
"To those of you who purchased one of these rifles or offered your support in some other way, I thank you for giving Sami another reason to show off that big smile."
Over the past two years Guns For Great Causes has raised over $250,000 for six families. If you'd like to learn more about how Guns For Great Causes and Henry raises money, head over to their website and help where you can. If you'd like to learn more about Henry Repeating Arms, take a trip to their website, as well. Remember to give them a like or follow on social media for more content directly from Henry. You can find them on Facebook, Instagram, and YouTube. Keep taking care of each other.