AO Review: Springfield 'Defend Your Legacy' Series 1911 Mil-Spec
Brady Kirkpatrick 01.03.22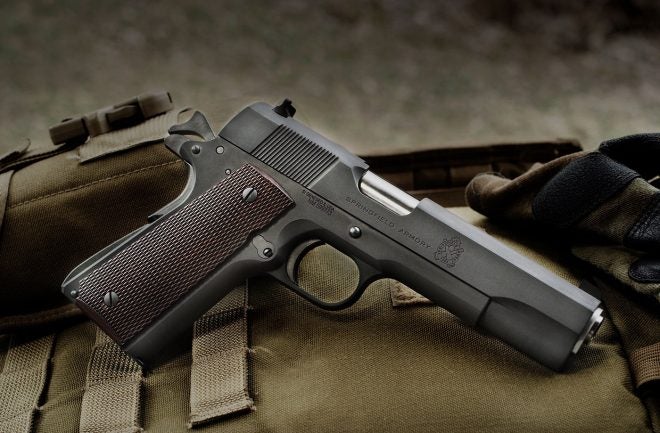 Not too long ago, I was the proud owner of a Wilson Combat 1911. It was previously owned by my late father; a passionate gun collector. It was one of the first guns my dad let me hold which perhaps built that nostalgic connection I have with 1911s. While the original was certainly a classic, the Springfield 'Defend Your Legacy' Series 1911 Mil-Spec is a modern take on what is an otherwise historic handgun. This isn't the only modern take on this classic, though I might add.
The 1911A1 GI – despite its large fan base, reliability, and beauty – can be had for less than the price of a Glock 19, but the question you're most likely asking is: "Is it worth the money?" More importantly, perhaps to many readers and me, does the Springfield 1911 Mil-Spec continue with its legacy of precise fitting, excellent build quality, reliability, and accuracy of the original Wilson Combat?  That's exactly what we set out to answer in this review, and read till the end, as we go over every feature to see how it compares to the classic.
Springfield Armory Coverage on AllOutdoor & TheFirearmBlog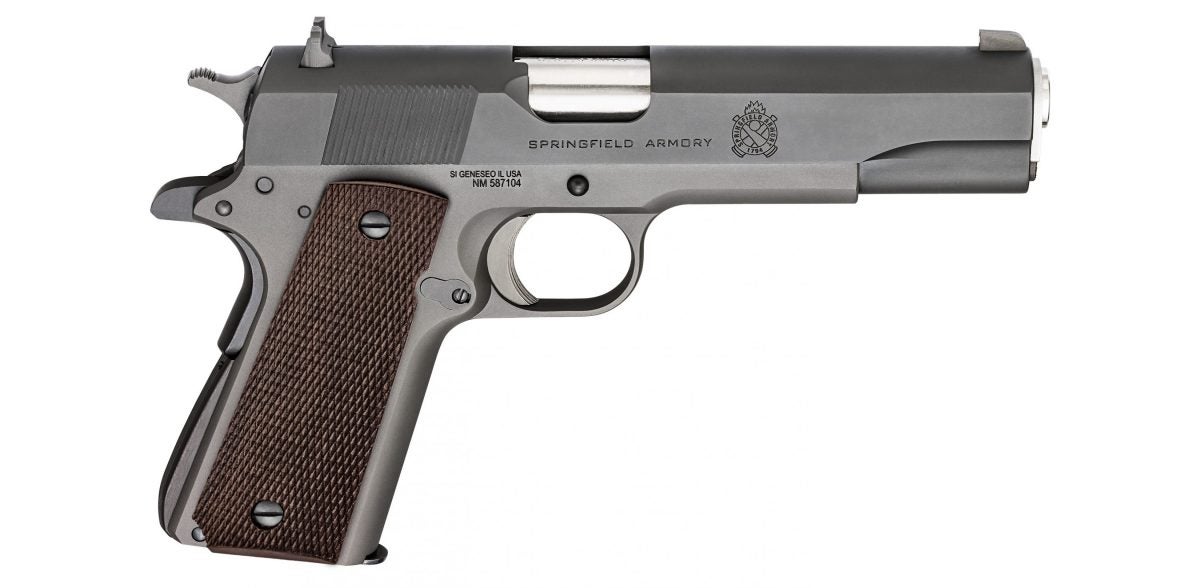 Specifications – Springfield Armory 'Defend Your Legacy' Series 1911 Mil-Spec
Springfield Armory has three offerings in their 1911 Mil-Spec pistol series and most of the specifications are identical. The only difference is a slightly different grip (among other qualities); however, these shouldn't be mistaken for your run-of-the-mill, budget 1911 clones which are unfortunately a dime-a-dozen. The specifications below outline a superior quality handgun which seems to be living up to its predecessor's legacy.
Cartridge: .45 ACP
Barrel: 5″ Forged Stainless Steel, Match Grade, 1:16
Slide & Frame: Forged Carbon Steel, Parkerized
Sights: Fixed Combat 3-Dot
Recoil System: GI Style
Grips: Wood Composite
Magazines: (1) 7-Round
Weight: 39 Oz
Length: 8.6″
Height: 5.5″
MSRP: $709
My first impression of all three Springfield 1911s is its a solid gun. They feel well-balanced, pleasant-shooting, and premium for their price category. Speaking from experience, after handling many 1911 clones – which I will not name – this one was a pleasant surprise. For starters, it is an excellent piece of nostalgia that gets the original right in many ways.
The slide is nice and smooth with no stuttering or irritating grinding like some clones you can buy for the same price. It almost feels natural with a well-balanced weight. Perhaps my only complaint is the box which does not do this beauty justice.
To anyone who has owned the original or used it, the Springfield 1911 Mil-Spec is a nostalgic object rounded off by the plain-Jane pattered grip and married with a parkerized finish. The parkerized finish feels almost like velvet. Unlike some other attempts at parkerizing that downright sucks (for lack of a better word). Springfield has gotten the feel right. Under the hood, there is a lot that separates the Springfield 1911 Mil-Spec from even some of the best clones I've used; however, much of it is only evident once you take it to the range; something we'll get into later.
Pros – Springfield 'Defend Your Legacy' Series 1911 Mil-Spec
Crisp trigger action with around 4.5 lbs of pull
Feels great in the hands; the narrow grip makes it comfortable to hold
This 1911 can easily be tuned and fitted for exceptional accuracy
It feels slightly heavy in the hand which is advantageous depending on your personal preference
This 1911 is backed by an extensive library of easily available aftermarket parts
A reliable gun which can possibly last for decades if taken care of
Excellent value for money
Cons – Springfield 'Defend Your Legacy' Series 1911 Mil-Spec
The non-standard safety lock can be a hassle to replace if needed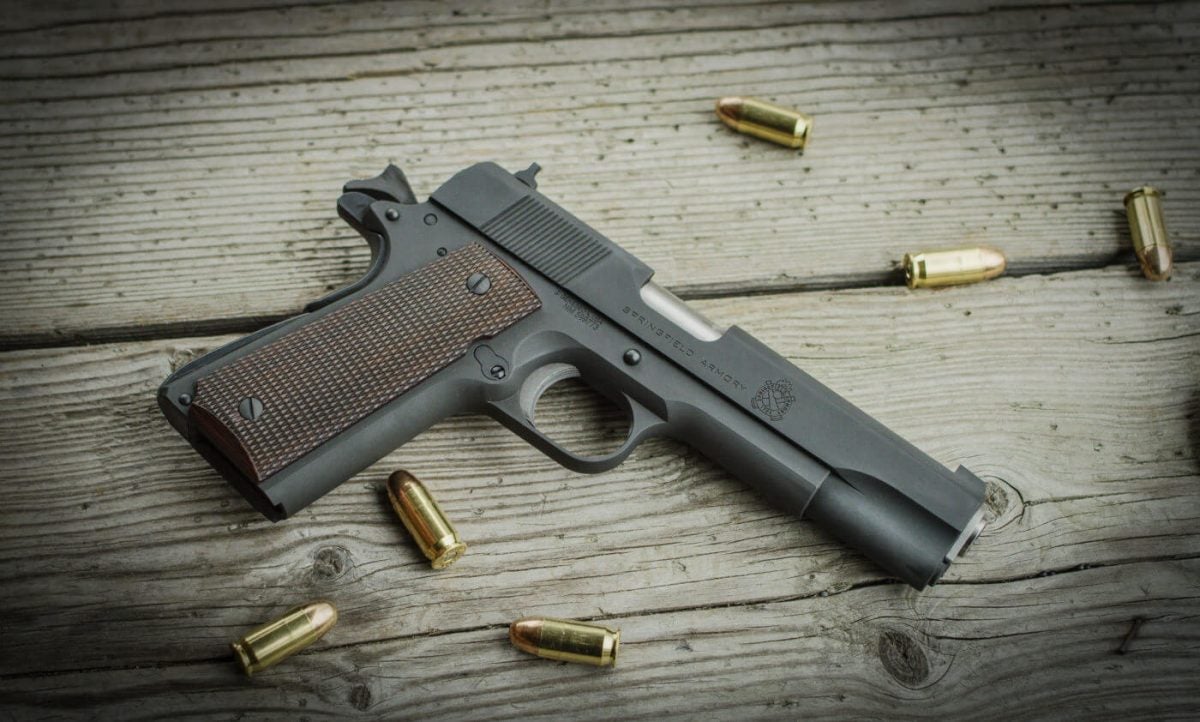 Range Time – Springfield 'Defend Your Legacy' Series 1911 Mil-Spec
Before we dive into our experience at the range, it is worth mentioning that this 1911 Mil-Spec is for a specific type of shooter. At 39 ounces, the gun is quite a bit heavier than Springfield Armory's polymer-framed Hellcat, for instance. The extra mass means good recoil management, and for many, it means a sense of control.
We took the Springfield 1911 Mil-Spec on quite a few trips to the range. I used different ammunition each time to find potential quirks with the gun. The good news is that there aren't any quirks – there wasn't a single malfunction – and it does not need a break-in period. We used Federal American Eagle 230 Grain FMJ and CCI Blazer 230 Grain which didn't trouble us at all. Even with a set of 230 Grain rounds, the recoil isn't uncontrollable or unpleasant. The single-action trigger feels crisp, and honestly, it is a dream to use. A reliable choice that performs as expected each time.
After using the Springfield 1911 Mil-Spec multiple times at the range, I can safely say this is amongst the best handguns you can buy today. Everything works as expected with a smooth slide release. The magazine release is quick and simply ejects each time without sticking even when we used it in the snow.
Final Thoughts – Springfield 'Defend Your Legacy' Series 1911 Mil-Spec
The Springfield 1911 Mil-Spec is one of the best budget-buys out there, in my opinion. I've held and used the gun long before drafting this review or even thinking of it. I've disliked most 1911 replicas in the $500 – $800 price range; however, the Springfield 1911 Mil-Spec is the only exception I'd recommend. All it takes for an experienced gun enthusiast is a few minutes on the range to figure out how the Springfield 1911 Mil-Spec is superior in every possible way compared to what's already available out there.
The original 1911 was an amazing gun over a hundred years ago with a crisp feeling. The Springfield 1911 Mil-Spec does an excellent job of reproducing that feel using modern manufacturing and subtle improvements that are hard to put into words. It is a marvel of modern gun making that we think costs far less than it should be worth. This makes it an excellent budget purchase. I, unfortunately, no longer own my father's Wilson Combat 1911 for those wondering, but I am the proud owner of the Springfield 1911 Mil-Spec. It is a nostalgic yet highly capable reproduction of the classic you can't go wrong with.