AllOutdoor Review: Sitka Equinox Turkey Vest in Optifade Subalpine Camo
Adam Scepaniak 05.23.22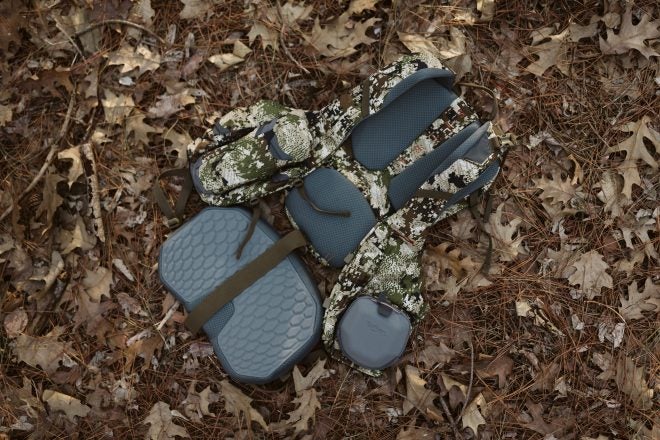 When it comes to turkey hunting – or any game – you need to know what you are working with. For turkeys, they do not have a superb sense of smell, but their hearing and eye sight is fantastic. As a result, you do not want to slouch on your camo game when it comes to turkey hunting because it can be a dead give-away to your position; bad camo equals no tags filled. So, in this AllOutdoor Review, we take a look at the NEW Sitka Equinox Turkey Vest in Optifade Subalpine camouflage to see how it could benefit you while turkey hunting this spring or any time of year.
Sitka Coverage on AllOutdoor
Specifications – Sitka Equinox Turkey Vest in Optifade Subalpine Camo
For many turkey hunters who are stomping through the fields and forests, we are toting along with us a lot of gear. So, anything we can do to make that process from our truck to our hunting position more efficient we definitely want to tap into. That is why hunting vests are useful. The Sitka Equinox Turkey Vest has methodical storage pockets for your calls, license, wallet, other hunting necessities, and even orange tassels on the back (so other hunters can see/identify you and not shoot in your direction on public land). All of the specs for the Sitka Equinox Turkey Vest in Optifade Subalpine camouflage can be read below as presented by Sitka:
75-denier brushed-face polyester woven fabric with durable water repellent finish
Comfortable, ergonomic fit designed for run-and-gun style hunting
Adjustable pack strap system offers customizable fit in sizes XS-XXL
Four compression straps reduce bulk and connect to each other to secure a bird
Removable dual-density foam seat deploys, cinches back up and stays harnessed tight to the pack when on the run
Water-resistant molded clamshell pocket with magnetic closure keeps two pot calls dry in divided sleeves; stores three diaphragm calls in easy-access slots
Water-resistant box call storage pocket provides a snug fit to eliminate unwanted noise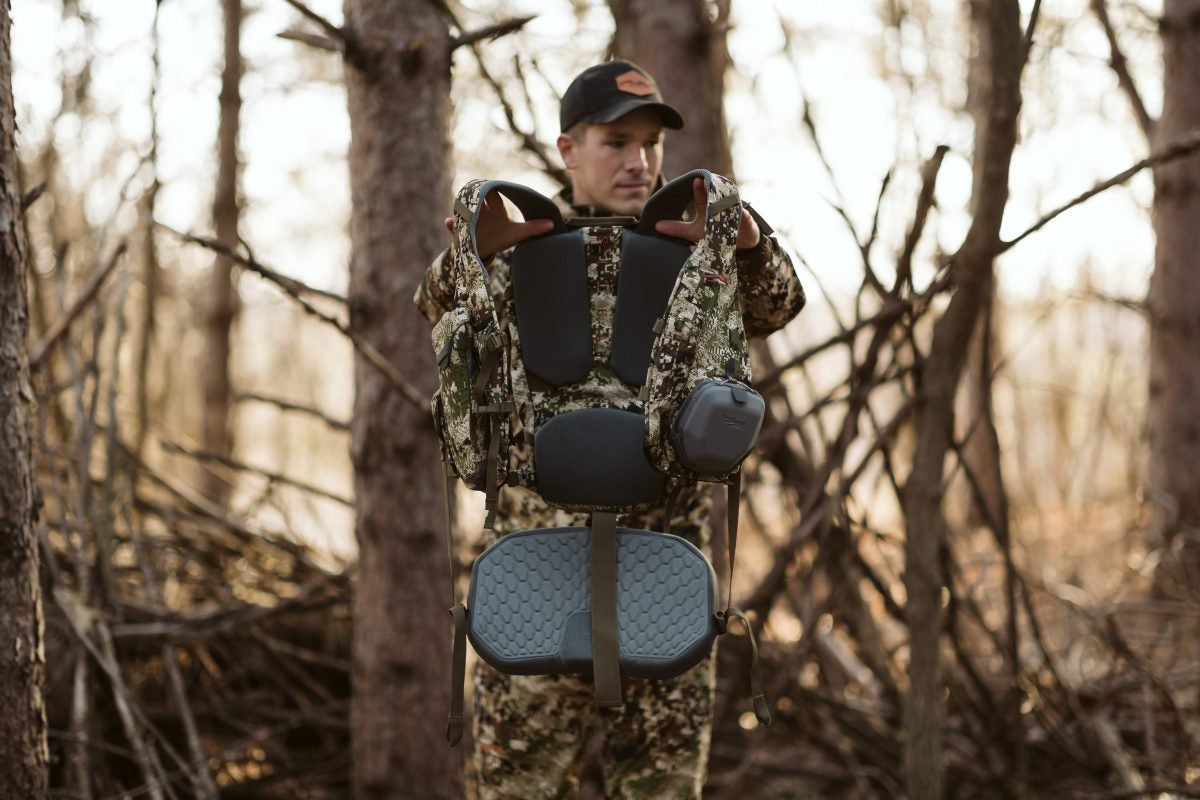 Right- and left-side pockets store four strikers
Versatile side pocket stores miscellaneous essentials
Three internal mesh zippered pockets store tags and other small items
Large zippered back pocket is hydration bladder compatible
Removable fowl slip noose designed to carry a bird; clips onto shoulder strap
Zippered shallow top pocket with key clip
Open top outside pocket stores rain gear
Two blaze orange flags on back can be deployed for safety
Total weight: 44.5 oz.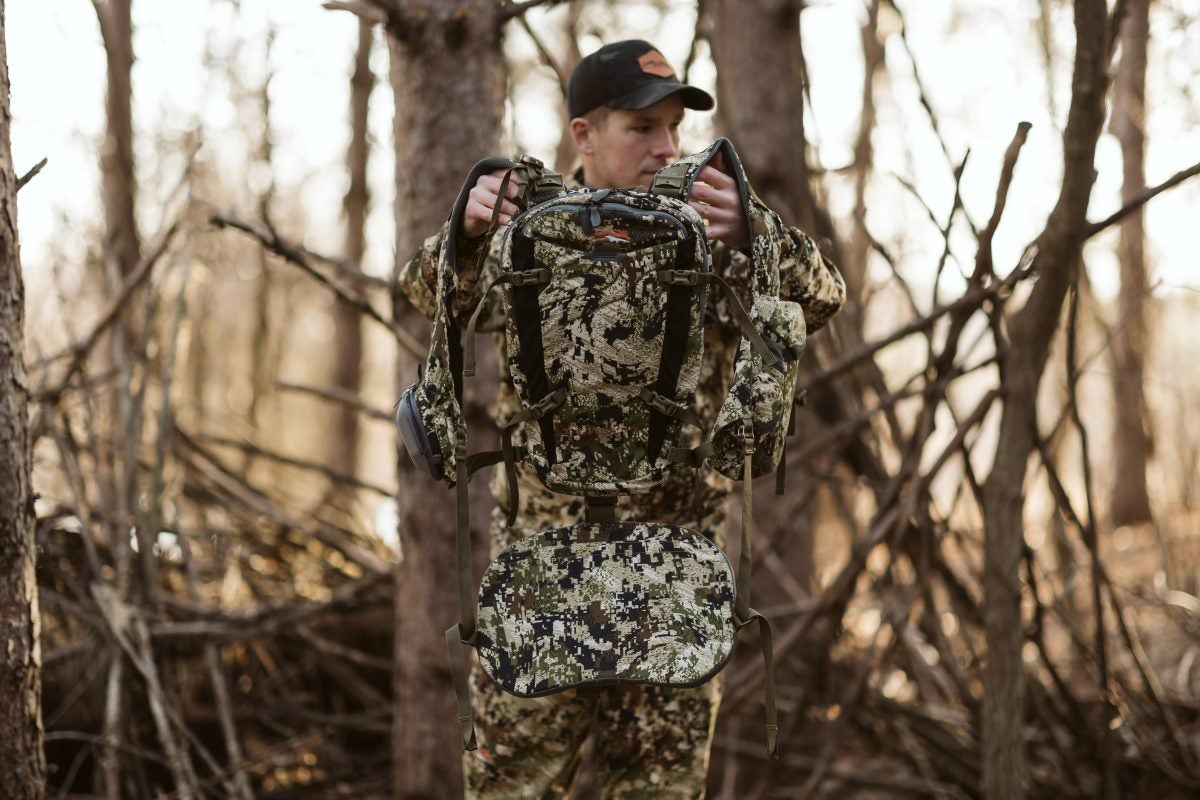 The Sitka Equinox Turkey Vest in either their Optifade Subalpine or Waterfowl Timber camouflage retails for $249. Those two chosen camouflage offerings perfectly match other clothing products from Sitka so you can perfectly pair this vest with other hunting clothes you might have. I chose to pair the turkey vest with Sitka's Dew Point Waterproof Jacket and Pant in Optifade Subalpine camouflage for full camo coverage while hunting this spring. Sitka shares a bit of their secret sauce that is instilled in the Sitka Equinox Turkey Vest through their Press Release statement below:
"This is no traditional turkey vest. We took a pack-like approach and developed a comfortable and efficient vest based on the movement and organizational needs of run-and-gun turkey hunting. It has ample yet minimalist storage — including magnetic-closing pockets — to keep box calls, pot calls, strikers and other tools organized and dry. Adjustable straps create a secure fit; a drop-down seat deploys and cinches back up quickly and securely."
Field Use – Sitka Equinox Turkey Vest in Optifade Subalpine Camo
When it came to actual use in the field with Sitka's turkey vest there is a lot of intelligent design choices that I appreciated one. One of the most immediate elements I took notice of were the latches or clips. Instead of a central zipper or button which can be eerily loud in the morning silence, Sitka made what looks to be a near proprietary clip system. It is essentially silent and easy to lock in place even one handed. There has been more than one occasion where I have stumbled onto deer or turkeys mere yards away from my truck so it is important to be as quiet as possible the moment you step out of your vehicle.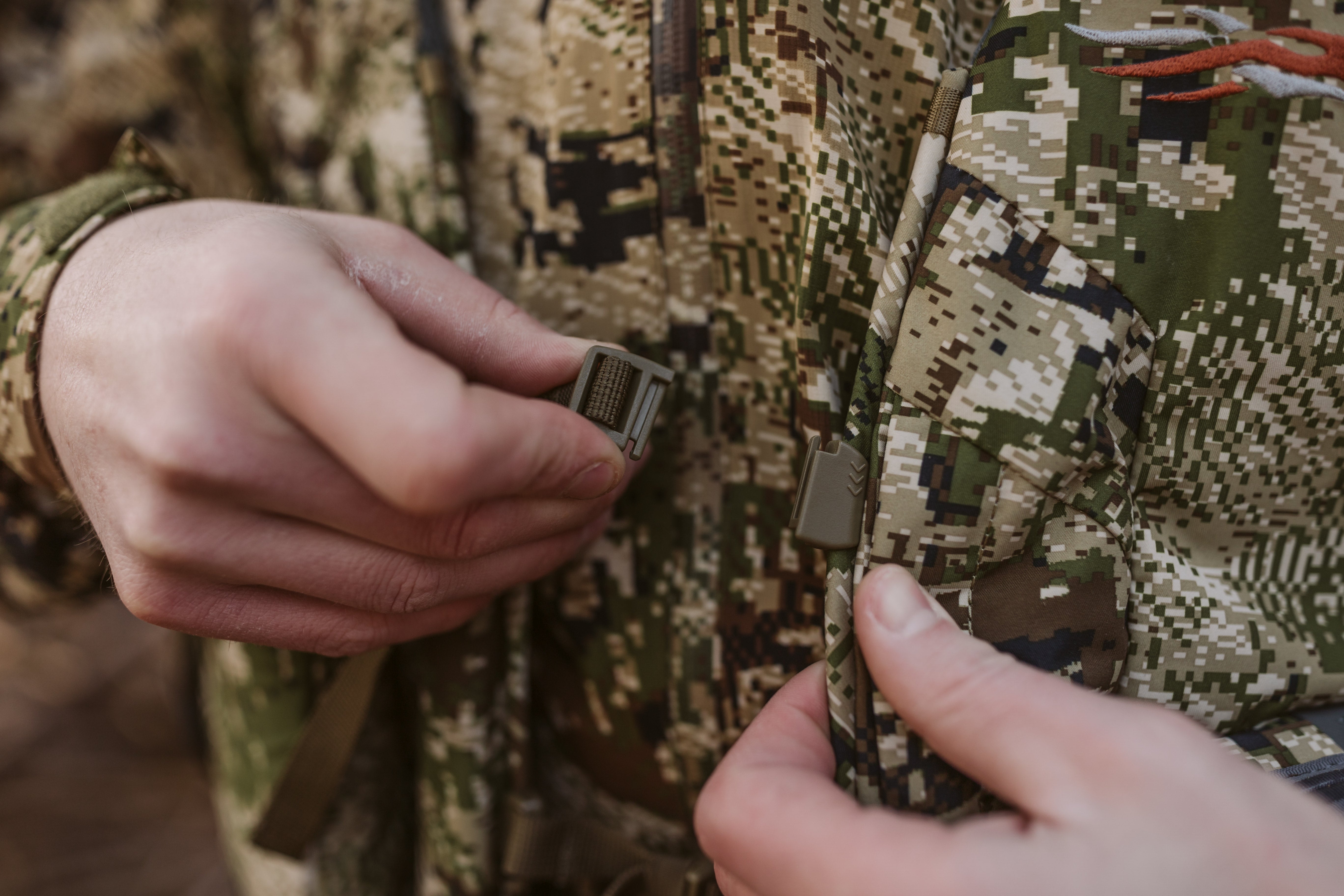 I also appreciated the specific pocket on the front of the vest for a turkey call. I try to not be fumbling for snacks or my cell phone while I am turkey hunting, but my fidgety nature has me constantly calling or reaching for my call. To have a magnetically-closing pocket with an additional tiny bungy cord I thought was equal parts clever and silent.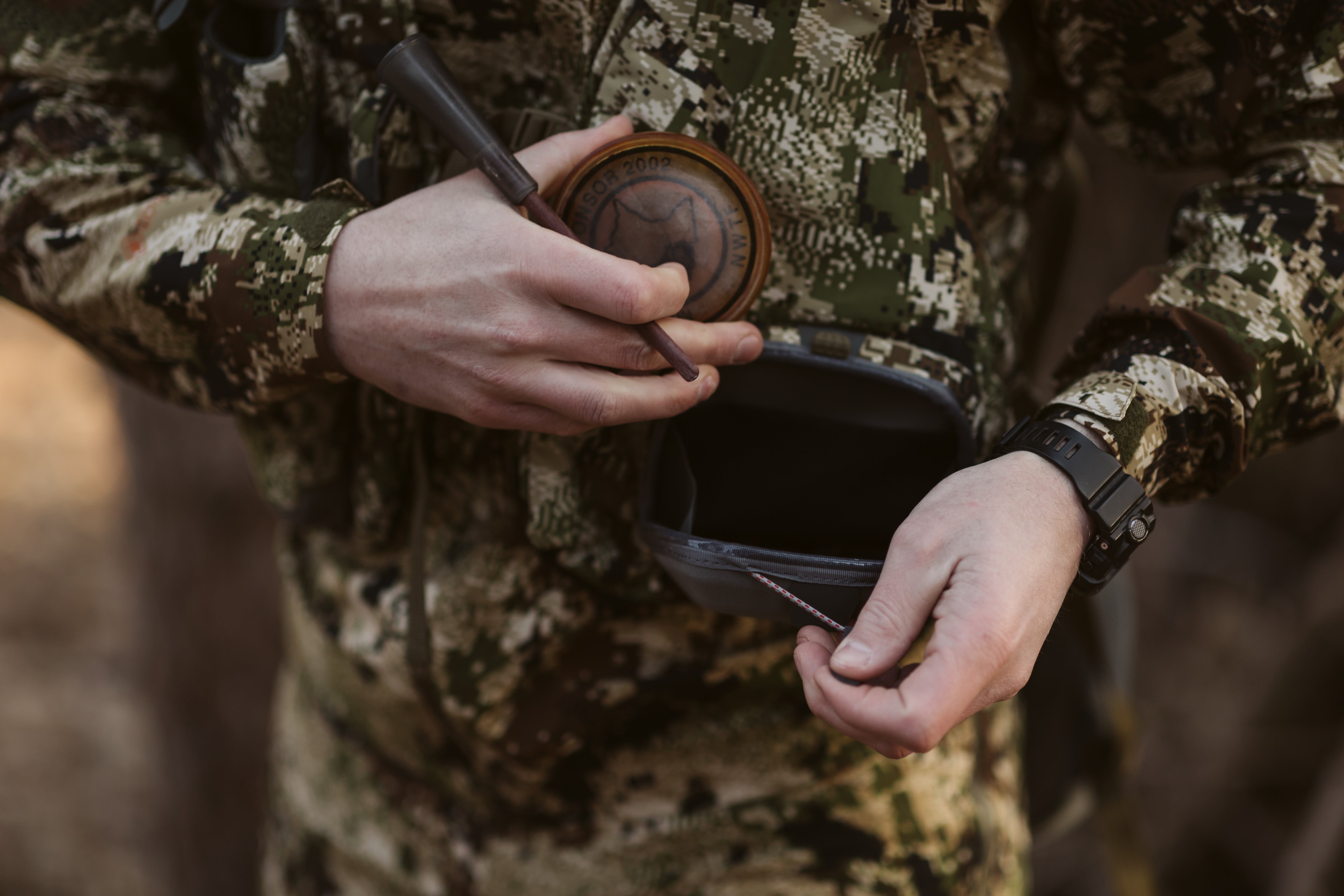 Another forward-thinking feature of the turkey vest was the built-in cushion. I am of the hunting crowd that actually prefers to hunt without a blind. I go out into the woods traditionally with a boat cushion and get on the ground with the birds. I've had really cool hunting experiences because of it like raccoons walking over me, deer less than 5 yards away, and seeing turkeys on a more intimate level. So, with a cushion built into the vest that is one less thing I need to carry in my hand, but it is ready at a moment's notice.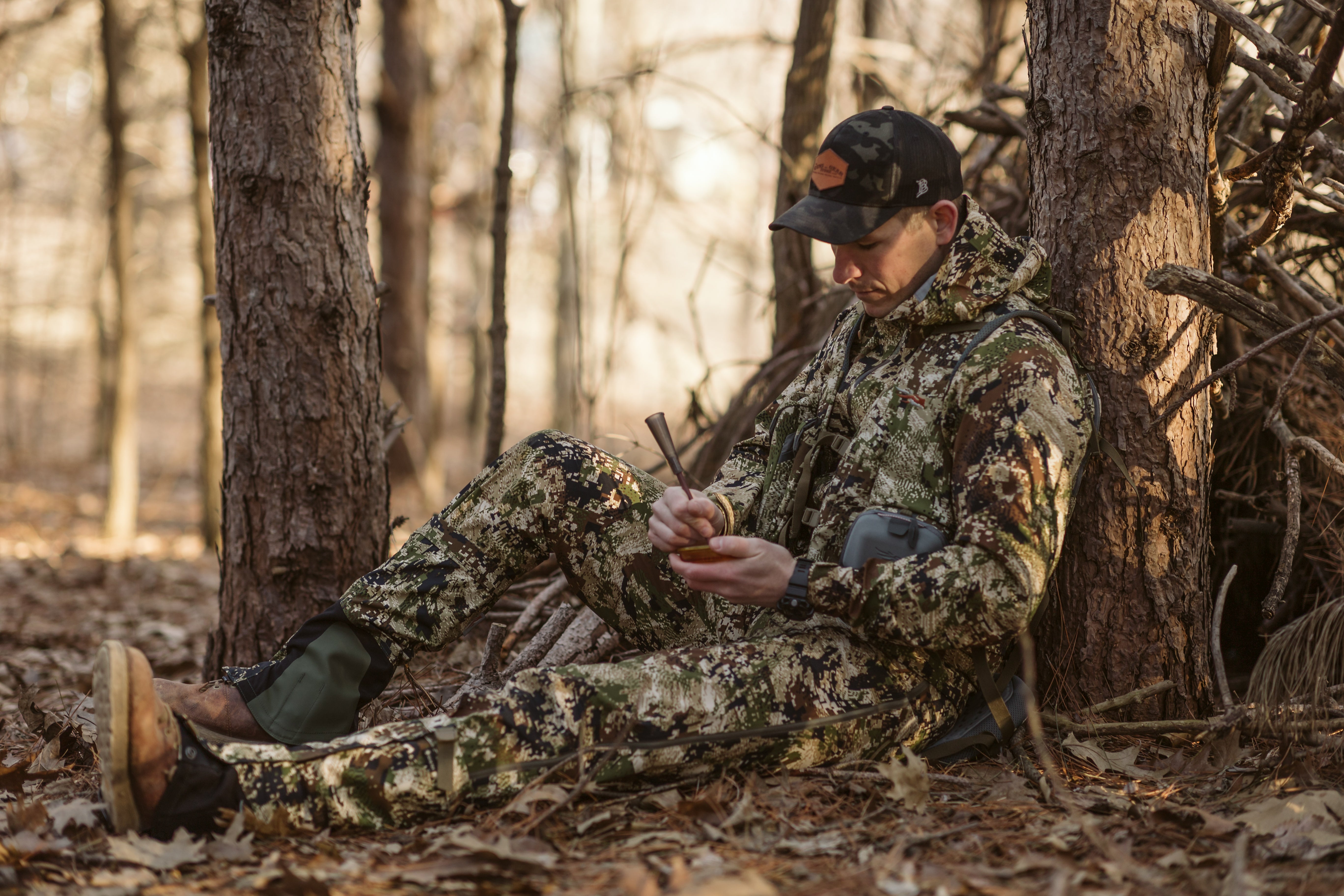 Something in all of my years of hunting I may have never thought to include in a turkey vest are the blaze orange tassels on the backside. It might be an after-thought for those who own their own hunting land, but for anyone who has hunted public property knows, not all other hunters are practitioners of safe gun handling. With hyper-realistic decoys and being a good turkey caller, a stranger (who is also hunting turkeys) could mistake your plastic decoy for a real bird and your calling for live turkey sounds. To curb against "friendly-fire" or a horrific hunting accident, Sitka included these blaze orange tassels on the backside as a safety precaution to other hunters. You say you don't need or like them?… Simply tuck them away out of sight; user preference.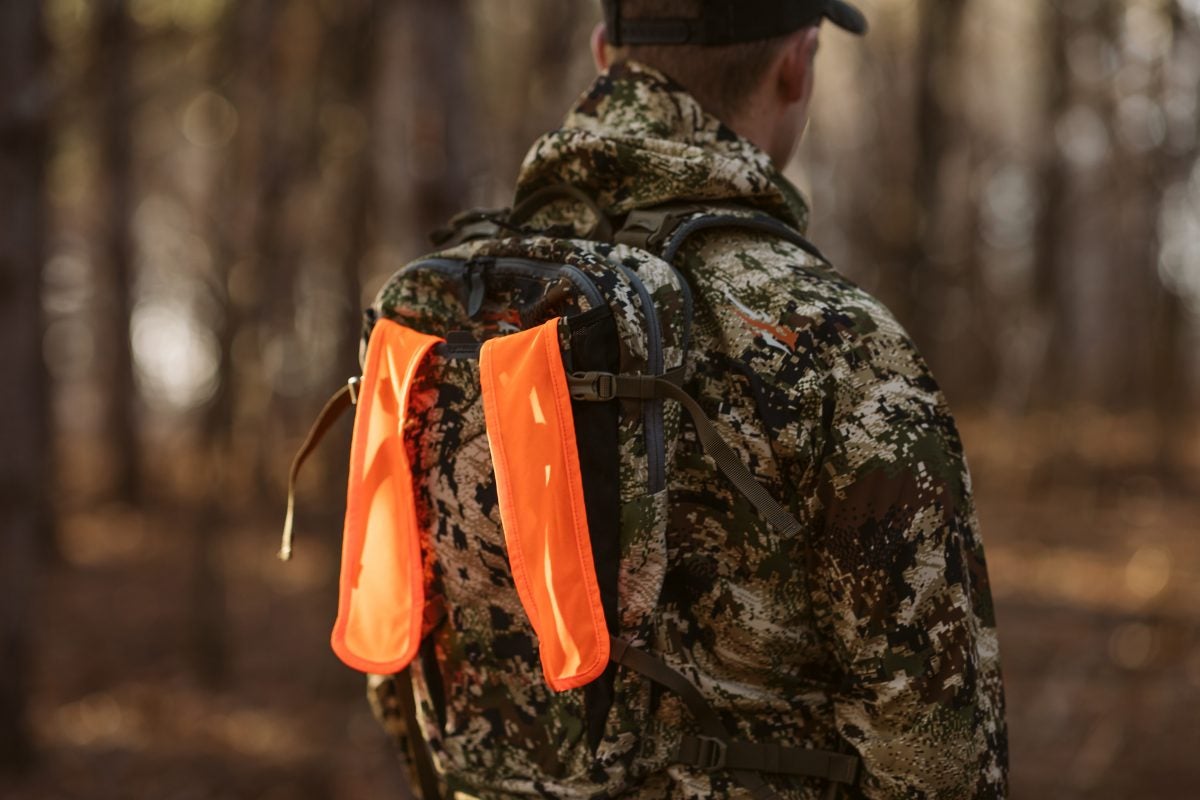 This turkey hunting vest has pockets galore that would suit anyone's needs, but the small creative design choices mentioned impressed me most. There is a backpack area on the back, lots of front side pockets, and overall, it is relatively light. Sitka took something simple – a hunting vest – and gave it their flavor of awesome.
Final Thoughts – Sitka Equinox Turkey Vest in Optifade Subalpine Camo
So, what are my final thoughts on the Sitka Equinox Turkey Vest in Optifade Subalpine camouflage?… Overall, I love the fact that it matches a lot of my prior Sitka clothing. Nothing is worse than when some companies (not Sitka) have 19 different camos and none of them match or can be paired together. Also, this hunting vest from front-to-back has been meticulously poured over with thoughtful design cues. From a silent clip closure to magnetic turkey call pockets and a cushion that is always at-hand. Sitka always does a tremendous job of taking a product and bringing it to the next level. For anyone looking for a turkey vest – or a vest that could be used for a multitude of other hunting – this is a slam dunk.
In closing, I want to say thank you to Sitka for allowing AllOutdoor and myself the opportunity to try out their Sitka Equinox Turkey Vest in Optifade Subalpine Camouflage. That is greatly appreciated. Also, we would like to know what all of you guys and gals think? Do you believe that the Sitka Equinox Turkey Vest in Optifade Subalpine Camouflage is something worth spending your money on while scouting and hunting? As always, let us know all of your thoughts in the Comments below! We always appreciate your feedback.
---
Video and Photography
All of the quality photography for this review was completed by the accomplished and wonderful Savannah Pierson of Savvy Photage while the video work was achieved by the versatile and gifted Jens Kallgren of High Shine Media. They are both pinnacles of knowledge and expertise in their field, and their assistance in reviewing the Sitka Gear Kelvin Aerolite Jacket in Optifade Open Country camouflage is greatly appreciated.