Springfield Armory Announces NEW NBS-Exclusive Two-Tone Desert M1A
Adam Scepaniak 06.08.22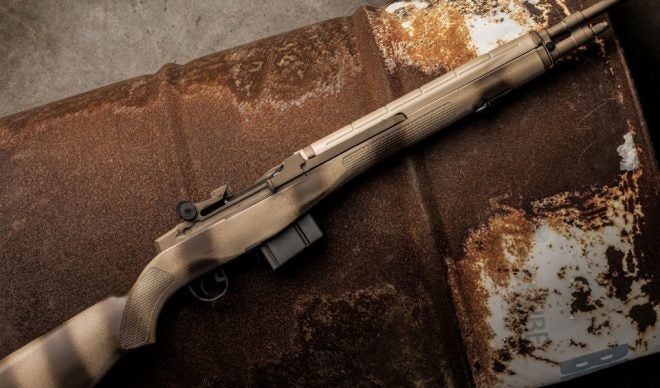 Springfield Armory is prominently known for being the "battle firearm" company that most notably produces 1911s, AR-15s, and M1As. Now, they are expanding their offerings of M1A rifles by crafting a standard and Scout Squad M1A model in an NBS-Exclusive Two-Tone Desert M1A finish reminiscent of Flat Dark Earth (FDE).
Springfield Armory Coverage on AllOutdoor
This new rifle offering with its Two-Tone Desert FDE finish will boast many of the features we have come to know and love about the M1A including an aperture rear sight, National Match front sight blade, and a large flash suppressor. Also, with this specially-curated offering you will receive (1) 15-round and (1) 10-round magazine. The rest of the specifications for the NBS-Exclusive Desert M1A can be read below as presented by Springfield Armory:
Cartridge: .308 WIN (7.62x51mm NATO)
Color: Two-Tone Desert FDE
Barrel: 22″ 6-Groove Carbon Steel, 1:11, Desert FDE
Front Sight: National Match .062″ Blade
Rear Sight: Military .0690 Aperture, MOA Adj. for Windage & Elevation
Stock: Two-Tone Desert FDE Composite
Trigger: 2-Stage
Muzzle Device: Flash Suppressor
Magazines: (1) 15-Round (1) 10-Round
Weight: 8 Lb 8 Oz
Length: 44.33″
MSRP: $1,847

"The M1A™ Standard Two-Tone Desert FDE Rifle is a civilian-legal semi-auto version of that revered U.S. Military M14 rifle. An NBS Distributor exclusive, the M1A™ Standard Two-Tone Desert FDE Rifle features a barrel and action with a Desert FDE Cerakote finish. A two-tone FDE composite stock complements the Cerakote finish, and the rifle is fitted out with an OD Green cotton sling. It comes standard with one 15-round and one 10-round magazine."
Who honestly does not like more options when it comes to their rifles? I, personally, think this Desert Storm style colorway looks fantastic and would be a great compliment to anyone's collection, but the real question is what do you think? Is this something you would dive in on? As always, let us know all of your thoughts in the Comments below! We always appreciate your feedback.