AllOutdoor Review – Old Trapper Old Fashioned Beef Jerky
Adam Scepaniak 07.14.22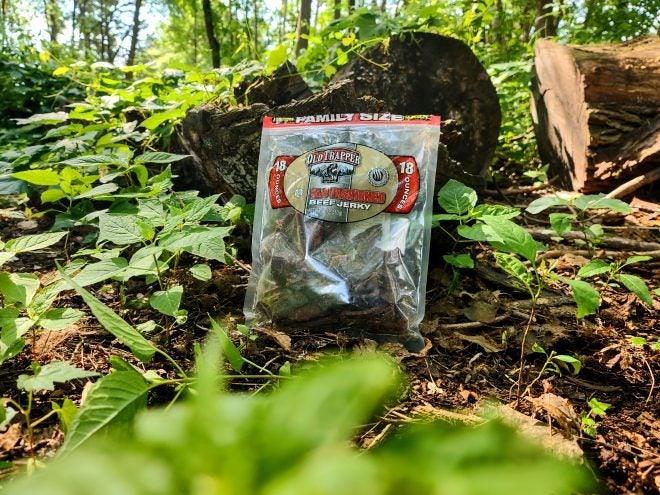 When it comes to adventuring in the outdoors from hunting to camping to hiking, nothing beats the age old, sidekick snack of beef jerky. It is lightweight in your pack, it is shelf-stable for a long time, and most people enjoy it. From there, people can jump down various rabbit holes of flavors they like, what ingredients they would like to see, and other elements. What about the classic though? Good ol' standard beef jerky. No reinventing the wheel. Simply, beef jerky you likely munched on cruising down back roads as a kid. You are probably thinking of Old Trapper Old Fashioned Beef Jerky which is exactly what we are going to review here today. Let's dive in!
Food Coverage on AllOutdoor
Nutritional Facts – Old Trapper Old Fashioned Beef Jerky
When it comes to classic beef jerky, this is the king. Old Trapper Old Fashioned beef jerky is a staple for farmers, hunters, and outdoor enthusiasts. It has been found at gas stations and grocery stores for decades. What has helped its "staying power" is its simplicity. It has all of the ingredients you would expect in a meaty beef jerky with a few extra minerals to act as preservatives and make it shelf stable longer.
Beef
Brown Sugar
Water
Salt
Beef Stock
Hydrolyzed Corn Protein
Vinegar
Flavorings
Sodium Nitrite
"The Old Trapper legend began with our original Old Fashioned Beef Jerky. We season lean cuts of real steak, add brown sugar for just the right hint of sweetness, and smoke them to perfection using real wood in our smokehouses. The result is tender, never tough jerky that will be the best you've ever tasted. Available in hot and spicy, peppered, teriyaki, old fashioned and zero sugar."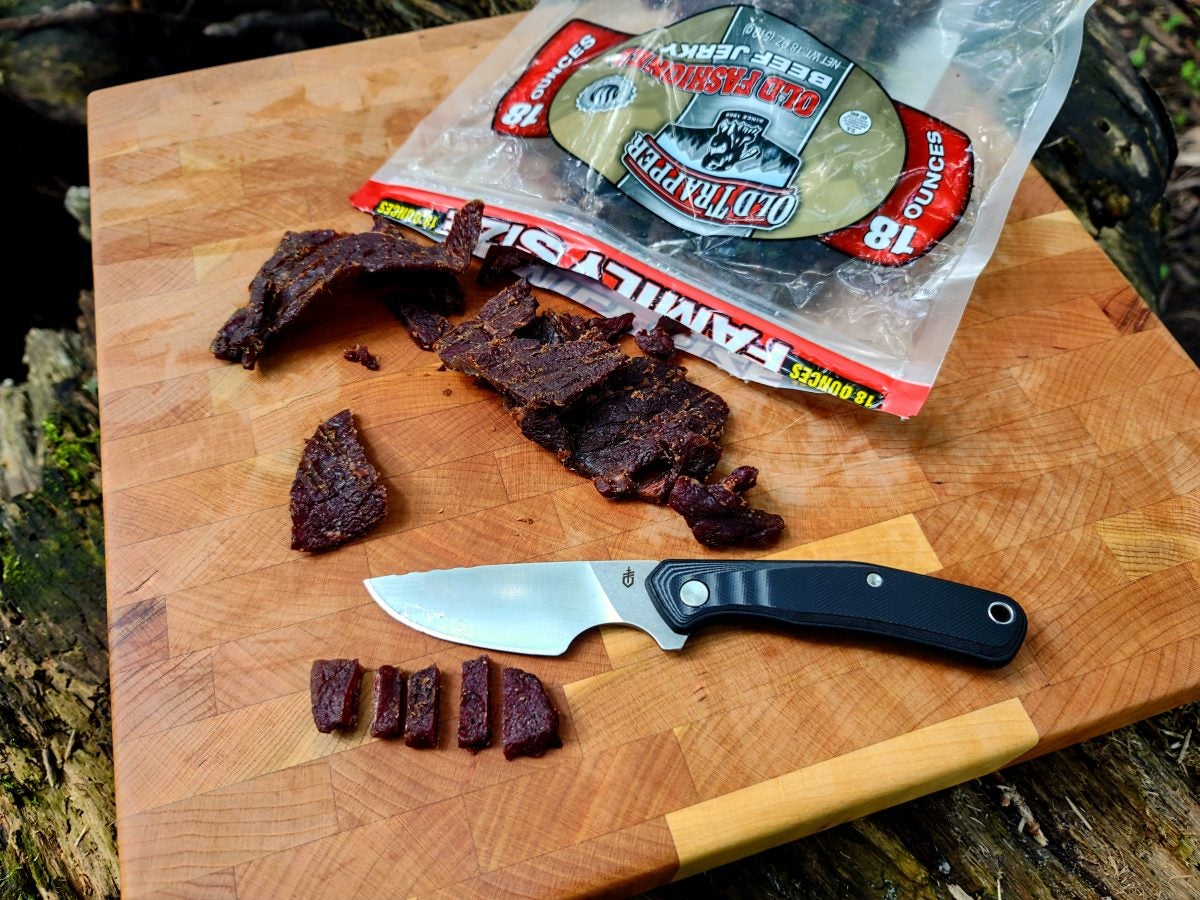 The Old Trapper Old Fashioned line of beef jerky can be purchased in two different sizes directly off of Old Trapper's website. They have 10 ounce bags with 12 packages per case (MSRP $216) or you can get 1/4 Lb (4 ounce) bags with 8 packages per case (MSRP $80). All of the explicit nutritional facts can be read below as well as presented by Old Trapper:
Serving Size: 1 Oz (28g)
Amount Per Serving: Calories 60
Daily Value

Total Fat: 0g | 0%
Saturated Fat: 0g | 0%
Trans Fat: 0g | 0%
Cholesterol: 20mg | 6%
Sodium: 600 mg | 25%
Total Carbohydrate: 6g | 2%
Dietary Fiber: 0g | 0%
Sugars: 5g
Protein: 9g | 19%
Iron: 8%
Field Use – Old Trapper Old Fashioned Beef Jerky
When it comes to snacks and being out in the field for myself, that can represent a lot of things. My family likes to provide for ourselves as much as possible. This entails raising angus beef cattle for steaks and ground burger, Mangalitsa pigs for bacon and pork, bees for honey and honeycomb, and chickens for their eggs. All of this requires a lot of time outside – which is thoroughly enjoyed – and lots of snacks between meals with an active lifestyle.
Overall, the Old Trapper Old Fashioned line of beef jerky is very tender. It has a nice balance of moisture, texture, and tenderness. It is not fall-apart jerky that is akin to something that is disintegrating yet it is not rock hard like so many competing beef jerky brands. I never want to feel tired after gnawing down on a chunk of jerky (which some competing brands will do to you).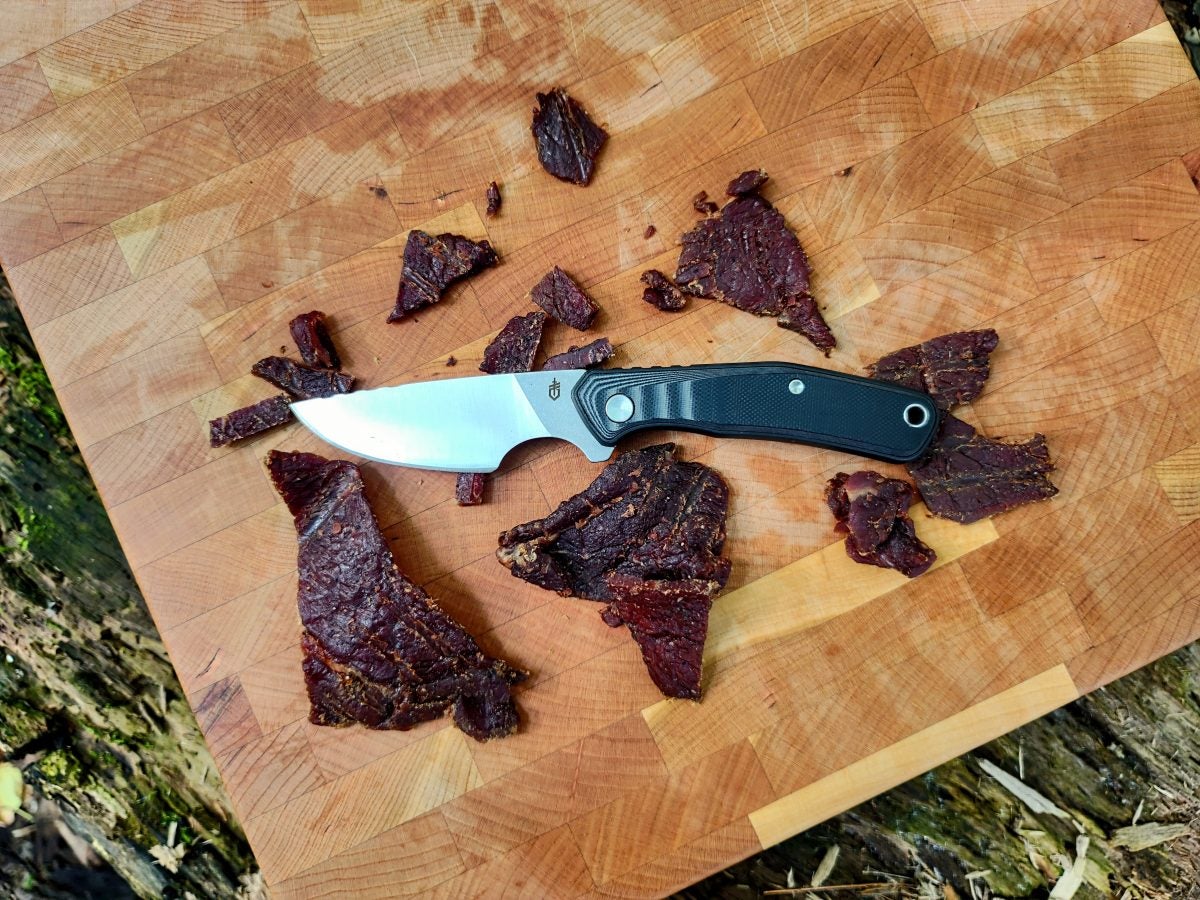 For flavor, this the benchmark for how store-bought jerky should taste. It has a light yet obvious smoky, distinctive, and original taste. It lightly fades away the longer you chew and suck on it which everyone would come to expect. If the flavor lasted longer or was stronger, I would be concerned there are too many preservatives or additional, unnecessary ingredients in the jerky.
Like nearly all of Old Trapper's jerky options, this is low in calories so you can snack away all day, high in protein, and it is marbled with a small amount of fat which makes it taste better. Several of my friends – including myself – rated this anywhere from a solid 7 1/2 to 9 out of 10. The only way you are honestly getting better jerky is if you have sentimental attachment tied to it (it is from a game animal you harvested and can tell grandiose stories about), or your grandma made it (nobody beats grandma in the kitchen).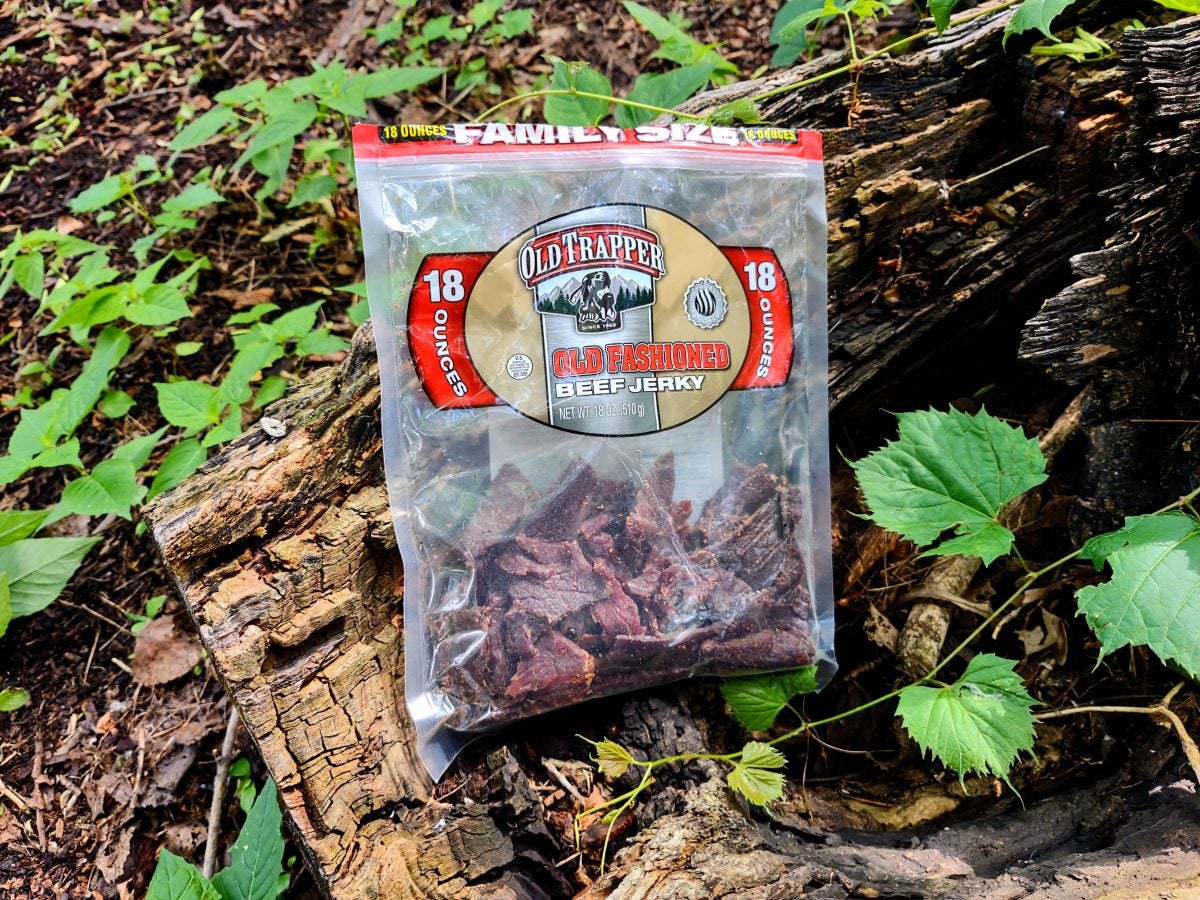 Final Thoughts – Old Trapper Old Fashioned Beef Jerky
So, what are my final thoughts on Old Trapper Old Fashioned Beef Jerky?… I believe if you are on the run and need a hearty jerky snack, this is a staple; what all other jerky is measured against. It has solid flavor, good nutrition for beef jerky, and its filling. Whether you are sitting in a treestand waiting for a gnarly whitetail deer to walk by or you are walking your dog, this is a good beef jerky snack.
In closing, I want to say thank you to Old Trapper for allowing AllOutdoor and myself the opportunity to try out their Old Trapper Old Fashioned Beef Jerky. That is greatly appreciated. Also, we would like to know what all of you guys and gals think? Do you believe that the Old Trapper Old Fashioned Beef Jerky is something worth spending your money? Would you take it hunting with you, hiking, camping, or would you use it as a daily snack? As always, let us know all of your thoughts in the Comments below! We always appreciate your feedback.