NEW Springfield Armory Hellcat Pro OSP with Shield SMSc Micro Red Dot
Adam Scepaniak 09.29.22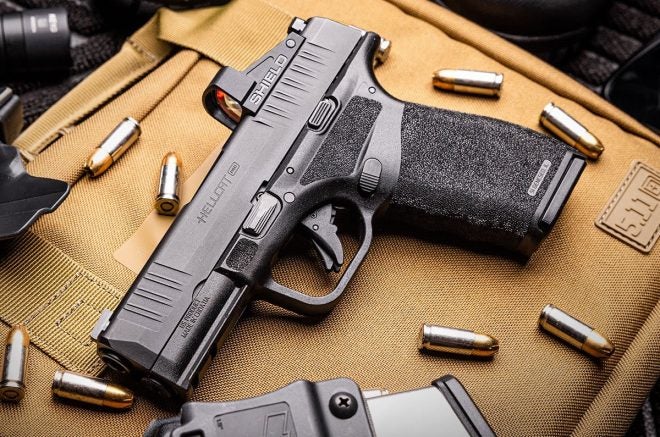 The Hellcat from Springfield Armory has been one of the most popular choices for concealed carry since its introduction a few years ago. Being the world's high capacity micro-compact set the stage for all other concealed carry pistols to get up to Springfield's level and try and compete. With the inception of the Hellcat Pro, users got even more rounds, a better purchase on the grip, and a longer sighting radius. Now, Springfield Armory has upped the ante even further by adding in a factory-mounted Shield SMSc micro red dot for shooters to immediately put to use.
Springfield Armory Coverage on AllOutdoor
This newest iteration of the Hellcat Pro is the same reliable, compact carry gun we have come to know and love, but now it boasts an equally reliable red dot for carry, competition, or any other use you might have for it. Instead of the owner looking to source a red dot, they now have one appropriately mounted to the slide fresh out-of-the-box. The full specifications for the Springfield Armory Hellcat Pro with the Shield SMSc can be read below:
Cartridge: 9mm
Barrel: 3.7″ Hammer Forged Steel w/ a Melonite® Finish and 1:10" Twist
Slide: Billet Machined, Melonite® Finish, Optics Ready
Frame: Black Polymer w/ Adaptive Grip Texture
Sights: Tritium/Luminescent Front, Tactical Rack U-Notch Rear, Shield SMSc
Recoil System: Dual Captive Recoil Spring w/ Full Length Guide Rod
Magazines: (2) 15-Round
Width: 1″
Weight: 21 oz
Length: 6.6″
Height: 4.8″
I, personally, own and have been shooting the Hellcat Pro since it was introduced and have been authentically impressed with it. I believe it is a great option to have a factory-mounted red dot like this for shooters to instantly use out-of-the-box. As always, let us know all of your thoughts in the Comments below! We always appreciate your feedback.