NEW Springfield Armory Stainless Two Tone Hellcat & Hellcat OSP
Adam Scepaniak 08.02.22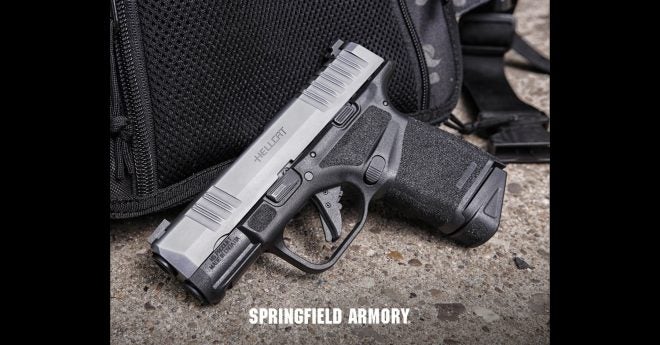 The Springfield Armory Hellcat has been known as the world's highest capacity micro-compact for a handful of years now with spectacular success. With multiple new iterations springing up over the past few years including Flat Dark Earth (FDE), OSP (Optical Sight Pistol), and Pro options now available concealed carry advocates have a lot of options for carry. Now, you can even have your hand at a stainless Two Tone Hellcat that is a Sports South Distributor Exclusive.
Springfield Armory Coverage on AllOutdoor
If there is one thing gun owners want it is options for their firearms. From the ability to add micro red dot optics to high capacity magazines and even a little bit of curb appeal. So, for anyone who has been yearning for a stainless Two Tone Hellcat, it is finally here! Check out all of the specifications below as presented by Springfield Armory:
Caliber: 9mm
Barrel: 3″ Hammer Forged Steel, Melonite® Finish, 1:10
Slide: Billet Machined, Stainless Steel, Optics-Ready
Frame: Black Polymer w/ Adaptive Grip Texture
Sights: Tritium/Luminescent Front, Tactical Rack U-Notch Rear
Recoil System: Dual Captive Recoil Spring w/ Full Length Guide Rod
Grip Width: 1″
Magazines: (1) 11-Round, (1) 13-Round Extended
Weight: 18.3 oz w/ Flush Mag, 18.6 oz w/ Extended Mag
Length: 6″
Height: 4″ w/ Flush Mag, 4.5″ w/ Extended Mag
MSRP: $649
"Developed for exclusive sale by distributor Sports South, the two-tone stainless steel Hellcat® OSP™ (Optical Sight Pistol) micro 9mm combines a unique look with everything that makes the Hellcat so popular. From its optics-cut slide ready to accept a micro red dot to its impressive 11+1 capacity (13+1 with included extended magazine) and its Adaptive Grip Texture treatment, the stainless steel Hellcat 9mm makes for a great option for a CCW pistol with a unique style."
These new Two Tone Hellcat offerings from Springfield Armory retain all of their original counterparts' features with the improved surface finish of stainless. This coupled with the kicked up aesthetic (nobody wants an accurate, reliable gun that is ugly) will give shooters everything they need.
Sports South Exclusive: The stainless Hellcat is a Sports South distributor exclusive
Optics-Ready: The rear slide is cut to accept a micro red dot for lightning fast engagement and unparalleled situational awareness
Stainless Steel Slide: The stainless steel finish on this Hellcat gives the distributor-exclusive offering a unique style and flair for this excellent micro 9mm.
The only thing that remains is to answer the question of what do you think? Is this a concealed carry pistol you would be willing to add to your arsenal? Do you have experience shooting the Springfield Armory Hellcat already? As always, let us know all of your thoughts in the Comments below! We always appreciate your feedback.