Sitka Studio Debuts with Conservation Collab: Martin Guitar/Thomas Rhett
Adam Scepaniak 10.04.22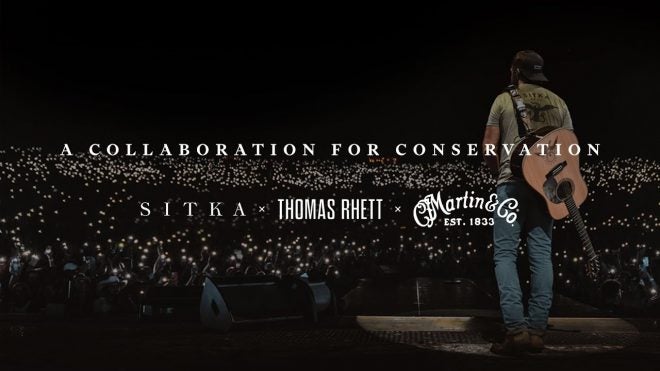 Sitka Gear has launched their all-new Sitka Studio that will seek to do collaborations for conservation among many other lofty goals. Their first ever collaboration is with Martin Guitar and Thomas Rhett where a one-of-a-kind guitar was crafted, brought on Thomas Rhett's tour, and is now being auctioned off for a non-profit cause.
Sitka Gear Coverage on AllOutdoor

Sitka Studio will aim to expand the boundaries of culture through design exploration, brand collaborations, and conservation. For its debut, the brand has partnered with Martin Guitar and Thomas Rhett to create a customized one-of-one Martin HD-28 guitar that Rhett is currently using on tour and that will be auctioned off to benefit conservation.
Bidding is open now through November 15th and is already over $11.5K. Plus, SITKA will match the auction bids up to $50,000 to help fund a waterfowl research project with partners including the University of Arkansas at Monticello, California Waterfowl, Five Oaks Ag Research & Education Center, Delta Waterfowl, Ducks Unlimited and other conservation organizations.
PICKGUARD: GORE-TEX® Fabric in OPTIFADE® Camo infused with Epoxy
TOP DETAIL: SITKA "Darkest Before Dawn" Mallard Inlay
FINGERBOARD: Hexagons inspired by OPTIFADE® Camo design in Tan G10
BACK INLAY: Four Lines represent the Four Waterfowl Migration Flyways
HEELCAP: SITKA Orange

TOP MATERIAL: Sitka Spruce
SIDE MATERIAL: East Indian Rosewood
NECK MATERIAL: Mahogany
ELECTRONICS: Fishman Infinity Matrix
Sitka Studio looks to be the start of something incredible by bridging the gap between various cultures, art, and conservation. It will be exciting to see what other collaborations Sitka forges for the outdoors and other passions we all share. As always, let us know all of your thoughts in the Comments below! We always appreciate your feedback.