AllOutdoor Review: Gatorz Eyewear Delta M4 Sunglasses
Sam.S 10.21.22

Recently I had been looking around for a stylish pair of everyday sunglasses that could also double as a good pair for the gun range. I very luckily stumbled onto Gatorz and their Gatorz Delta M4 glasses and was instantly intrigued. The company prides itself on having American-made products and being made of quality materials. They were nice enough to give AllOutdoor and me the chance to give them a go. I am happy to report my thoughts and share how they did. Let's dive right into my review of the Gatorz Delta M4 sunglasses!
Gatorz Coverage on AllOutdoor & TheFirearmBlog
Specifications: Gatorz Delta M4 Sunglasses 
The Gatorz Delta M4 is an offshoot of the standard Delta glasses which are a more square-shaped frame, straight-lined, elegant, and unisex style of eyewear. They have the old-school minimalist feel but with an added modern flare to make them more usable and still ascetically pleasing. The Gatorz Delta M4 is the more unique version of the standard Delta by adding lightweight windowed temples.
Milspec Ballistic
Anti-fog Coating
High Contrast Lenses
Scratch Resistant Coating
Visibility Of Digital Screens
Hydro-oleo Coating
Polarized Glare Reduction
Cerakote Finish
Adjustable Center Frame Width
Thin Adjustable Temples
Adjustable Silicone Nosepiece with Metal Core
Precision CNC Machined Aluminum Frame
Stainless Steel Rivets Bond 4 Hinges to the Frame
Durable Cerakote and Anodized Coatings
100+ Point Measurement Quality Check
The MSRP of the Gatorz Delta M4 Sunglasses sits tall at $220. The standard Delta with the same polarized lenses is the same rice. If you see a cheaper alternative the standard Delta with nonpolarized lenses is roughly $152. Standard Delta sunglasses with "Ballistic" lenses (MIL PRF 32432A, Clause 4.8.4 Ballistic Fragmentation Protection) are $250.
"The Delta features a square shaped frame and larger lenses. This unisex frame is large enough to comfortably fit a mans face while offering a look that's also desirable for women. A versatile look, the Delta offers the perfect combination of function and style. Delta keeps you looking good, whatever life throws at you.

The popular lifestyle Delta provides full coverage with a square shaped frame and larger lenses. This unisex frame is large enough to comfortably fit a mans face while offering a look that's also desirable for women. Featuring the classic Gatorz durability, the Delta offers the perfect combination of function and style. The Delta is perfect for a range day, working out, or any outdoor adventure. The M4 features lightweight, windowed temples which offer a unique take on the classic Delta.

Built for capitalizing on every opportunity and designed for your diverse skill-set. Clean lines. Effortless presence. The Delta is your go-anywhere, defeat-everything frame."
First Look: Gatorz Delta M4 Sunglasses
My first impression out of the box was this was a well-presented and packaged piece of eyewear. For the price, I was honestly hoping for a hard case of some sort rather than a branded sock but the sock is far more portable and as a good secondary action it keeps the lenses clean and clear. The Delta M4 itself is heavy-ish. I say that hesitantly because it is not so much that they literally feel heavy, more so they feel sturdy. I am sure the stylistic cuts in the temples may free up some weight in the aluminum frames. The mirror from the lenses is very clear and crisp. So much so that I am sure I could do some dental work with them.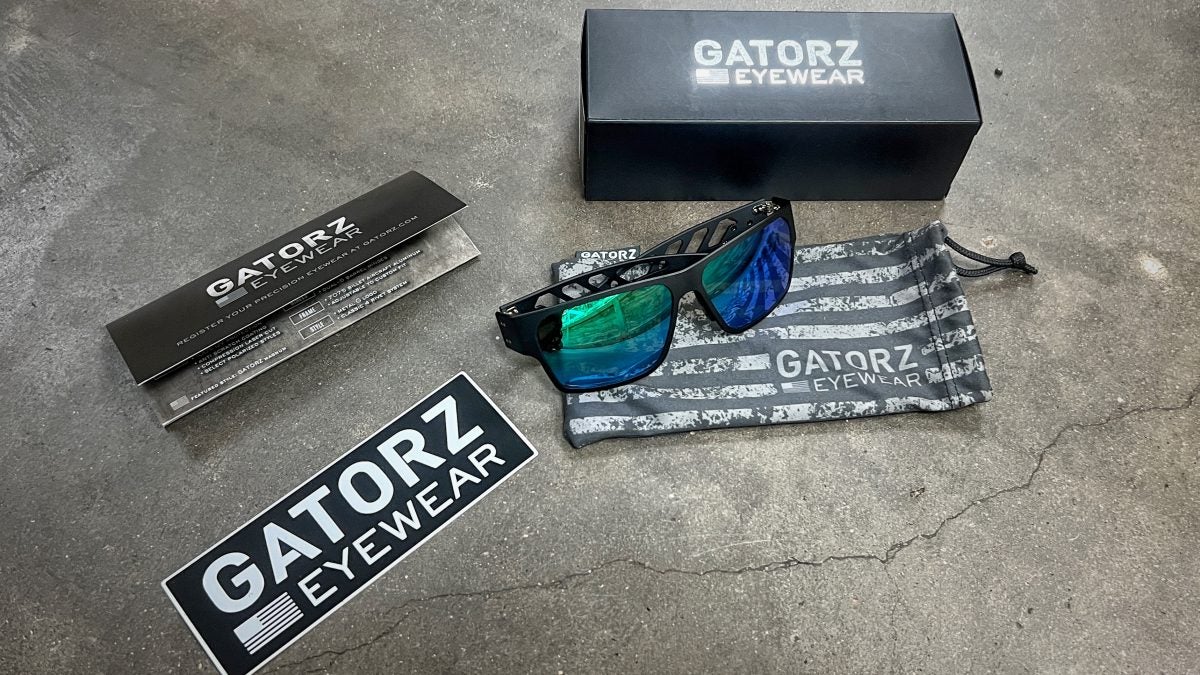 Putting them on the first time was odd since these are basically fully adjustable glasses. I did not have to adjust much but I followed the instructions carefully so I did not mess them up the second they arrived in my care. The adjustment was super easy all things considered. I did not have to adjust the frame. The nose piece was the easiest part. I pinched or separated it until it was at my desired eye level and the temple adjustment was the more unnerving part but I got through it unscathed and that is definitely thanks to their durable design. Very good first impression but how did it do out and about?
Out and About: Gatorz Delta M4 Sunglasses
So I have been wearing the Gatorz Delta M4 sunglasses almost every day for about a month and a half. I have taken them to the gun range and felt super comfortable after seeing just how impact-resistant other reviewers have found theirs. The clarity is fantastic and the polarizing gives off a more defined seemingly sharper image than if I was not wearing them. To put it plainly when it is bright out the world looks blown out and these tones that down quite a bit.
I still found the visibility comfortable in low light conditions until it was time to take them off. After a week I did notice the rearmost portion of the temple was digging into the area behind my ears. I readjusted them and have not had an issue since.
I chose the Delta style over other options because the square look has always suited my head shape. It is hard to review an item and say "this made me look good" but I actually got quite a few friendly comments from strangers and family alike. They look good, they sit great, and they are built tough as heck! If I dropped these, sat on them, or stepped on them I am sure they would be fine after some readjusting. They feel confident if that makes sense.
At The Range: Gatorz Delta M4 Sunglasses
At the range with these sunglasses as I previously mentioned I felt safe and comfortable. These glasses are not ANSI Z87.1 rated but this mostly has to do with the frame shape. They do not wrap around to fully protect your eyes to the degree of that rating. The lenses however are impact resistant (specifically "MIL-SPEC Ballistic") just like all of their other eyewear. The regular Delta Sunglasses are still not the ASI rating but have the option to upgrade to MIL PRF 32432A, Clause 4.8.4 Ballistic Fragmentation Protection. The temple portions of the Gatorz Delta M4 are thin enough that while wearing hearing protection at the range they did not dig in or become uncomfortable.
The only time that I was ever surprised (not so much disappointed) was when I left these in my car out in the hot sun for an hour and when I put them on after being in a store they were HOT. Those black aluminum frames soaked up that sun. Much like any other black framed glasses would I guess but I thought I would share. I did not get burned or anything extreme or negative like that but it was something I never noticed with generic plastic shades.
Final Thoughts: Gatorz Delta M4 Sunglasses 
All in all, I have to say these are the best pair of sunglasses I personally have ever had. I think they are pricey. The M4 version does not seem to add too much besides ascetic and maybe a little bit of weight difference. I however would not hesitate to recommend them since they feel like they will last a very long time. I'm pretty brutal with my glasses and I was not a saint to these either just to give them a fair review. I tossed them around, wore them just about everywhere, sweated on them, got them wet, and enjoyed them the whole time. The Gatorz Delta M4 sunglasses have my seal of approval and I can not wait to see what Gatorz comes out with next!
In closing, I want to say thank you to Gatorz Eyewear for allowing AllOutdoor and myself the opportunity to try out their Delta M4 Sunglasses. That is greatly appreciated. Also, we would like to know what all of you guys and gals think. Do you believe that this set of sunglasses is worth spending your money on? Would you take these out to the range? Would this be your go-to pair of eyewear? Let us know all of your thoughts in the Comments below! We always appreciate your feedback.