Viridian Weapon Technologies Debuts Red Laser for Heritage Rough Rider
Adam Scepaniak 11.09.22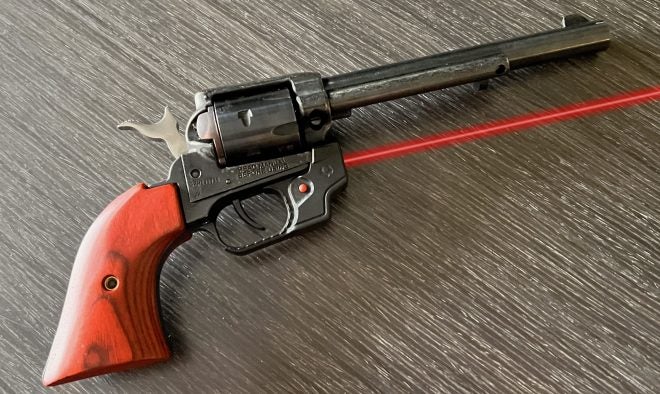 Viridian Weapon Technologies has announced a brand new red laser to fit an unlikely firearm that is conjuring up "Cowboys vs Aliens" vibes. Their newest red laser will fit Heritage Manufacturing (Heritage Mfg) .22 Cal single-action revolvers. Most notably, their extremely popular and affordable Rough Rider revolver. With easy installation and an intuitive design, this unique offering of a laser for an uncommon model of firearm is sure to spike some interest.
Viridian Weapon Technologies Coverage on AllOutdoor
Viridian Weapon Technologies – based out of Minnesota – is known far and wide in the firearm industry for making some of the most cutting-edge green lasers on the market today as well as some of the most reasonably-priced red lasers for common platforms. Their reputation of quality carries over into this newest offering of a Red Laser for the surprising platform of single-action revolvers. The nitty-gritty specs for this new laser can be read below as presented by Viridian Weapon Technologies:
Easy Installation onto the Trigger Guard of your Pistol
Ambidextrous On/Off Button w/ 5-Min Auto Shut-Off
25 Yard Range in Daylight & 1 Mile at Night
Constant Laser w/ 6+ Hours of Battery Life
Easy windage and elevation adjustment
Minneapolis, Minnesota – November 9th, 2022 – Viridian Weapon Technologies is bringing the wild west and cutting-edge technology together as it introduces E Series™ Red Lasers specifically designed for the Heritage® .22 Single-Action Revolver. With holiday season right around the corner, these popular revolvers will soon be flying off the shelves. Viridian's iconic laser sight is available now and is the perfect fit for Rough Rider® revolvers from Heritage.

"We're bringing the thrill of the Heritage .22 to the next level with the Red E SERIES™ laser sight," said Viridian President and CEO, Brian Hedeen. "Combining the old-fashioned feel of a revolver, with the most powerful red laser legally available, is a gamechanger and enhances the user experience. This has been a long time coming, we are proud of just how much fun our accessory adds."

Born of the traditions of the Old West, the Heritage .22 Single-Action Revolver features a tight cylinder lock-up and is chambered for .22LR and .22 Magnum cartridges. The machined barrel is microthreaded and inserted into the frame for maximum ammunition performance. For extra protection, the hammer block is mounted in the recoil shield and has an indicator that shows when the gun is ready for use. Exotic cocobolo grips create functionality and style.

E Series Red Laser Sights are backed by Viridian's seven-year warranty and have been custom designed to fit the Heritage .22 Single-Action Revolver.
This new laser has an MSRP of $99 making it extremely affordable for wheelgun lovers who might look to deploy it into action. Whether it is for recreation plinking soup cans or dispatching varmints at night, this could be a great tool for many gun owners. As always, let us know all of your thoughts in the Comments below! We always appreciate your feedback.