Home On The Range #030: Trail Camera Talk – Photo Upload Frequency
Adam Scepaniak 11.11.22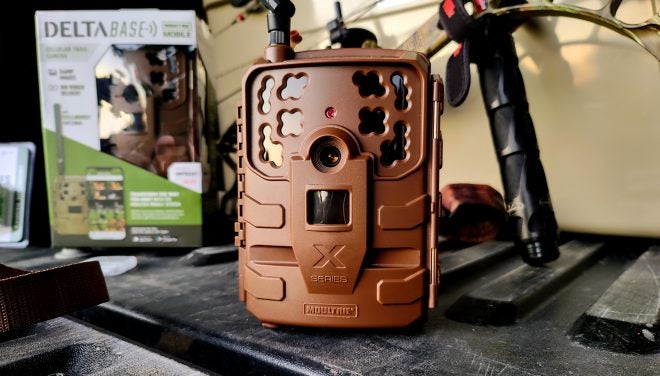 When it comes to 21st century technology bleeding over into the hunting and outdoor industry trail cameras have to be one of the coolest advents in new-age tech. You've got a motion sensor camera hanging on the side of a tree like a 007 spy novel taking photos of the critters you're hoping to put in a frying pan. What is even cooler than all of this is now with companies like Moultrie Mobile you can have those photos beamed through the air like Star Trek ("Beam me up, Scotty!") straight to your phone. You don't even have to go out in the woods to check your trail camera anymore; if you don't want to. So, that begs the question: how frequently should you have your photos upload to your phone if you have a cellular trail camera?…
"Home on the Range" Series on AllOutdoor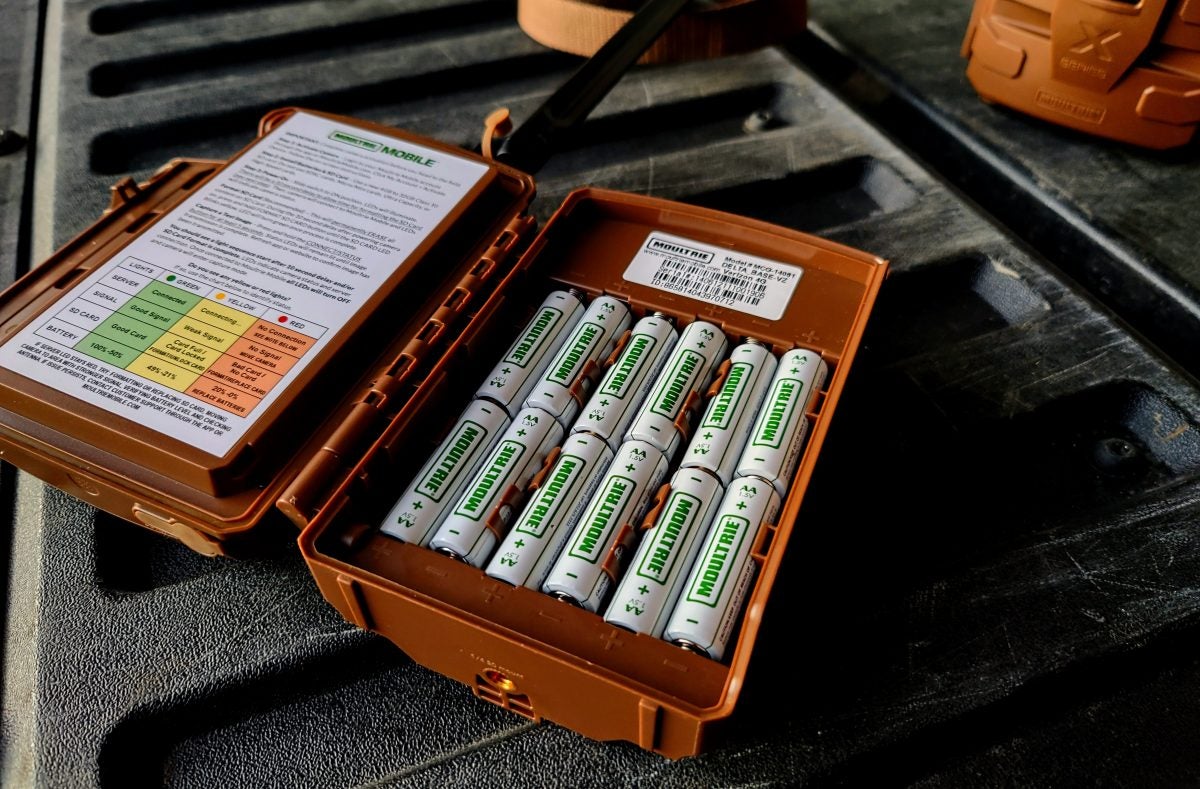 ---
Welcome to our reoccurring series of "Home on the Range." Here, we would like to share all of our experiences for those who may be homesteading, living off the land, hunting, farming, ranching, and truly investing in nature and the great outdoors. The ability to provide for yourself and your family can be tremendously rewarding and simultaneously difficult at times. So, in "Home on the Range" we want to share our different exploits so you can learn and hopefully we can receive your feedback along the way as well.
---
Trail Camera Talk – Photo Upload Frequency
Should you have photos upload to your phone instantaneously? Once every 4 hours? 12 hours? Once per day? The answer lies in how frequently you are willing to change the batteries in your trail camera. For some people, if you are running cellular trail cameras for security purposes (around a remote shed, your cabin, lake home, etc) you may want those photos being uploaded to your phone instantly so you know when trespassers or nefarious people are on your property. Maybe you cannot get to your property in time to run the bad people off, but hopefully you can call local law enforcement to give 'em a free night's stay in the local slammer for messing with your stuff.
As far as hunting purposes, in the middle of the season you may want to have photos upload twice per day (once every 12 hours) or at least once per day. Then, you can have a better idea of how animals (whitetail deer, turkeys, etc) are moving while you have a tag for them. You can react to them accordingly to pick an appropriate hunting spot and hopefully fill a tag.
Out of season, you may want to have photos upload even less frequently. If it is an off time of year like the middle of summer or winter, it would be OK to have photos upload every other day – or if your camera allows for it – once per week. Then, you can still be physically and mentally cataloging the activity of game animals during off periods, but it is significantly less taxing on your batteries.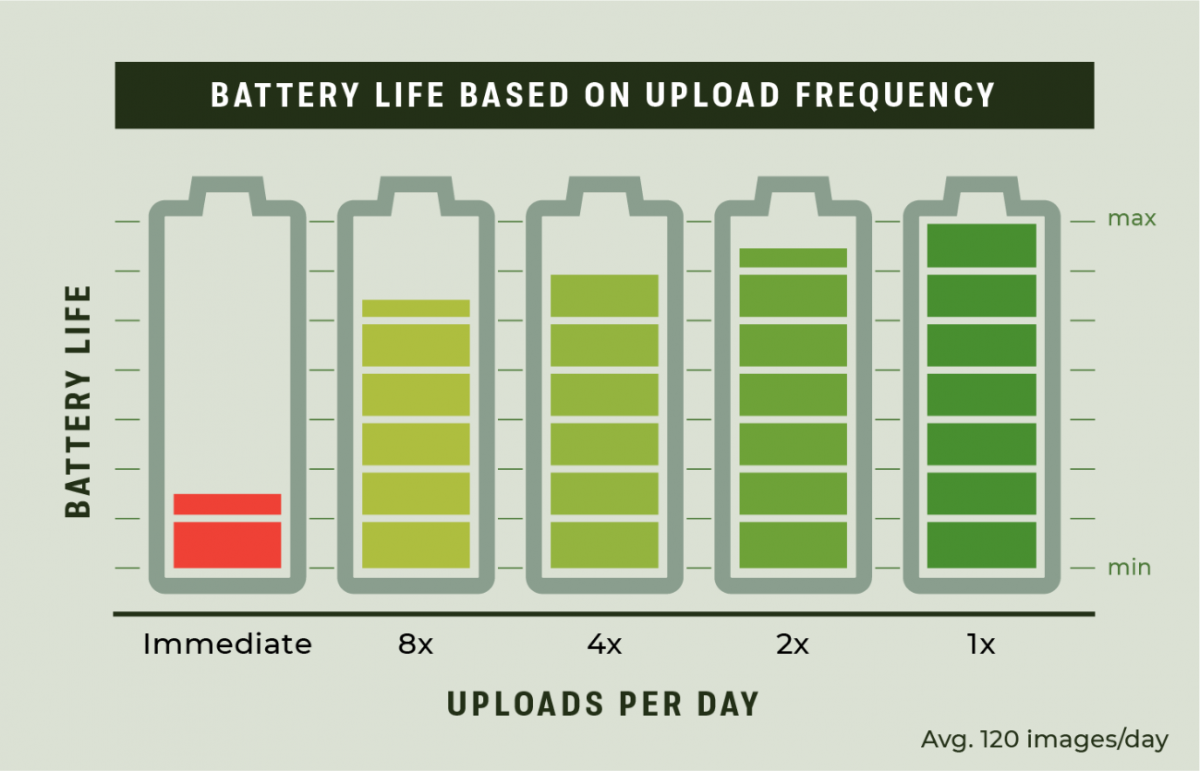 So, let's say you have mentally committed to how frequently you want photos to upload to your phone. Cool! Now, what are the downsides to your choice?… The more frequently you have photos upload to your phone the faster your batteries will die. This all makes sense. Aside from the monetary cost of replacing batteries constantly, you also are creating a "negative" for yourself (in hunting scenarios) because the more frequently you need to replace batteries means you are more frequently disturbing your hunting area.
The whole point of cellular trail cameras is to not only be informed, but also leave your hunting space less disturbed. The deer, or whatever you are hunting, are meant to become more comfortable in their domain. So, the day you finally decide to hunt you will hopefully harvest an animal. If you are constantly changing batteries because you need that dopamine hit of photos coming into your phone, your hunting sanctuary won't be much of a sanctuary with you walking through it constantly.
Hopefully you can find a balance of allowing your trail cameras to be informative for you, not drain your batteries too often, and you are creating a sanctuary for the animals you are looking to hunt. We will continue this journey of using cellular trail cameras in future weeks of the "Home on the Range" because there is simply a lot to cover and discuss. As always, let us know all of your thoughts in the Comments below! Are you interested in investing in cellular trail cameras? Do you already have some that you have been using for awhile? Are they Moultrie Mobile? We always appreciate your feedback.