NEW Mossberg Optics-Ready 500 & 835 Ulti-Mag Pump-Actions
Adam Scepaniak 12.13.22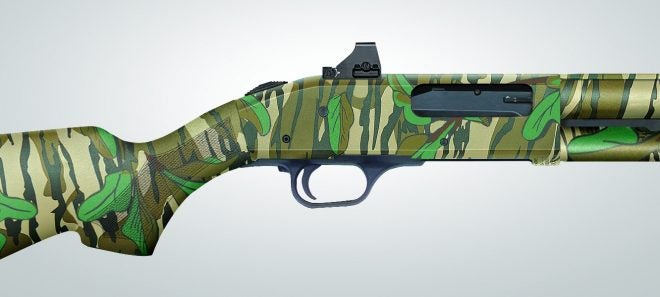 Mossberg was one of the first companies in the shotgun market to introduce a factory-cut, optics ready shotgun with the unveiling of their 940 Pro Turkey this last year where shooters could directly mount a micro red dot to their firearm. Now, Mossberg has added Optics-Ready 500 and 835 Ulti-Mag pump-action shotguns to their turkey line-up for longbeard hunters everywhere. This brings 3 more SKUs to their growing line-up of optics-ready shotguns.
Mossberg Coverage on AllOutdoor
The 3 new offerings of optics-ready shotguns Mossberg has unveiled runs the gamut of common gauge sizes for turkey hunters. There are 20 and .410 Gauge selections in the Model 500 and a 12 Gauge variant in the 835 Ulti-Mag pump-action shotgun. All of them have received full coverage of the Mossy Oak Greenleaf camouflage pattern with barrel lengths ranging from 22″ – 24″ with a 5+1 magazine tube capacity. All of the different models currently available can be read below:
NORTH HAVEN, CT – Mossberg has added optic-ready versions of their venerable 500 and 835 Ulti-Mag® pump actions to their extensive line of turkey shotguns. These hard-working, tom-thumping shotguns feature receiver cuts for low-profile, direct mounting of microdot sights (Shield RMSc pattern) and are fully camouflaged in one of the hottest throwback patterns, Mossy Oak® Greenleaf™. The 500 Turkey Optic-Ready is available in 410 bore and 20 gauge and the 835 Ulti-Mag Turkey Optic-Ready is a 12 gauge, 3.5-inch platform.

Mossberg's pump-action shotguns have set the standard for reliability, durability, and effectiveness in the field for over 50 years. Design features include non-binding twin action bars; dual extractors; a positive steel-to-steel lock-up; anti-jam elevator; anodized aluminum receiver; and universally recognized, ambidextrous top-mounted safety. These optic-ready turkey guns come standard with extended choke tubes; fiber optic front sight; drilled and tapped receiver for added versatility; sling swivel studs; 5+1 shell capacity; and installed cover plate for when a mounted optic is not used.
Spring turkey season might feel like it is a long ways away with snow in many people's forecast and Christmas right around the corner, but it will be here quicker than we think. It is a great time to start lining up a new shotgun to take with you turkey hunting for next spring. Also, with Mossberg opting to go with a Shield RMSc optics-cut pattern, a bevy of micro red dots could be added to their shotgun. The only thing left to decide is what gauge do you want to bag a turkey with this spring and what optic would you like to accompany your new shotgun with. As always, let us know all of your thoughts in the Comments below! We always appreciate your feedback.