Steelhead Outdoors Adds Recon 38 Tactical Modular Firearm Safe
Adam Scepaniak 12.14.22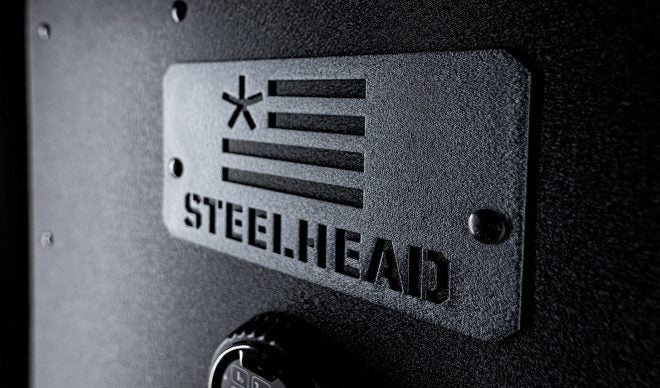 With the burgeoning gun collections that many of us have being involved in so many hunting seasons and recreational shooting pastimes, it only makes sense that we all need safe places to store our firearms – like safes. Steelhead Outdoors is unique because of their Made in the USA (a rare thing nowadays) and modular safe designs. Now, they have added a new tactical, modular firearm safe to their growing lineup in the Recon 38 for more innovative storage solutions for us to pick from.
Steelhead Outdoors Coverage on AllOutdoor
The Steelhead Outdoors Recon 38 tactical, modular firearm safe is unique not only because of its modular design, but also because there are different configurations you can select from the factory. If you want more shelving for handguns, you can set up your safe that way. If you require more long gun space, you can get er' done that way, too. It is all up to you. The basic specs and what you can come to expect from the Recon 38 are listed below as presented by Steelhead Outdoors:
Weight: 700 Lb
Dimensions: 60″ x 43″ x 43″
Exterior: Jet Flat Black
Interior: Arctic White, Yosemite Grey, Zion Bronze
Lock: Electronic (S&G Titan Direct Drive), Mechanical (Group 2)
Interior Configuration: Standard Double Horseshoe (+2 Shelves), Single Horseshoe (+4 Shelves), Multi-Row Max Gun (+2 Shelves)
The Recon Model 38 is built on the chassis of the tried and true Nomad 38, but features a sinister new getup. The safe is finished in a flat textured black, with graphite colored logo and handle, as well as custom blacked out hardware. The new color schemes allow you to take advantage of our signature Arctic White Interior to maximize light, but still keep the stealth look throughout the entire exterior of the safe. The custom bolt-on roof rack is the perfect place to keep your extra gear, range bag, or anything else that you don't care to have taking up space inside your safe.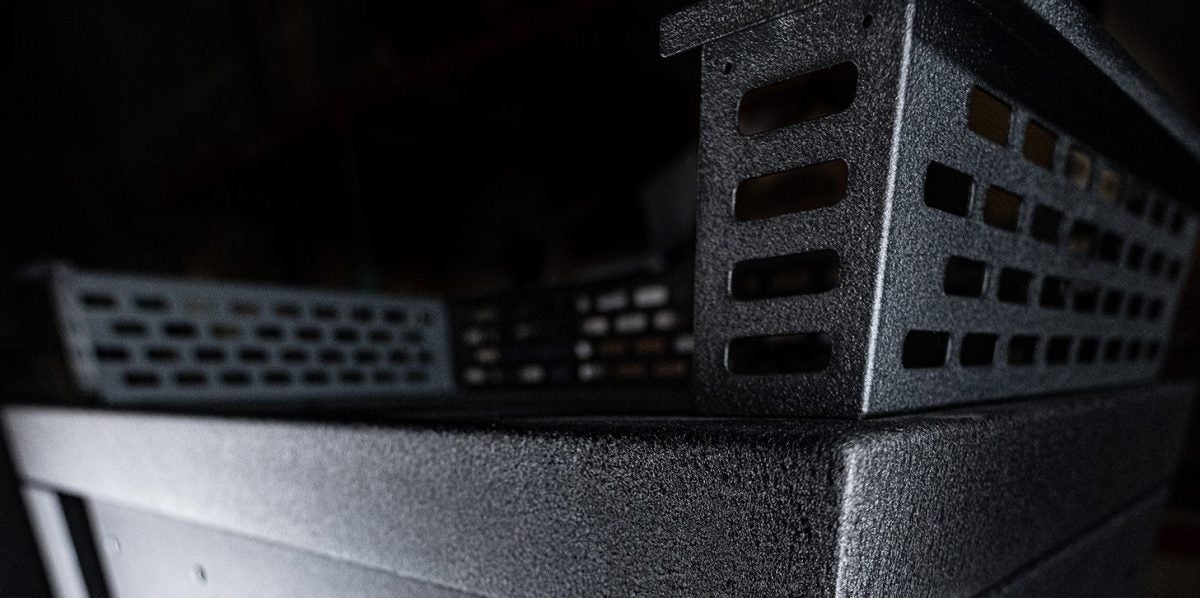 Accessory hooks that will interface with the rack slots are coming soon. The Recon is still compatible with all Case Keepers, even with the roof rack. Our 38 inch wide safe family is the perfect size for larger gun collections and can be assembled in places a traditional safe could never get to. The assembled safe weighs 600lb, every panel is easily moveable and weighs less than 165 lbs. The completed safe is 37.5 inches wide, 60 inches tall (65 inches with the included roof rack attached) and 24 inches deep. The interior dimensions are 34.5 inches wide, 58 inches tall and 18 inches deep at the door, 20.5 inches deep on the sides. The interior can be configured from 10 to 35 long guns. The safe is available with dial mechanical lock or a push button digital lock.
Steelhead Outdoors safes are not only Made in the USA, but they are made in my home state of Minnesota. Within the firearm safe market, they appear to be gaining a lot of traction because modern gun owners want to customize their safes and change them at will. Something that wasn't always an option with older designs of safes. As always, let us know all of your thoughts in the Comments below about the Steelhead Outdoors Recon 38 tactical, modular firearm safe. We always appreciate feedback.