In-Depth Look: The FN Rush 9Ti Silencer – Versatile, Reliable, Durable
Adam Scepaniak 12.16.22

The FN Rush 9Ti silencer was recently introduced in the past week and it looks very promising. We have not been able to shoot one yet here at AllOutdoor – but on paper – it looks like it has all of the makings to be a terrific suppressor addition to anyone's collection. Often times though, we don't always understand what makes a silencer tick on the inside. So, today we are going to take an in-depth look at the new FN Rush 9Ti silencer from FN America – that is touted as versatile, reliable, and durable all in one – to see what it is all about.
FN Coverage on AllOutdoor
For some of you who may have missed the original announcement, this is a 9mm silencer capable of suppressing cartridges that are 0.355″ in diameter and smaller. This would include such common rounds as 9mm, .380 ACP, .32 ACP, .25 ACP, rimfire cartridges, and potentially .300 Blackout (300 BLK). Some of the essential product specifications for the FN Rush 9Ti silencer can be read below as presented by FN:
Caliber: 9mm
Length: 7.3″
Tube Diameter: 1.375″
Weight: 10.8 oz.
Piston: 1/2″x28 TPI
Materials: Titanium, Stainless Steel, Aluminum
Finish: HT Cerakote™
Silencer Comes With:

½" x 28 TPI Piston
Booster Assembly
End Cap and Front Cap Assembly Tool
Premium Storage Case

The FN Rush™ 9Ti is a highly versatile and reliable 9mm suppressor, delivering an unmatched shooting experience. When paired with the FN 509 Tactical®, reliable feeding and extraction with most common ammunition types is the new standard, maintaining the exceptional accuracy, cycling reliability and high durability standards FN owners expect.

With the advanced booster assembly, mounting the FN Rush 9Ti to any pistol barrel threaded ½" x 28 is fast and repeatable. A tight piston gas seal contains carbon fouling in the baffle core, making for a smooth shooting experience without the heavy blowback and stoppages common with most suppressors.

The FN Rush 9Ti has the ultimate strength to weight ratio, with the titanium tube holding strong at just 10.8 oz. The light, easy-to-maintain design breaks down quickly for cleaning and holds a limited lifetime warranty.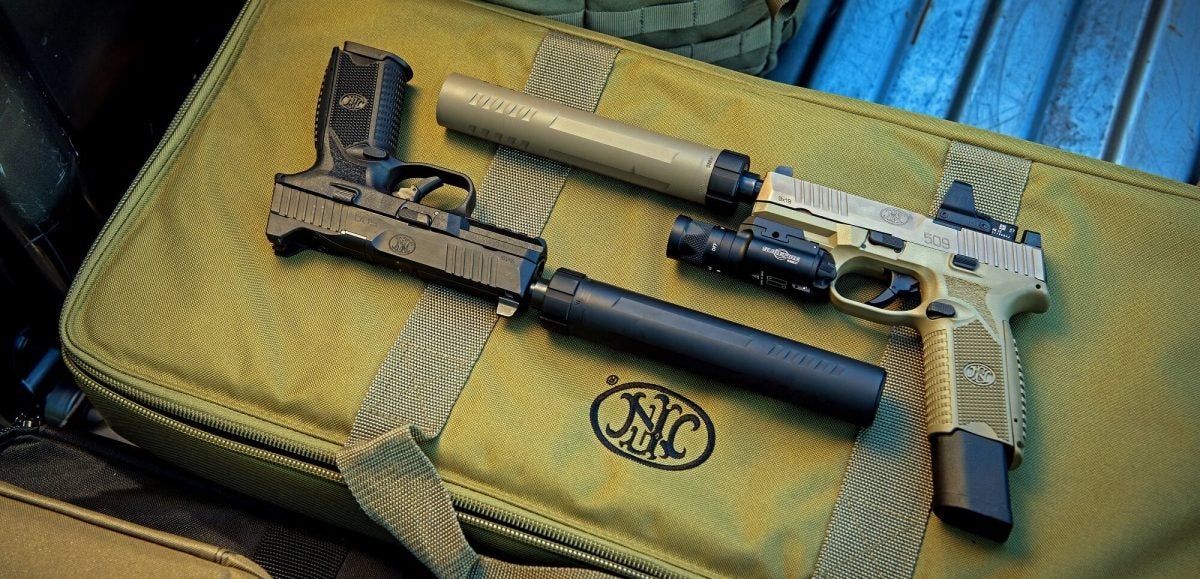 One of the elements of the FN Rush 9Ti silencer that FN is most proud of is its lightweight nature. It has a great strength-to-weight ratio while punching in at only 10.8 ounces through its titanium hybrid construction. The ported aluminum baffle stack also helps curb the weight. Additionally, for anyone running suppressor height sights on their firearm, this can is small enough at 1.375″ in diameter for you to see over the suppressor.
Durable

Reduced Recoil & Low Back pressure Preserves Host Pistol & Suppressor Life Span
Designed for High-Cycle Counts
Blast Chamber & Baffles Diffuse Gas to Stabilize Pressures, Cutting Blowback
Limited Lifetime Warranty

Other elements that FN sought to have manifest in this new silencer are versatility and reliability across all ammunition and pistol host types. With FN's advanced booster they were able to maintain slide timing and prevent cycling failures that some other companies experience. The silencer also breaks down for easy maintenance with a user-serviceable baffle stack.
High Performance

Accuracy & Cycling Reliability FN Owners Demand
Included Spring & ½" x 28 TPI Piston
Tight Piston Gas Seal contains Gases in the Baffle Core Cutting Blowback & Recoil
Suppressor-Height Sights Unobscured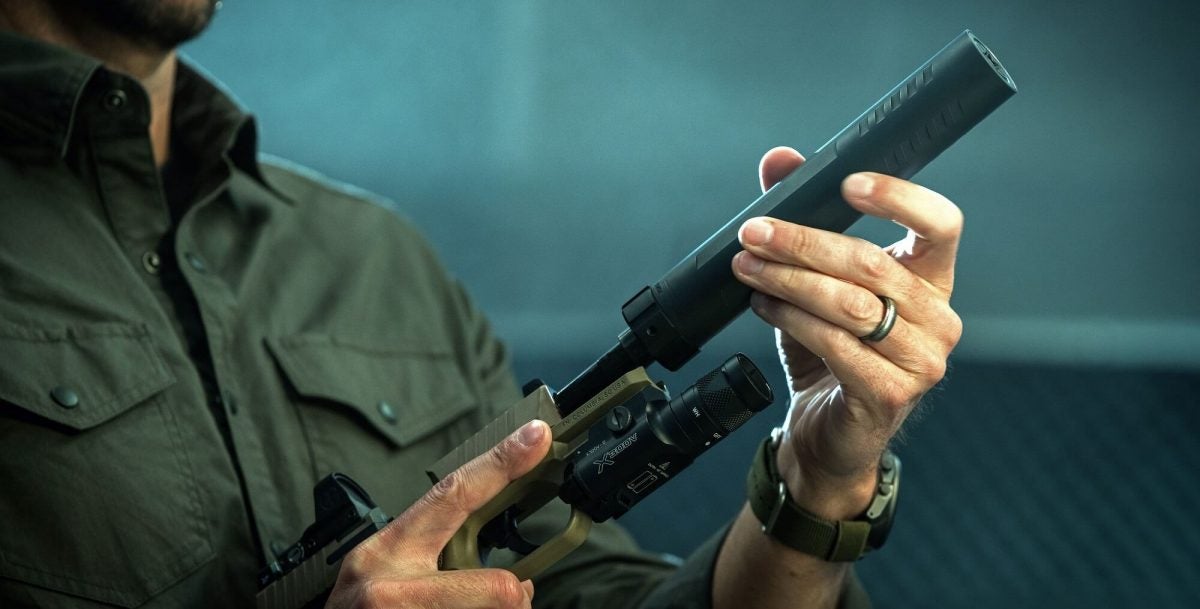 While FN has a lot of pride in the introduction of Rush 9Ti silencer and wholly believes in everything about it, there are several primary features that they really want potential owners to drive home. A lot of it surrounds the reliability, versatility, and durability that we initially mentioned at the beginning.
Primary Features

Reduced Gas Jetting to Face
Reliable Feed & Extraction with Factory Ammunition
Perfected with the FN 509 Tactical; Included Piston Mounts to any ½" x 28 Threaded Barrel
Ultimate Strength-to-Weight Ratio; Trim Titanium Tube
Effective Sound Reduction without the Blowback
½" x 28 TPI Piston & Booster Assembly Included
As you can see, there is a lot to discuss when it comes to the new FN Rush 9Ti silencer that has been recently debuted. This is something we at AllOutdoor are hoping to test-fire and get an even more intimate look at when we attend SHOT Show 2023 this coming January. If we are able to get some hands-on experience with this silencer we will absolutely share our thoughts with all of your here.
For anyone who has not purchased a silencer before, be sure to check out your local gun store and ask how you can do so. The process can seem daunting, but an intelligent SOT or silencer dealer should be able to walk you through all of the steps of ownership to make it as painless as possible. The FN Rush 9Ti would be a great addition to start any collection as well. As always, let us know all of your thoughts in the Comments below! We always appreciate your feedback.