NEW Waterfowl Loads from HEVI-Shot Ammunition for 2023
Adam Scepaniak 01.06.23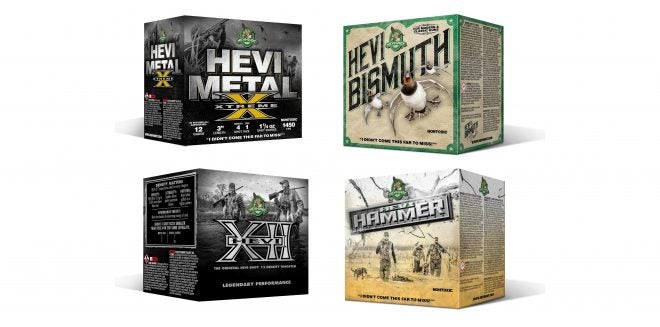 HEVI-Shot Ammunition is known throughout the waterfowl, varmint, and upland hunting community as making some of the highest-grade shotguns shells on the market. If you want to fill a tag HEVI-Shot Ammunition is going to accomplish it for you as long as you do your part. Now, HEVI-Shot Ammunition has announced 4 new waterfowl loads leading into SHOT Show 2023 being held January 17th – 20th at the Venetian Expo and Caesars Forum in Las Vegas, Nevada. Their newest additions include new offerings in HEVI-Shot's HEVI-XII, HEVI-Metal Xtreme, HEVI-Bismuth Waterfowl, and HEVI-Hammer Waterfowl.
HEVI-Shot Ammunition Coverage on AllOutdoor
HEVI-Hammer Waterfowl – Loads consist of layered bismuth pellets (15 percent of the payload) over steel pellets. This gives hunters more range with added density, tighter patterns, and improved shot strings. These loads are available in a wide selection of 12- and 20-gauge options, including new 3 1/2-inch 12-gauge No. 2, 4 and BB.
HEVI-Bismuth Waterfowl – Loads are safe for both modern and classic waterfowl shotguns. Its 9.6 g/cc pellets allow shooters to drop a shot size compared to steel. Now there's a choice for every wingshooter, with offerings from .410 bore to 10 gauge, including two new 28-gauge loads.
HEVI-XII – The original 12-density, tungsten alloy recipe from HEVI-Shot. HEVI-XII pellets hit harder from a longer distance. Its pellet material is 53.8 percent denser than steel–doubling the downrange energy. Shooters can drop three shot sizes for the same lethality and 28 percent more devastating pellets on target. Available in a full line of loads, including new shot size No. 2, 4 and 6 offerings in 12 and 20 gauge.
HEVI-Metal Xtreme – Load feature a layer of HEVI-Shot's original 12 g/cc HEVI-XII tungsten pellets (30 percent) stacked over steel pellets (70 percent) in the same shell. The dense tungsten pellets are three shot sizes smaller than the steel pellets to ensure both layers have equal downrange performance. The load features the FLITECONTROL FLEX wad—sourced from HEVI-Shot's sister brand Federal Ammunition—for consistent long-range patterns and is set to blistering velocities. These new loads are available in four 12- and 20-gauge options.
All of these waterfowl loads come in varying shot sizes, gauges, and material make-up depending on your intended field use. Whether you are dropping sea ducks off the coast of Maine or calling puddle ducks into a decoy set in the Midwest, all of these new offerings from HEVI-Shot Ammunition should get er' done! As always, let us know all of your thoughts in the Comments below and whether you are currently using HEVI-Shot Ammunition. We always appreciate your feedback.