Surgically Attack Steel! Speer Gold Dot G2 Carbine 9mm 135 Grain HP
Adam Scepaniak 01.06.23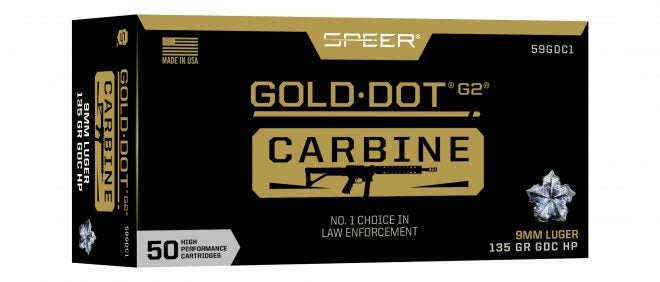 If you are in the PCC (pistol caliber carbine) competition scene, then you know the importance of good ammunition. This extends to your rifle/carbine running more reliably so you have no malfunctions and/or stoppages, but also good ammo can afford your a boost in accuracy. So, with the announcement of Speer's NEW Gold Dot G2 Carbine ammunition, this might be an ammo selection your right up your alley if you consider yourself a competition shooter.
Speer Coverage on AllOutdoor
The NEW Speer Gold Dot G2 Carbine 9mm 135 Grain GDC HP ammo retails at an MSRP of $76.99 per box of 50 rounds. Is this is bit expensive? Yes, but it is meant strictly for competition; its cleaner, has a distinct recoil impulse, and is supremely accurate. All of the specifications for this new ammunition can be read below as presented by Speer:
Gold Dot G2-style bullet
Elastomer-filled nose for better expansion through barriers
Loaded for optimal velocities and feeding in carbines
Effective penetration and expansion through common barriers
For the first time ever, defenders can get Gold Dot's legendary accuracy and terminal performance in ammunition built specifically for carbine platforms. Gold Dot® Carbine produces ideal velocities through carbine-length barrels and cycles flawlessly. The G2®-style, elastomer filled bullet nose is tuned to produce extremely effective penetration and expansion through common barriers.
While the GDC HP (Gold Dot Carbine Hollow-Point) will be extremely effective in competition, you could also deploy it for home defense if you happen to keep a defense carbine at home. Speer cites that it has effective penetration and expansion through common barrier tests so it would be more than adequate for competition and defense – you choose. As always, let us know all of your thoughts in the Comments below, and whether this is something you would entertain purchasing. We always appreciate your feedback.