NEW Federal Ammo – Gold Medal Action Pistol, Train + Protect, and Punch
Adam Scepaniak 01.09.23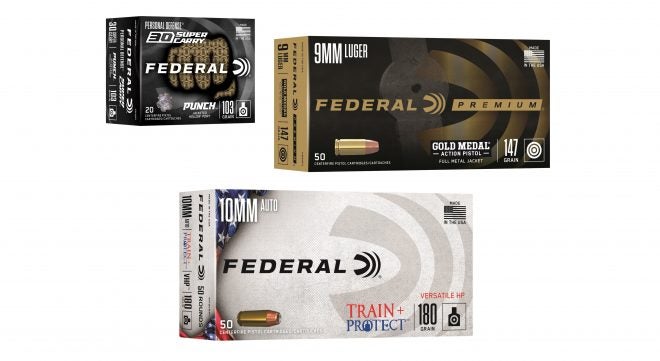 When it comes to ammunition in all capacities Federal Premium out of Anoka, Minnesota is one of the most recognizable and reputable names in the shooting sports and hunting industry. So, it comes as no surprise that they have new handgun offerings for us as we begin 2023 and near SHOT Show. Federal Premium has announced 3 new handgun loads leading into SHOT Show 2023 being held January 17th – 20th at the Venetian Expo and Caesars Forum in Las Vegas, Nevada. Their newest additions include new offerings in Gold Medal Action Pistol, Train + Protect, and Punch.
Federal Premium Coverage on AllOutdoor
The first in this series of newly announced ammunition is a selection from the Punch lineup of ammo which is now being offered for 30 Super Carry. A 20 round box of Federal Punch 30 Super Carry 103 Grain Jacketed Hollow Point (JHP) has an MSRP of $26.99 per box. Federal explains a bit more about this new offering below:
Federal engineers designed both Punch ammunition and the new 30 Super Carry cartridge from the ground up for self-defense, and the two have come together in a load that's far easier to shoot effectively. The blending of the two technologies gives shooters an extremely effective option for real-world defense.

The next new offering in handgun ammunition comes in the form of Gold Medal Action Pistol; ammunition meant to be made specifically for competition. The Federal Gold Medal Action Pistol 9mm 147 Grain FMJ offering retails for $30.99 for a 50 round box while the .40 S&W 180 Grain FMJ has an MSRP of $42.99 per box. If you are in IDPA, USPSA, or similar competitions, this might be right up your alley.
Compete at the highest level with loads designed specifically for the action shooting sports. New Gold Medal Action Pistol—available in 9mm Luger and 40 S&W—offers even better accuracy and consistency than original Gold Medal, and it's loaded to power-factor requirements. The fully encapsulated FMJ bullet and Catalyst lead-free primer deliver cleaner shooting.

The Federal Train + Protect series of ammunition is curiously interesting because it is authentic, lethal hollow-point ammunition, but at a price-point where you can train with it. This allows shooters to feel the recoil of their carry ammo and get used to shooting it before a hair-raising life event. The Federal Train + Protect 10mm Auto 180 Grain Versatile HP has an MSRP of $57.99 per box of 50 rounds.
Federal has made it easier than ever to honor your birthright to bear arms with a new Train + Protect load in 10mm Auto. The full-power offering features a VHP bullet to deliver both precise, practical performance at the range, and instant, reliable expansion on impact.

---
When it comes to shooting handguns there are innumerable niche categories and rabbit holes people journey down as evident by how many different and unique offerings Federal Premium provides to all of us in ammunition. Sometimes we are doing competitive shooting, need ammunition for small carry guns, and/or we wish to train with our carry ammo. Whatever your reason is for heading to the range or carrying on a daily basis, Federal Premium likely has you covered with Gold Medal Action Pistol, Train + Protect, and Punch. As always, let us know all of your thoughts in the Comments below, and whether you have shot any of this ammunition in different cartridges already available. We appreciate the feedback.