The Path Less Traveled #013: Trail Cuisine – DIY PB Cocoa Wheats
Andrew D 05.24.21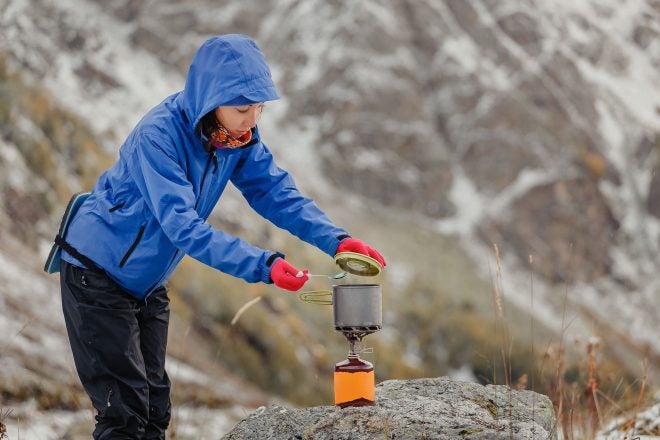 Unlike Kanye, who is a Sick Dude who likes some Quick Food (Lyric Reference NSFW), I believe camping food prep is an excellent choice compared to premade meals (if you have the time). Why spend $5.00 – $7.00 on a bag of granola when Trail Cuisine's DIY Peanut Butter Cocoa Wheats kicks its butt in every single aspect?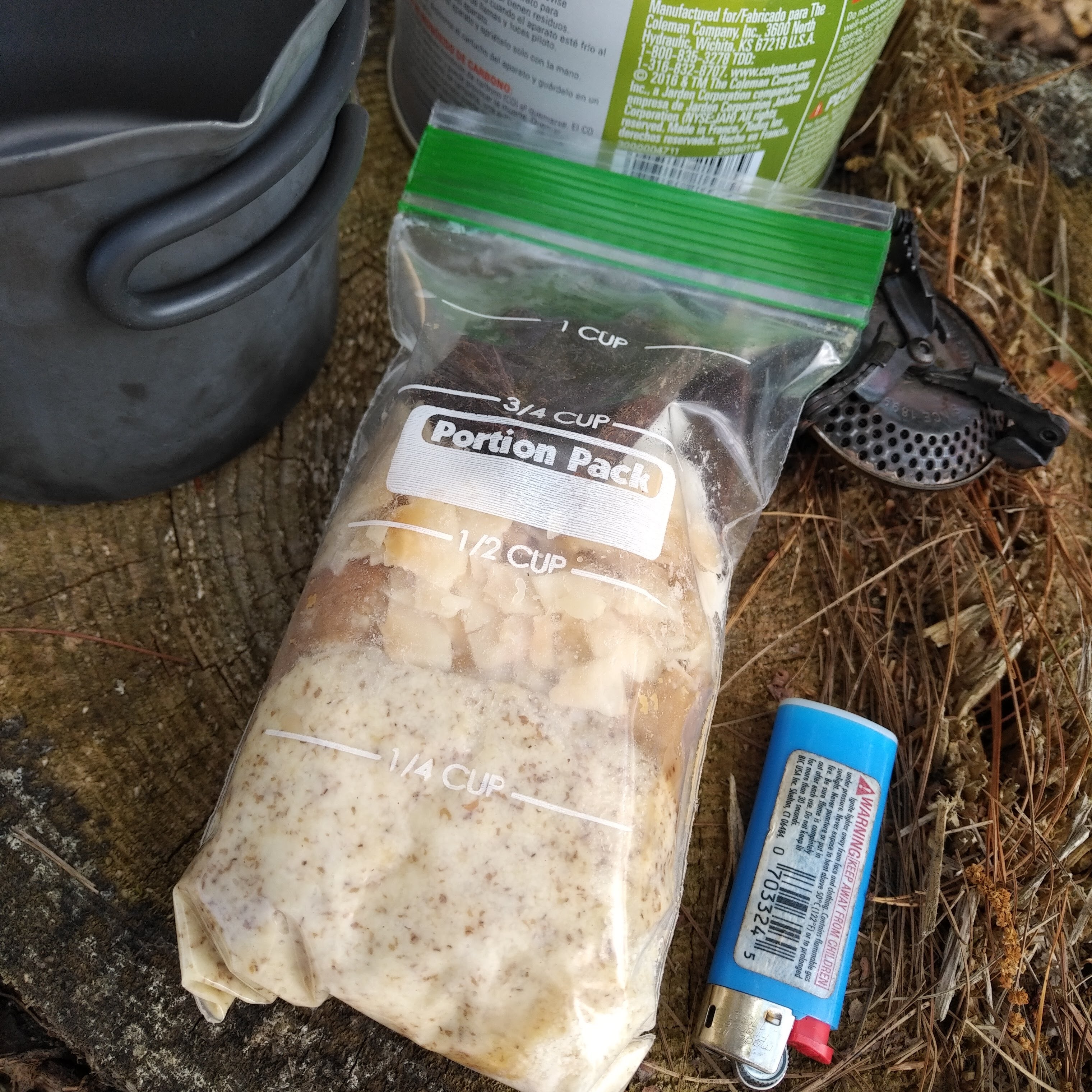 ---
Welcome to our recurring series of "The Path Less Traveled." In this series, we want to take you along for our exploits out in the wilderness while hiking, camping, exploring, and general adventuring. This will include our small daily victories, foibles, tips, tricks, and reviews of gear we authentically appreciate and frequently utilize. While a well-worn trail can often be the pathway to a leisurely day, the paths less traveled can often spur on some of the greatest memories, misadventures, and fun we could imagine. Join us in the Comments as we share our travels, and hopefully, we can all come together for a greater appreciation of the outdoors.
---
Why Make Your Own Trail Cuisine?
Home-made trail cuisine can provide many benefits to over-processed food that comes in heavy combat/space packaging. Many of the benefits come from creating/modifying recipes to your desires and (medical/allergy) needs. It is easy to beat freeze-fried bag meals in volumetric/weight-based, nutrient density; I don't know exactly where it came from, but the standard is to pack at least 100 calories per 100 grams of food.
There are always things about pre-packaged camp meals that don't taste exactly how I hoped/expected them to taste. With your own food, you can choose to add more sugar, salt, or whatever else, without having to unseal the bags before you're out in the woods (you really should repackage camp food bags and other pre-made meals, they're bulky and gigantic!). For today's Trail Cuisine meal of DIY Peanut Butter Cocoa Wheats, the cooking time is less than three minutes from turning on the stove to food in your mouth. When you're hungry or already reaching levels of hangry… seconds count!
Who really enjoys spending six bucks on food that may or may not be mediocre? Being on the trail, spending big money on nutrition that will be buried "at least 6-8 inches" in a few hours is ludicrous. Saving $2.00 to $5.00 per meal for a week of hiking can spare you enough cash to buy that Gucci headlamp or hammock you've been thinking about. 
With the Trail Cuisine series, I'll only be purchasing things I can get at my local stores – nothing online… unless I can't find it in my extremely rural West Virginia stores. (I'll let you know if this occurs.)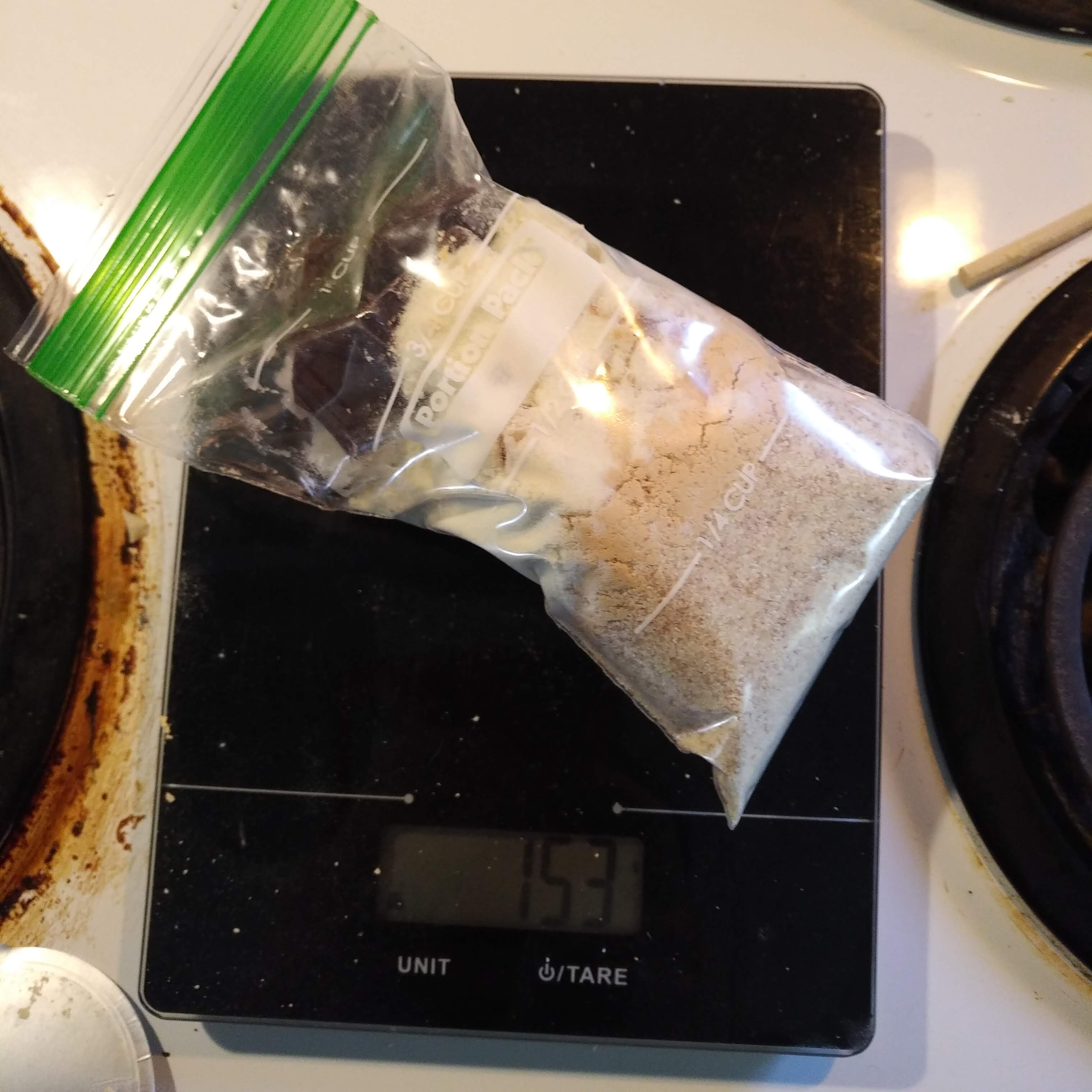 Food Posts You May Be Interested In:
Trail Cuisine Components – Starches
There are pretty formulaic ways of planning out camp foods, these methods typically start out with something that will be the bulk of your calories and carbohydrates – think starches. For this recipe, I went with Cream of Wheat brand farina which comes in at 363 calories for 100 grams.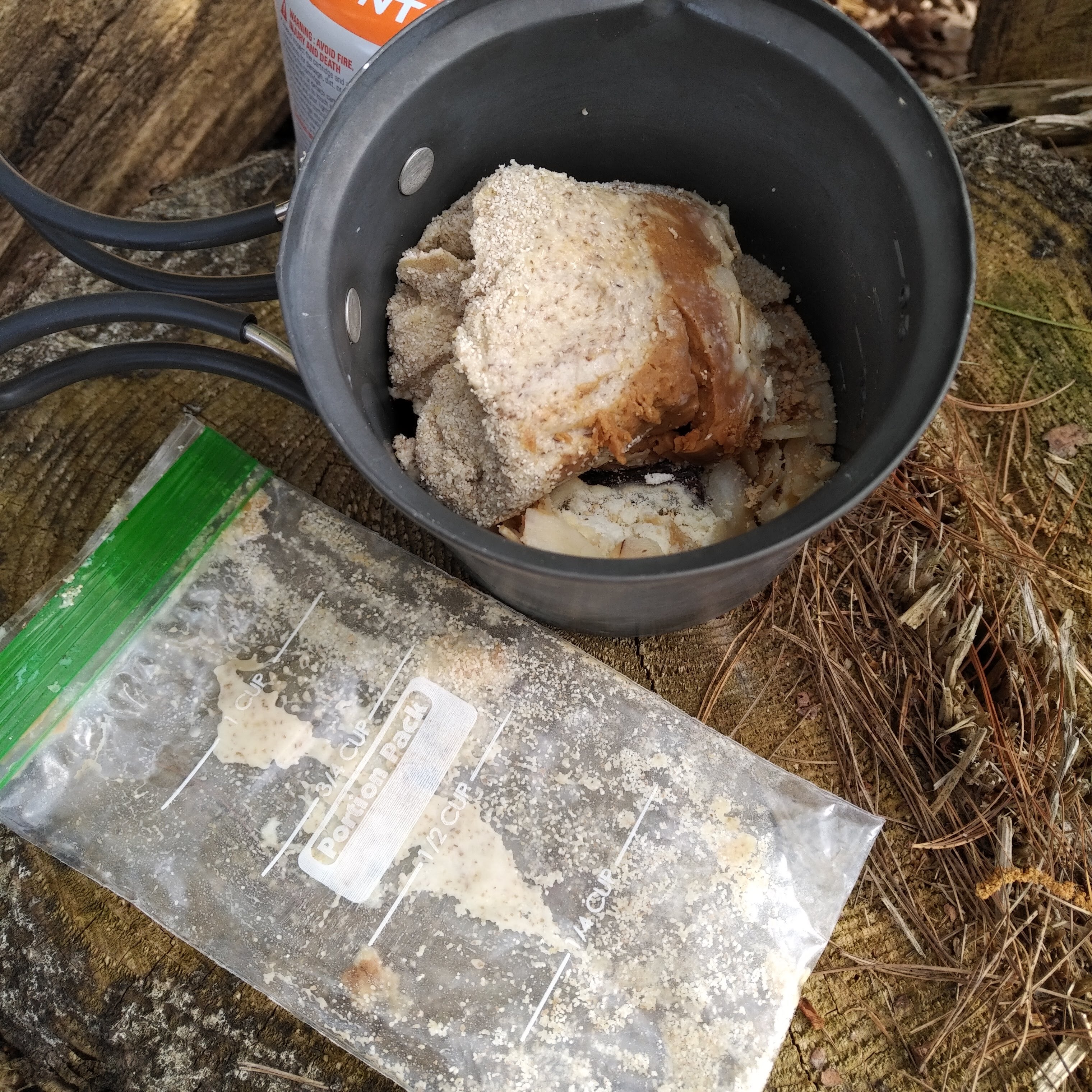 Trail Cuisine Components – Fats
To increase calories, don't forget your butter and/or oils. Lipids are one of the most calorie-dense foods there are. In Trail Cuisine's DIY Peanut Butter Cocoa Wheats, I took a spin on the Cocoa part of the word and added coconut oil as my fat. Coconut oil helps keep the pot lubricated, increases calories (and flavor), as well as adds a varietal hint of goodness. Using 100g of coconut oil is 857 calories, so I used 10g in this recipe which could be reduced for those who need fewer calories. The peanut butter could technically be considered fat too, kind of, at 416 calories for 100g.
Trail Cuisine Components – Flavor/Nutrition
Once having your caloric requirements satisfied, you can figure out what foods can accommodate the starch and oils to make things enjoyable. Vegetables, fruits, meats, flavorings, and other goodies are good when dining out. Why would you want to neglect them out in the woods?
Trail Cuisine really didn't have a major need for fruit or vegetable, but 90% cocoa was used, as well as pieces of coconut snacks in order to add some texture difference between the foods. Powdered milk was added for creaminess and flavor. I'd recommend whole milk powdered milk, but it is not as common as non-fat.
When planning your meals, do consider the amount of time it will take to heat the water to reconstitute or cook the foods. Ex: We won't be making Shepherd's Pie (YUM!) out on the trail, dutch oven be damned; some foods just take too much fuel. Additionally, If you're going out for more than a few days, costs must be considered. Less processed food is good. Fresh food is great. Organic farina? Yeah, I'll just stick to the basic stuff.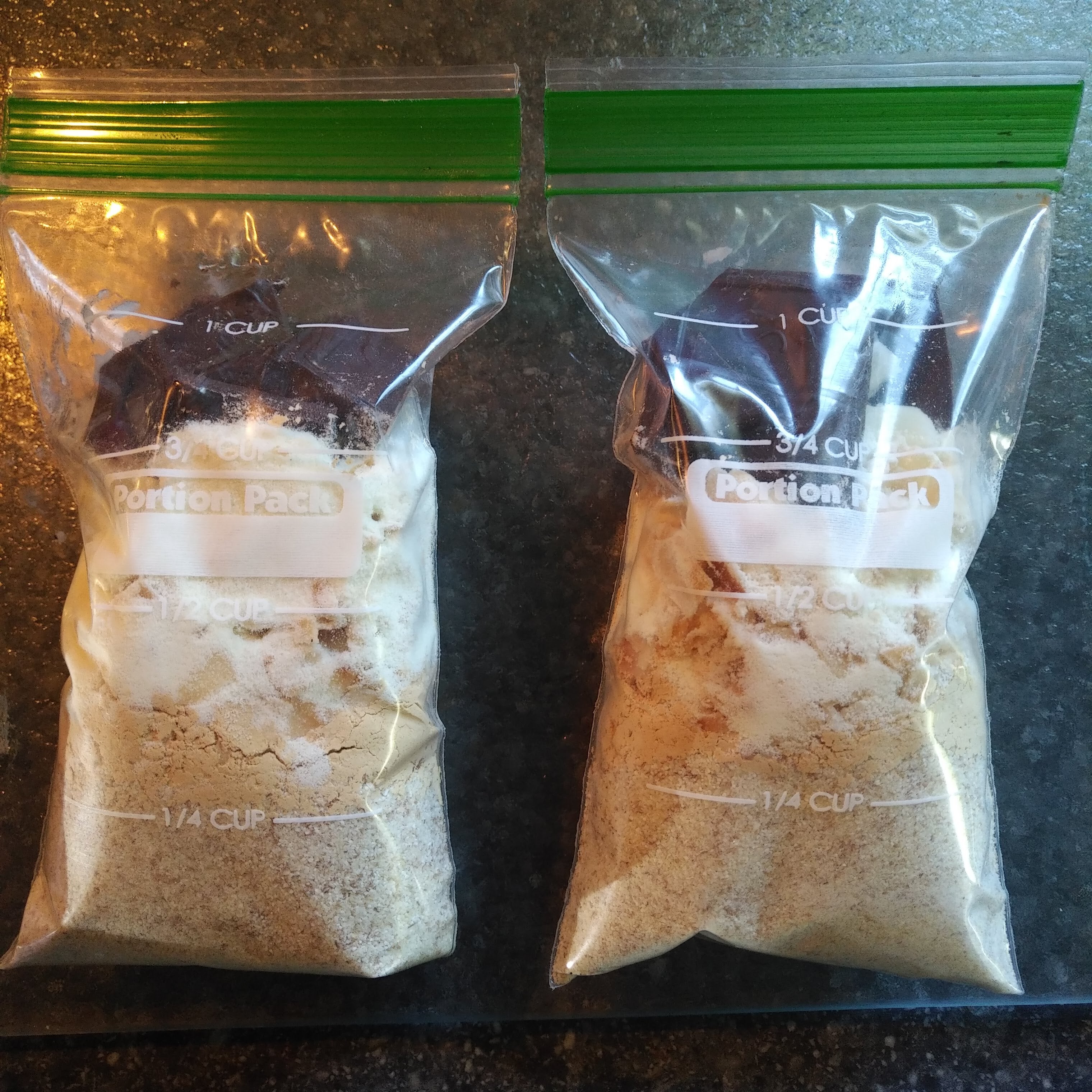 Food Making You Salivate Like One of Pavlov's Dogs? Try These:
Trail Cuisine: DIY Peanut Butter Cocoa Wheats Recipe – Ingredients
Cream of Wheat
Weight
Calories
Carbohydrates
Fat
Sodium
Fiber
Protein
Cream of Wheat
66.0g
240.0
50.0
0.0
200.0
2.0
6.0
Cost for weight
Cost per gram
Cost per ounce
Cost per 100 Cal
Cream of Wheat
$0.29
$0.00***
$0.12
$0.12
Cream of Wheat/Coco-Wheats was a staple growing up, despite being diabetic. Pretty sure it was a government ration or something as much as I ate it as a child. There were many meals while growing up that were made by my family solely to fill our stomachs. Coco-Wheats made with a spoon of peanut butter (on top of the wheats) was one of those meals that sent us to school not feeling as impoverished as we actually were.
90% Cocoa Chocolate Bar
Weight
Calories
Carbohydrates
Fat
Sodium
Fiber
Protein
90% Cocoa Chocolate Bar
15.0g
95.0
4.5
8.5
0.0
2.0
1.5
Cost for weight
Cost per gram
Cost per ounce
Cost per 100 Cal
90% Cocoa Chocolate Bar
$0.30
$0.02
$0.55
$0.31
For this trail cuisine, 90% chocolate was used for many reasons. First, nutrient density. Second, it doesn't melt as easy as milk chocolate. Third, it held the coconut oil in between two pieces like a really strange Oreo cookie. I debated on using dark chocolate chips and if I had those at home, you'd likely be seeing me write that up, but use what 'ya got.
Coconut Oil
Weight
Calories
Carbohydrates
Fat
Sodium
Fiber
Protein
Coconut Oil
10.0g
85.7
0.0
9.3
0.0
0.0
0.0
Cost for weight
Cost per gram
Cost per ounce
Cost per 100 Cal
Coconut Oil
$0.12
$0.01
$0.34
$0.14
When thinking of Coco-Wheats, one usually thinks of the tan box with the boy licking his lips with a bird in the background. I wanted to break this assumption by using coconut products in addition to chocolate and peanut butter. I know many people feel coconut is a divisive ingredient – if you are in this camp – feel free to look at my other recipes. ???
Snackitude Coconut Chips
Weight
Calories
Carbohydrates
Fat
Sodium
Fiber
Protein
Snackitude Coconut Chips
20.0g
119.7
8.5
9.8
38.5
2.6
0.9
Cost for weight
Cost per gram
Cost per ounce
Cost per 100 Cal
Snackitude Coconut Chips
$0.43
$0.02
$0.60
$0.36
Found these at the Dollar Tree. I find them yummy and while I don't buy them to snack on regularly, I do think they are a great calorie-dense food. Adding them into the recipe adds a bit of necessary crunch and sweetness!
Powdered Peanut Butter
Weight
Calories
Carbohydrates
Fat
Sodium
Fiber
Protein
Powdered Peanut Butter
15.0g
62.5
5.0
1.9
0.0
1.9
7.5
Cost for weight
Cost per gram
Cost per ounce
Cost per 100 Cal
Powdered Peanut Butter
$0.35
$0.02
$0.66
$0.56
There's nothing I can say about peanut butter, other than I love it. When I buy a jar of traditional peanut butter, I always get the smallest because it calls my name at all hours of the day when residing in my kitchen cabinets.  Powdered peanut butter weighs less and is less sticky/annoying to manipulate. Many bonuses to powdered.
Powdered Milk
Weight
Calories
Carbohydrates
Fat
Sodium
Fiber
Protein
Powdered Milk
10.0g
34.8
5.2
0.0
41.3
0.0
3.5
Cost for weight
Cost per gram
Cost per ounce
Cost per 100 Cal
Powdered Milk
$0.11
$0.01
$0.31
$0.32
If you don't have powdered milk at home, you're doing something wrong. Do a Google search and see how many uses it has, and the benefits it can provide when baking or making prototype coffee drinks. As stated above, I recommend the whole-fat kind, but if you can only find the non-fat ones, go for it and don't look back.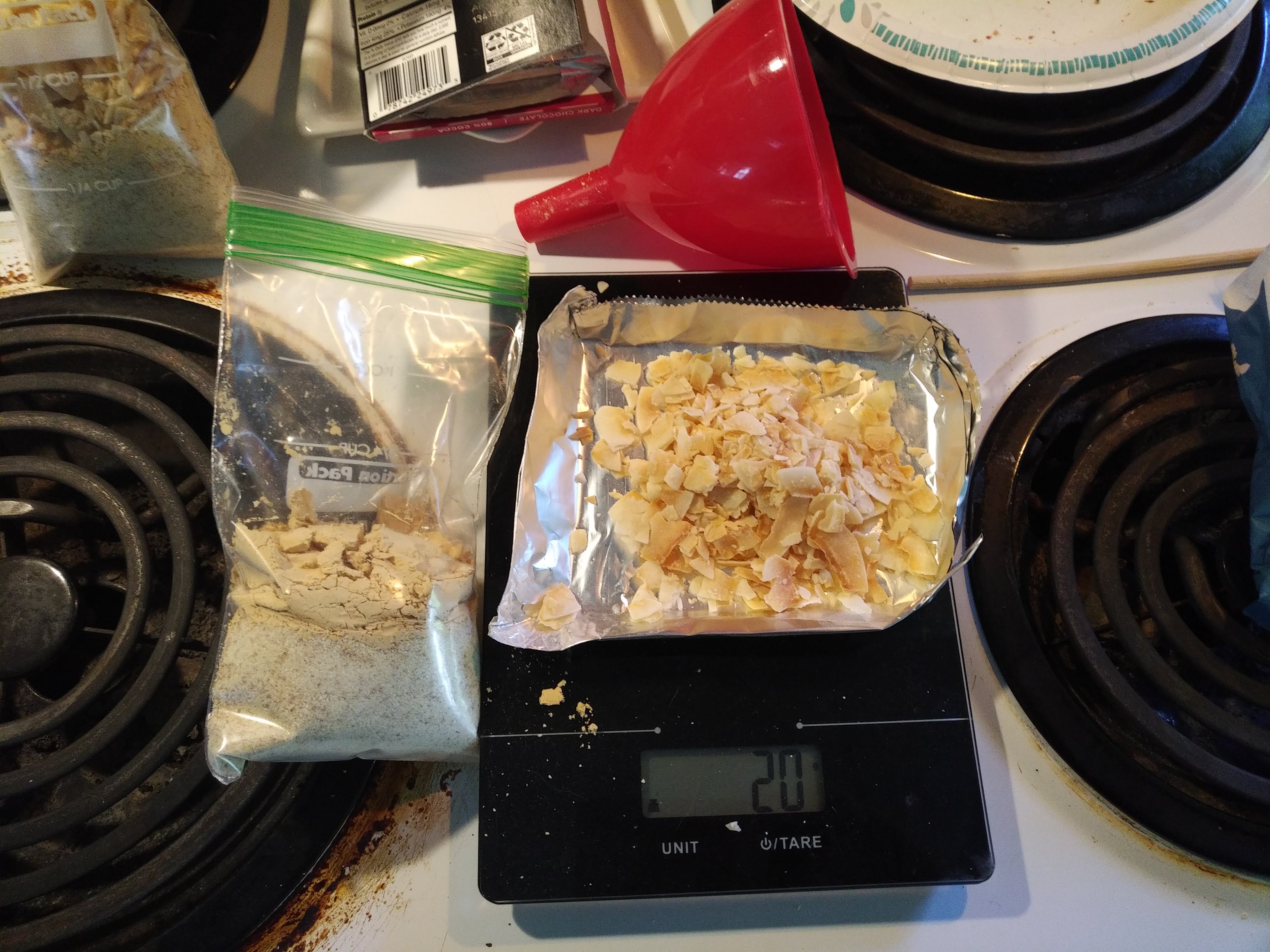 Steps at Home
Place all ingredients into a snack size bag in this order:
Cream of Wheat
Powdered Milk
Peanut Butter
Chocolate pieces with oil sandwiched in
Coconut snack pieces
When developing this recipe, I made two batches. The first one, I added two ounces of water to the plastic bag, waited 24 hours, then cooked in my camp pot. The partial rehydration ("Cold Soaking"), reduced cook time by over 90 seconds. If you have a sweet tooth, add 5-10g brown sugar, or an appropriate amount of your desired sweetener. Remember, sugar burns when cooked too long.
Camp Cooking – Steps on the Trail
Try to get the coconut snacks out of the baggy and set to the side. Add all other ingredients to the pot and add three ounces of water. You can always add more water later, but it is hella hard to remove water. You don't want to have to boil this for longer than needed. If you presoaked your ingredients, boil with the appropriate amount of water for 2 minutes, 30 seconds, or until slightly under desired consistency. Remember, this will thicken up once cooling. Add coconut chip snacks and stir.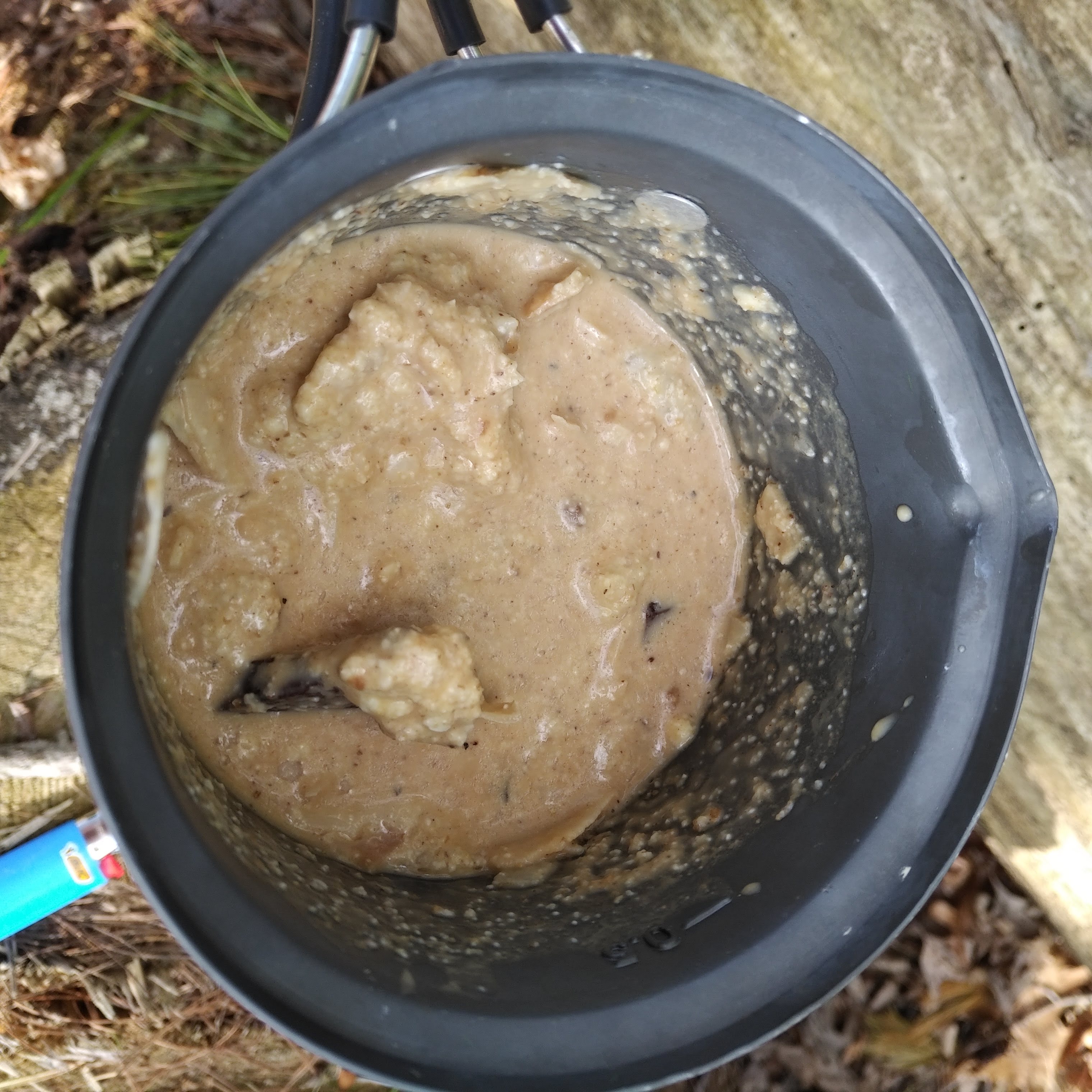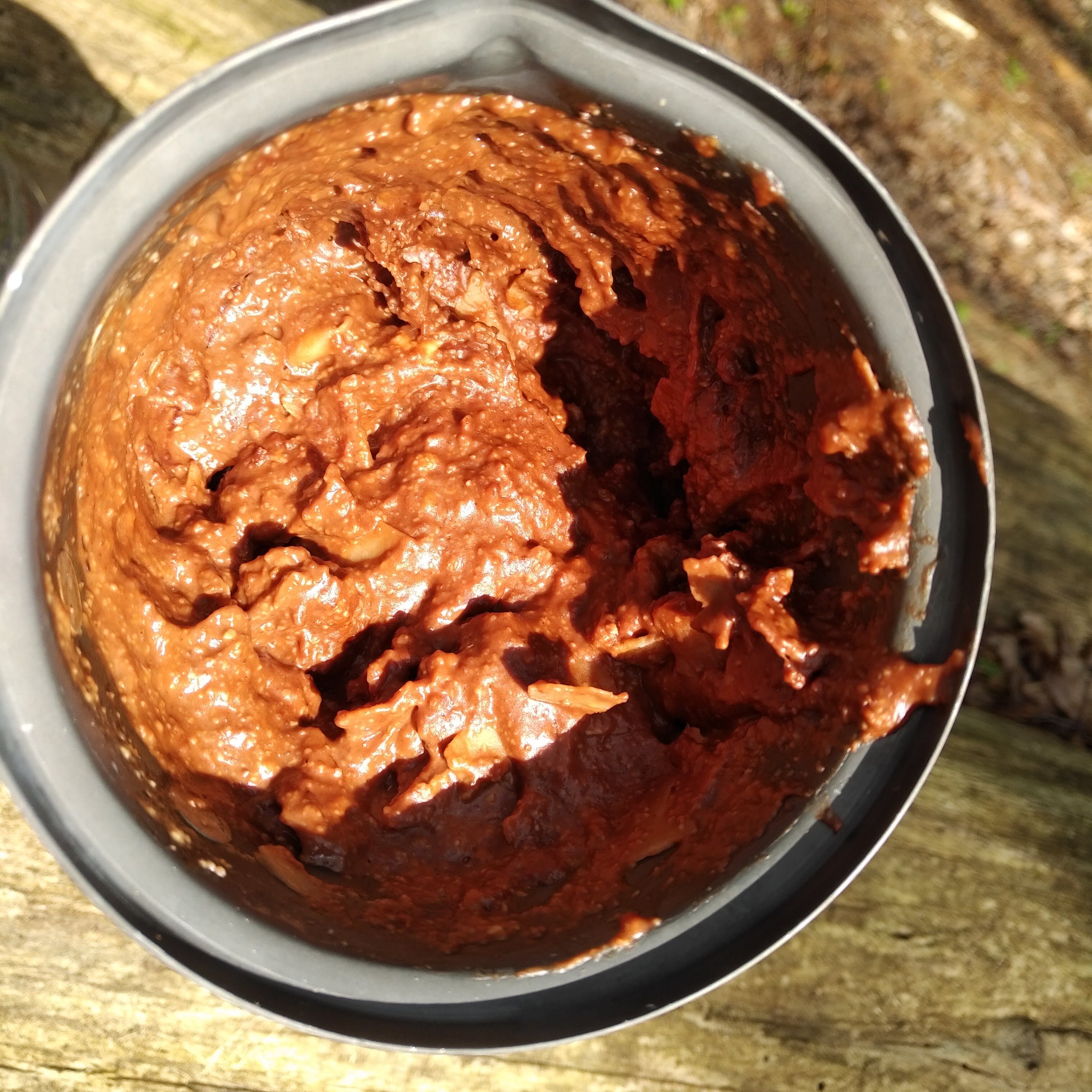 Additional Info:
Being diabetic, I didn't add sugar to the recipe for Trail Cuisine's DIY Peanut Butter Cocoa Wheats, but I sure as heck wanted it. The two people who tried my meal suggested sugar be added too. Use whatever chocolate you have in your home.
I am starting to become an advocate for cold soaking things, even when planning on cooking them later. It really does make sense and cold-soaking doesn't make you a free-loving, tree-hugging hippie (if you are, that's okay too).
Weight
Calories
Carbohydrates
Fat
Sodium
Fiber
Protein
Cream of Wheat
66.0g
240.0
50.0
0.0
200.0
2.0
6.0
90% Cocoa Chocolate Bar
15.0g
95.0
4.5
8.5
0.0
2.0
1.5
Coconut Oil
10.0g
85.7
0.0
9.3
0.0
0.0
0.0
Snackitude Coconut Chips
20.0g
119.7
8.5
9.8
38.5
2.6
0.9
Powdered Peanut Butter
15.0g
62.5
5.0
1.9
0.0
1.9
7.5
Powdered Milk
10.0g
34.8
5.2
0.0
41.3
0.0
3.5
Totals
141.0g
637.7
73.3
29.5
279.8
8.4
19.3
Percentage of recommended
32%
33%
49%
19%
17%
17%
| | | | | | | | |
| --- | --- | --- | --- | --- | --- | --- | --- |
| | 1g | Calories Per Gram | Carbohydrates per Gram | Fat per Gram | Sodium per Gram | Fiber per Gram | Protein per gram |
| Cream of Wheat | | 3.636364 | 0.757576 | 0 | 3.030303 | 0.030303 | 0.090909 |
| 90% Cocoa Chocolate Bar | | 6.333333 | 0.3 | 0.566667 | 0 | 0.133333 | 0.1 |
| Coconut Oil | | 8.571429 | 0 | 0.928571 | 0 | 0 | 0 |
| Snackitude Coconut Chips | | 5.982906 | 0.42735 | 0.491453 | 1.923077 | 0.128205 | 0.042735 |
| Powdered Peanut Butter | | 4.166667 | 0.333333 | 0.125 | 0 | 0.125 | 0.5 |
| Powdered Milk | | 3.478261 | 0.521739 | 0 | 4.130435 | 0 | 0.35 |
| | | | | |
| --- | --- | --- | --- | --- |
| | Cost for weight | Cost per gram | Cost per ounce | Cost per 100 Cal |
| Cream of Wheat | $0.29 | $0.00 | $0.12 | $0.12 |
| 90% Cocoa Chocolate Bar | $0.30 | $0.02 | $0.55 | $0.31 |
| Coconut Oil | $0.12 | $0.01 | $0.34 | $0.14 |
| Snackitude Coconut Chips | $0.43 | $0.02 | $0.60 | $0.36 |
| Powdered Peanut Butter | $0.35 | $0.02 | $0.66 | $0.56 |
| Powdered Milk | $0.11 | $0.01 | $0.31 | $0.32 |
| Total | $1.60 | $0.09 | | |