Ascent Protein Debuts NEW Plant-Based Protein with Whole Foods Market
Adam Scepaniak 08.23.21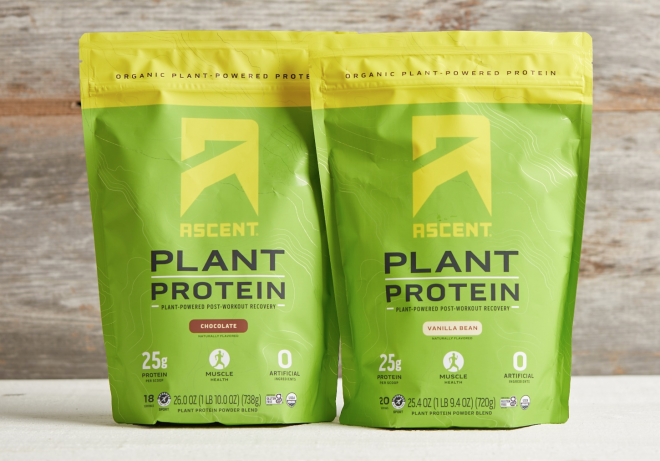 As conservationists, hunters, huntresses, and adamant lovers of the outdoors we all want what is best for the environment and ourselves. This shines through in us being good stewards of the great outdoors as well as what we put into our own bodies. Whether a stairmaster or a steep hiking trail is your preferred form of cardio, we can all agree that keeping your body moving and having good intentions in what we eat go a long way. A company with a similar mindset of health is Ascent – one of America's fastest growing sports nutrition companies – and they are ecstatic to debut a new line of organic plant-based protein powders.
Health/Fitness Coverage on AllOutdoor
As of August 16th last week, Ascent's Plant Protein is now available at Whole Foods nationwide! Also, it can be found on ascentprotein.com and Amazon.com. All locations will carry both plant flavors – Chocolate and Vanilla Bean. Ascent's Plant Protein is compatible with a vegan lifestyle because of their unique blend of plant protein sources derived from pea, sunflower, and pumpkin. Casey Gaston, Senior Category Merchant for Sports Nutrition & Weight Management at Whole Foods Market, expanded on some of the reasons why Whole Foods is excited to begin offering Ascent Plant Proteins:
"We are excited to partner with Ascent on this new line and offer our consumers a plant-based protein that is formulated for athletes who want efficacious, clean ingredients – that also tastes amazing! We are grateful to partner with a brand like Ascent who is as dedicated to offering high-quality, cleaner and better tasting products to their athletes as we are at Whole Foods Market."
Aside from the ringing endorsement of being stocked now in Whole Foods, there are innumerable professional athletes who swear by Ascent protein including Olympic athletes, NFL players, and CrossFit Games champions. Also, Ascent is the 1st-ever performance nutrition partner of USA Weightlifting. With the ingredient list below, it becomes pretty obvious why:
25g of Organic Plant-based Protein
4g of BCAAs including 2g of Leucine – the key Amino Acid to stimulate Muscle Protein synthesis.
Zero Artificial Ingredients
Certified Organic, Certified Gluten Free, & Informed Sport Certified (3rd Party Tested for Banned Substances)
Vegan, Soy Free, Dairy-Free
Contains No Added Sugars
3rd-Party Consumer Research and Confirmed that their Plant-based Protein is significantly preferred in Taste against the Market Leader
As the world continually evolves and changes, it is tremendous to see forward-thinking nutrition companies produce a better offering of protein as well. I am personally excited to try some of their products in the coming weeks with my daily adventures of ranching, walking two energetic corgis, and trying to staying fit for the fall hunting seasons. As always, let us know all of your thoughts in the Comments below! We always appreciate your feedback.
---
Ascent® was created to naturally improve athletic performance and is The Official Sponsor of Hard Work®. Ascent launched in 2016 and has continued to bring innovative products to the market, while remaining committed to their high-quality standards and offering products with straight-forward ingredients and nothing artificial. All Ascent products contain zero artificial ingredients and are Certified Gluten Free, and Informed Choice Certified meaning they are third party tested for banned substances. Aligning with the admirable qualities in the athletes that Ascent serves – going the extra mile, completing an extra set and never backing down from a challenge, Ascent pushes for high-quality results, knowing they do not come without hard work. For more information, visit www.ascentprotein.com
---
For more than 40 years, Whole Foods Market has been the world's leading natural and organic foods retailer. As the first certified organic national grocer, Whole Foods Market has more than 500 stores in the United States, Canada and the United Kingdom. To learn more about Whole Foods Market, please visit https://media.wholefoodsmarket.com/