AO Review: Bourne Precision FURY AR-15/AR-10 Charging Handle
Adam Scepaniak 10.26.21

When it comes to hunting and shooting modern sporting rifles (commonly referred to as AR-15/AR-10 rifles) most of the essential components that make up these firearms are merely an after-thought. That is, unless they fail you. If shooters allow their rifle to get too dirty or they are "too cheap" when it comes to purchasing ammunition, one failure they can realize is rounds getting stuck in a chamber. A reliable charging handle can often remedy that though. Likewise, if your optic takes up too large of a footprint on the top of your receiver, a well-designed charging handle can allow you to still safely and effectively manipulate your rifle. So, it is no wonder that aftermarket companies like Bourne Precision look to so deliberately craft charging handles like the Fury they offer. Today, we are going to see how the Bourne Precision Fury AR-15/AR-10 Charging Handle stacks up in some testing out at a flat range as well as out of a helicopter! Let's dive in.
AR-15 Coverage on AllOutdoor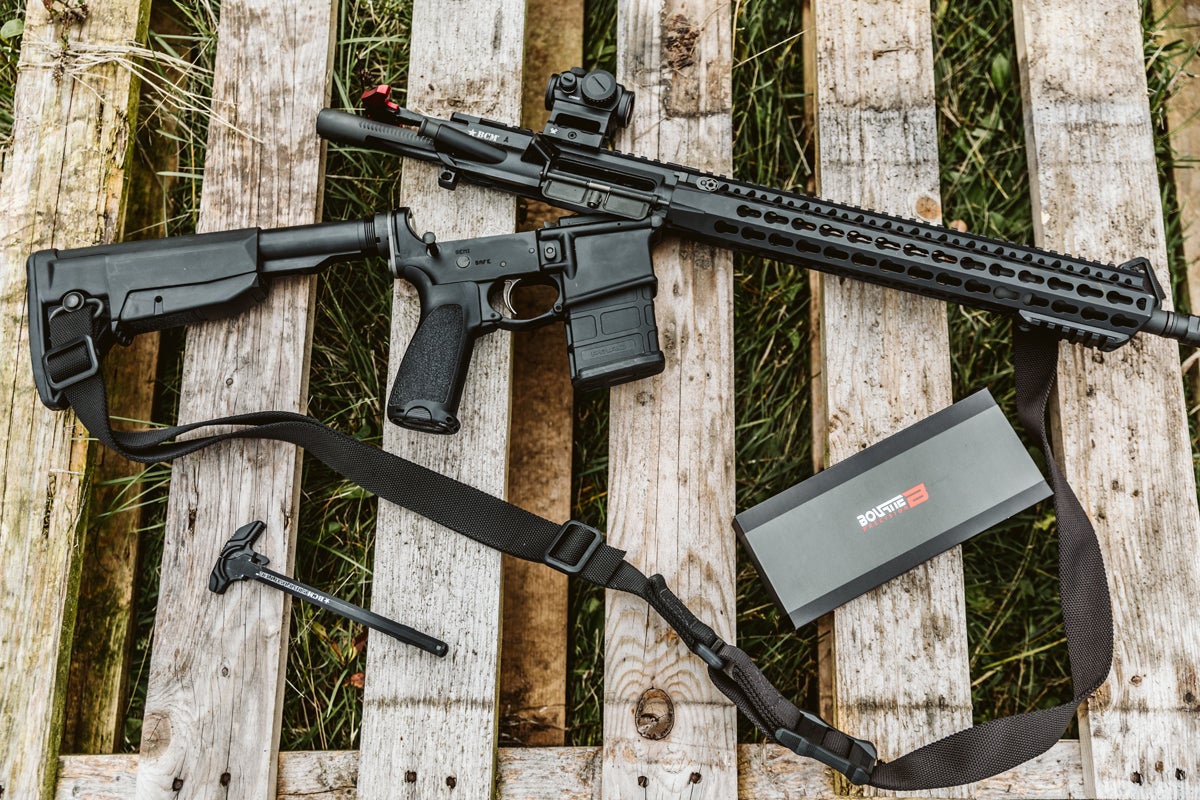 Specifications – Bourne Precision FURY AR-15/AR-10 Charging Handle
As mentioned above, the little things – like a charging handle – are not always something we think of during a rifle purchase or even after-the-fact as something to upgrade on our firearms, but a thoughtfully engineered charging handle can afford you a lot of additional utility out in the field. Some of the basic specifications for the Fury AR-15/AR-10 Charging Handle can be read below as presented by Bourne Precision:
Material: 7075-T6 Aluminum for added Strength and Durability
Finish: Type III Hard-Coat Anodized
Perfect Replacement for any Factory Charging Handle
Ambidextrous Release Small or Large Levers on Both Sides
No Gunsmith Required
Allows for One-Handed Manipulation
Aligns with the Upper Receiver to Redirect Gas Flow away from the User's Face when Shooting Suppressed
Designed & Manufactured in the USA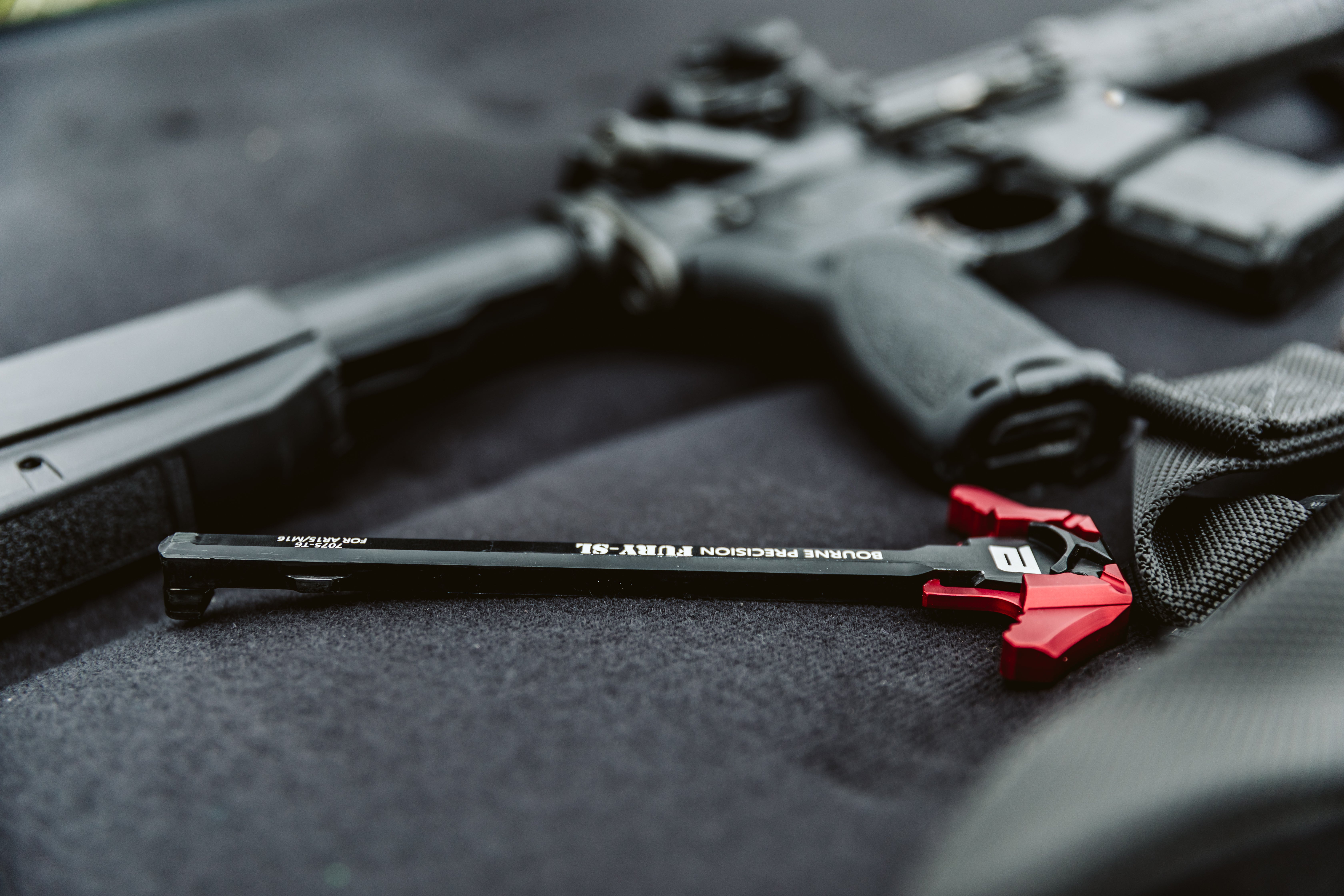 The Bourne Precision FURY AR-15/AR-10 Charging Handle has an MSRP of only $49 for a much upgraded charging handle. Also, it is available in a pantheon of color options such as Black, Blue, Red, Silver, OD Green, Red/Blue, OD Green/Purple, Silver/Black, and Purple. All of these carry Bourne Precision's Lifetime Warranty in the rare event you should ever need service or replacement of your charging handle. Bourne Precision shares some more information regarding the Fury AR-15/AR-10 Charging Handle in their Press Release statement below:
The Bourne Precision FURY AR-15/AR-10 Charging Handle was designed and manufactured with the features and benefits to enhance every user's comfort and performance. The AR-15/AR-10 Charging Handle is engineered for suppressed fire, with anti-gas features that redirect gas flow upward and away from the face and away from the operator. The ACH and its components are Type III Hardcoat anodized. 
Range Time/Field Use – Bourne Precision FURY AR-15/AR-10 Charging Handle
When it came to finally deploying the Bourne Precision Fury AR-15/AR-10 Charging Handle we definitely put it through its paces. This charging handle we took to Texas to get some flat range shooting over the course of a week. This proved to be an interesting shooting experience because in Texas there was a lot of fine particulate (excruciatingly small dirt particles) that would get kicked up in the dry Texas wind. Also, it was constantly 90 degrees or hotter outside. When we took our test rifle – a Bravo Company Manufacturing (BCM) carbine – out of our chilled hotel room and head to the range the rifle would sweat profusely; the previously chilled metal would become damp to the touch. This only accumulated dirt, dust, and grime in copious amounts as a result.
Throughout this repeated process of our chilled rifle being exposed to the blistering heat, accruing dirt, and shooting the charging handle never failed. It constantly allowed us to check for obstructions, lock the bolt-carrier group (BCG) open to cool, to clean, and functioned flawlessly. The last test we had was to shoot a high round count (upwards of 150 rounds – 5 loaded magazines)… out of a helicopter! We harnessed ourselves in, donned plate carriers to hold all of our magazines, and shot steel targets while hanging out the side of a helicopter. We weren't "inverted" like Tom Cruise, but the precarious positions, rate of travel, sometimes shooting straight down, and shooting 45 degrees downward back at the Earth placed unique stresses on the charging handle and its functioning. Throughout these stressful shooting scenarios the Bourne Precision Fury AR-15/AR-10 Charging Handle – once again – never failed.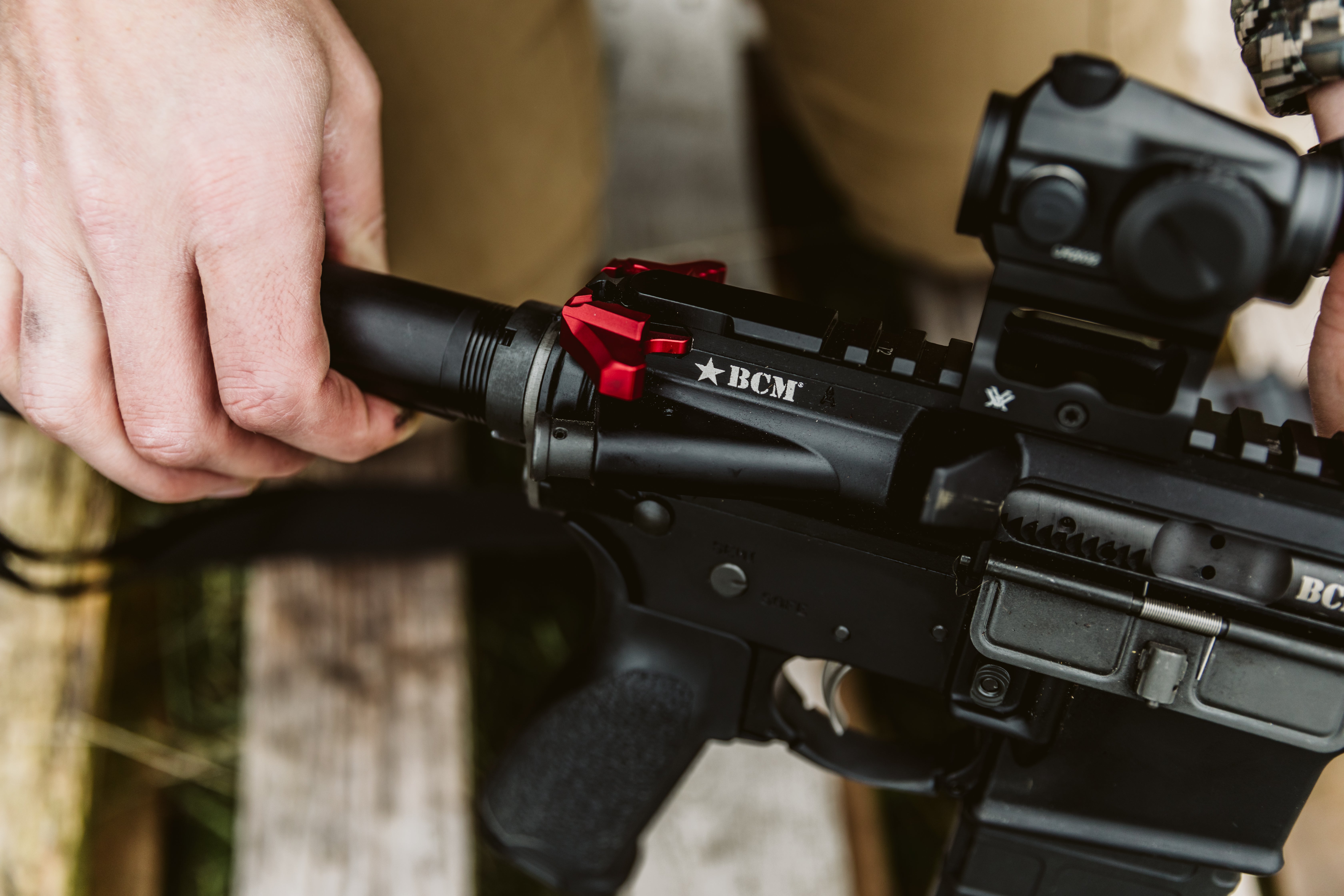 Final Thoughts – Bourne Precision FURY AR-15/AR-10 Charging Handle
Between an effortless install (that we'll highlight below), an increase in weapon manipulation regardless of your choice of optic, and perfect functioning in adverse conditions (Texas heat + wind swept dirt + helicopters) we would definitely recommend the Bourne Precision Fury AR-15/AR-10 Charging Handle. It performs as advertised and then some considering the lengths we went to see if it would fail and it did not. At a only $49, you will not be disappointed with this charging handle.
In closing, I want to say thank you to Bourne Precision for allowing AllOutdoor and myself the opportunity to try out their Bourne Precision FURY AR-15/AR-10 Charging Handle. That is greatly appreciated. Also, we would like to know what all of you guys and gals think? Do you believe that the Bourne Precision FURY AR-15/AR-10 Charging Handle is something worth spending your money on? Would you add one to your AR-15 or AR-10? Shoot a league with it? Hunt with it? As always, let us know all of your thoughts in the Comments below! We always appreciate your feedback.
---
Video and Photography
All of the quality photography for this review was completed by the accomplished and wonderful Savannah Pierson of Savvy Photage while the video work was achieved by the versatile and gifted Jens Kallgren of High Shine Media. They are both pinnacles of knowledge and expertise in their field, and their assistance in reviewing the Bourne Precision Fury AR-15/AR-10 Charging Handle is greatly appreciated.