Springfield Armory Debuts New XD-S Mod.2 OSP Variants
Adam Scepaniak 11.01.21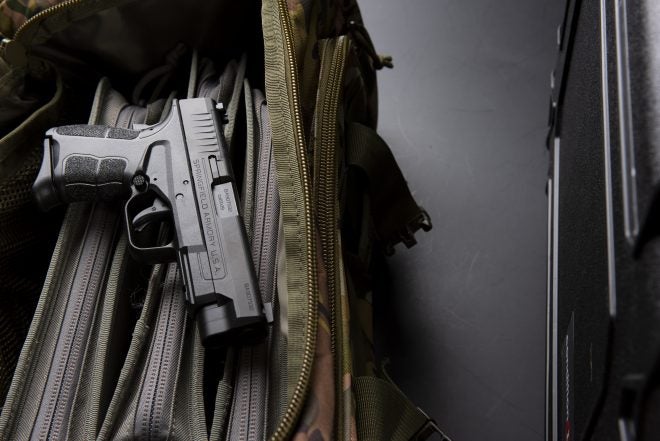 When it comes to concealed carry pistols we are living in a renaissance era of high-capacity firearms with a pantheon of features. This includes Springfield Armory with their incredibly-popular Hellcat and still sought-after XD-S (Xtreme Duty Single Stack). In fact, Springfield Armory has debuted New XD-S Mod.2 OSP variants in 9mm and .45 ACP that are offered with a Crimson Trace Red Dot as a factory option or an Optic Ready slide.
Springfield Armory Coverage on AllOutdoor
The Springfield Armory XD-S is not a new pistol by any means yet it has stood the test of time because of its superior accuracy, comfortable ergonomics, and resolute reliability. While many competitors' single-stack pistols have faded away, the XD-S Mod.2 remains a viable option for concealed carry advocates. For those who might be unacquainted with the Mod.2 OSP variation of the XD-S, Springfield Armory has these words to share about this newest offering of the tenured series:
Our most popular single-stack EDC is now optics ready. The XD-S Mod.2® OSP™ comes with a factory milled slide for low-profile, direct mounting of compact optics for an intuitive sight picture and uninterrupted focus on target. Available with an optional Crimson Trace micro red dot and chambered in 9mm and .45 ACP, the XD-S Mod.2 OSP features a hammer forged barrel and a passive grip safety for confident carry. Shipping with two magazines, the XD-S Mod.2 OSP offers a new take on this trusted platform.
The new offerings of the XD-S Mod.2 OSP will afford shooters a new cartridge to play with in an optics ready option with .45 Auto, but CCW and range enthusiasts will have an entirely new barrel length to play with in 9mm with a 4″ option. Overall, what you carry should fit your hands and your preference in carry position. It speaks volumes that Springfield keeps introducing new iterations of the XD-S Mod.2 because it is continually so popular. All of the new options are listed below along with all of their specifications. As always, let us know all of your thoughts in the Comments below. We always appreciate your feedback.
XD-S Mod.2 OSP 3.3″ w/ Crimson Trace Red Dot .45 ACP (XDSG93345BCT)
Caliber: .45 ACP
Barrel: 3.3″ Hammer Forged Steel, Melonite® Finish, 1:16
Slide: Forged Steel, Melonite® Finish
Frame: Black Polymer w/ Enhanced Grip Texture
Sights: White Dot Front, Serrated Rear, Crimson Trace CTS-1500 Red Dot
Recoil System: Dual Captive Recoil Spring w/ Full Length Guide Rod
Grip Width: 0.9″
Magazines: (1) 5-Round, (1) 6-Round Extended
Weight: 23 Oz w/ Flush Mag | 24 Oz w/ Extended Mag
Length: 6.3″
Height: 4.4″ w/ Flush Mag | 5″ w/ Extended Mag
MSRP: $550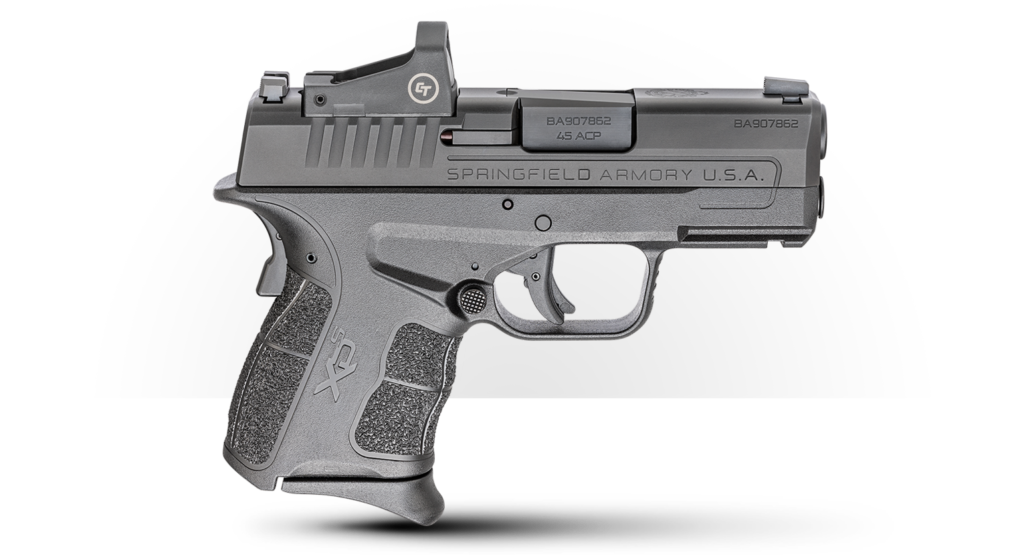 ---
XD-S Mod.2 OSP 3.3″.45 ACP (XDSG93345BOSP)
Caliber: .45 ACP
Barrel: 3.3″ Hammer Forged Steel, Melonite® Finish, 1:16
Slide: Forged Steel, Melonite® Finish
Frame: Black Polymer w/ Enhanced Grip Texture
Sights: White Dot Front, Serrated Rear
Recoil System: Dual Captive Recoil Spring w/ Full Length Guide Rod
Grip Width: 0.9″
Magazines: (1) 5-Round, (1) 6-Round Extended
Weight: 23 Oz w/ Flush Mag | 24 Oz w/ Extended Mag
Length: 6.3″
Height: 4.4″ w/ Flush Mag | 5″ w/ Extended Mag
MSRP: $450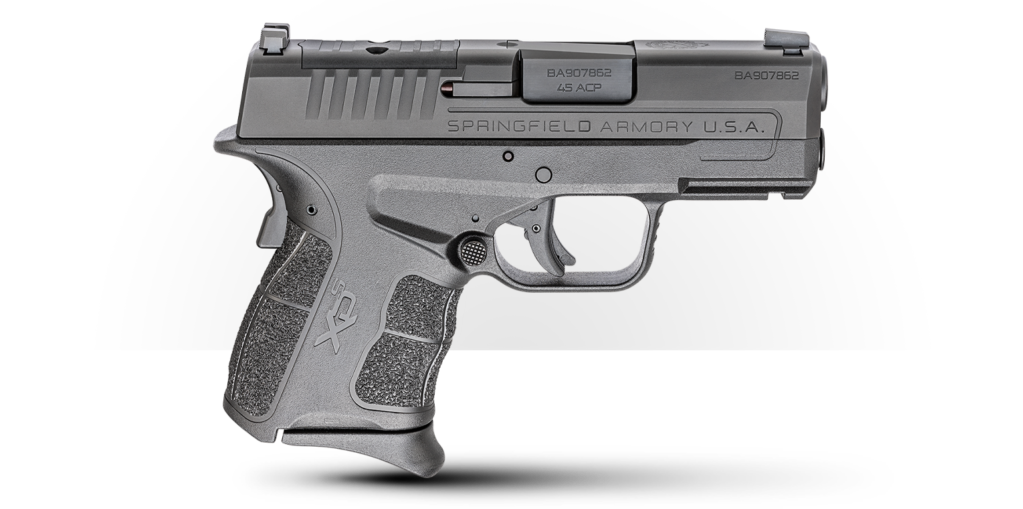 ---
XD-S Mod.2 OSP 4″ w/ Crimson Trace Red Dot 9mm (XDSG9409BCT)
Caliber: 9mm
Barrel: 4″ Hammer Forged Steel, Melonite® Finish, 1:16
Slide: Forged Steel, Melonite® Finish
Frame: Black Polymer w/ Enhanced Grip Texture
Sights: White Dot Front, Serrated Rear, Crimson Trace CTS-1500 Red Dot
Recoil System: Dual Captive Recoil Spring w/ Full Length Guide Rod
Grip Width: 0.9″
Magazines: (1) 7-Round, (1) 9-Round Extended
Weight: 22.5 Oz w/ Flush Mag | 23.5 Oz w/ Extended Mag
Length: 7″
Height: 4.4″ w/ Flush Mag | 5″ w/ Extended Mag
MSRP: $550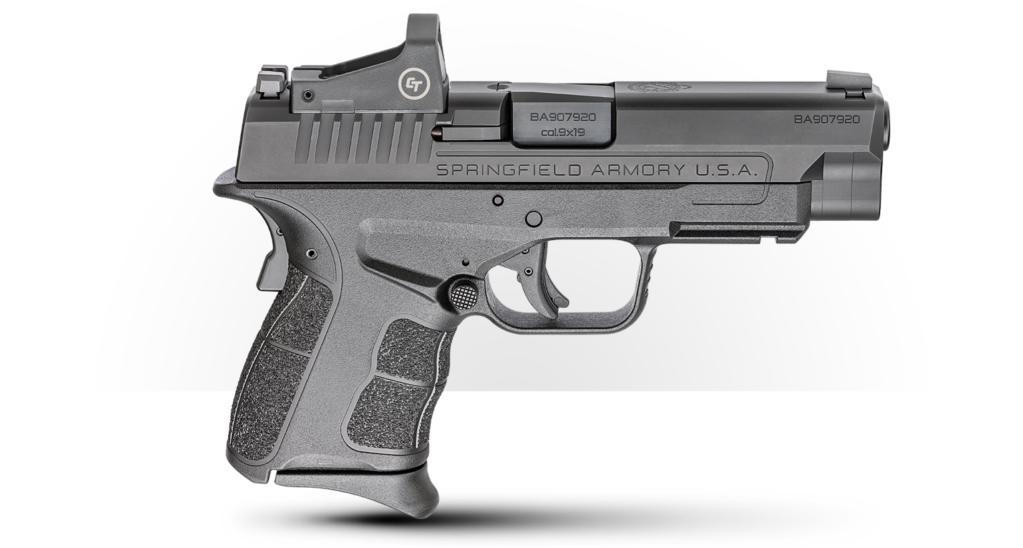 ---
XD-S Mod.2 OSP 4″ 9mm (XDSG9409BOSP)
Caliber: 9mm
Barrel: 4″ Hammer Forged Steel, Melonite® Finish, 1:16
Slide: Forged Steel, Melonite® Finish
Frame: Black Polymer w/ Enhanced Grip Texture
Sights: White Dot Front, Serrated Rear
Recoil System: Dual Captive Recoil Spring w/ Full Length Guide Rod
Grip Width: 0.9″
Magazines: (1) 7-Round, (1) 9-Round Extended
Weight: 22.5 Oz w/ Flush Mag | 23.5 Oz w/ Extended Mag
Length: 7″
Height: 4.4″ w/ Flush Mag | 5″ w/ Extended Mag
MSRP: $450