AllOutdoor Review: Springfield Armory Hellion 5.56mm NATO Bullpup Rifle
Adam Scepaniak 01.16.22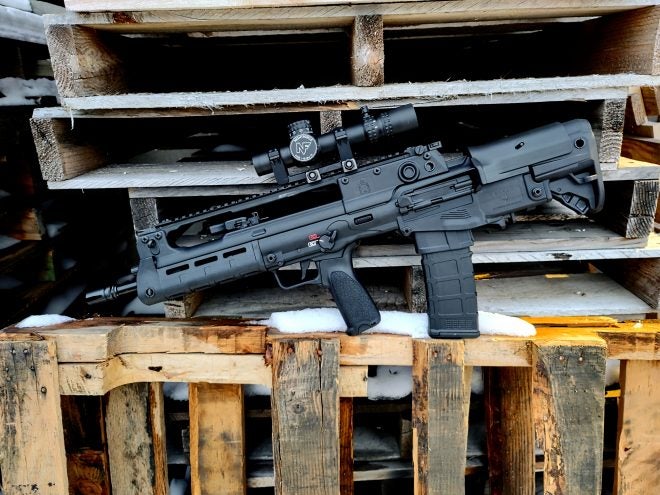 Springfield Armory has delivered on a lot of innovative, appealing, and intriguing firearms over the years yet one model that has eluded Springfield loyalists is the VHS bullpup rifle. Many people know that Springfield Armory works hand-in-hand with HS Produkt of Croatia. One of HS Produkt's products that many people have wanted to see stateside for numerous years is the VHS (Croatian: Višenamjenska Hrvatska Strojnica—"multifunctional Croatian machine gun"). Well, Springfield Armory has figured out a way to finally import this coveted firearm and it is dubbed the Hellion! It is – in a sense – a VHS 2.0 or 2nd generation version with modern aesthetic updates. So, today we are going to review the Springfield Armory Hellion 5.56mm NATO bullpup rifle to see how it performs. Let's dive in!
Springfield Armory Coverage on AllOutdoor
Specifications – Springfield Armory Hellion 5.56mm NATO Bullpup Rifle
It is worth noting that the Springfield Armory Hellion does not come with a Nightforce NX8 1-8x24mm F1 optic from the factory. Springfield generously shipped our sample copy for this review with that optic attached to make assessing this rifle that much easier. All of the specifications for the Hellion 5.56mm NATO bullpup rifle can be read below as presented by Springfield Armory:
Caliber: 5.56x45mm NATO (.223 REM)
Barrel: 16″ CMV, Melonite®, 1:7
Front Sight: Integrated Flip-Up, Elevation Adjustable
Rear Sight: Integrated Flip-Up w/ 5-Position Aperture, Windage Adjustable
Bolt Carrier Group (BCG): Proprietary, Melonite®
Gas System: 2-Position Adjustable, Short Stroke Piston
Handguard: Polymer, M-Lok®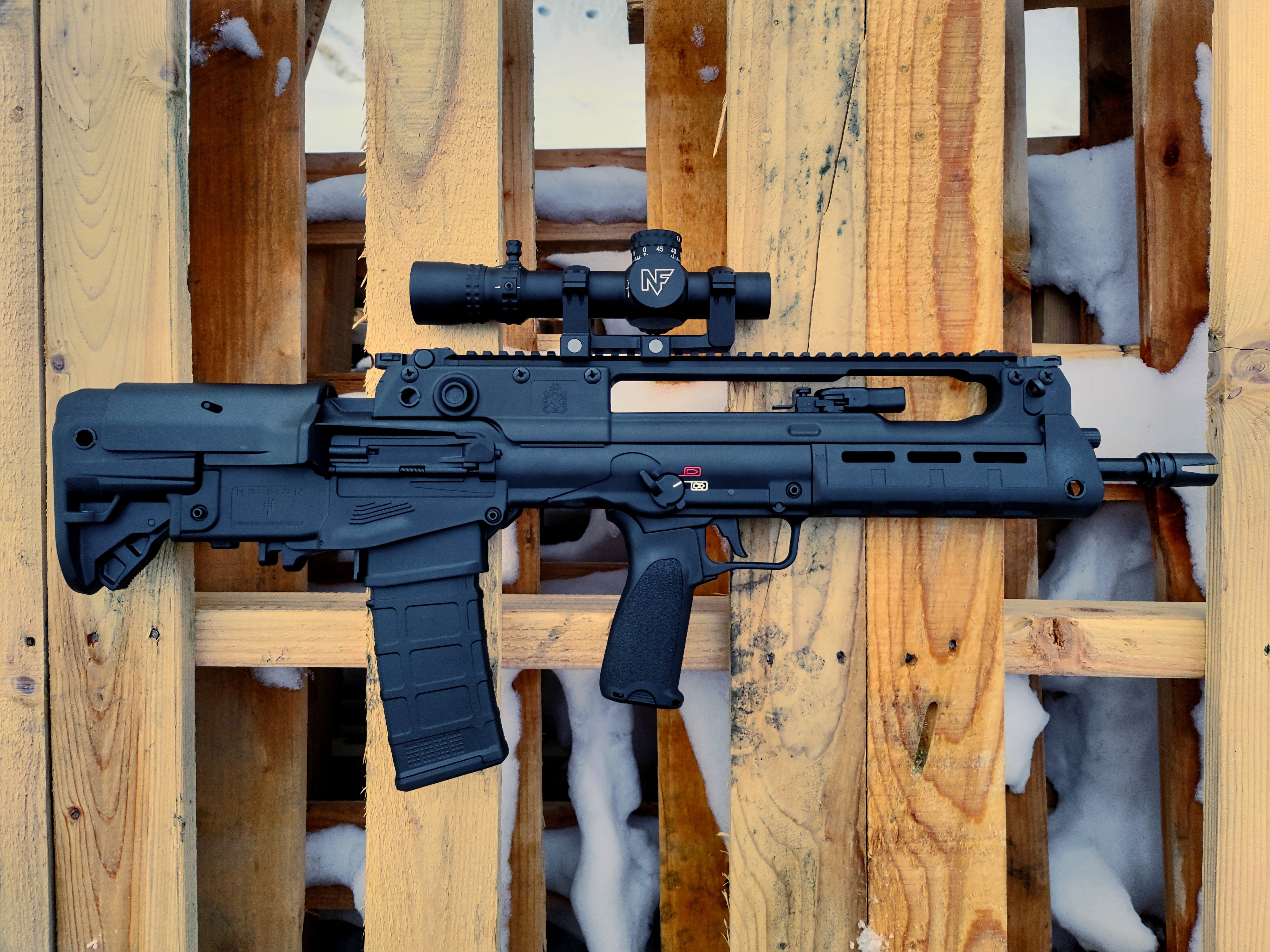 Stock: 5-Position Adjustable w/ Cheek Riser
Muzzle Device: 4-Prong Flash Hider
Charging Handle: Ambidextrous, Non-Reciprocating
Safety Switch: Ambidextrous
Grip: BCM GUNFIGHTER™ Mod 3
Magazines: (1) 30-Round Magpul PMAG Gen M3
Weight: 8 lbs
Length: 28.25″ – 29.75″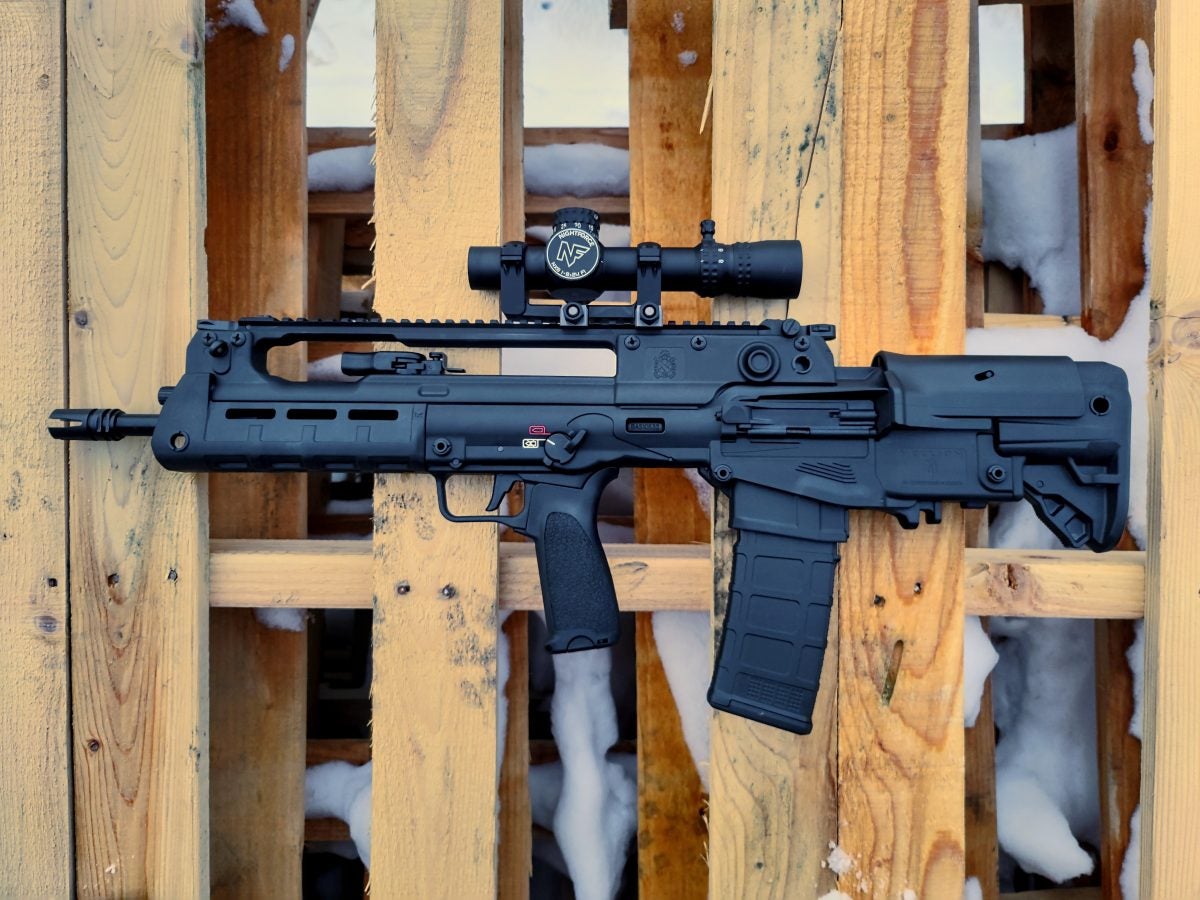 The current MSRP for the Springfield Armory Hellion 5.56mm NATO Bullpup rifle is benchmarked at $1,999. As always, in the rare event that you should ever need service for your firearm Springfield Armory has a Lifetime Warranty that stands behind all of their firearms. One final snapshot into what the Hellion 5.56mm NATO Bullpup is all about can be read below in Springfield Armory's Press Release statement:
"The new Hellion™ from Springfield Armory represents a radically unique and innovative approach to firearms design, helping to redefine perceptions of semi-automatic 5.56mm performance. Featuring a "bullpup" configuration where the action is located behind the trigger, the Hellion features an overall length of just 28.25-inches while still possessing a 16" barrel. The Hellion sports ambidextrous controls that work in concert with a reversible case ejection system. The result is a 5.56 that combines portability with potent performance."
First Impressions – Springfield Armory Hellion 5.56mm NATO Bullpup Rifle
When it comes to first impressions of the Springfield Armory Hellion I thought this was the new firearm for the Space Force. It is futuristic looking, tremendously modern, and unlike nearly anything on the market today. Moreover, it is an incredibly sexy firearm with functions and control choices I had not seen before. Overall, it is a shell-shock to what one would think a bullpup should look like.
While handling the Springfield Armory Hellion, it is a heavy little tank of a rifle. It punches in at 8 Lbs, but I honestly thought it tipped the scale at a weight heavier than that. The saving grace to the weight is that you are shouldering and bringing that weight in so closely that you do not notice the weight as much when you're aiming the rifle. Also, you have an adjustable cheek piece as well as a 5-position, collapsible stock so you can make the rifle fit you as best as possible.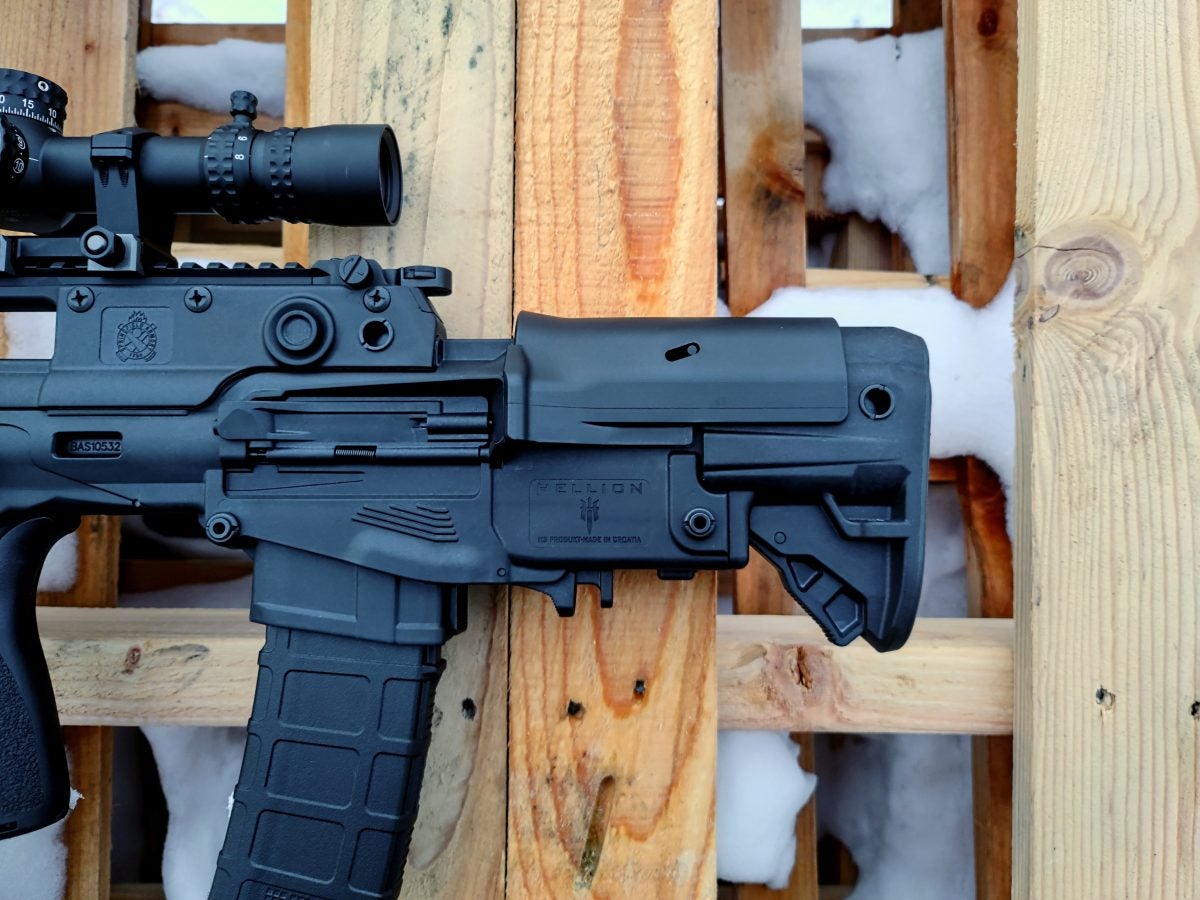 Some other noticeable elements about the Hellion are the layout of its controls. The safety selector is positioned rather high on the receiver making it difficult to engage without removing your hand from a solid trigger and firing position. Also, the bolt-release near the butt of the firearm is not very intuitive. It is easy to engage, yes, but not where one would expect that control to be located. Conversely, the magazine release is one of the best I have ever seen on any AR or bullpup platform. It is a paddle magazine release and you can simply grip a magazine and rip it out; very easy and fluid to do.
The trigger on the Hellion is on par with any bullpup trigger I have ever tried. It is not spectacular, but not horrible either. This is a function of all bullpup designs. The length of the linkage in bullpup triggers makes all of them average feeling in regards to travel and pull weight.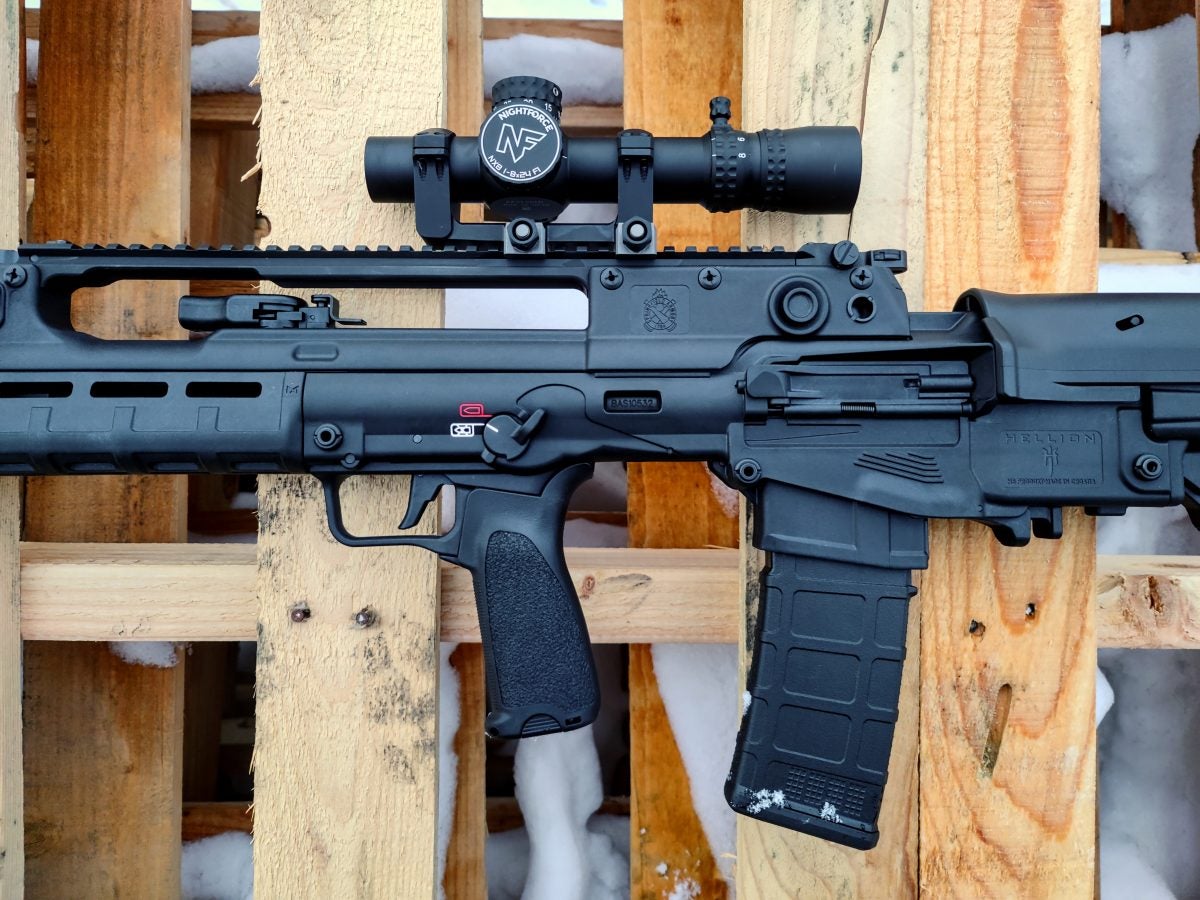 The ambidextrous charging handle I both love and have a gripe with. It is easy to pull and rack the bolt backwards plus it automatically hinges out of the way when you are done handling it. Simultaneously, since it hinges out of the automatically, you need to stick a single finger under the full length receiver rail to fish it out and positively engage it every time. It is out of the way as to make for a leaner profile and not snag on anything, but that upside also makes it more difficult to grab. All in all, the functions and controls of the Hellion work superbly, there is just a learning curve to the bullpup design that users will need to get used to when owning and firing one. After all of this unboxing and handling, it was time to go to the range to see how it actually performed while being fired.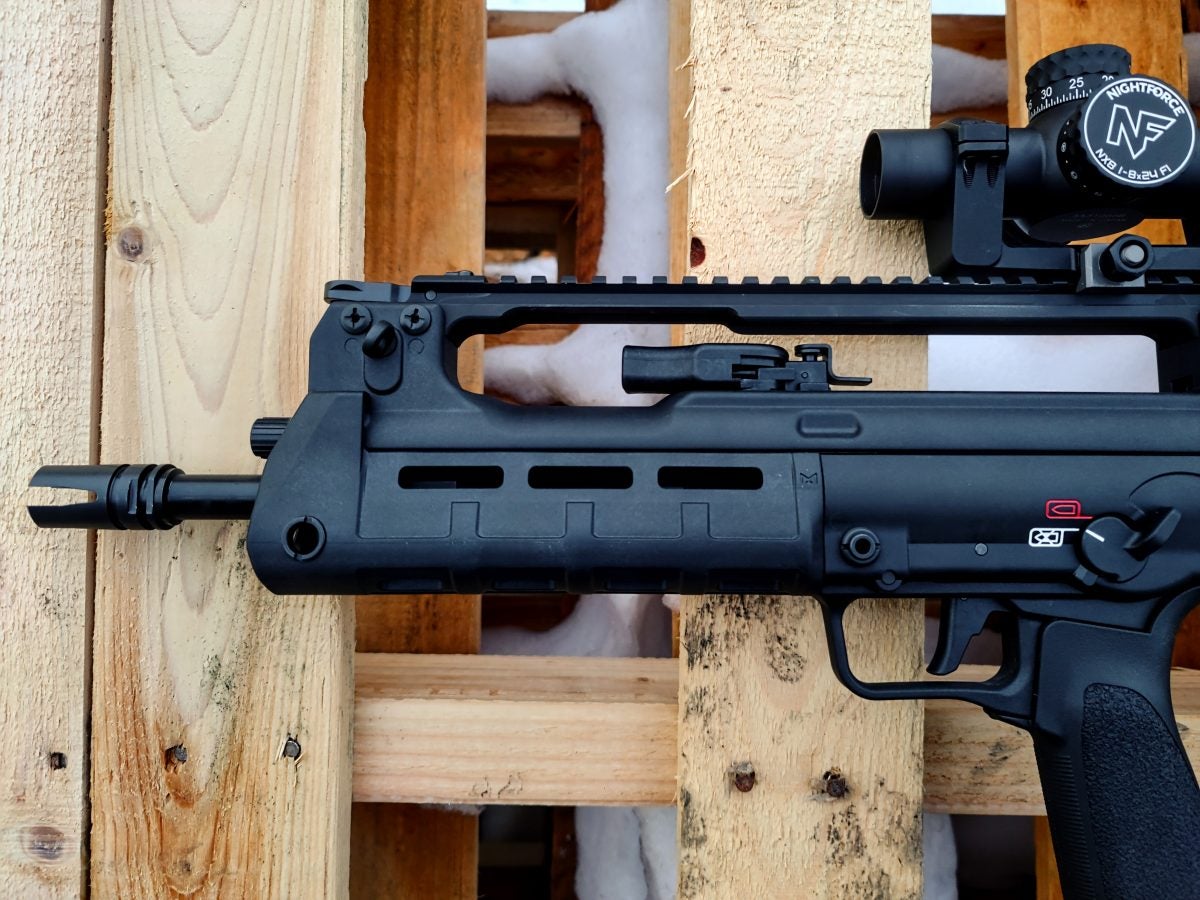 Range Time – Springfield Armory Hellion 5.56mm NATO Bullpup Rifle
While firing the Hellion, I thought the perceived recoil impulse was less than a traditional AR-15 platform. This could be attributed to a host of things. The rifle sans scope is heavier than a normal AR-15. You are also bringing the majority of the weight closer into your shoulder and body with the compact design. You are sort of choked up on the rifle (like a baseball player choking up on a baseball bat) and you are compactly behind the bore of the rifle.
I grabbed a truly random assortment of ammunition (various Russian steel case, normal brass ammo, and even some nickel cased hunting rounds) that were in grain weights from 40 – 77 Grain. This modicum of ammo were run through varying magazines as well (Magpul, metal Stanag, Hex, Mission First Tactical, and other no-name magazines). Every one of the rounds fired and ejected flawlessly. Similarly, all of the magazines seated properly in the magwell and I never had feeding issues. So, from a performance standpoint, the gun ran like a top when it came to various makes and models of magazines and ammunition.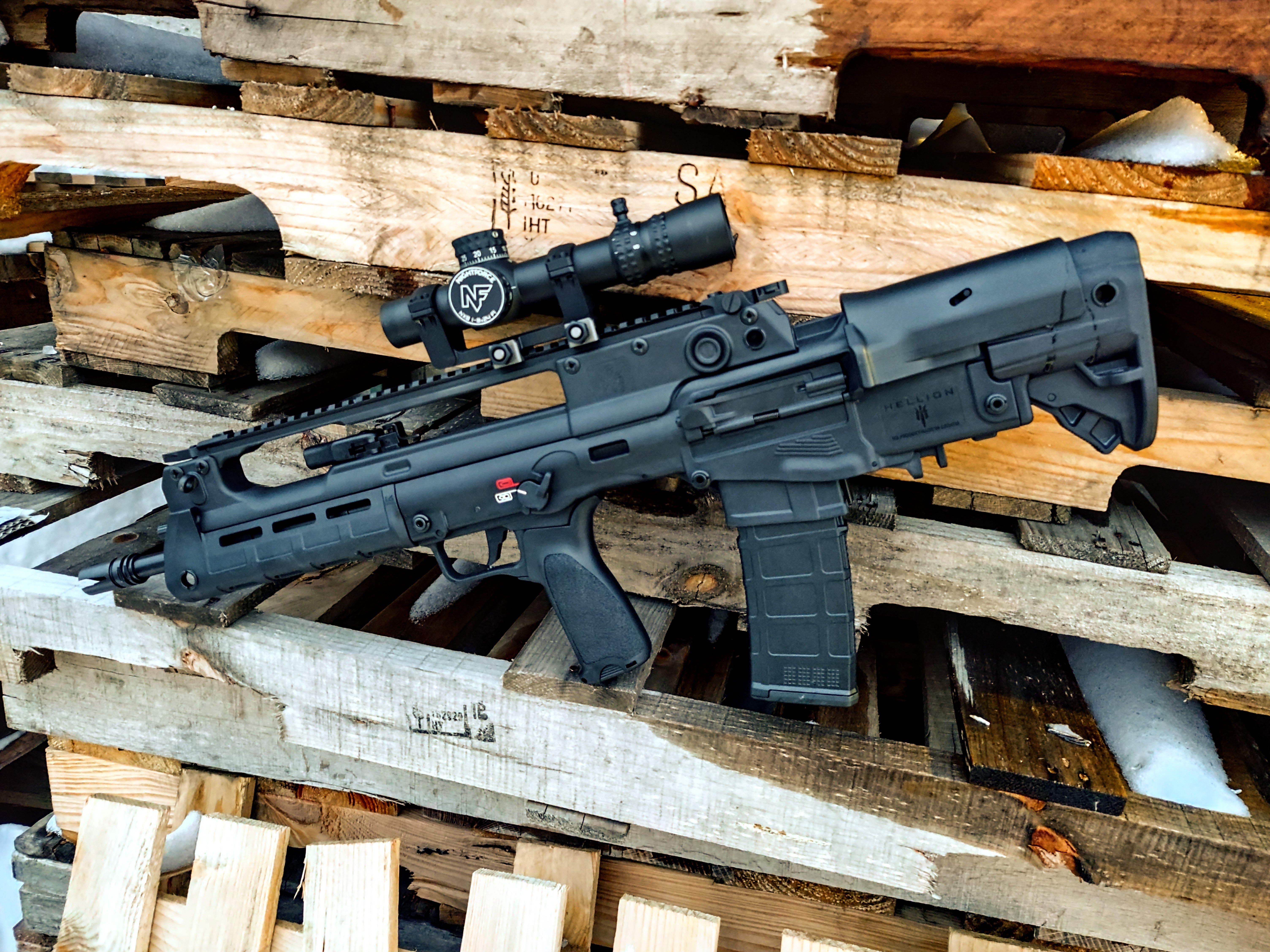 As far as accuracy is concerned, the Hellion shot as well as I would expect it to. While firing on steel plates (typically 5" – 6" in size from various distances of 25 yards to 150 yards rather quickly) you would not miss. This is a low bar for accuracy's sake, but it ran well when engaging multiple targets quickly. I did try and bench the rifle for a raw accuracy test and the best results I mustered (maybe the rifle can perform better and I, the shooter, am the limiting factor) were 1 ½" – 2" from either M193 (55 Grain FMJ), M855 (62 Grain Ball), or some Federal 77 Grain OTM (Sierra Matchking). I normally do 3-shot groups because I am not a sniper nor a precision rifle shooter (more rounds isn't going to help my determination of accuracy). Between those 3 prime selections of ammo, all the groups fluttered between that 1 ½" – 2" mark.
For a firearm that I would deploy (in a practical sense) for home defense or engaging targets at 150 – 200 yards or less, that is good accuracy and more than acceptable. One thing that I wanted to do was get some groups shooting the Hellion suppressed, but with the way my free time lined up and the range days I dedicated to endurance/functional testing versus accuracy, it simply did not happen. So, while I can confirm the rifle cycles fine suppressed with the adjustable gas system, I cannot state whether shooting it suppressed would hinder or help its accuracy.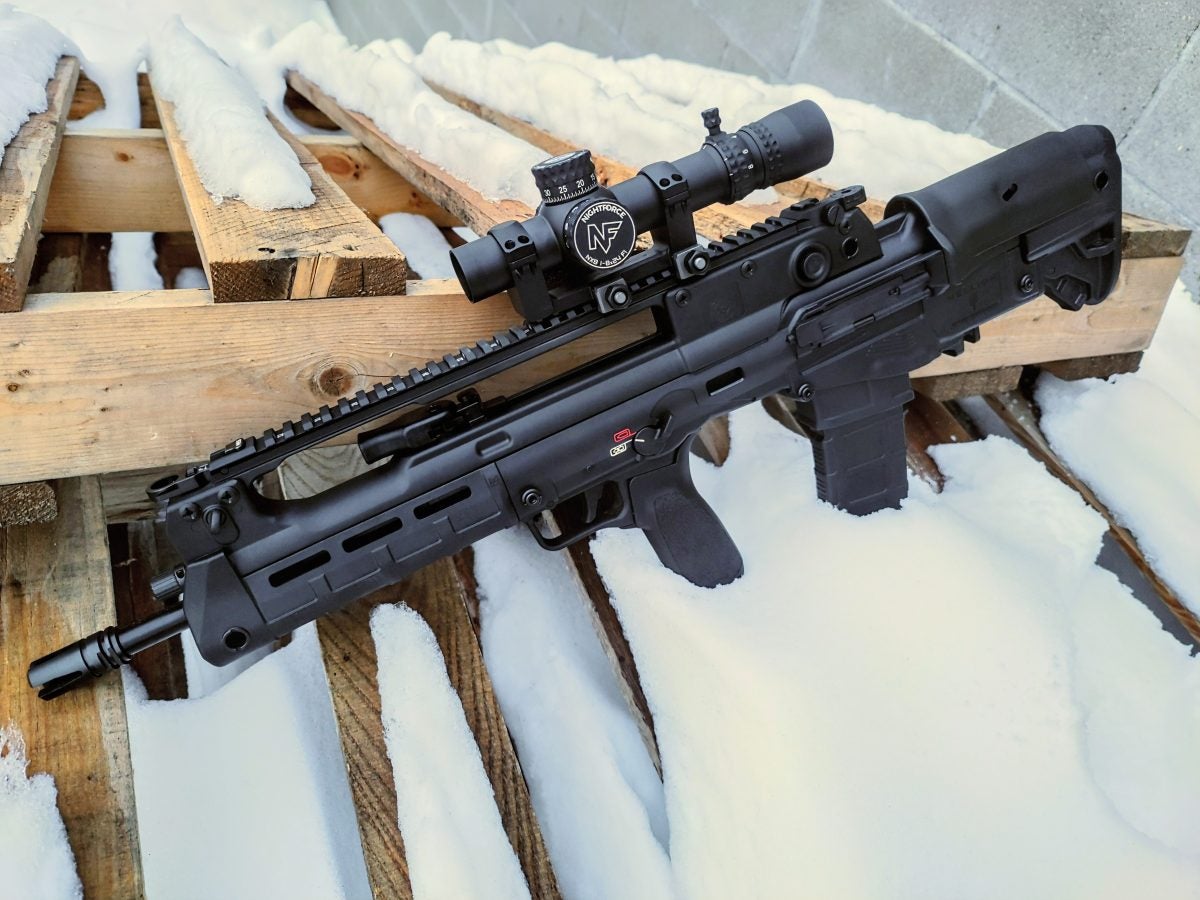 It is also worth noting that the optic I used for range fun and accuracy testing was a Nightforce NX8 1-8x24mm F1 scope provided by Springfield Armory for testing. Phenomenal piece of glass from Nightforce that is MSRP'd at nearly the same price as the bullpup. If I were a richer man I would like to get this optic as well.
Final Thoughts – Springfield Armory Hellion 5.56mm NATO Bullpup Rifle
So, what are my final thoughts about the Springfield Armory Hellion?… I believe this is an absolute home run from Springfield. This is something fresh, unique, and an out-of-the-box design that is downright sexy. When people think of the future of firearms and what that could be some day, this is a prime example. Functional, practical, accurate, and oozing curb appeal. I have been saying this for the better part of 2 years now, but from the Hellcat to the Waypoint to the SA-35 and now the Hellion, Springfield Armory has been coming out with some bangers and they are slaying the firearm industry. The only negative I can posture about the Hellion is the inherent learning curve of the controls on a bullpup and the somewhat difficult to index safety selector. Other than that, I love the rifle overall. Bravo to Springfield Armory for giving the people what they want by bringing the VHS-2 into the United States.
In closing, I want to say thank you to Springfield Armory for allowing AllOutdoor and myself the opportunity to try out their Springfield Armory Hellion 5.56mm NATO Bullpup Rifle. That is greatly appreciated. Also, we would like to know what all of you guys and gals think? Do you believe that the Springfield Armory Hellion 5.56mm NATO Bullpup Rifle is something worth spending your money on? As always, let us know all of your thoughts in the Comments below! We always appreciate your feedback.