AllOutdoor Review: Caldwell AR500 Steel 13″ Octagon Target
Adam Scepaniak 01.25.22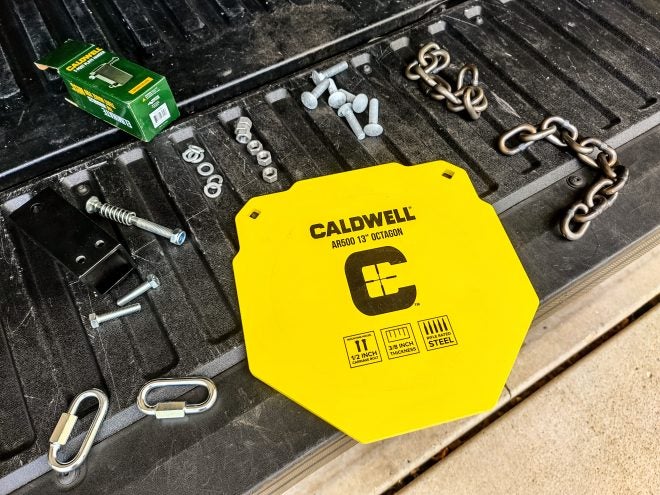 When it comes to shooting – whether it is recreationally or for competition – there is only so much lead-slinging that can be done on paper before it becomes dull and boring. That is why the growth of steel targets and their inherent, audible PING is so popular and satisfying. You get immediate visual and auditory feedback of a successful hit, and that tiny dopamine hit pushes us to shoot better and continue training. For those reasons, I am always looking for new steel to add to my cadre of metal targets. So, in this AllOutdoor Review we will take a look at the Caldwell AR500 Steel 13″ Octagon Target to see how it fares against various handgun cartridges and gauges of shotgun rounds. Let's dive in!
Caldwell Coverage on AllOutdoor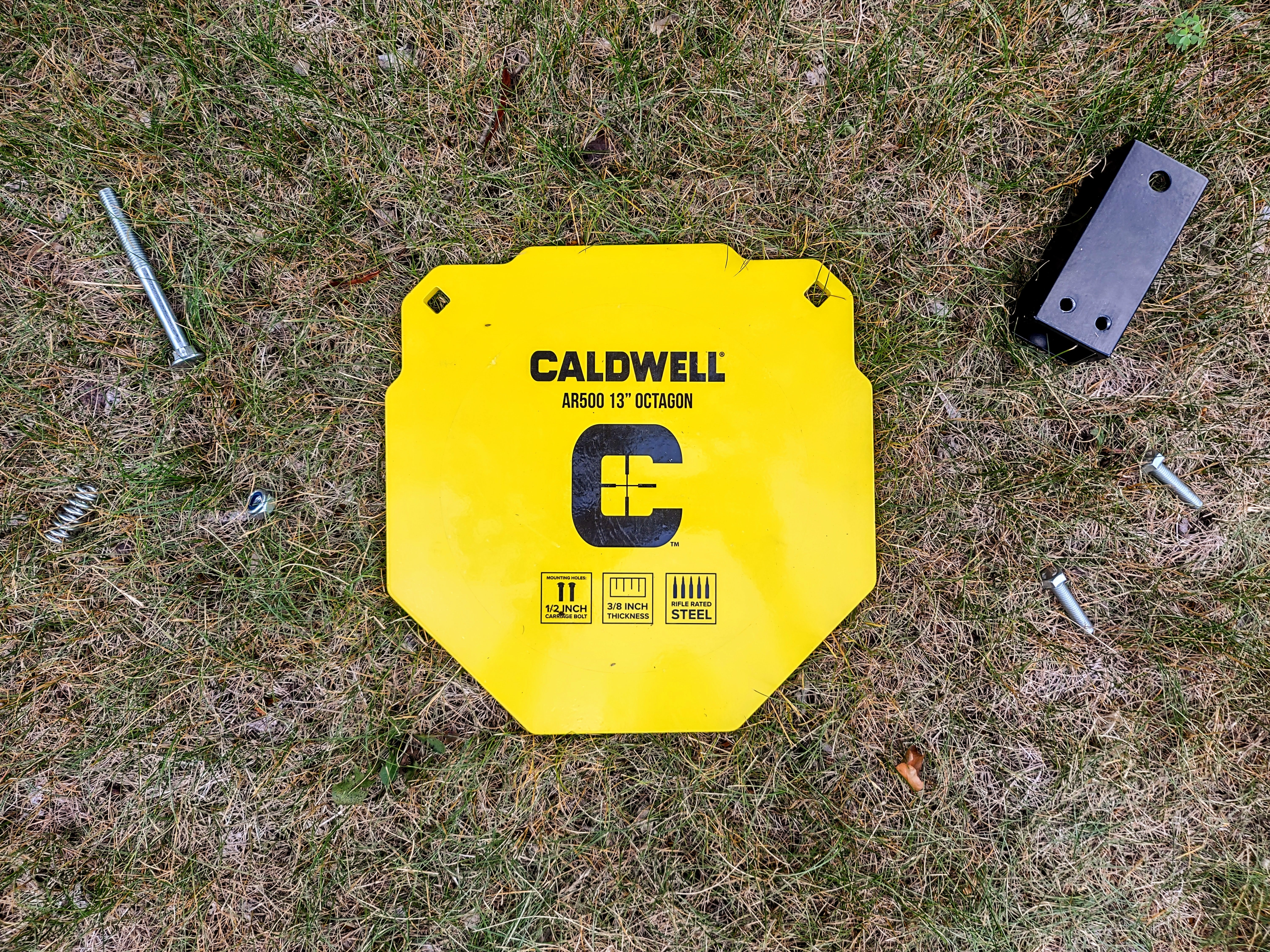 Specifications – Caldwell AR500 Steel 13″ Octagon Target
When it comes to metal gongs and targets what most people are looking for is something durable enough to take a repeated beating and it is simultaneously easy to hang. This AR500 Steel 13″ Octagon Target seems to fit the bill in that regard, but let's take a look at its other specifications listed below as presented by Caldwell:
3/8" Through-Hardened AR500 Steel
Rated Up To 3,000 FPS Impact Velocity
Rated Up To 3,500 Ft-Lbs Impact Energy
7 Sizes with 3 Hanging Solutions
13″ Octagon: (13″ L x 13″ W x 0.4″ D)
Weight: 16 Lb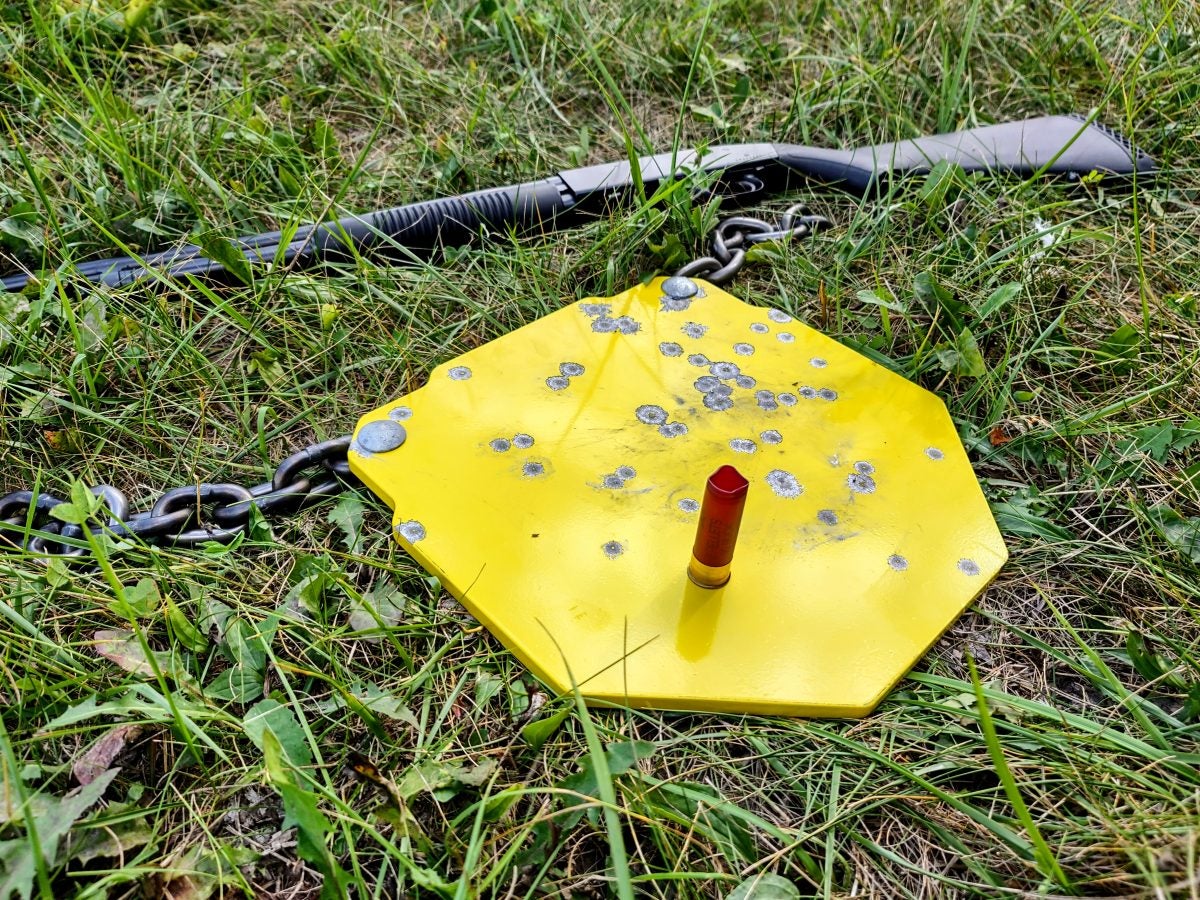 All of Caldwell's steel targets are powder-coat finished in their hallmark yellow colorway. The MSRP for the Caldwell AR500 Steel 13″ Octagon Target we are reviewing here today is benchmarked at $99. This metal target carries Caldwell's Limited Lifetime Warranty in the rare event that it was produced or finished not to Caldwell's typical high standards. Further information is shared about this target in Caldwell's Press Release statement below:
"Caldwell's new bright, easy-to-see targets come in all shapes and sizes for competition, training, and recreational use. Made of AR500 hardened steel, these targets can withstand thousands of rounds. Rated up to a 3000 fps impact velocity and a 3500 ft-lb impact energy, these targets come in seven various sizes with three hanging solutions."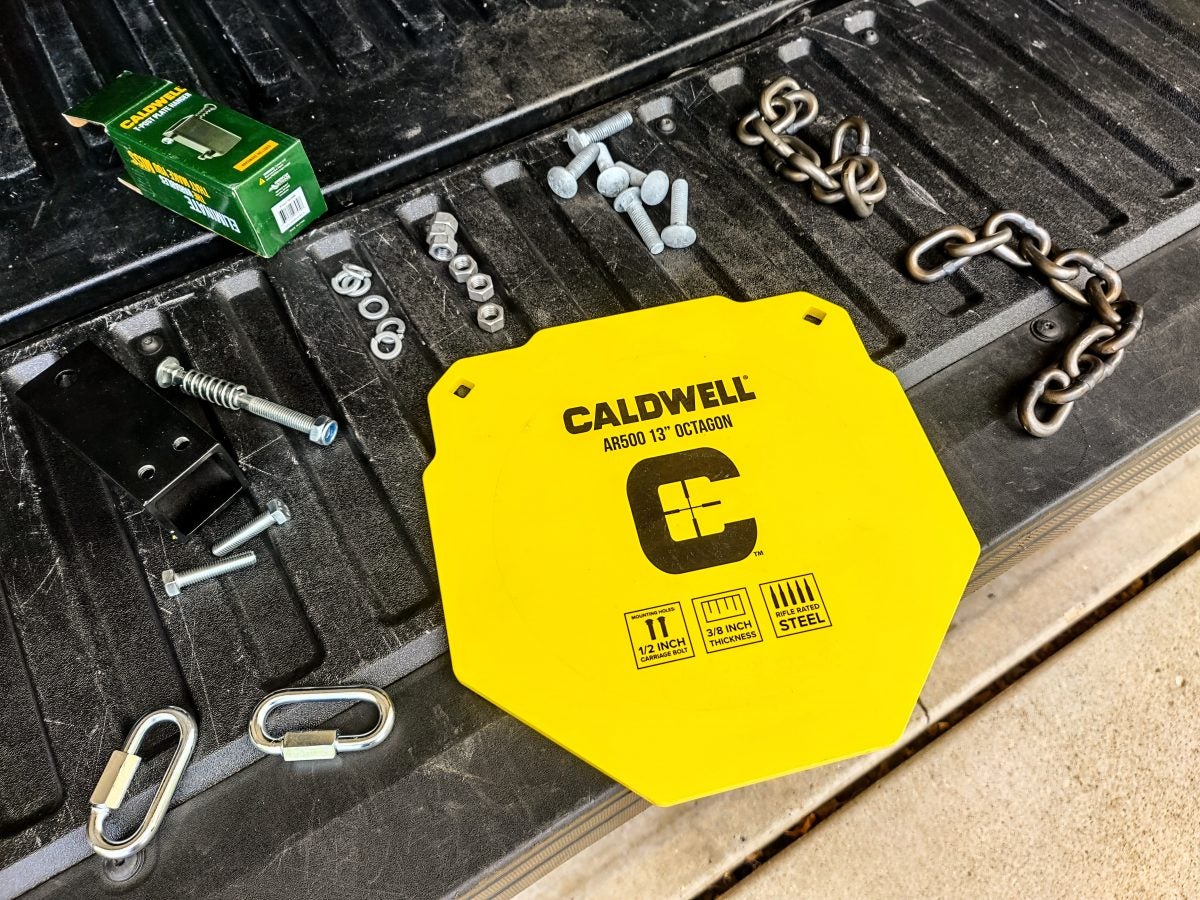 Install/Assembly – Caldwell AR500 Steel 13″ Octagon Target
I used half inch carriage bolts on the caldwell gong that were 2 in long and you could have gotten away with inch and 3/4 or inch and a half if you want less bolt sticking out on the back side
With the Caldwell steel target, there are a couple different ways that it can be assembled. You can use one of Caldwell's T-post hangers (which they provided to me for this review) or you can look to utilize some chain and carriage bolts on each side for more of a "swinging gong" effect. I attempted both setups to see which I preferred. For the 1st style, I went to my local hardware store to get 2 small portions of chain cut plus the necessary carriage bolts, washers, and nuts. This was relatively cheap to do and easy to assemble. Then, I could hang the Caldwell gong from either some wooden fence posts (if they were close enough and I were to opt to permanently attach the chains into the fence posts), or you could hang them off of a metal target stand like I did in the photos below.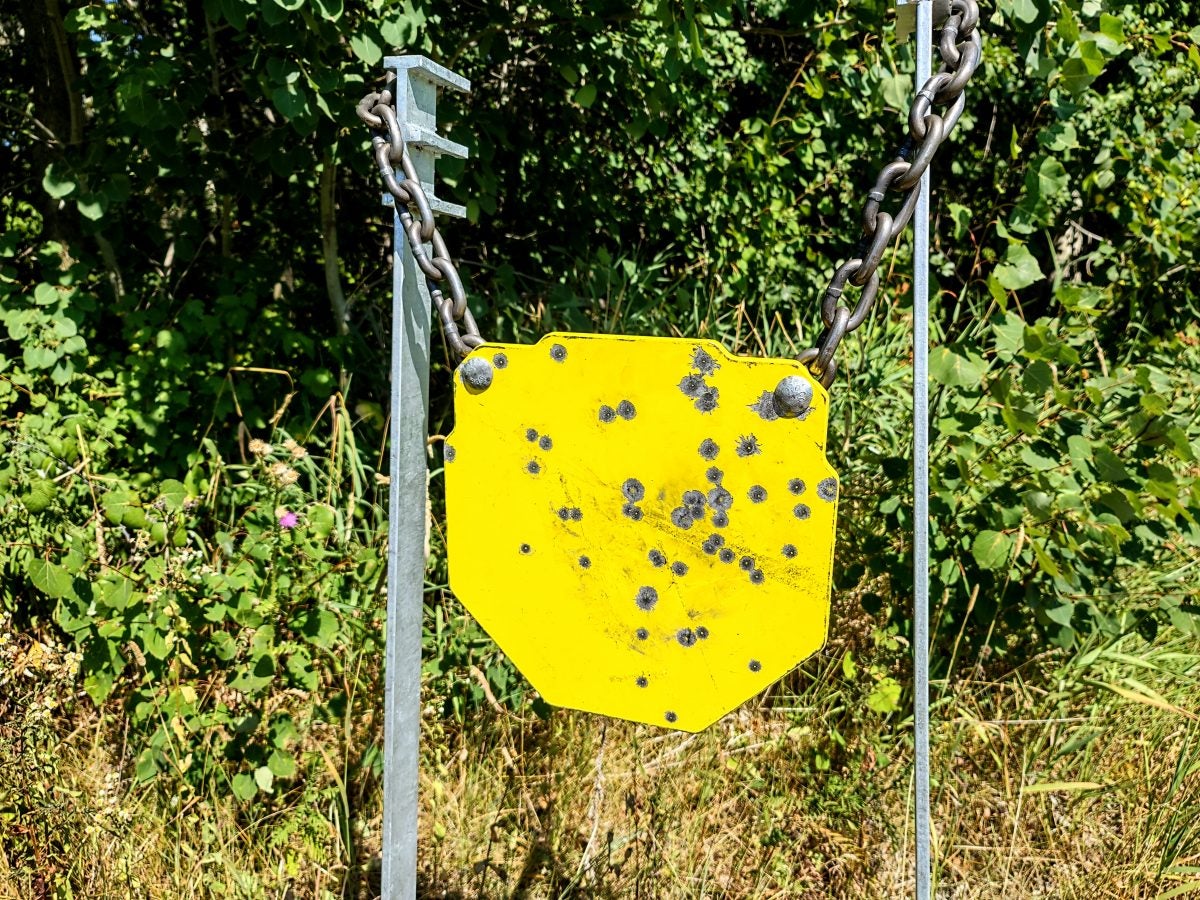 This setup worked great for handgun shooting because it could be easily disassembled and packed away in the bed of my pickup truck. Conversely, it proved to not be stable enough for rifle rounds (this is not a knock on the Caldwell target, but the stands I decided to deploy were too tippy).
The other choice for assembly was utilizing one of Caldwell's T-post hangers which included a carriage bolt, nut, and spring. This made the Caldwell gong hang ajar from a common field T-post, but it still worked flawlessly. My only concern for this method is if the T-post you are hanging the gong from is important (it is an actual fence line T-post meant to keep cattle in a pasture, etc) then you run the risk of shooting your somewhat valuable T-post. One round from any given rifle or handgun is not going to cleave a T-post in two, but you understand the concern. I would grab an extra, unused T-post and pound it in with a mallet wherever you want to setup a temporary range. That would be the easiest method to putting the T-post hanger plus this Caldwell target to use.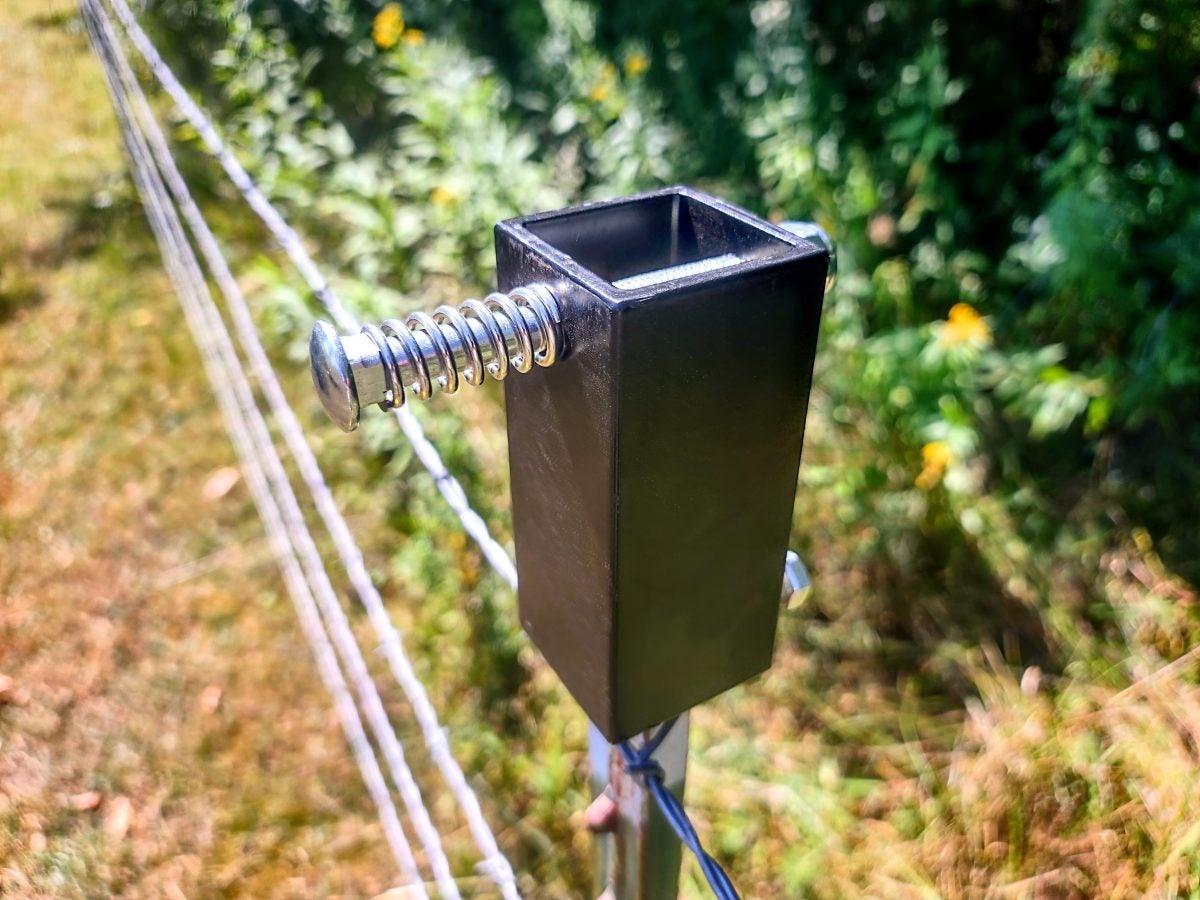 Range Time – Caldwell AR500 Steel 13″ Octagon Target
The Caldwell target itself held up well to all handgun and rifle rounds I fired at it (largest handgun cartridge being .44 Magnum and the largest rifle round being .308 Winchester). I also peppered it with some Federal buckshot which was no issue for the Caldwell steel target either. You could simply freshen up the target by spray painting it the iconic Caldwell yellow color again between firing sessions and it would look like new. I don't always freshen up my steel targets because it is sort of a shooter's badge of honor to have a dirtied target from a positive range session and a job well done.
The other thing I like about the Caldwell steel target is the audible tone it gives upon every positive impact. I rarely shoot paper targets anymore unless it is for a raw accuracy test because steel is simply too much fun. You get immediate, auditory feedback and it makes you giddy on the inside every time you have a successful hit. What is not to like about that?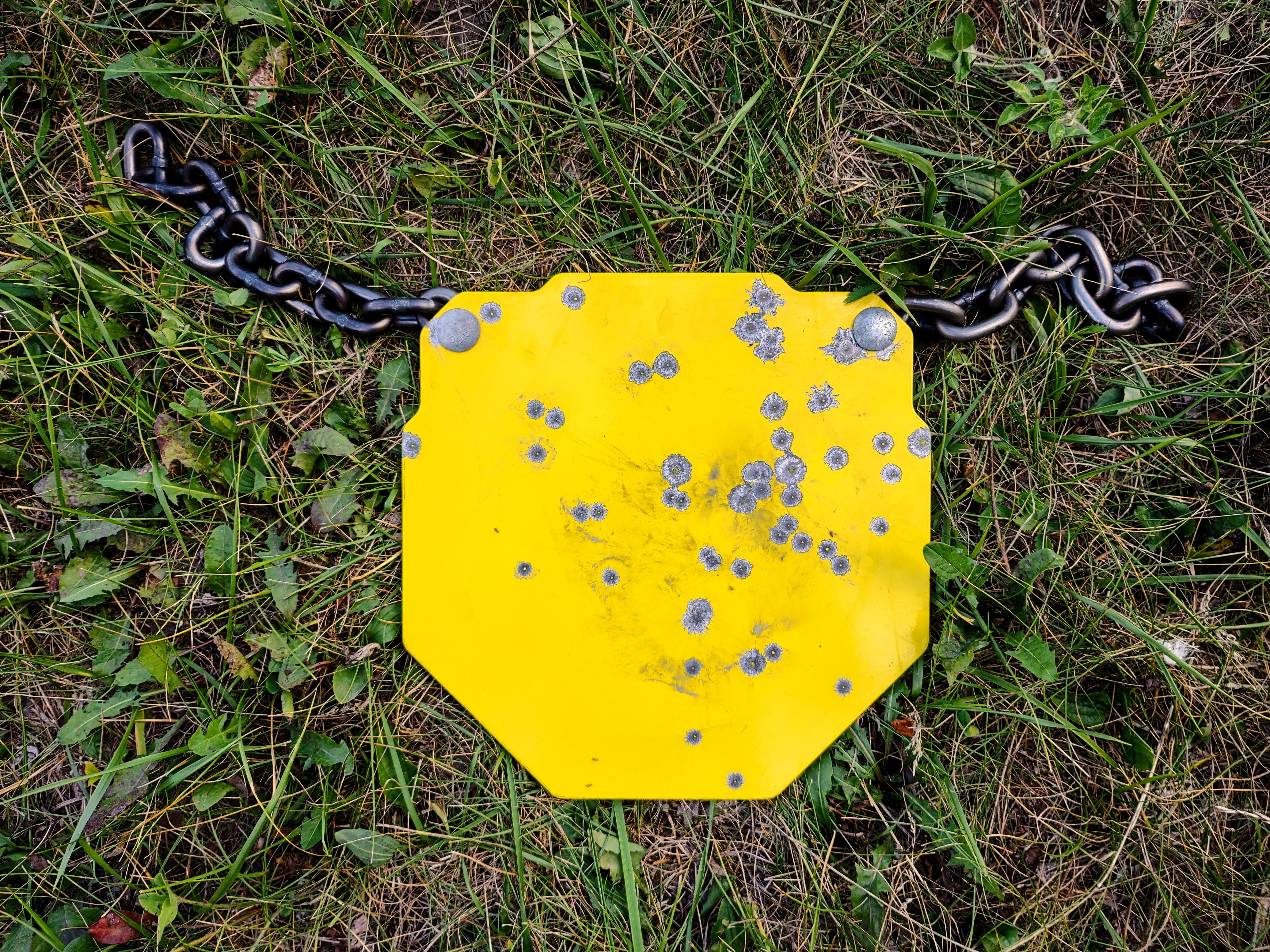 Final Thoughts – Caldwell AR500 Steel 13″ Octagon Target
So, what are my final thoughts of the Caldwell AR500 steel target?… Overall, it is everything you could ask for in a steel target. The T-post hanger works perfectly as advertised and is a great accompanying product to go with the Caldwell steel target. I also like the idea of hanging the steel target with chains on either side so it swings freely like a gong, but I still need to figure out the best way to hang it. My improvised metal target stands were a bit precarious and that is through no fault of Caldwell's. I would say the best option would be to hang the steel target with chains from two 2"x4"s you could pound into the ground or to hang it between two small trees while the chains are held in place additionally with wire. In any scenario, the Caldwell steel target held up to the repeated shooting that I put it through, it never displayed pock marks, and it was easy to use. I have no complaints for this target; only praise. For anyone interested in getting some steel targets – either their 1st or 10th – this is a good one to go with.
In closing, I want to say thank you to Caldwell for allowing AllOutdoor and myself the opportunity to try out their Caldwell AR500 Steel 13″ Octagon Target plus their T-Post Plate Hanger. That is greatly appreciated. Also, we would like to know what all of you guys and gals think? Do you believe that the Caldwell AR500 Steel 13″ Octagon Target plus their T-Post Plate Hanger is something worth spending your money on? As always, let us know all of your thoughts in the Comments below! We always appreciate your feedback.