AllOutdoor Review: Trijicon DI Night Sights (Dual-Illumination)
Adam Scepaniak 04.06.22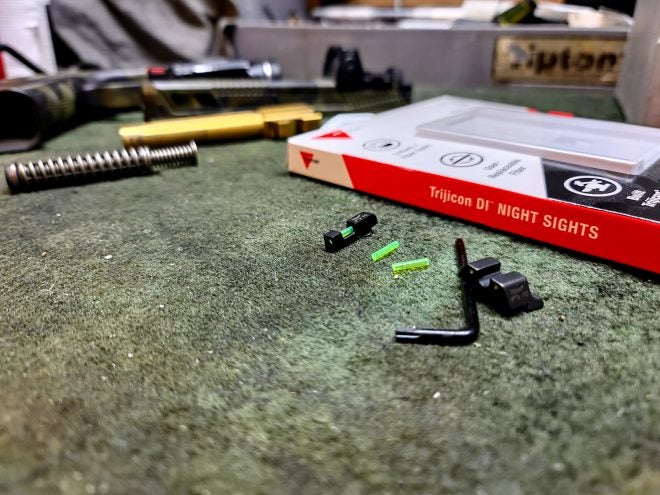 The popularity of pistols, in all their various capacities and uses, is like a tidal wave that seems to be never-ending. People utilize them for defense, recreation, hunting, and much more with their meteoric rise continuing to climb. The one failing among most all pistols though are their iron sights. In a modern age where people desire micro red dots – or night sights, at least – many pistol manufacturers have their firearms outfitted with pretty simplistic sights from the factory. For that reason, the aftermarket arena for pistol sights is equally burgeoning with activity. While night sights themselves are not a new idea, that does not mean they could not be improved upon and Trijicon has looked to prove that with their new offering of DI Night Sights (Dual-Illumination). We will go over the features, benefits, installation, and practicality of Trijicon's DI Night Sights today. Let's dive in!
Trijicon Coverage on AllOutdoor
Specifications – Trijicon DI Night Sights
The secret sauce behind Trijicon's DI Night Sights is that, as the name infers, they utilize dual illumination of both tritium (for at night/low-light situations) and fiber optic (for bright/day-time settings). Typically, shooters are forced to choose either or and not have the option of both. That is what makes the DI Night Sights so appealing. Trijicon the rest of the highlights of the sights below in their full specification listing:
Dual Illuminated Brightness in Any Light – Trijicon's specialized fiber finishing technique and advanced fiber-optic material ensures exceptional daylight brightness. A tritium lamp guarantees an illuminated aiming point, even in total darkness.
User-Replaceable Fiber – A threaded retainer on the front sight allows users to quickly replace any lost or damaged fiber pieces.
Customizable Aiming Solutions – Additional color choices for fiber and threaded retainers available for users to tailor their aiming point to suit their needs.
Visible Sight Picture in No-Light and Low-Light Situations – Tritium phosphor-filled glass lamp illuminates sights for high visibility in all lighting situations.
Field-Ready Construction – The fiber optic and tritium vial are held in place by a sturdy housing machined from solid steel for maximum durability.
Designed for Every Day Pistol Use – Steeply hooked front surface of rear sight assists in emergency one-handed slide manipulations.
Proven Experience You Can Trust – Designed, engineered, and manufactured in Wixom, Michigan applying decades of knowledge and experience devising battle proven tritium and fiber optic aiming solutions.
All of the DI Night Sight offerings (housing, fitment, and finish) carry Trijicon's Lifetime Warranty in the rare event that it was not produced or finished to Trijicon's typical high standards. The green tritium lamp is warranted to glow for twelve (12) years from date of original manufacture as well. Trijicon goes on to explain the finer points about the DI Night Sights in their Press Release statement below:
"Designed for shooters who want daylight brightness and a constant aiming point, the dual illuminated Trijicon DI Night Sights are equipped with an industry-first, interchangeable fiber. This patent pending design not only allows the ability to replace the fiber in the field, it allows the user to choose among several fiber and ring retainer colors to configure a personalized aiming solution. Trijicon DI Night Sights feature a chemical and heat resistant fiber, finished with the same proprietary technique as the Trijicon ACOG®, coupled with a tritium lamp capped with a sapphire jewel. This dual-illumination technology amplifies collected light, ensuring an ultra-bright aiming point in any light from daylight-bright to low-light to complete darkness. Trijicon DI Night Sights offer shooters the unique features needed for an any-light pistol aiming solution, with the durability and reliability Trijicon® is known for."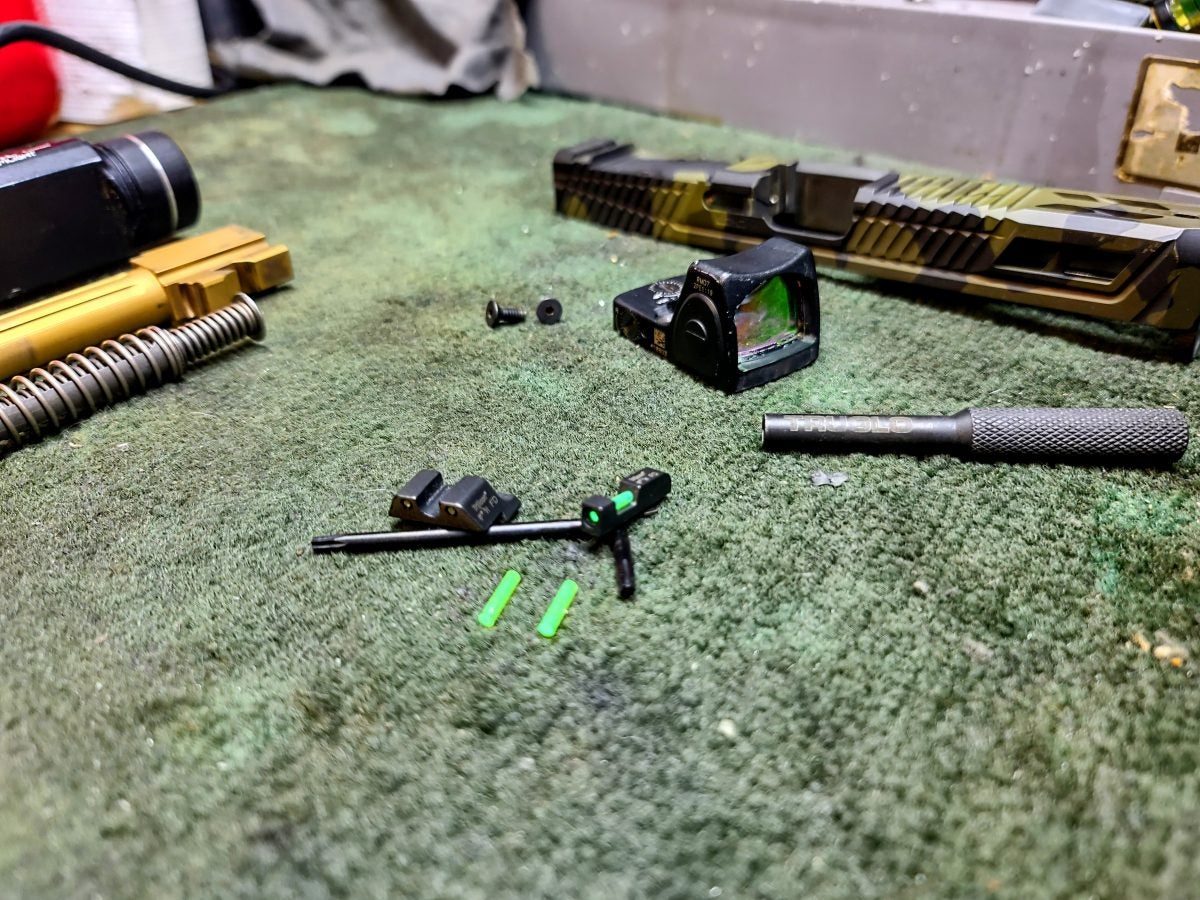 Right now Trijicon offers their DI Night Sights for 3 manufacturers – Glock, Smith & Wesson, and Springfield Armory – for a total of 7 sight options. You can also get replacement retainers and fibers as well direct through Trijicon. All of the specific options and their MSRPs are listed below: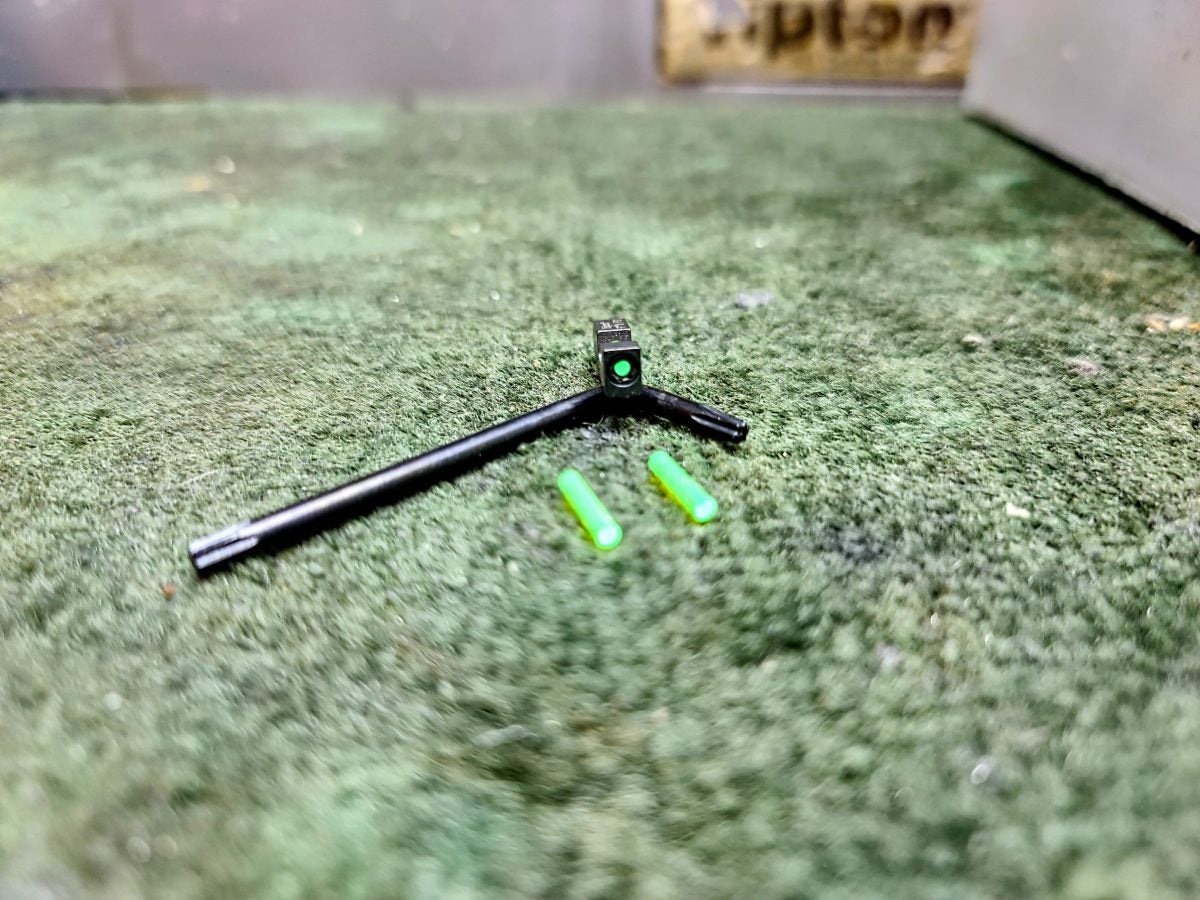 Mounting – Trijicon DI Night Sights
When it came to mounting the Trijicon DI Night Sights to my personal Glock it was incredibly intuitive and easy. If you are familiar with changing the iron sights on Glock pistols all you need is a simple sight press (for the rear sight) and a 3/16″ Hex Nut Driver (to remove the front sight). The fitment of the DI Night Sights to my beat up slide was tight and crisp; exactly how it should be.
The front sight securely mounted into place as well with the use of a 3/16″ Hex Nut Driver I had. The front sight is also unique because you can use a T-10 Torque Key (that comes with the sights) to remove the Threaded Retainer Ring and change the color of your front sight. This is more thoroughly explained by Trijicon in their graphic below: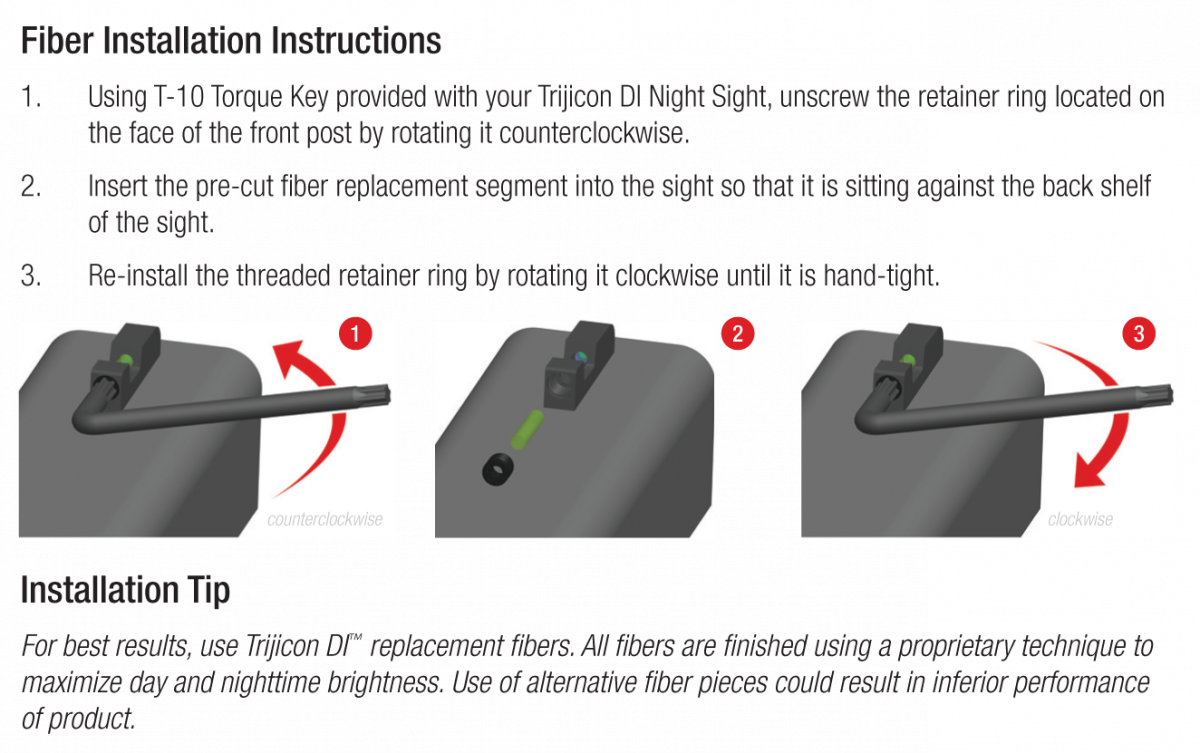 Field Use – Trijicon DI Night Sights
When it came to shooting, carrying, and using the DI Night Sights they performed as advertised, if not substantially better. My average day begins around 7 – 8am when I walk my dogs before I head off to work. During this unique period of dawn, there are a lot of shadows that dot the morning landscape or blinding sunlight piercing the horizon. These difficult lighting conditions were of no concern for the Trijicon DI Night Sights as they were easily visible.
Next, I spend the bulk of my day in a well-lit gun store managing my family's shop. The fiber optic front sight gathers light wonderfully so it is an easily acquirable sight picture indoors as well. The green filament that the sights ship with show up great for me, but if somebody preferred a different color, that is easily changeable as previously explained.
Finally, I spend the waning hours of the day either at home writing in my office or responding to fire calls for my local fire department. During these bleak, dark hours of the day the iconic Trijicon tritium glowed bright as expected. It is of little consequence how dark it might be because I can see the DI Night Sights just fine; no issue whatsoever.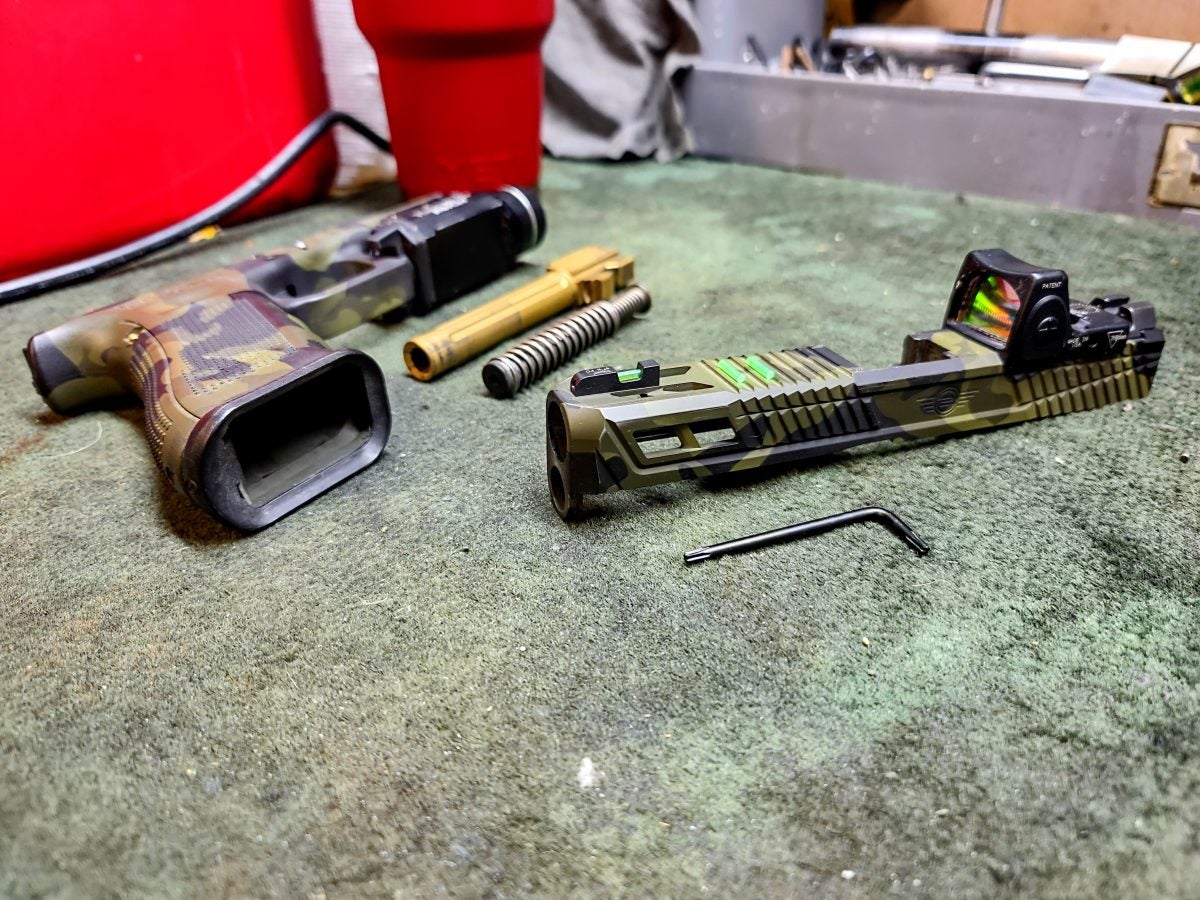 Final Thoughts – Trijicon DI Night Sights
So, what are my final thoughts on the Trijicon DI Night Sights?… Overall, I love the concept of a replaceable front sight like Trijicon has demonstrated with a T-10 Torque Key, and in practice it performs great. Most of the aftermarket replacement Glock sights on the market today retail for $150 or more yet Trijicon is the only one giving the shooter added value like this. So, I would definitely recommend the Trijicon DI Night Sights to anyone looking for a quality upgrade in their sighting picture.
In closing, I want to say thank you to Trijicon for allowing AllOutdoor and myself the opportunity to try out their Trijicon DI Night Sights (Dual Illumination). That is greatly appreciated. Also, we would like to know what all of you guys and gals think? Do you believe that the Trijicon DI Night Sights (Dual Illumination) is something worth spending your money on? As always, let us know all of your thoughts in the Comments below! We always appreciate your feedback.