FN Five-seveN MRD – The Next Generation of the 5.7x28mm Handgun
Adam Scepaniak 06.13.22

FN is a legendary gun maker that has armed militaries and civilians across the world for defense and recreation for decades. This varies from their famously re-introduced High Power pistol to the equally sought-after SCAR series of rifles. Perhaps their most notable firearm model – the Five-seveN – is now getting a modern upgrade to support all of your favorite red dot optics. Now, introducing the Five-seveN MRD!
FN Coverage on AllOutdoor
This new version of the Five-seveN MRD will have a slide cut to mount the industry's most popular red dot optics. Also, the Five-seveN MRD will boast minimal recoil from the FN 5.7x28mm cartridge like its predecessors. You will also enjoy an enhanced grip with stippled texturing for the most assured dexterity throughout handling and weapon manipulations. This upgraded version will also have adjustable iron sights that co-witness with most MRDs on the market today. The rest of specifications can be read below as presented by FN:
Cartridge: 5.7 x28mm
Operation: Delayed Blowback, Single-Action Only
Slide/Frame Finish: Black/Black | Flat Dark Earth (FDE)/Flat Dark Earth (FDE)
Magazine: Two (2) 10 or 20 Round [depending on city, municipality, and/or state restrictions]
Weight: 25.2 Oz
Length: 8.2″
Barrel Length: 4.8"

"When we embarked on this design update for the Five-seveN MRD, we focused on the core benefits our user base wants in a modern pistol. The Five-seveN pistol was already extremely accurate and reliable, although there was untapped performance in the design and cartridge to bring forward. Milling the slide in the factory allows for immediate mounting of almost any MRD on the market, with improved ergonomics and controls, the Five-seveN MRD delivers more precision and versatility for the modern handgunner." – John Ryan, Director of Product Management for FN America, LLC
Slide

Add Most MRDs in Minutes without a Gunsmith
Machined Steel Slide with Polymer Cover
Enhanced Slide Cover Improves Cocking Control
Photo-Luminescent Front Sight with Adjustable Rear

Barrel

Cold Hammer-Forged Barrel for Enduring Accuracy
Precision 5.7x28mm Chamber for Feed Reliability

Frame

Stippled Texture for Adverse Conditions
Internal Single-Action Hammer
Smooth Trigger Pull – Breaks at ~6.2 Lb

Operating Controls

Oversize Controls Fit any Shooter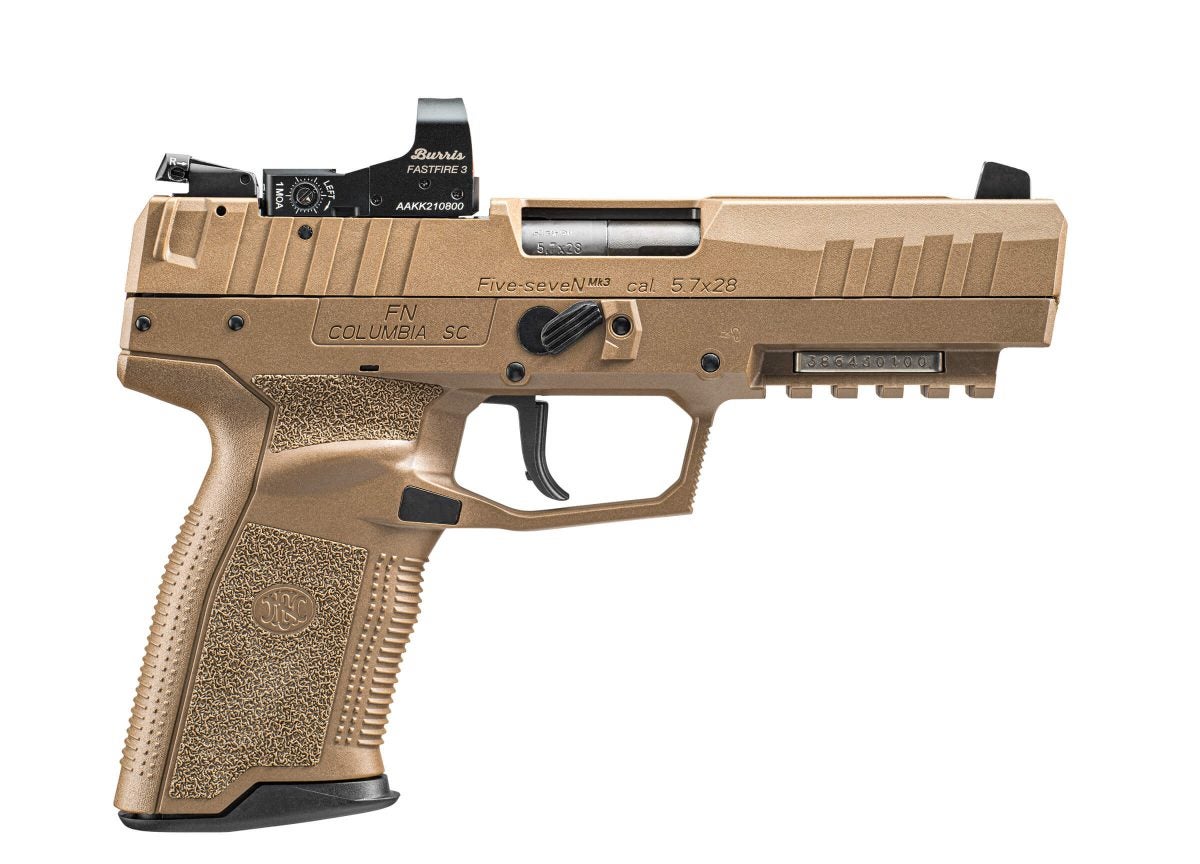 The asking price for the New Five-seveN MRD – regardless of color or the magazines it will ship with depending on your state's laws –  is set at $1,449. Considering that the original Five-seveN pistols are benchmarked at $1,319 that sounds like pretty fair pricing for an optic-ready pistol out-of-the-box with other upgrades and enhancements to boot.
The only question that honestly remains is this something you would be willing to open your wallet for? This could potentially be a home defense pistol, used for everyday carry (EDC), and in some instances even deployed for varmint hunting. What do you think? As always, let us know all of your thoughts in the Comments below! We always appreciate your feedback.