Big Horn Armory Debuts 1st Tactical Lever-Action: Model 89 Black Thunder
Adam Scepaniak 09.02.22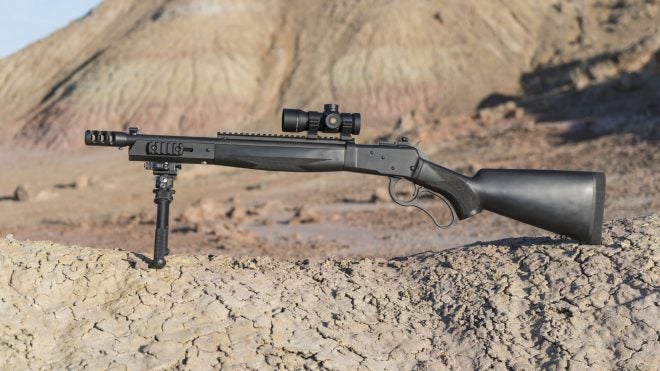 Big Horn Armory has introduced its first offering of a tactical lever-action rifle in the BHA Model 89 Black Thunder chambered for .500 S&W Magnum. If big-bore cartridges with a lot of style and power are your jam, then this is a rifle you are going to want to get acquainted to. With a bevy of real estate for accessories, it is a modern take on the classical lines of a lever-action rifle.
Big Horn Armory Coverage on AllOutdoor
With a stainless steel construction and a black nitride finish, this rifle is robust and ready to head out into the woods for your next hunting excursion. The Model 89 Black Thunder (Model 89BT) comes from the factory with hand-crafted, quality Skinner rear aperture adjustable sights as well as a factory-installed Scout Scope Mount rail perfect for extended eye-relief optics and red dots.
"Cody, Wyoming (September 2022) – Big Horn Armory (BHA), makers of big-bore firearms, is pleased to introduce its first tactical lever-action rifle, the Big Horn Armory Model 89 Black Thunder. Designated the Model 89BT, Black Thunder is optimally sized, perfectly configured, and chambered in powerful the .500 S&W Magnum. With its short 16.25" barrel, it is a quick-handling, rapid-shooting carbine that is perfect for hunting, home defense, or survival situations."
Big Horn Armory Model 89 Black Thunder – Specifications
Cartridge: .500 S&W Magnum
Magazine/Cylinder Capacity: 6 Rounds
Barrel Length: 16.25"
Overall Length: 36"
Weight: 7 Lb 6 Oz
Twist Rate: 1 in 24″
Trigger Pull: ~4 Lb
MSRP: $2,899
Big Horn Armory is now accepting orders for the new Model 89 Black Thunder. Call 307-586-3700 or email [email protected] to place your order. As always, let us know all of your thoughts in the Comments below! We always appreciate your feedback.