Maven Optics S.2 12-27x56mm Spotting Scope – 20% OFF til October 8th
Adam Scepaniak 09.23.22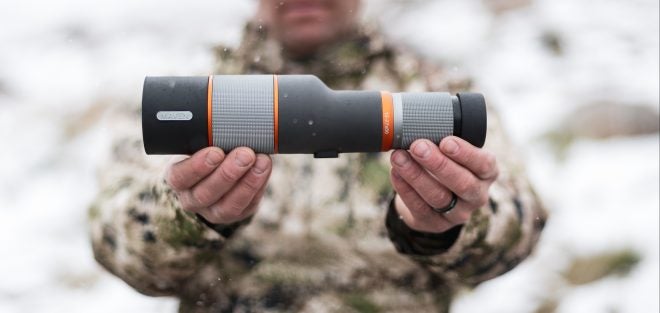 Autumn is the perfect season for backcountry hunters and wildlife viewers to get outdoors and explore their space. A valuable tool whether you are hunting or simply bird-watching is a spotting scope, and right now through October 8th Maven Optics is offering their S.2 12-27x56mm Spotting Scope 20% OFF – a $210 discount.
Maven Optics Coverage on AllOutdoor
Maven Optics has an interesting business model because they are Direct-to-Consumer, and have cut out the middle man. As a result, you get supremely high-quality optics for a significantly lower price-point. Once you couple that fact with their 20% OFF discount they are running, you are getting fantastic prices on their products.

Spotting scopes can be a great tool in the field to cut through the haze of a foggy morning, the mirage of a sunny afternoon, or to simply spot game that blend in so well during the fall colors. All of the specifications for the S.2 12-27x56mm Spotting Scope can be read below as presented by Maven Optics:
Length: 11″
Weight: 34.4 Oz
Fluorite Glass
Fully Multi-Coated Lenses
Exceptionally Clear, Bright, High Contrast Image
Excellent Color Fidelity
Waterproof and Fog Proof
Lifetime Warranty
Direct to Consumer | No Retail Markup
The S.2 is the ultimate lightweight and packable spotting scope specifically designed to maximize performance while minimizing size and weight. The S.2 features an Abbe-Koenig prism, fluorite glass, well thought out ergonomics, and is housed in a compact 11 inch, 34 oz. package. For those who go the extra distance and travel light, but refuse to compromise on performance, the S.2 is the absolute best lightweight spotting scope.
Once again, this temporary sale by Maven Optics is only going to last a few weeks. Now through October 8th you can capture the S.2 12-27x56mm Spotting Scope for 20% OFF – a $210 discount. As always, let us know all of your thoughts in the Comments below, and share if you have any in-field experience with any of Maven Optics' products. We always appreciate your feedback.