AllOutdoor Review: Maven Optics RS.2 2-10x38mm SFP (SHR Reticle)
Paul B. 07.29.22

Lightweight, simple, all-purpose scope is how Maven describes the Maven Optics RS.2. An uncompromising optic that meets the demands of the modern hunter. All the features that you need and none that you don't. Designed to have ample clarity and precision in the lightest possible package. I believe Maven accomplished just that.
About Maven
"Founded in 2013 by Brendon Weaver, Mike Lilygren, and Cade Maestas, Maven was the culmination of decades-long experience in the outdoor industry. After seeing product after product being lowered in quality by price points stipulated by retailers, the three decided to strike out on their own. With their combined experience, relationships, and industry knowledge, they set out to build an optics company that revolved around quality and high performance above price point.

By building Maven around a direct-to-consumer business model, they were able to introduce products that compete with the major European brands, all while eliminating retail markup from stores."
Maven Optics News Coverage on AllOutdoor and TheFirearmBlog
First Impressions – Maven Optics RS.2
Packaging is simple but protective, as a direct-to-consumer business, ensuring the product reaches the customer undamaged is vital. The cardboard eggshell style inner box is strong and the RS.2 I received was in perfect condition. Inside you will find a small booklet, neoprene cover, and the optic.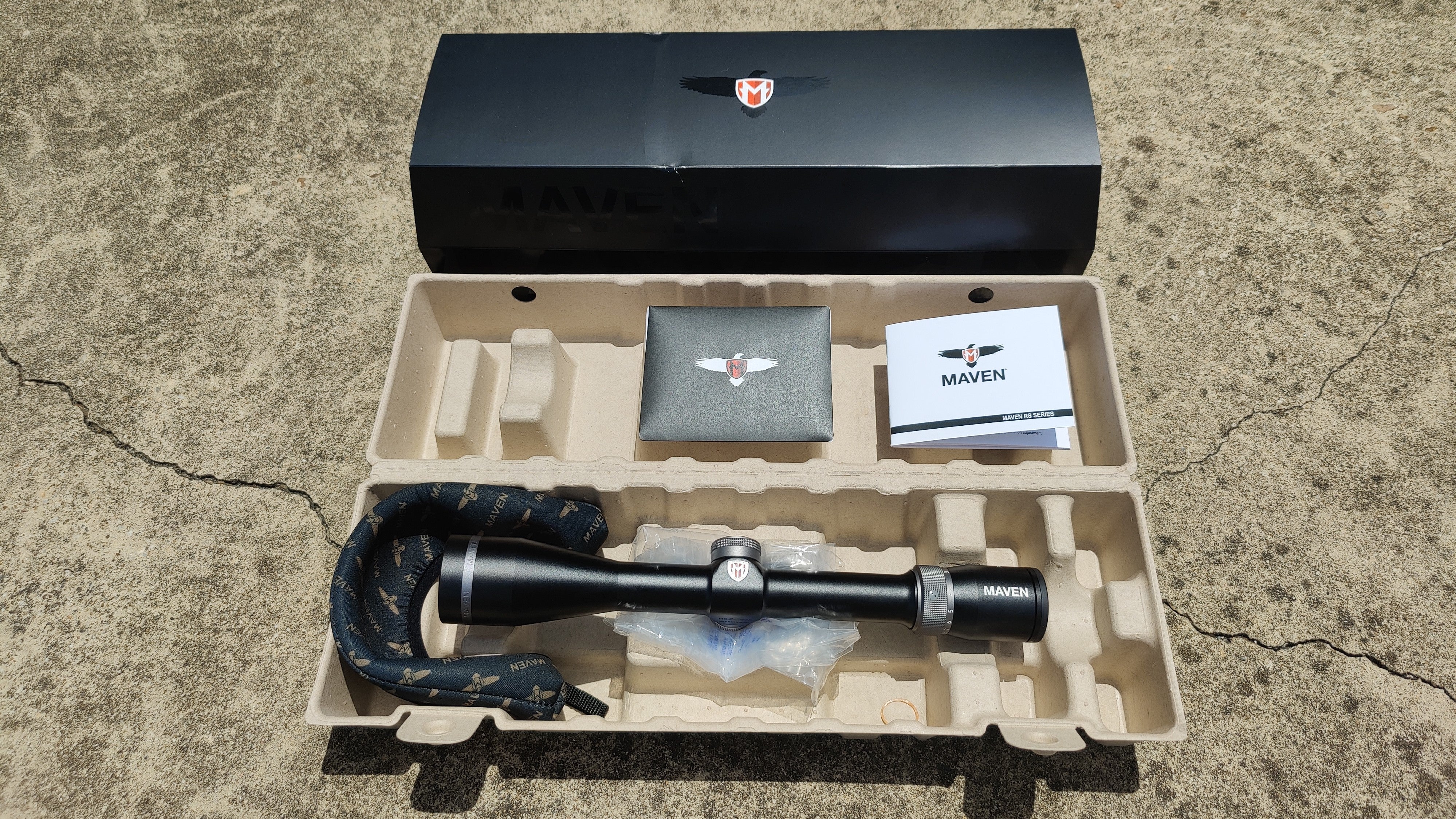 I knew the RS.2 would be light, but I was still surprised at how light it felt compared to other similar optics I have used. The RS.2, while being light, has an immediate feeling of quality. Diopter and magnification both have a solid, smooth adjustment. The knurling on the magnification ring is excellent. Turret caps are thin and light but secure. Windage and elevation turrets have just the right amount of tactile and audible feedback. The finish on the scope body is smooth, consistent, and has a pleasant glare reducing semi matte color. The contrasting gray and black looks sharp without being too flashy.
Maven RS.2 Specifications
Second Focal Plane
2x-10x Magnification
38mm Objective Lens
1in Tube diameter
12.4oz weight (without mount/rings)
Lifetime Warranty
Made in Japan
For full specifications, visit Maven's product page
Welcome to Alabama, Maven Optics RS.2
Living in Alabama I have learned that nothing is fog proof externally. Internally the Maven RS.2 is fog proof. Externally the heat and humidity will create a layer of condensation on any glass or metal surface. I wanted to ensure exposure to a hot, humid environment would not lead to any internal moisture issues.
Stepping from an air conditioned 68° Fahrenheit environment to 90° with 90% humidity instantly coated the Maven RS.2 in condensation.
I also brought another rifle and optic out at the same time and again, the entire optic and rifle were covered in condensation courtesy of Alabama.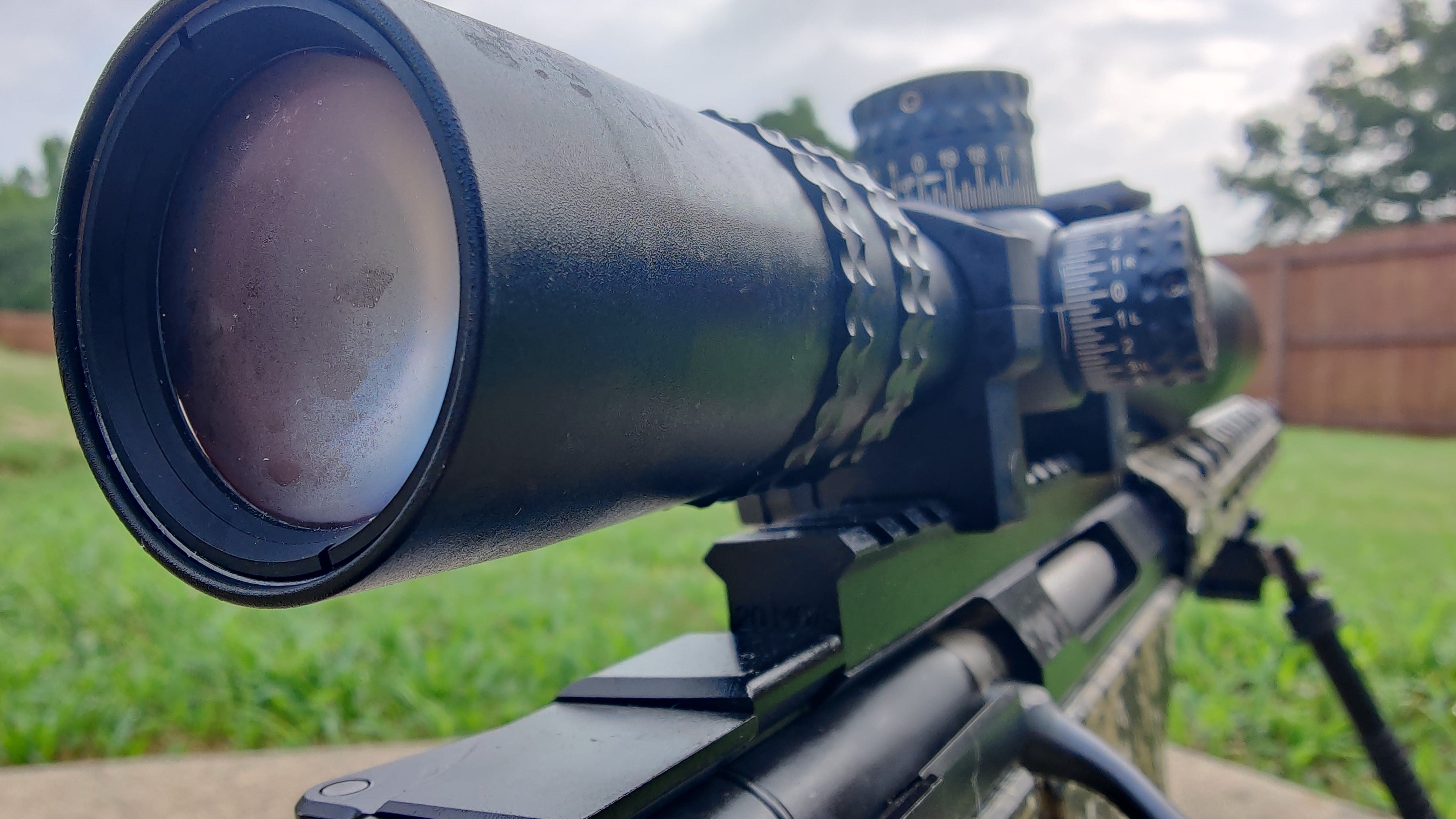 What was surprising was how quickly the lenses of the Maven RS.2 cleared themselves. Once the body of the optic warmed to ambient temperature, about 5mins, the lenses were completely free of fog.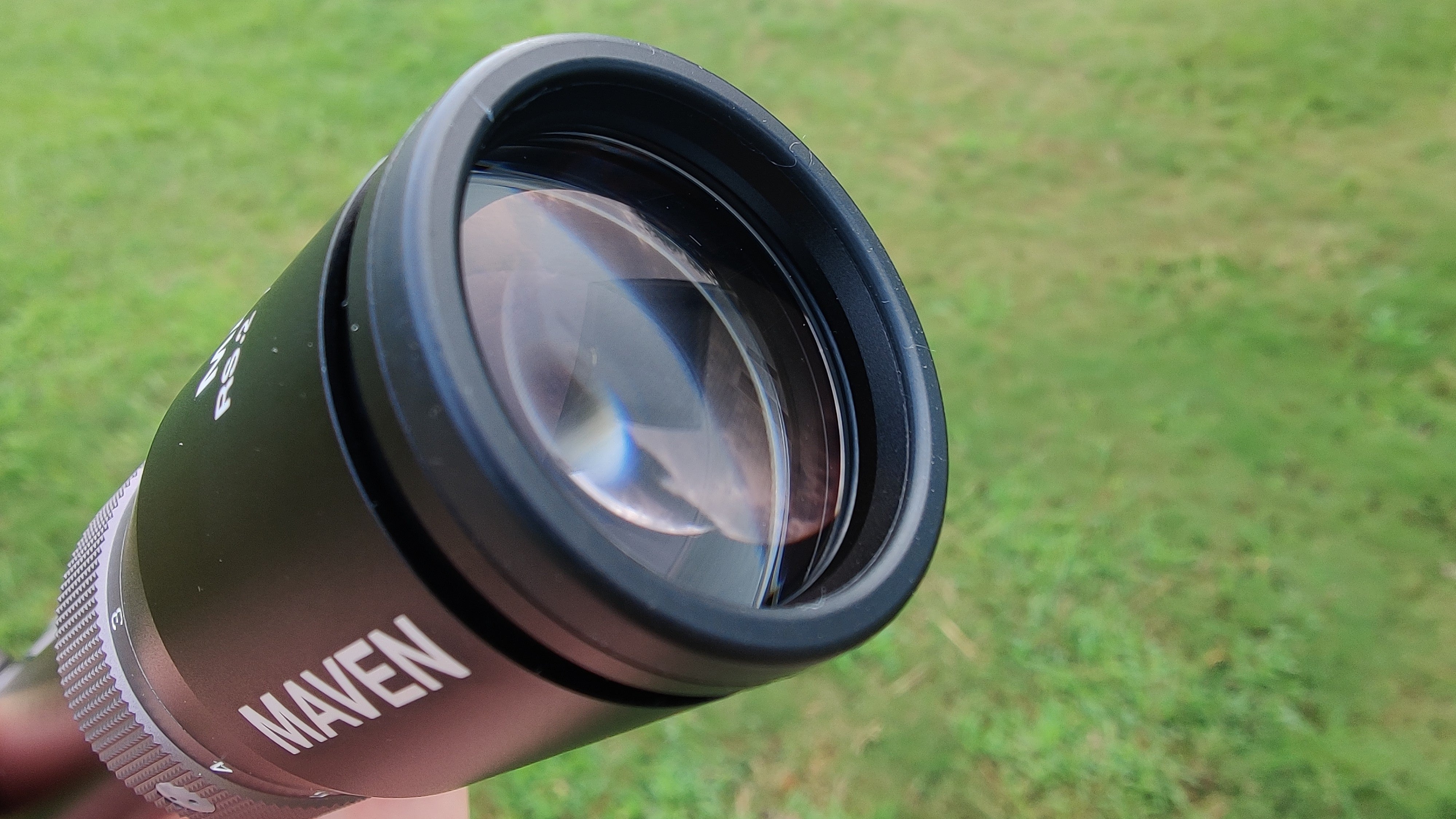 The anti fog coating that Maven uses works very well. Zero internal moisture was seen, showing that the RS.2 is well sealed to prevent moisture entering the body of the scope.
Maven Optics RS.2 for the Modern Hunter
In the description Maven states the RS.2 is for the modern hunter. When I think modern hunter, I think semi-auto AR pattern or similar rifles. For the review I chose my Springfield Armory Saint Victor .308. In keeping with the lightweight nature of the RS.2, I used a lightweight mount from Aero Precision. This combination created a 9lb AR chambered in .308 with a fully loaded 20 round magazine. Barely over 10lbs with the addition of a Dead Air Sandman S. Indeed heavier than most bolt action rifles, I feel this combination would work great in situations where fast follow up shots could be necessary. Predator or wild boar come to mind. I did use this 16 inch 308 AR this past deer season and enjoyed the shorter overall length when hunting from a popup ground blind. The Maven RS.2 is an excellent fit for this use case.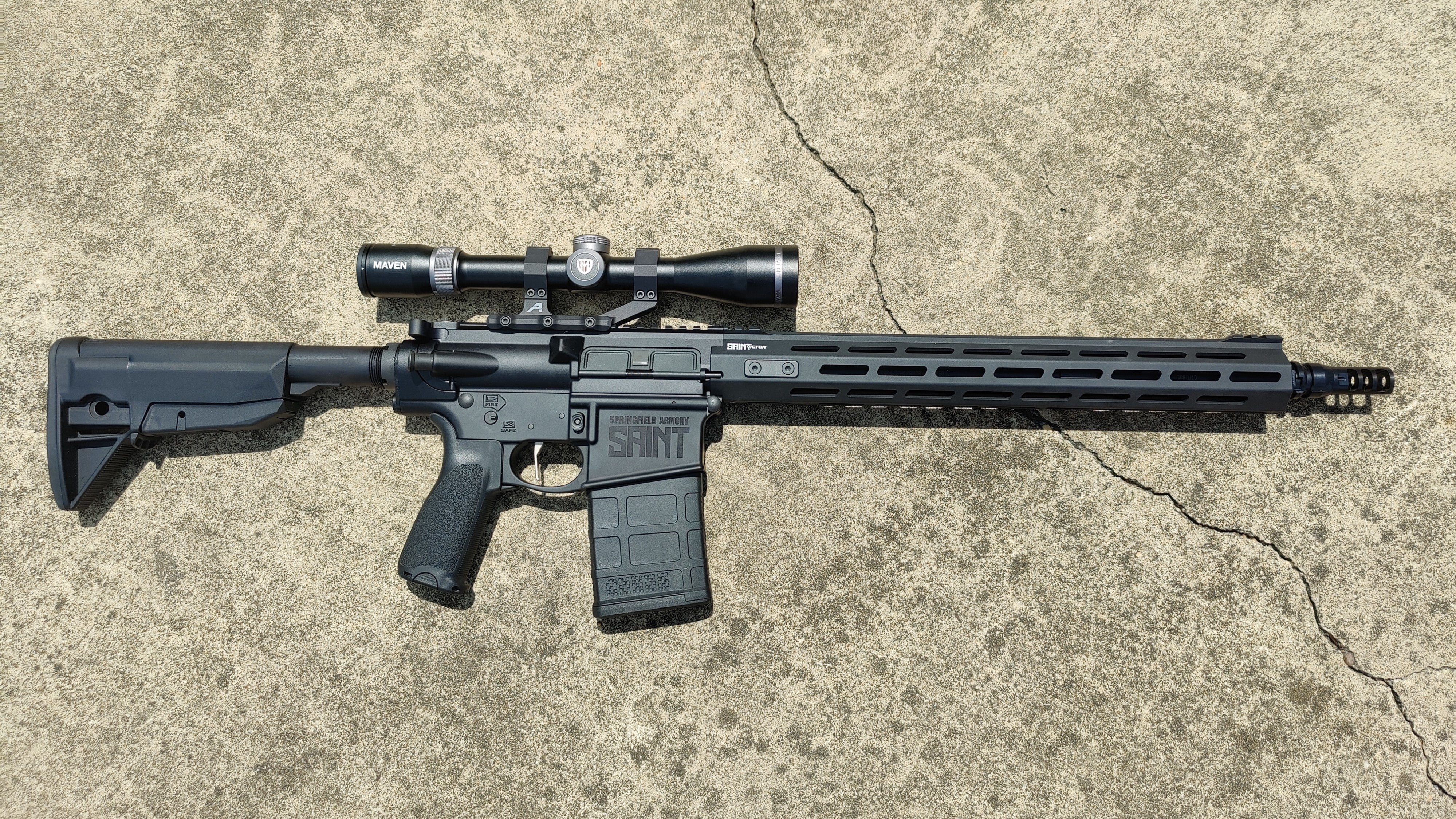 Versatility – Maven Optics RS.2
At 2x magnification the field of view is excellent and reticle acquisition is fast. After zeroing the optic, I was running a dueling tree at 50 yards from low ready at some of my personal best speeds. Switching to a sandbag and 10x magnification, 200-yard shots were a breeze. This combination is exactly what I was hoping for, it would be right at home in a blind, tree stand, or on foot boar hunting.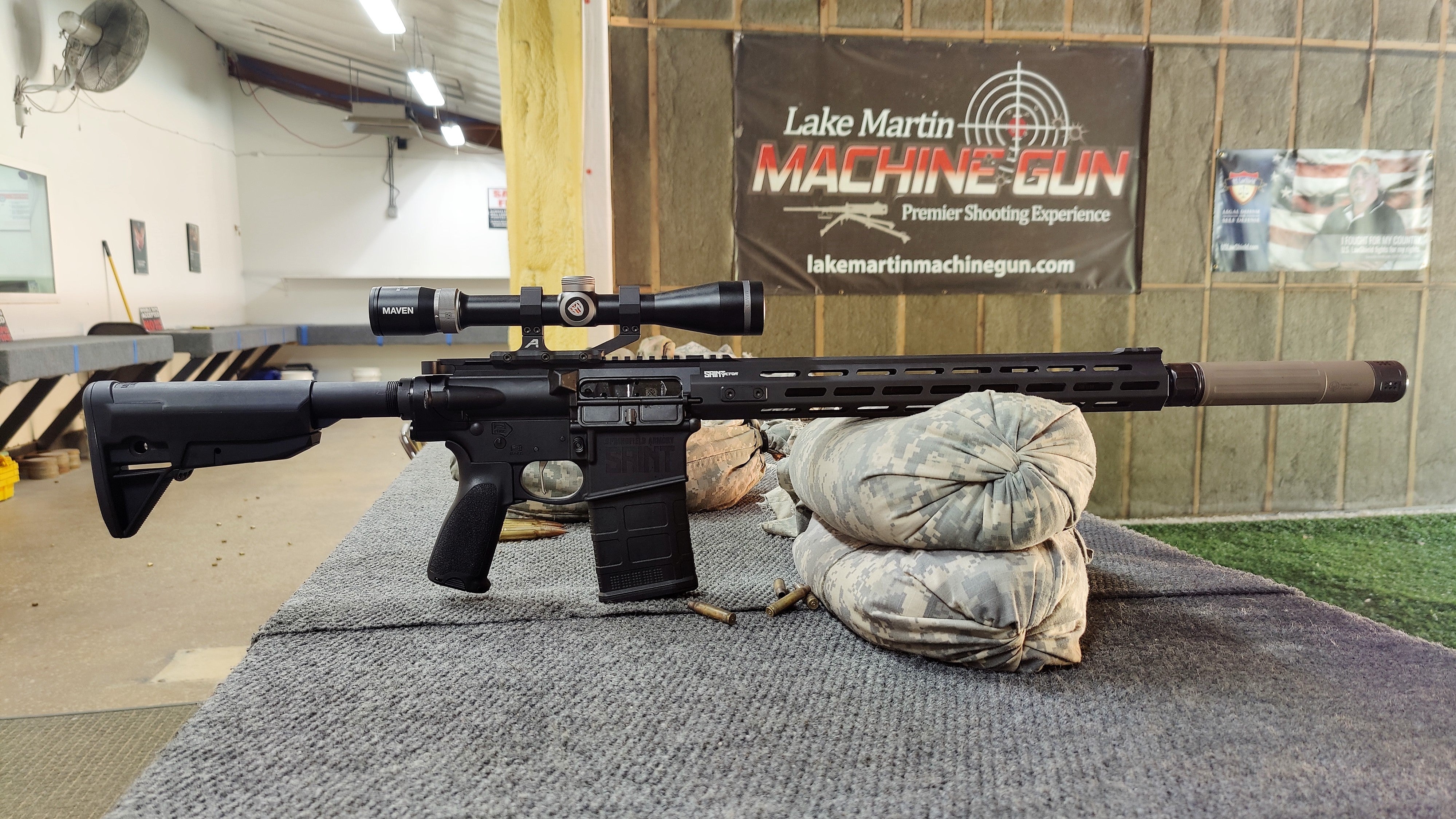 Image Clarity – Maven Optics RS.2
I want to preface with, pictures do not do this optic justice. Edge to edge clarity is excellent. Light transmission from the 32mm objective lens is impressive, even in low light. Throughout the magnification range, the RS.2 is bright and clear.
Glass quality in the RS.2 is much higher than its price tag would suggest.
Final Thoughts – Maven Optics RS.2
Maven did an excellent job with the RS.2. It packs a lot of quality into an affordable, lightweight package. The magnification range is perfect for the southeast terrain hunting that I am in, most shots are within 150 yards. With a price of $550, the RS.2 is a bargain and would be welcome on any of my hunting rifles. If you are in the market for a lightweight optic, the Maven RS.2 is well worth a look.