NEW Springfield Armory Hellcat Variants in Specialty Colorways
Adam Scepaniak 10.26.22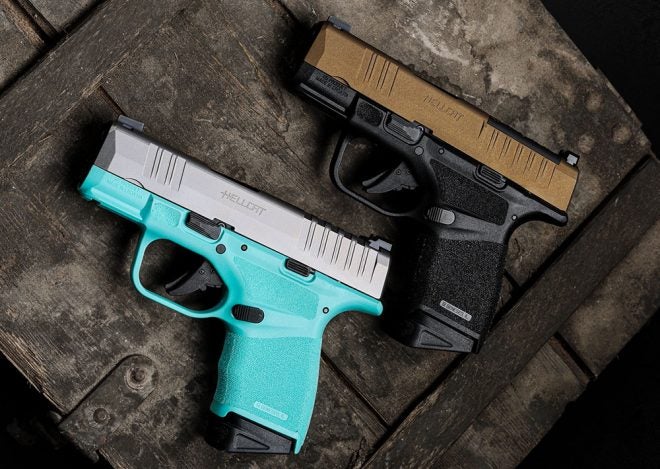 Springfield Armory has taken the world's highest capacity micro-compact pistol and ridden it to stardom. What started out as a lone offering of a great carry pistol, there are now multiple iterations for specific needs concealed carry advocates may have. Now, the Springfield Armory Hellcat is going to be offered in a Robin's Egg Blue/Stainless Steel combination as well as Burnt Bronze finishes.
Springfield Armory Coverage on AllOutdoor
Often times our handgun can be as much of an expression of our personality as our clothes are. So, for those people who want to add a little bit of flair to their handgun Springfield Armory has a few head-turning options rolling out via their Hellcat line-up.
"These new specialty offerings in the Hellcat line give customers exciting new color options for their CCW needs," says Phil Rawlings, Vice President of Sales and LE for Springfield Armory. "From Burnt Bronze to Robin's Egg Blue, there's a Hellcat variant that's just right for your needs."
Robin's Egg/Stainless Steel Hellcat 9mm | HC9319REBS | $635
Robin's Egg/Stainless Steel Hellcat OSP 9mm | HC9319REBSOSP | $663
Robin's Egg/Stainless Steel Hellcat Pro 9mm | HCP9379REBSOSP | $677
Burnt Bronze/Black Hellcat OSP 9mm | HC9319ZBOSP | $642
Burnt Bronze/Black Hellcat Pro 9mm | HCP9379ZBOSP | $655
From everything like the Springfield Armory Hellcat standard configuration to the OSP and Pro, you can get special Cerakote finishes to kick up the curb appeal of your carry pistol for a modest price of $635 – $677. The only question that remains is which one would you like to get? As always, let us know all of your thoughts in the Comments below! We always appreciate your feedback.