Galco DAO Belt Holster – NEW Fit for the 6″ Colt Anaconda
Adam Scepaniak 12.06.22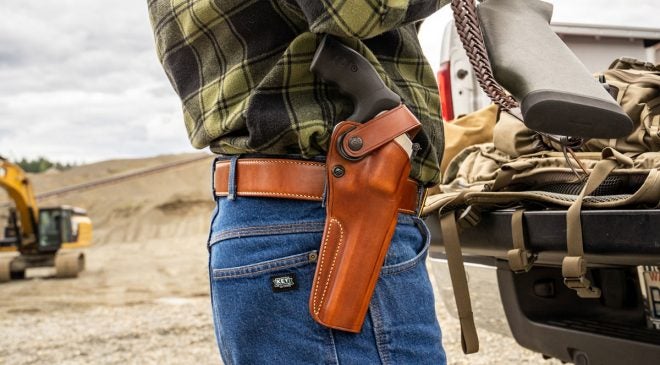 When it comes to premium steerhide holsters for double-action revolvers there is no one better in the game than Galco Gunleather holsters. The Galco DAO Belt Holster fits an assortment of double-action revolvers already, and now it is available in a 6″ Colt Anaconda offering as well. So, you can get your classic or modern Colt Anaconda in a Galco holster for any adventures you might have lined up.
Galco Coverage on AllOutdoor
The Galco DAO Belt Holster is available in tan as well as black and havana brown (black and havana brown in select fits only). It is also crafted from premium steerhide – like numerous Galco holsters – and the Galco DAO Belt Holster fits belts up to 1 3/4″. The rest of the specifications for the DAO Belt Holster can be read below as provided by Galco Gunleather:
Premium steerhide
Adjustable tension unit
Retention strap with glove-friendly polymer tab
Can be worn strongside or crossdraw
Available in tan, black (select fits) and havana brown (select fits)
Fits belts up to 1 3/4″
The DAO™ can be worn strong side or crossdraw at the user's discretion. The holster employs a retention strap for simplicity and security in the brush. The retention strap has a large polymer tab to aid in snapping and unsnapping with a gloved hand. Tension screw adjustments allow for a custom fit to your revolver.
The beauty of the Galco DAO Belt Holster is that it can be carried or worn in multiple ways. You can do a traditional strongside carry and/or a crossdraw; whatever your personal preference might be. With it now fitting the 6″ Colt Anaconda as well, you have one of the most iconic double-action revolvers in history that can now be carried in one of the most stalwart holster brands in history. As always, let us know all of your thoughts in the Comments below! We always appreciate your feedback.