AllOutdoor Review: Leupold DeltaPoint Pro w/ AR Mount
Sam.S 01.03.23

These days optics and the firearms they are paired with are constantly evolving. For a long time traditional and arguably large red dot optics were the norm for most tactical style and sporting rifles. Lately (in the last 5ish years) smaller, lighter, and less bulky optics have been making an appearance. Even red dot optics that were originally designed to be mounted on a pistol have found favor in the long gun world. Around 2015 Leupold submitted their entry into these lower profile and lower weight red dots to the world. Recently (early 2022) they debuted their DeltaPoint Pro W/ AR Mount package. This review encompasses both the dot as well as the mount intended for AR pattern firearms. Let's dive right into the Leupold DeltaPoint Pro W/ AR Mount!
Leupold Coverage on AllOutdoor
Specifications: Leupold DeltaPoint Pro W/ AR Mount
For those unfamiliar with red dot optics in general the Leupold DeltaPoint Pro is considered an "open emitter red dot". This characteristic is defined by the lack of enclosed housing around the portion that emits and projects light. An example of an enclosed emitter would be Leupold's Freedom RDS. Open emitter red dot optics are almost always found to be handgun optics since an outstretched hand begs the necessity for a larger field of view. The same principle is slowly being accepted, applied, and refined in such optics as the DeltaPoint Pro.
Adjustable Objective: No
Side Focus: No
Reticle Focal Plane: Second Focal Plane
Elevation Adjustment Type: Coin Click
Locking Dial: No
Revolution Indicator: No
Windage Adjustment Type: Coin Click
Custom Dial System (CDS): No
Custom Dial Compatible: No
BDC Dial Included: No
Reticle Type: Illuminated
Reticle: 2.5 MOA Dot
Magnification Type: Fixed
Battery Type: CR2032
Switch Type: Push Button
Nightvision Compatible Illumination: No
Daylight Bright Illumination: Yes
Electronic Reticle Level: No
Guard-ion Lens Coating: No
Weight (oz): 2 oz
Elevation Adjustment Value per Click: 1MOA
Elevation Adjustment Range (MOA): 60
Elevation Adjustment Range (MIL): 17
Elevation Adjustment Range (cm @ 100m): 175
Elevation Adjustment Per Revolution: 40 MOA
Elevation Dial Travel Limit: Total Scope Travel
Windage Adjustment Value per Click: 1MOA
Windage Adjustment Range (MOA): 60
Windage Adjustment Range (MIL): 17
Windage Adjustment Range (cm @ 100m): 175
Windage Adjustment Per Revolution: 15 MOA
Magnification Min: 1
Eye Relief Low Mag (in): Unlimited
Battery Life (hr), Low Intensity: 1600
Battery Life (hr), Medium Intensity: 1000
Battery Life (hr), High Intensity: 300
Number of Illum Settings: 8
The MSRP of the Leupold DeltaPoint Pro W/ AR Mount stands at $499.99. The standard DeltaPoint Pro without an accompanying mount has an MSRP of $449.99. The DeltaPoint Pro AR Mount on its own is $69.99. All of that being said, to the person with the intention of mounting this optic on their AR platform firearm, the Leupold DeltaPoint Pro W/ AR Mount package is the most cost-effective route.
"Most people think of the DeltaPoint® Pro as a pistol sight, but it's just as capable on an AR platform as it is on a handgun. The DP-Pro® AR Mount brings the red dot to just the right height without adding a ton of weight or bulk.

The DeltaPoint® Pro is proof that you don't have to compromise performance on a small sight. Whether it's topping your AR, shotgun, or pistol, the DeltaPoint Pro gives you a clear field of view and the bold aiming point you need in high-pressure situations. Crafted from aircraft-grade aluminum, this sight is made to handle abuse.

This extremely versatile sight has an easy-access battery compartment, so you don't have to re-zero after a battery change. It also has click-adjustments for more precision and eight brightness settings, giving you plenty of control over the dot's intensity.

The DP-Pro AR Mount brings the red dot to just the right height without adding a ton of weight or bulk. It's ideal for AR pistols or lightweight builds where every ounce matters. This mount puts the DP-Pro to the right height for ARs and fits any Picatinny rail. Like all Leupold® riflescopes, it's designed, machined, and assembled in the USA and guaranteed for life."
Dot provides definitive aiming point
2.5 MOA (minute of angle) dot is ideal for precise shot placement
Does not obscure target
Measures approximately 2.5 inches at 100 yards
Provides wide field of view
Rapid target engagement
Red illumination for contrast in low-light situations
Rear (second) focal plane
First Impressions: Leupold DeltaPoint Pro W/ AR Mount
The Leupold DeltaPoint Pro W/ AR Mount package comes in the standard Leupold optic box with foam cut out for the optic, mount, and mounting screw, and keys for installation(one is an L-shaped key for both the mount and the red dot screws), a protective cover, and instructions. As far as the DeltaPoint Pro is concerned out of the box I have handled them and mounted them in a retail setting. They seem durable, sturdy, and well-made. Their features are impressive such as the automatic shutdown and shake-awake technology. They are sleek, attractive, and best of all feature a top-loaded battery design for quick and easy battery swaps if need be.
The mount is lightweight and high enough that it should co-witness with the most common sets of iron sights. The aluminum construction seems like a natural and good choice since if it was made of something tougher it would be a heavy piece of kit to go with an otherwise very lightweight optic. Mounting to a Picatinny or weaver-style rail is made very simple with two heavy-duty screws located on the left-hand side. Mounting the optic to the rail is also extremely easy and self-explanatory due to the footprint of the DeltaPoint Pro being built in.
Range Time: Leupold DeltaPoint Pro W/ AR Mount
I have had this optic and mount in my possession for a good while now and a big reason for that is I wanted to get a lot of range time with it. Even though I personally have a couple of AR platform guns they do not get very much attention. For that reason, it was a nice change of pace to have this mounted on one of them. It made shooting easier and more fun for me and I will explain why. Normally I have some sort of LPVO (low-powered variable optic) or enclosed emitter red dot paired with a magnifier. Both of these optic setups limit your field of view drastically. To put it plainly the DeltaPoint Pro on their AR mount did not give me any sort of tunnel vision. I was able to focus on my targets while also being aware of the bigger picture and the world around me. On top of that, the DeltaPoint Pro lacks parallax issues so I can have my head in any position whether it be running and gunning or stationary on a bench, and still have my dot unmoved and on target.
Since the DeltaPoint Pro is an open emitter style red dot I can keep both eyes open. This has always been a challenge for me personally since I was raised in movies that taught me to close one eye. Keeping both eyes open helps me get to my target faster and also have my peripheral vision on hand. This package has the DeltaPoint Pro with a 2.5 MOA dot. To those of you who may not be familiar with that specification, it basically means it has a smaller dot than most optics meant for handguns. This allows the user to make better/more accurate shots at range than if the dot was larger and covered up more of the target. For me, my comfort zone was 50 yards and under but I had no issues landing shots further out.
One small point of concern on my part was durability overall. I do not like having to mind or worry about my firearms or their accessories. At the end of the day to me, it is a tool and I hate the idea that I have a tool that is easily broken. That being said, I treated my AR and by proxy this mount and optic like I normally would. No extreme testing by any means but no signs of fault at all. The steel shroud over the dot window certainly has an impact on how durable this dot is and it is impressive that something as lightweight and simple as that can offer a little piece of mind. I do believe that if I was to drop my gun optic first into some hard ground such as pavement or ice (I live in MN) it would probably break or at the very least have noticeable damage. This unfortunately is the nature of most open-emitter red dots and a foreseeable and typically accepted weakness. I should make it clear that I did not perform any sort of drop text to come to that conclusion. It is my own personal conjecture. This red dot is wholly and seemingly built of quality materials and will last a very long time with normal use. Should anything untoward happen Leupold has an excellent warranty and customer service.
Final Thoughts: Leupold DeltaPoint Pro W/ AR Mount
Genuinely and transparently I really enjoyed this optic setup. I plan on picking one up for myself when I have the chance. It has made range time more fun and comfortable for me. The overall construction is quality, the look appealing, and the performance has yet to falter. If you or someone you know are looking for a new optic setup on their AR-style firearm I cannot recommend the very versatile and easy-to-use Leupold DeltaPoint Pro W/ AR Mount package enough! It has been an absolute pleasure to work with and I am excited to cover their 45-degree offset mount in the future!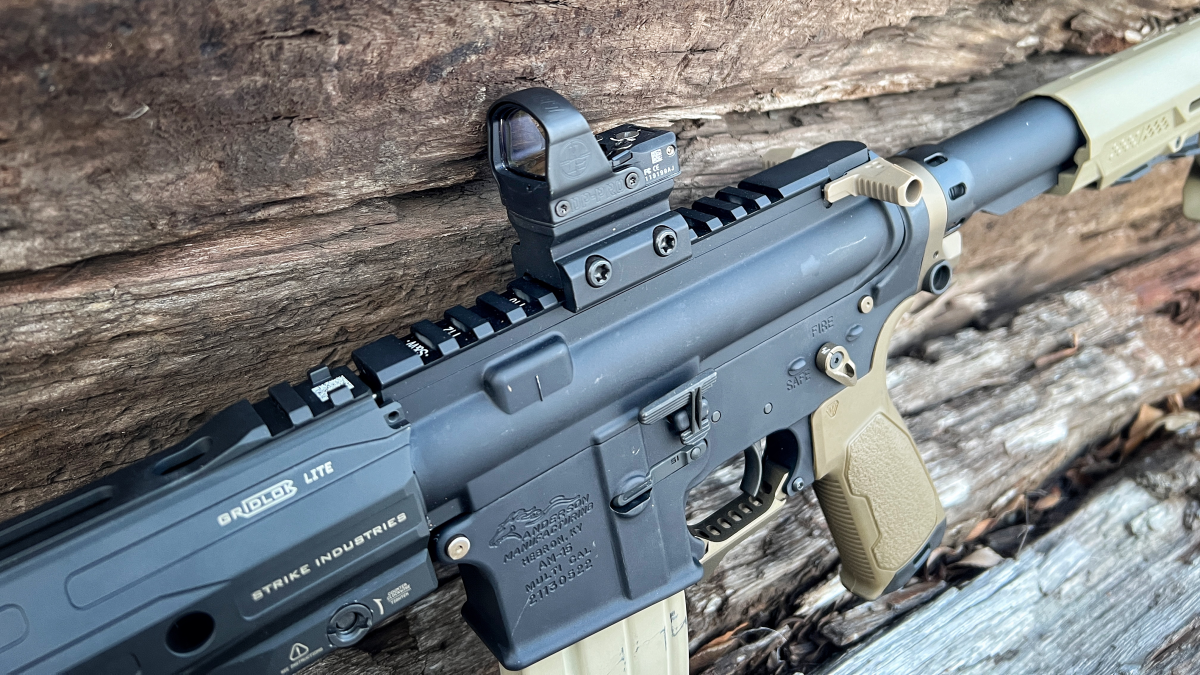 In closing, I want to say thank you to Leupold for allowing AllOutdoor and myself the opportunity to try out their DeltaPoint Pro W/ AR Mount. That is greatly appreciated. Also, we would like to know what all of you guys and gals think. Do you believe that this optic package is worth spending your money on? Would you take this out to the range? Would this be your go-to optic setup? Let us know all of your thoughts in the Comments below! We always appreciate your feedback.