AllOutdoor Review: Savage Stevens 555 Sporting Over/Under
Sam.S 01.11.23

Trap shooting has always been a favorite summer and fall activity of mine. It has been a lovely way of working on a talent I have had since I was little but it is not all just talent; the right tool needs to be used as well. Just like a musician with their instruments or an artist with their clay or paints. Stevens, a division of Savage Arms, has always produced affordable and good-quality shotguns. Their Stevens 555 model is what I would call their flagship over/under model which showed up in 2015 and has been serving them and their customers well. Stevens now catalogs seven Model 555 shotguns, three of which were announced and released in 2022 (including our gun today). I always try to keep my eye out for affordable over/under sporting-style shotguns so when the Stevens 555 Sporting Over/Under was announced we jumped at the opportunity. Let's dive right into my review of the Stevens 555 Sporting Over/Under!
Savage Stevens Coverage on AllOutdoor
Specifications: Stevens 555 Sporting Over/Under
The Stevens 555 Sporting Over/Under is a lightweight sporting shotgun. What is a sporting shotgun? I believe most people would agree that the definition would lean toward "a shotgun utilized for both game hunting and literal sport (Trap, Sporting Clays, Etc)". This broad definition makes it sound like a do-all tool which it definitely can be. In the case of the Stevens 555 Sporting Over/Under it seems to be made more so for the second of the two options mentioned earlier. With all the features below it is easy to see that it was made with comfort and accommodation in mind above all and as a happy bonus it would make for an excellent clay-busting shotgun.
Action: Over/Under
Ejection Port: Break Open
Barrel Color: Natural
Barrel Finish: SEMI-GLOSS
Barrel Length (in)/(cm): 30 / 76.200
Barrel Material: Carbon Steel
Caliber: 12 GA
Magazine Capacity: 2
Hand: Ambidextrous
Length of Pull (in)/(cm): 14.57 / 37.008
Overall Length (in)/(cm): 48.5 / 123.190
Receiver Color: SILVER
Receiver Finish: SEMI-GLOSS
Receiver Material: Aluminum
Type: Shotgun
Front Sights: Fiber Optic
Rear Sights: Mid Bead
Stock Color: Brown
Stock Finish: Oil
Stock Material: Turkish Walnut
Stock Comb: Adjustable Cheek Riser
Weight (lb)/(kg): 6.84 / 3.10
The MSRP of the Stevens 555 Sporting Over/Under stands at $991. As far as "trap guns" such as this one leans further into, that is not awful for something of quality. The Standard plain Jane Stevens 555 MSRPs at $768. In a retail setting, I have seen the standard Model 555 MUCH cheaper than its MSRP so I would bet that in the wild these Stevens 555 Sporting Over/Under models would be even more affordable. One important thing of note is that the Stevens 555 Sporting Over/Under currently only comes in 12 gauge.
"The Stevens over/under line-up is adding value to the sporting clays and trap leagues with the new 555 Sporting model. Its lightweight aluminum alloy receiver is scaled to gauge and incorporates a steel insert that reinforces the breech, minimizing weight and maximizing strength. Added features like a raised ventilated rib with mid-bead and front fiberoptic sight give shooters a competitive advantage and the adjustable cheek riser accommodates any framed shooter at a price that's unmatched among comparable models."
3" Chamber O/U Shotgun
Turkish Walnut Stock & Fore-end with adjustable comb height and 14.5" length-of-pull
Raised ventilated rib with mid-bead rear sight and fiberoptic front sight
Lightweight Aluminum Alloy Silver Receiver
30" Ported Barrels for recoil reduction
Manual Safety
Single Selective Mechanical Trigger
Chrome Lined Barrels
Tang Mounted Safety
Manual Extractor
Includes 5 Extended Chokes (F, IM, M, IC, C)
First Impressions: Stevens 555 Sporting Over/Under
First impressions start with the box. I already mentioned that the box was a bit rough but that has nothing to do with a brand new non-tested model. I believe the inside layout is a temporary fix to a brand-new gun since to my knowledge all the other Stevens 555 models I have seen have a styrofoam interior. In other words, this gun is so new to the market that the box interiors have not had a chance to be made specifically for the much longer Stevens 555 Sporting Over/Under. For now, this placeholder cardboard housing did the trick. The box includes the shotgun stock/receiver assembly, the barrel/forend assembly, the manual, a pair of foam earplugs, and a cable lock. There will be an additional small plastic case containing three of the five chokes (two will be in the gun already), a choke key/wrench, and two small hex head keys for adjusting the cheekpiece on the stock.
Out of the box, the gun was easy to assemble. The forend has a thin lever with a thumb piece to pull straight downward which releases it from the barrel set. Then the barrels can be placed into the receiver bay. I like to flip the barrel break lever to aid the installation of the barrel into the receiver. With the receiver level and the barrels facing down at a 45-degree angle, the barrels can slowly and smoothly be hinged into the receiver and locked. With the barrels installed, the forend can be placed on the barrels and the lever placed back in its original position. All went well and was pretty self-explanatory. The manual does a much better job of explaining this process.
Range Time: Stevens 555 Sporting Over/Under
I really wanted to give this shotgun a run for its money. I have worked with other similar shotguns in the past and paid them a similar respect and have found it can be fairly eye-opening due to its constant sort of hands-on use. I took the Stevens 555 Sporting Over/Under out on walks in the woods, hunted, shot trap with it, and sporting clays. Starting with the trap shooting it was weirdly a bit of a learning curve for me. I shoot trap a lot and something about this shotgun did not fit me well at first. I did not need to adjust the cheekpiece at all, although I did just to see how easy or intensive it was and it was very effortless. The stock length itself fit me just fine although I could see a potential issue with smaller shooters and the thicker-than-usual buttpad on the stock. The thing was I did not feel anything was off until I started shooting and then it became obvious over time. I am not used to trap shooting with 30-inch barrels, it is a long gun. My main go-to trap shooting gun has a 22-inch barrel which is significantly more compact and I am a duster with that and a modified choke.  The combination of a 30-inch barrel, an improved modified choke in the top barrel, and a full choke in the bottom threw me off. I had not changed them to that but it was an eye-opener since I am used to firing MUCH earlier than later. After swapping the chokes out for a cylinder on top and an improved cylinder on the bottom I had a much better go of things and was satisfied with its performance (as silly of a setup as that may sound).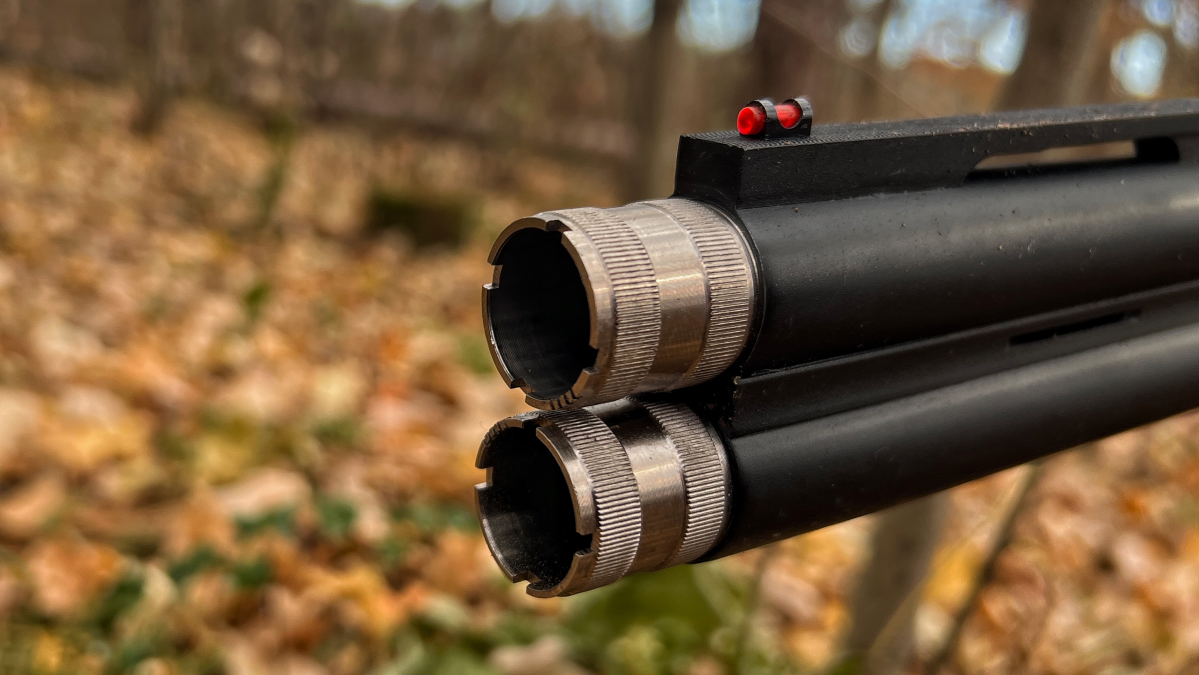 Next came to my woods walk and grouse hunt. This gun is very obviously more of a trap gun than a hunting gun which can be determined by the adjustability and length of the barrel. Regardless of those aspects, the grouse population was making a larger appearance this year and I wanted to see how it would perform under these different constraints. It is a light gun which made it a more than welcome companion on walks but in tighter spaces on lesser groomed paths, I found the long barrels to be a bit of an annoyance. This is in the way that I would have to hold the gun at rest in certain ways so that the barrel was not constantly bumping into things. As I said this gun was not engineered with this in mind so do not take this observation to mean it is an annoying gun to work with. I kicked up several grouse throughout my couple of days at the cabin and noticed an interesting thing that probably would never happen at the trap range. The safety was cumbersome under certain conditions. Please allow me to elaborate to the best of my abilities. The safety includes the option to select which barrel is being used via side-to-side motion. If for whatever reason the gun was in the safe position but the selector was not fully actuated to one barrel or the other (apparently a very easy thing to happen because it happened several times) then the safety would more or less be stuck on safe. this is a problem if I kicked up a bird and went to flick the safety off to fire. More than anything this was a user error on my part since my thumb would bias the selector to the middle rather than one of the two lanes it can use. Fortunately, after the first couple of times this happened, I became more aware and considerate of my safety flicking and ended up getting a couple of birds after all.
Finally as far as "sporting clays" go it was a fun experiment. I put sporting clays in quotes because that is the closest thing I can equate to family trap shooting. It is unpredictable and very on the fly…pun intended. At this point, I had gotten more comfortable overall with the Stevens 555 Sporting Over/Under and it is where I made some of my final observations. As far as shooting clays on an unpredictable scale I found swinging this long gun was a whole other animal in comparison to what I normally use. The bead sight line up well and concisely with flying clay pigeons. The thick pad at the rear helped a lot. I am not prone to shoulder fatigue but this made it all the more effortless and painless. The porting of the barrels offset the lightweight nature of the gun so what little recoil there was swept up in the beautiful and forgiving combination of the recoil pad and porting. The safety selector did not give me any grief in this more controlled situation which was nice. The action was smooth and given the heavier weight of the long barrels it dropped open just right. Not super loose nor extremely tight. I was pleased in every way and so was anyone that the Stevens 555 Sporting Over/Under was handed.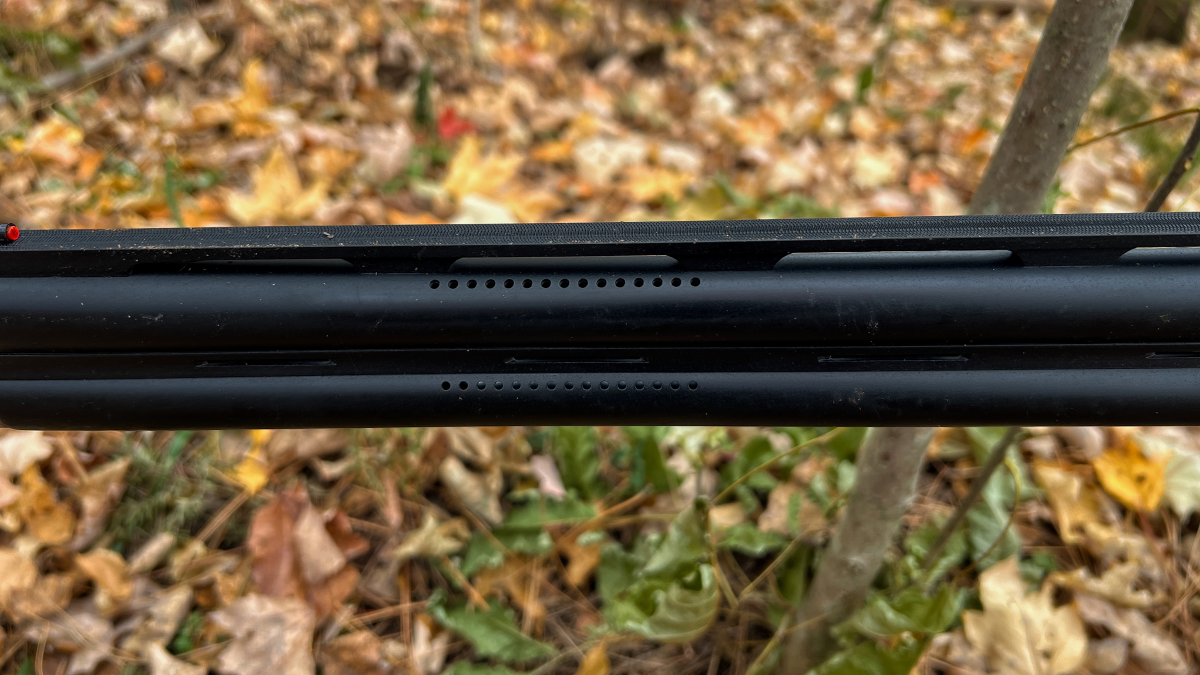 Final Thoughts: Stevens 555 Sporting Over/Under
I really enjoyed this shotgun but due to my own habits and unfamiliarity something about it was not great for me. I think that is entirely on me however and in the situations where it was used for what it was specifically built for it excelled. It is lightweight, comfortable, well-made, and affordable as far as these types of shotguns go. I would recommend it as an entry-level sporting shotgun to anyone interested in getting into the sport. The Stevens 555 Sporting Over/Under has my seal of approval and my admiration for its fine craftsmanship. I encourage anyone to check it out in person if they ever have the opportunity!
In closing, I want to say thank you to Savage for allowing AllOutdoor and myself the opportunity to try out their Stevens 555 Sporting Over/Under. That is greatly appreciated. Also, we would like to know what all of you guys and gals think. Do you believe that this classy over/under is worth spending your money on? Would you take this out to the range? Would this be your go-to trap shooting gun? Let us know all of your thoughts in the Comments below! We always appreciate your feedback.