NEW Gold Medal CenterStrike & ELD-X Loads from Federal Premium
Adam Scepaniak 01.11.23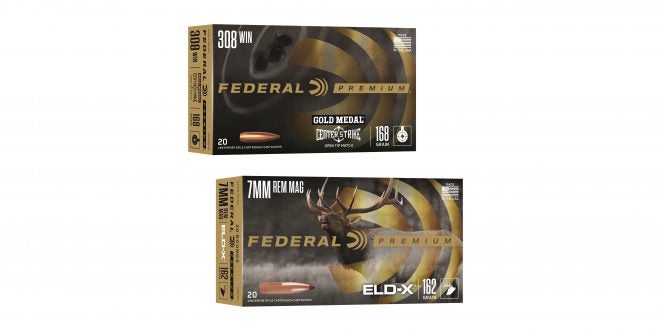 When it comes to long-range shooting – whether it is for target practice, competition, or in-the-field hunting scenarios – we often demand the best from our ammunition. Moreover, we may not always have the time to handload ammunition ourselves. That is where selecting premium ammunition from a manufacturer like Federal comes into play. If you need to know your next shot is going to connect, Federal Premium is debuting some new offerings via their Gold Medal CenterStrike and ELD-X lines that are perfectly suited for surgical accuracy.
Federal Premium Coverage on AllOutdoor
Federal Premium Gold Medal CenterStrike – Designed for competition and serious long-range target shooters, Gold Medal CenterStrike's proprietary open tip match bullet has a sleek profile and is held to extremely tight specifications for ultimate long-range accuracy and consistency. Its available in 308 Win., 6.5 Creedmoor and 223 Rem.

Federal Premium Hornady ELD-X – The ELD-X hunting bullet has a reputation for being match-accurate and hard-hitting. It touts a high ballistic coefficient and a design that provides effective expansion at a wide range of velocities. Federal is now loading this well-known bullet in nine centerfire cartridge options from 243 Win. to 300 Win. Magnum; using Federal's own factory-made components and strict manufacturing processes.

Hunting season might seem really far away at the moment, but it will arrive faster than we think. With Federal Premium announcing more premium ammunition offerings at SHOT Show 2023, it might be worth grabbing some of these a few months early with how difficult all ammo has been to obtain lately. As always, let us know all of your thoughts in the Comments below and whether you are currently using Federal Premium ammunition for your hunts. We always appreciate your feedback.