Maven RS3.2 5-30x50mm FFP Riflescope – Updated & Lethal at Range
Adam Scepaniak 01.12.23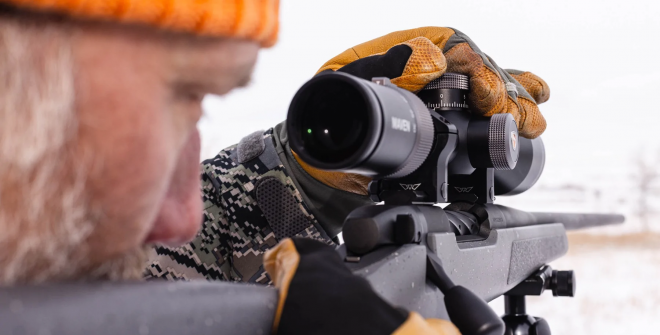 Maven Optics is known for having superior glass in optics – from binoculars to rangefinders and scopes – that far exceeds the quality of its competitors in their respective classes. Now, Maven is taking a prior riflescope iteration, giving it an update, and making it even better. Ahead of SHOT Show next week, they have announced a NEW Maven RS3.2 5-30x50mm FFP riflescope that'd be perfect for long-range target shooting and/or hunting applications.
Maven Coverage on AllOutdoor
The unique element about Maven Optics as a whole is they are a "direct-to-consumer with no retail markup" designed company. They actually eliminate the middle-man to get you the most premium optics possible at the sharpest pricing allowable. This new RS3.2 5-30x50mm FFP riflescope – along with all of their products – carries their Lifetime Warranty as well should you ever need service in an extremely rare event. Also, the new RS3.2 5-30x50mm FFP riflescope is waterproof and fogproof so you do not need to avoid bad weather on any of your future hunts.
3 Reticle Options: MOA-2, SHR-W, and SHR-MIL

Size: 13.03″
Weight: 27.8 Oz

First Focal Plane

0.25 MOA/click or 0.1 MRAD/click

Extra-Low Dispersion ED Glass

Exceptionally Clear, Bright, High Contrast Image

Excellent Color Fidelity

Phase Correction Coating

Built around the original RS.3, the RS3.2 is a new and improved version of our popular long-range scope featuring capped windage, a larger, more tactile elevation turret, and an improved zero-stop. With an expansive magnification range and detailed reticle options, the RS3.2 is a robust first focal plane scope with a 5-30x zoom range, side parallax adjustment, and custom turret options. With a broad magnification range and precise elevation dialing capabilities, the RS3.2 is one of our recommended rifle scopes for all western big game species.

Just like all rifle scopes in the RS Series, the RS3.2 features crystal clear ED glass for tack-sharp clarity, a silky focus mechanism, precision-milled adjustments, solid click detents, and durable anodizing to resist heavy use.

The Maven RS Series represents our elite line of rifle scopes, designed to fit your specific needs, delivered for a fraction of the cost to comparable rifle scopes and stacks up with the most celebrated and expensive scopes in the world. Our modern sportsman inspired designs paired with the best available materials and state of the art technology create an uncompromising optic that meets the demands of the modern hunter.
We have reviewed a lot of Maven Optics products here on AllOutdoor, and they all have flat-out performed. Never a dud among them and like we mentioned earlier, they all exhibit some of the best glass you can get for the price-point that Maven is asking. The only question that remains is this something that you would be willing to put on top of your rifle? As always, let us know all of your thoughts in the Comments below! We always appreciate your feedback.