AllOutdoor Review: TriStar Arms TT-15 Sporting Over/Under Shotgun
Sam.S 07.15.22

When the spring of the year approaches so does the dust of sweet sweet orange clay pigeons. Every year around the time of writing this review, people decide to pick up the new hobby of trap, skeet, and sporting clays shooting. In my home state trap shooting leagues for high schools are popping up all over and honestly it makes me envious since I did not have that opportunity when I was in high school.
If I am not incorrect trap shooting has been increasingly popular throughout the whole country. For this reason, after we met the folks from TriStar at Shot Show I made sure to look into a good over/under shotgun to checkout. The one I found in their catalog was the TT-15 Sporting Over/Under Shotgun. The TriStar Arms TT-15 Sporting Over/Under Shotgun is definitely geared more toward target shooting than that of a hunting gun but nonetheless I wanted to look at it with a wide lens and give my humble opinions and product information in the review below. Let's dive right into the TriStar Arms TT-15 Sporting Over/Under Shotgun!
TriStar Arms Coverage on AllOutdoor
Specifications: TriStar Arms TT-15 Sporting Over/Under Shotgun
The TriStar Arms TT-15 Sporting Over/Under Shotgun is a mid to high-range shotgun for lack of a better phrase. In terms of over/under shotguns and in the grand scheme of things it is probably in the lower tiers in terms of potential price but I look at it as a consumer and an experience retail salesman. This shotgun is set up to do a lot of jobs at once and all of which it appears to do well at face value. I will dive into that further later. For right now what is in the box? The TriStar Arms TT-15 Sporting Over/Under Shotgun comes in a black foam-lined TriStar cardboard box with compartment cutouts for the various pieces of the disassembled shotgun and its accessories. It comes with a manual, the shotgun, and a small black case that contains the choke tubes and a wrench.
 TT-15 Sporting

System: Break Action, Over/Under, Non-Inertial

 Turkish Walnut

Receiver: Steel, Matte, Engraved

 Tang Safety, Barrel Selector

 14 ½"

Weight: 7.9 lbs
30″
Barrels: Chrome Lined (Chamber Too), Ported
 Red Fiber Optic, Brass Mid-Rib Bead
CT-5X Skeet, Improved Cylinder, Modified, Improved Modified, Full (all extended)
Choke Type: Beretta®/Benelli® Mobil Style Choke Tubes
Rib: Vented, Wide Target Type
Trigger: Single Trigger, Selective
Ejectors
The MSRP of the TriStar Arms TT-15 Sporting Over/Under Shotgun is $1085 which honestly seems really fair for the value. The set-up that you get for that (as stated and depicted above) is very basic but seems to be of high quality or at the very least a durable and long-lasting quality. Something I would think of as a good all-around gun.
"3" Chamber Over and Under. The Sporting O/U features a solid frame for durability and strength, sealed actions to keep dirt out, self-adjusting locking lugs, top tang barrel selector and safety, and steel mono-block barrel construction, Turkish Walnut with semi-gloss finish and ported barrels. Comes with 5 Extended interchangeable Beretta®/Benelli® Mobil style choke tubes (SK, IC, M, IM, F), choke box and choke wrench. Rubber recoil pad and backed with a five year mechanical warranty.

The primary safety is located on the top tang. When engaged, the safety is designed to block the trigger, hammer lever and the hammer which makes the firing mechanism immobile. The safety slides forward and backward (back is safe). When the safety is engaged, the shooter may move it left or right to select which barrel will fire first. Placing the safety switch to the right will fire the top barrel first, to the left will fire the bottom barrel first."
First Look: TriStar Arms TT-15 Sporting Over/Under Shotgun
Upon first receiving the TriStar Arms TT-15 Sporting Over/Under Shotgun my first impression was the box was a bit heavy which surprised me. This may be because (at the gun shop I work at) we sell a lot of aluminum-framed over/under shotguns. I thought the presentation of the contents of the box and the way they were packaged was very nice and safe from damage in shipping. The choke box was the same sort of generic setup you see with other shotguns that have these choke storage cases. With a little jostling, the chokes and the wrench become dislodged inside the case but as I mentioned this is really normal for all choke cases like this one so no big deal.
The manual was thoughtful and simple. The assembly process was also very simple and straightforward. It is the normal process for most other break-action shotguns where the forend has a lock on it and when it is unlocked it can be removed, the barrels hinged into place on the receiver, and the forend replaced. Picking up the TriStar Arms TT-15 Sporting Over/Under Shotgun was hefty but much more balanced now that it was assembled out of the box. I noticed it was much longer than I was used to in a shotgun. This is probably due to I shoot trap most of the time with a Chiappa 1887 has a 22″ barrel. This one has a 30″ barrel and extended chokes to make them easier to remove on the fly.
Range Time: TriStar Arms TT-15 Sporting Over/Under Shotgun
I had the fantastic opportunity to take the TriStar Arms TT-15 Sporting Over/Under Shotgun out on several different range trips. My first "break-in" trip was out to the range where I hand threw some clay pigeons for myself and shot a VERY mixed box of old and new ammo. I am talking modern Federal 8 shot plastic hull trap loads and then also some random brands like Peters, Remington, Federal, Winchester, etc in old paper shells that looked like they had been through the wringer. All shells fired except one that had to be put into the gun a separate time and the primer more or less double-tapped (no issue of the gun). It was really neat to see the old paper shotgun shells make some truly black smoke/dust/debris fly out of the portion in the barrel. It was a good way of showcasing what is actually happening and that porting is not just a marketing gimmick.
My second and third range trips were out doing some sporting clay shooting. For those of you who may not be informed of the difference, it is basically around 25-50 different stations in which the shooter walks, presses a button, and the clay pigeons fly out in different ways and directions. This shotgun I am guessing is geared toward a more stationary role like on a trap line. I found that when the pigeons flew more as they would on a trap line, swinging the TT-15 was easy and pleasant. Sporting clays went fine and all-around every person I was with that tried it out really liked it. It has very little recoil due to a few things: it has a thick recoil pad, and ported barrels, and it weighs almost 8 lbs unloaded. This makes it an excellent shooter and if I may be so bold to claim, I believe it is that perfect weight for a trap line for me personally anyway. It definitely got heavy walking around doing sporting clays. I cannot imagine why you would take this specific gun hunting but if you chose to it would probably get pretty heavy after a while.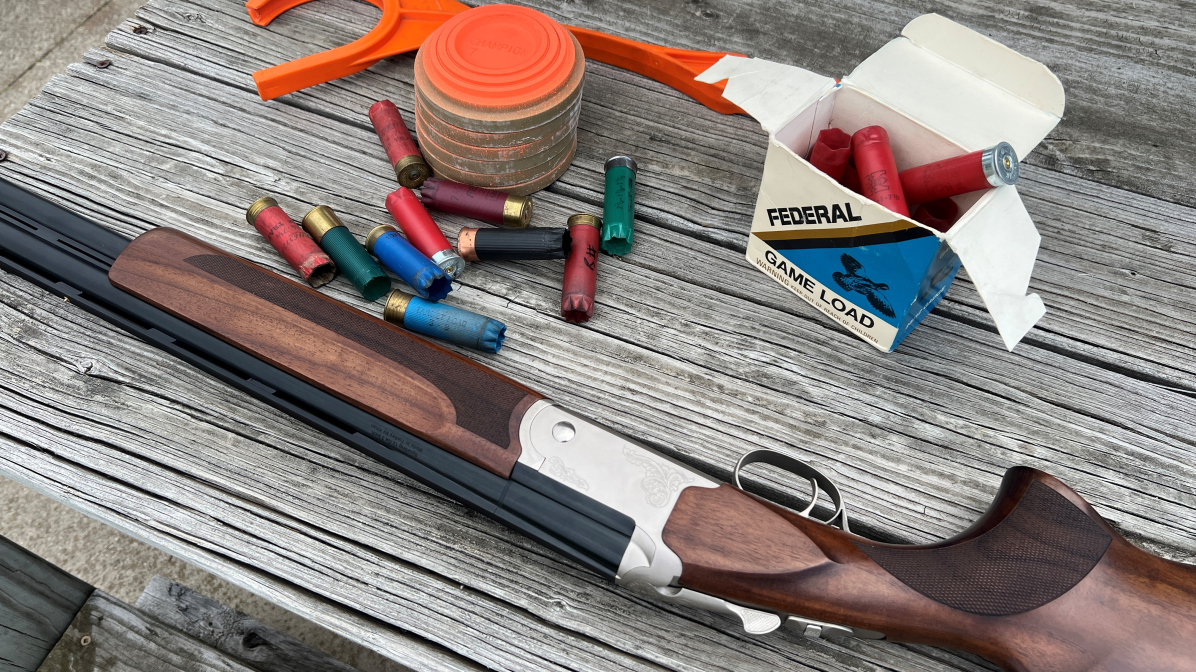 Final Thoughts: TriStar Arms TT-15 Sporting Over/Under Shotgun
Final Thoughts? The TriStar Arms TT-15 Sporting was absolutely lovely to work with and my only regret was not having a good chance to stand on a literal trap line with it. It just did not work into the time window with this gun but I know in my heart it would have absolutely blown the clays away. The weight is a little on the heavy side but it is well balanced so it makes a great stationary shooter. The porting and recoil pad make it a comfortable gun to handle and readjust for the follow-up shots. The red fiber optic is pretty fine but still easy to pick up. I liked the safety selector and how you also could select the barrel you start with. For sporting clays, the barrel selector came in handy for adjusting to the distances and angles clays may be at. All in all, the TriStar Arms TT-15 Sporting is a great trap gun in my view and I highly recommend it as a mid-tier level shotgun for anyone starting out or for someone who does not want to shell out a couple grand for the same product with an adjustable stock or fancy wood.
In closing, I want to say thank you to TriStar Arms for allowing AllOutdoor and myself the opportunity to try out their TT-15 Sporting Over/Under Shotgun. That is greatly appreciated. Also, we would like to know what all of you guys and gals think? Do you believe that this all-around over/under is worth spending your money on? Would you take this out to the range? Would this be your go-to trap gun? Let us know all of your thoughts in the Comments below! We always appreciate your feedback.