2022 RAM Power Wagon Build: Part 4: Accessories
Doc Rader 12.15.22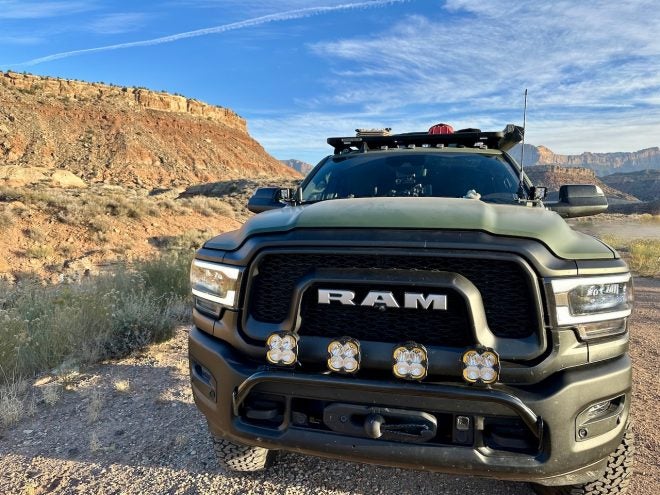 This post will be a giant dump of all the core components I have added during this initial build-out phase. I still have a few items left to add, but with this set, I can get out and stay out for as long as I have food, water, and fuel.

Good day everyone and welcome to a new installment of AllOutdoor's Off-Road and Overlanding series brought to you by onX Offroad--mapping software for all your adventures.



Other articles in this series:

One of our locals is a fabricator and built a crazy set of sliders for one of the other guys in the local club that runs a Power Wagon (and also happens to be my in-house International 4WD Trainer Association instructor that teaches my off-road content).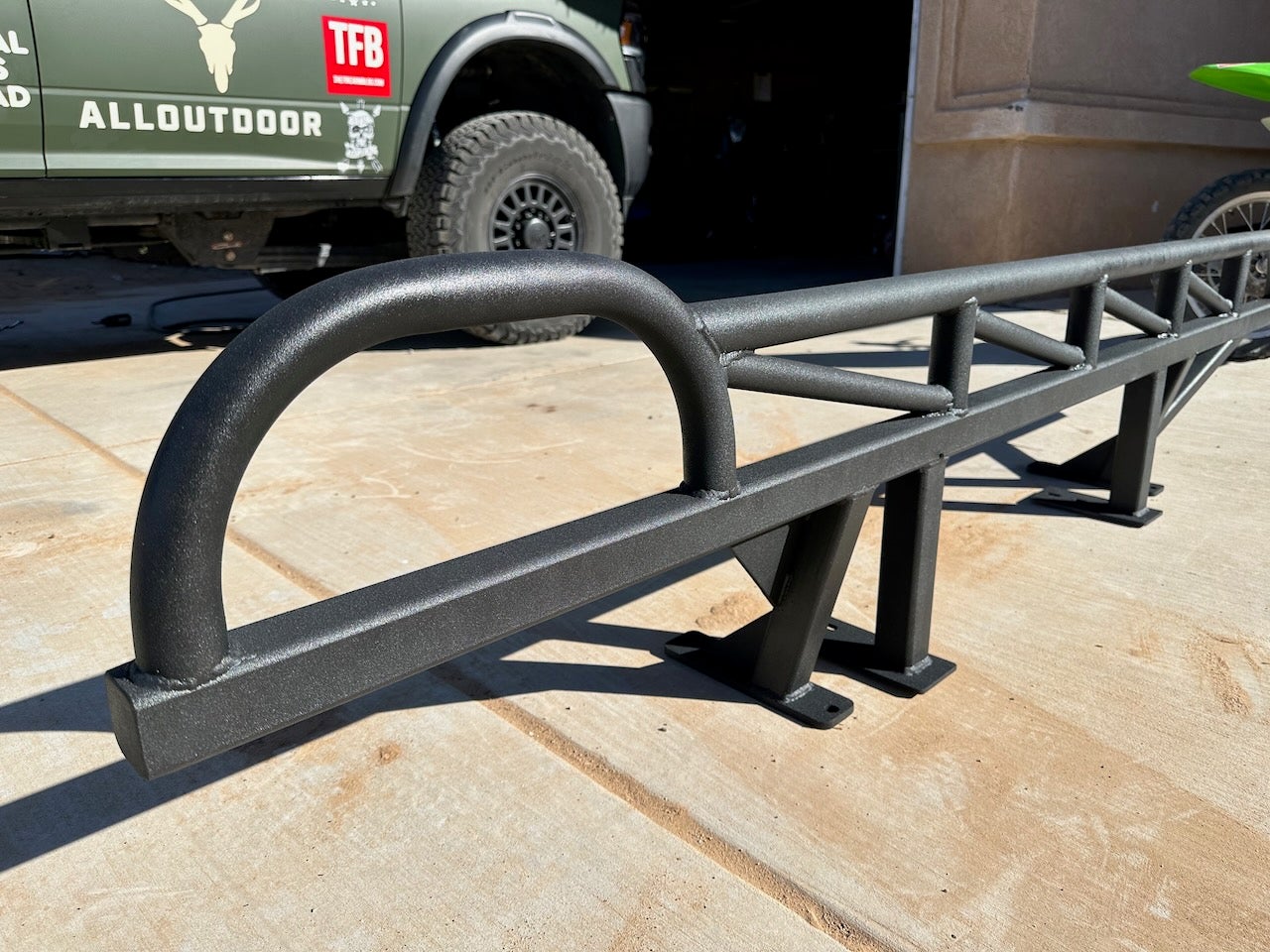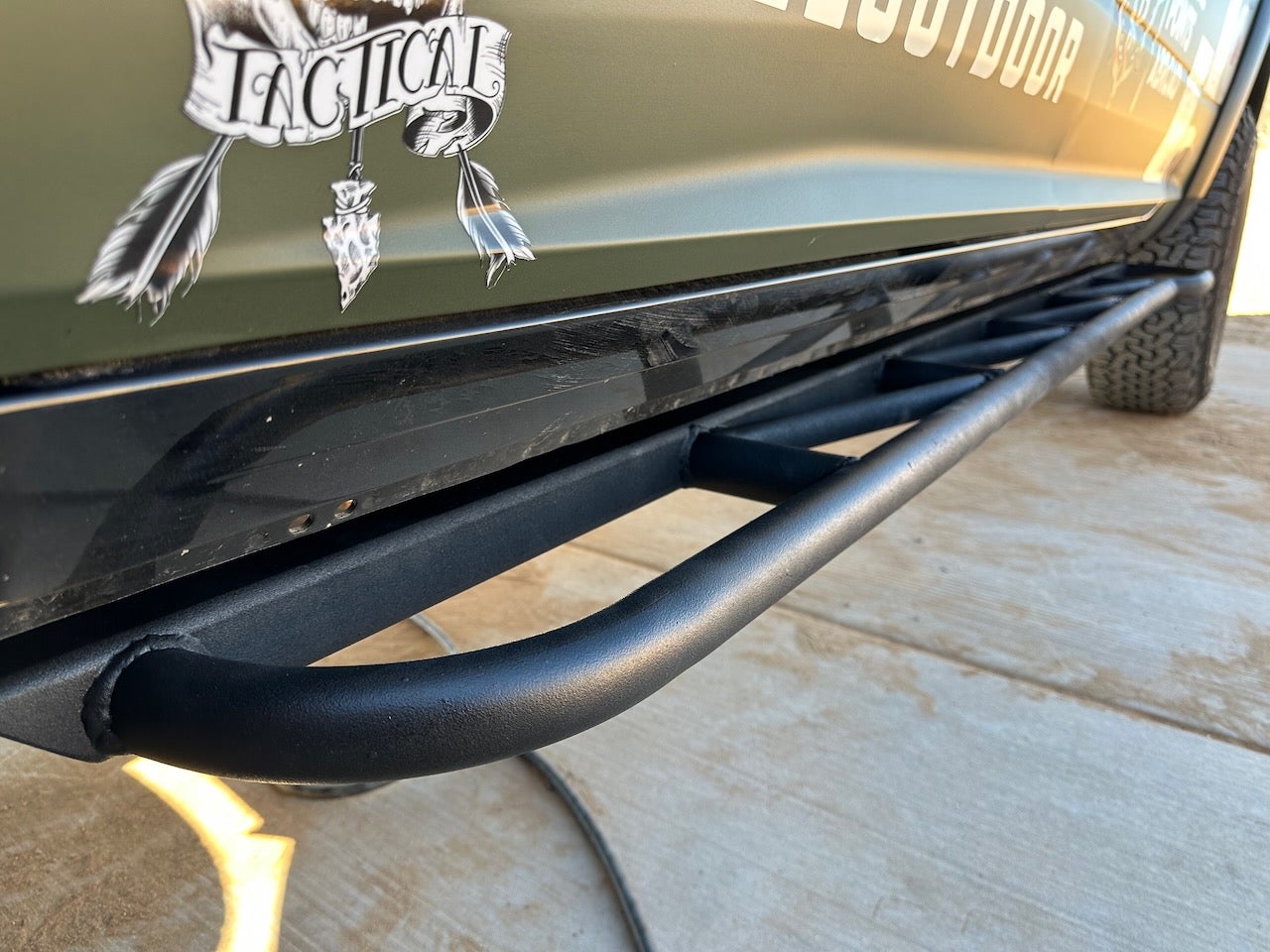 One of the requirements is to have the ability to side anchor or lift the vehicle, so these sliders were custom commissioned to be able to accommodate this. These steel sliders are attached directly to the frame and feature large radiused tubes so that we can use soft shackles to attach recovery gear and anchors.
KC Hilites
Lights are useful when you are on trails in the darker parts of the day or when you need amber lights to provide better contrast.
On a trail run before Overland Expo PNW in July 2022, we traveled with some of the crew from KC Hilites. My first off-road lights were KCs, complete with the iconic smiley face covers, way back in the last century…
Technology has improved since then, and the ERA4 LED lights from KC will make the sun appear. Seriously, four ERA4s subjectively put out as much light as the Baja Designs S8 30-inch that I ran on the Tacoma.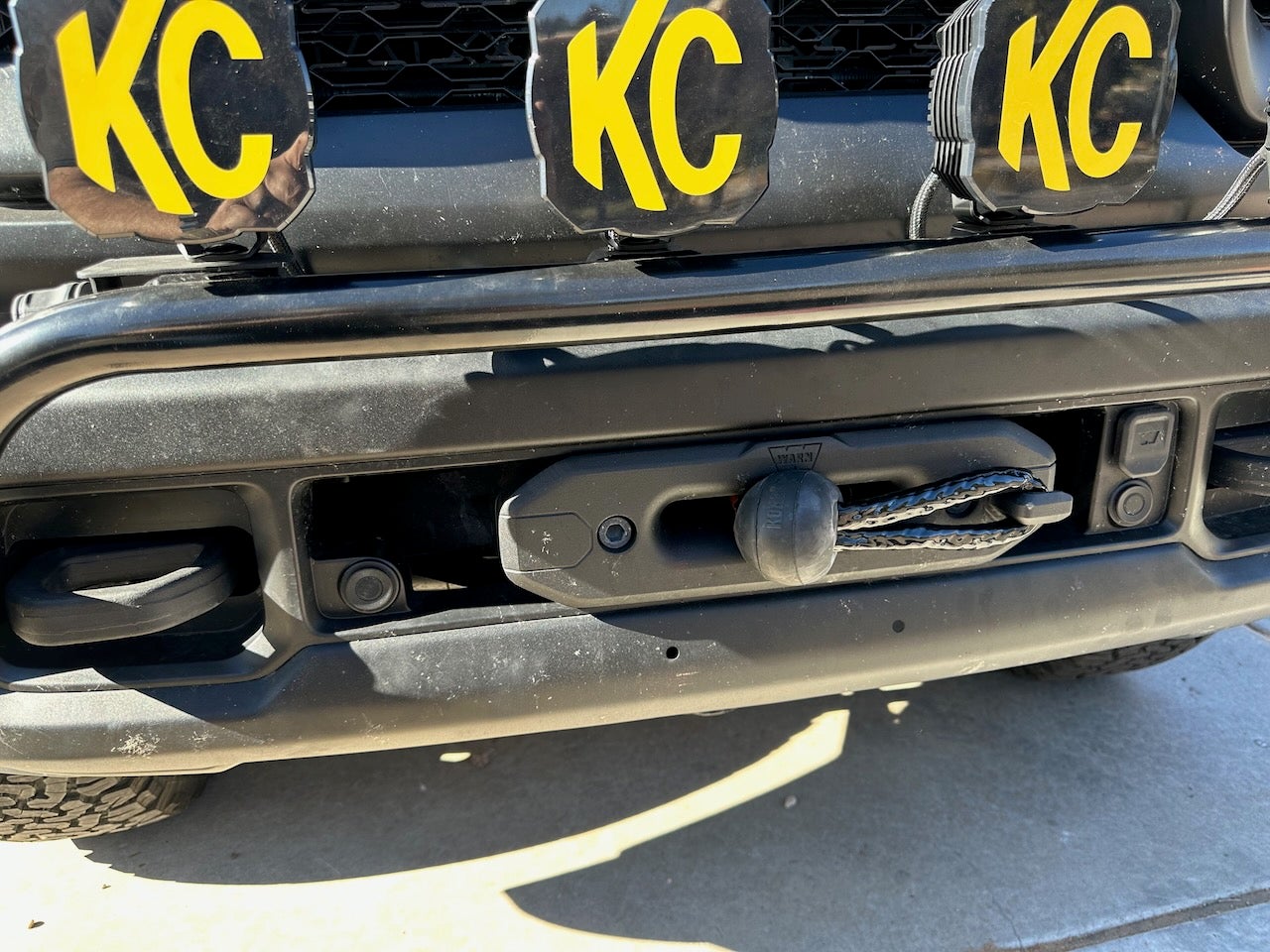 I also opted to put a couple of ditch lights using their C-Series C3 LEDs and the C-Series C2s for flood lights that will attach to my rack. I also got a set of their 5-watt flood color-changing rock lights.
Garmin Tread Powersport with Group Ride and PowerSwitch
A number of the people in our Overlanding/Off-road clubs in New Mexico are all running the Garmin Tread system. While we all use a mixture of navigation tech (onX Offroad, Gaia, and Garmin), the Tread does much more.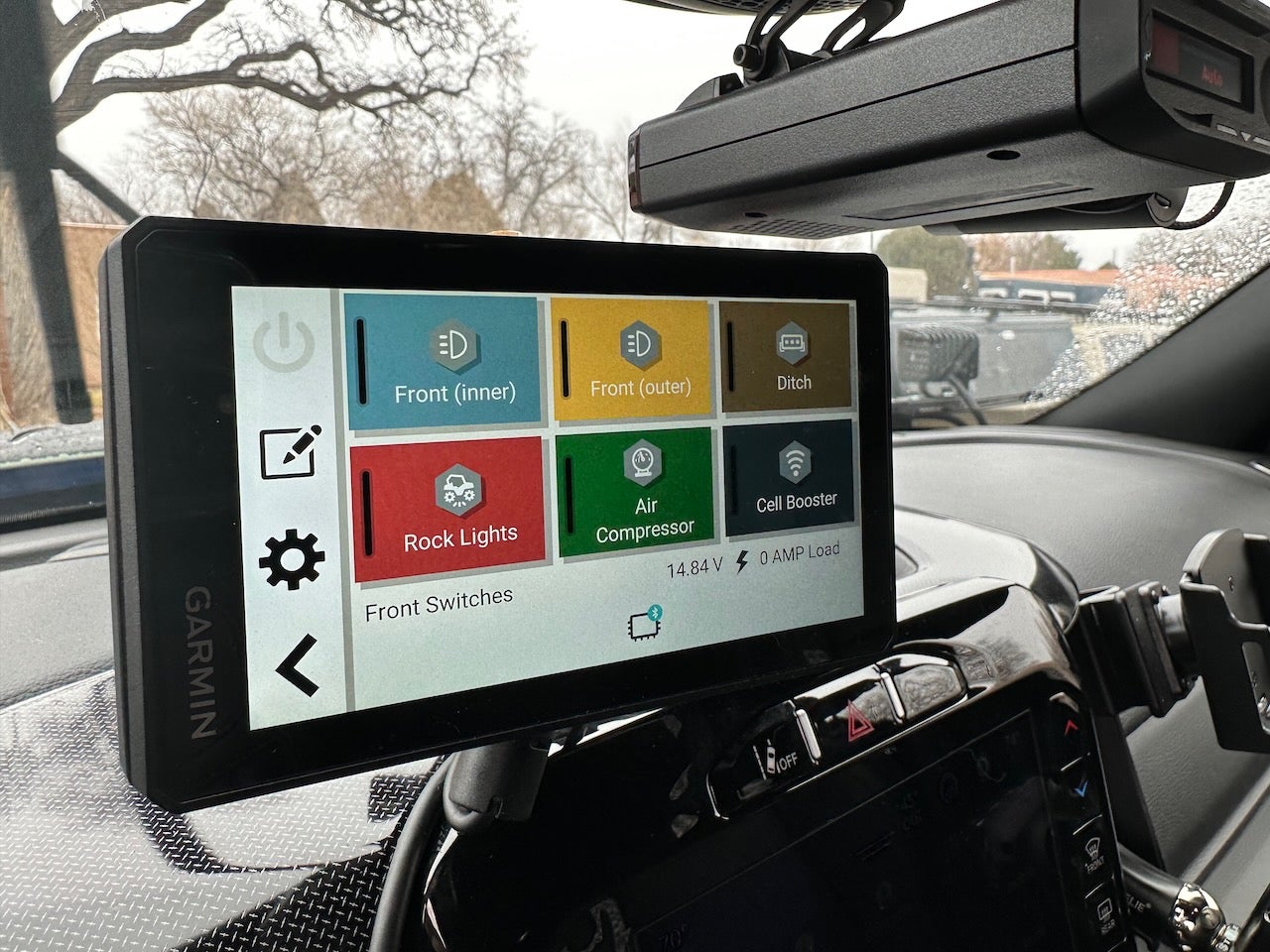 Three stand-out features are the Group Ride radio system (which really got its start in the ATV world), the PowerSwitch (a Bluetooth switch system to control accessories), and the ability to attach cameras.
While the Power Wagon has a ton of integrated cameras (so I don't really need that part of the system), the radio (which runs MURS) and the PowerSwitch are the main things I love. The radio is less congested than FRS/GMRS and has better power.
Midland MXT575
Not everyone is cool enough to run the Garmin with Group Ride, so we all still install some kind of GMRS radio. I have had a great experience with the Midland radios, and for the Power Wagon, I went with the newest one–the MXT575.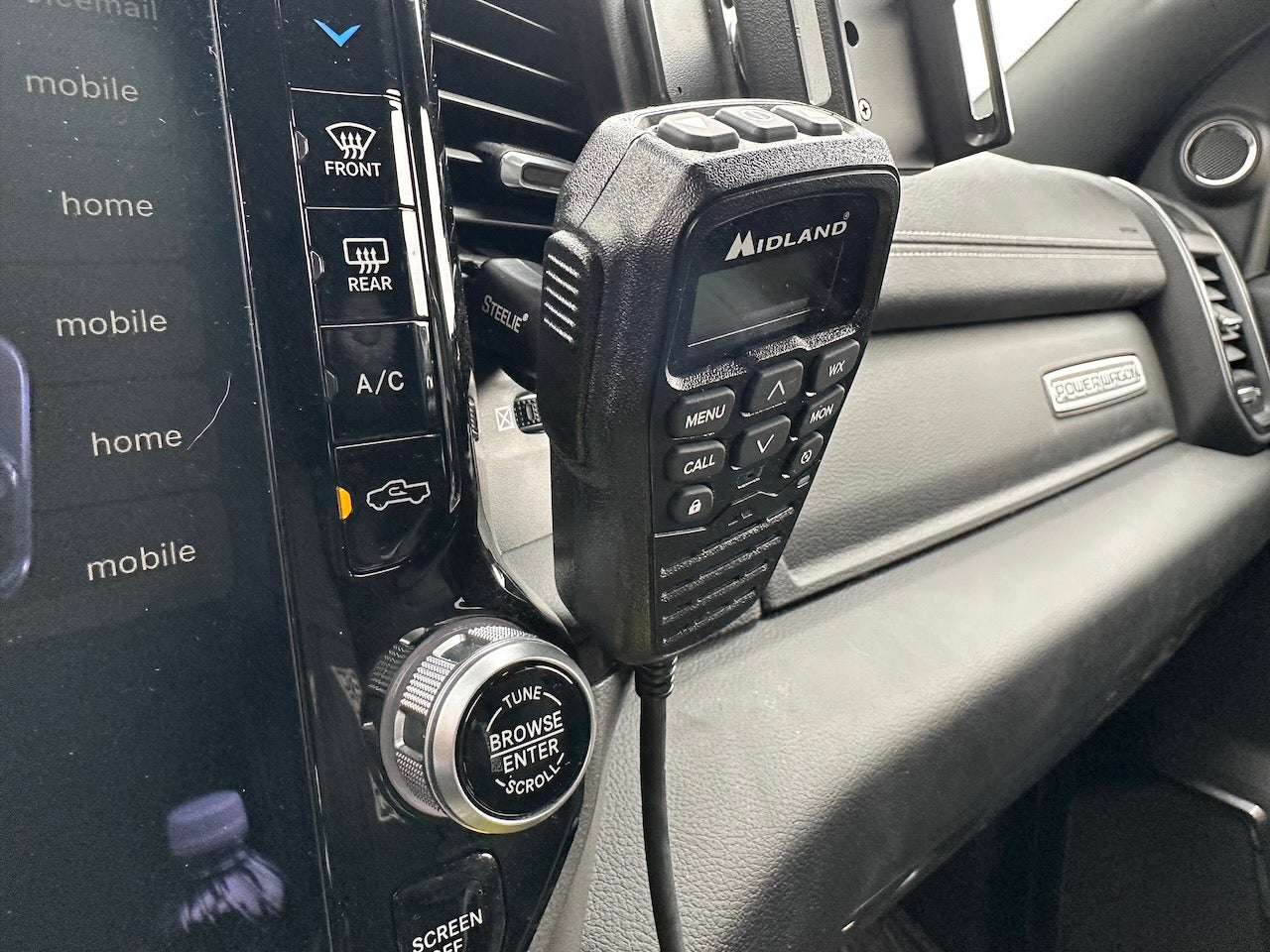 Not much to say here other than my preferred kind of radio is where I have the controls on the handset rather than have to manage things on the head unit. Midland has a couple of models where this is the case.
Weboost Drive Reach OTR
Since I really do a lot of travel for work and also have to manage logistics and operations, I really need to have uninterrupted communication. The WeBoost OTR system actually makes a difference–but you have to have at least some signal for it to amplify (and it has to be installed correctly–the external antenna can't be blocked, and the internal antenna needs to be as close to the phone as possible).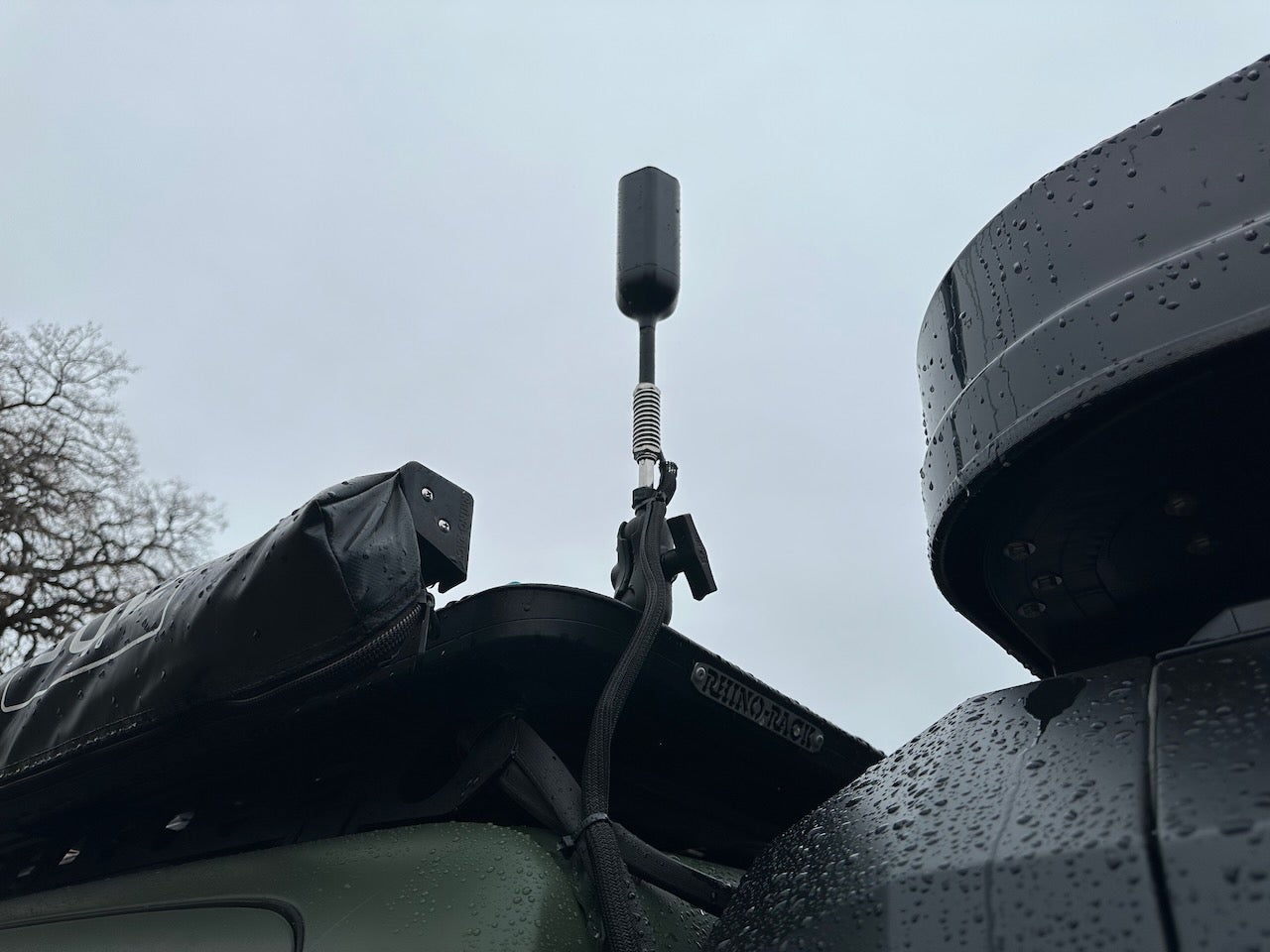 When I am out of cell range, I also have a Starlink…
23Zero Armadillo X2
The 23Zero is my current rooftop tent of choice. I had a ton of nights in my AluCab Expedition 3 and then the 23Zero Walkabout. I wanted something that incorporated the best of both worlds. Fast and easy to deploy and tear down, super dark, and can leave bedding inside. The Armadillo X2 meets all of those wants.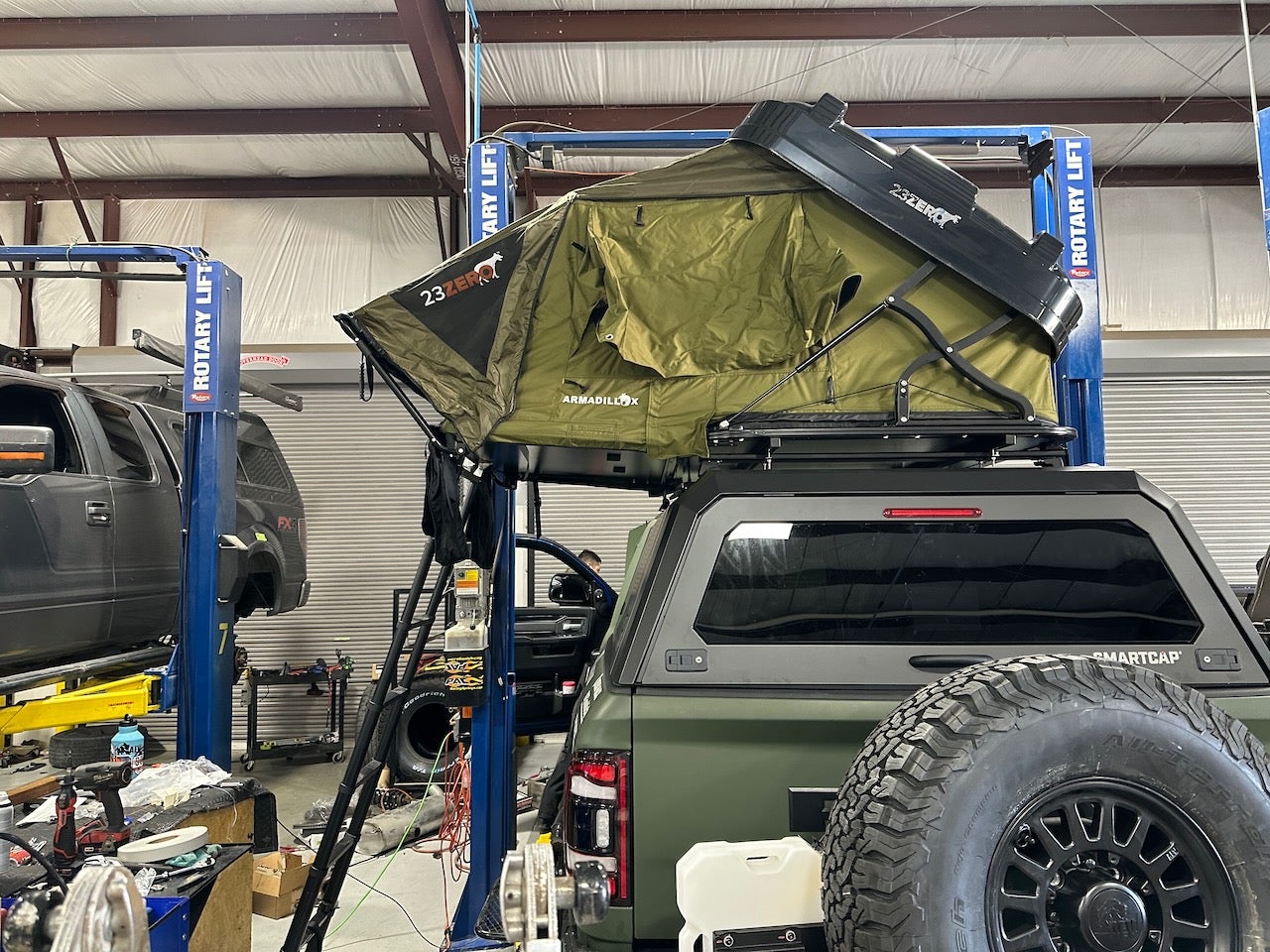 ARB Dual Air Compressor
Onboard air is a luxury I am willing to invest in. Since I bought the gas version of the RAM 2500, there was a giant empty space on the passenger side engine bay which is a perfect place to put an air compressor–close to power and easy access to route air hoses.
I went with the ARB High-Performance Twin Compressor because I have larger tires and want a longer duty cycle. I also added the Pressure Control System because I am lazy and I HATE watching the air pressure gauge. This little gem allows you to set the pressure using an app on your phone, and it will bleed your tires or inflate as necessary. To accommodate the RAM's different front/rear tire pressures, I added an air chuck to the front and the rear so I could fill the tires two at a time and equalize the pressures. As an added bonus, I also put the airbag fill valves next to the rear air chuck.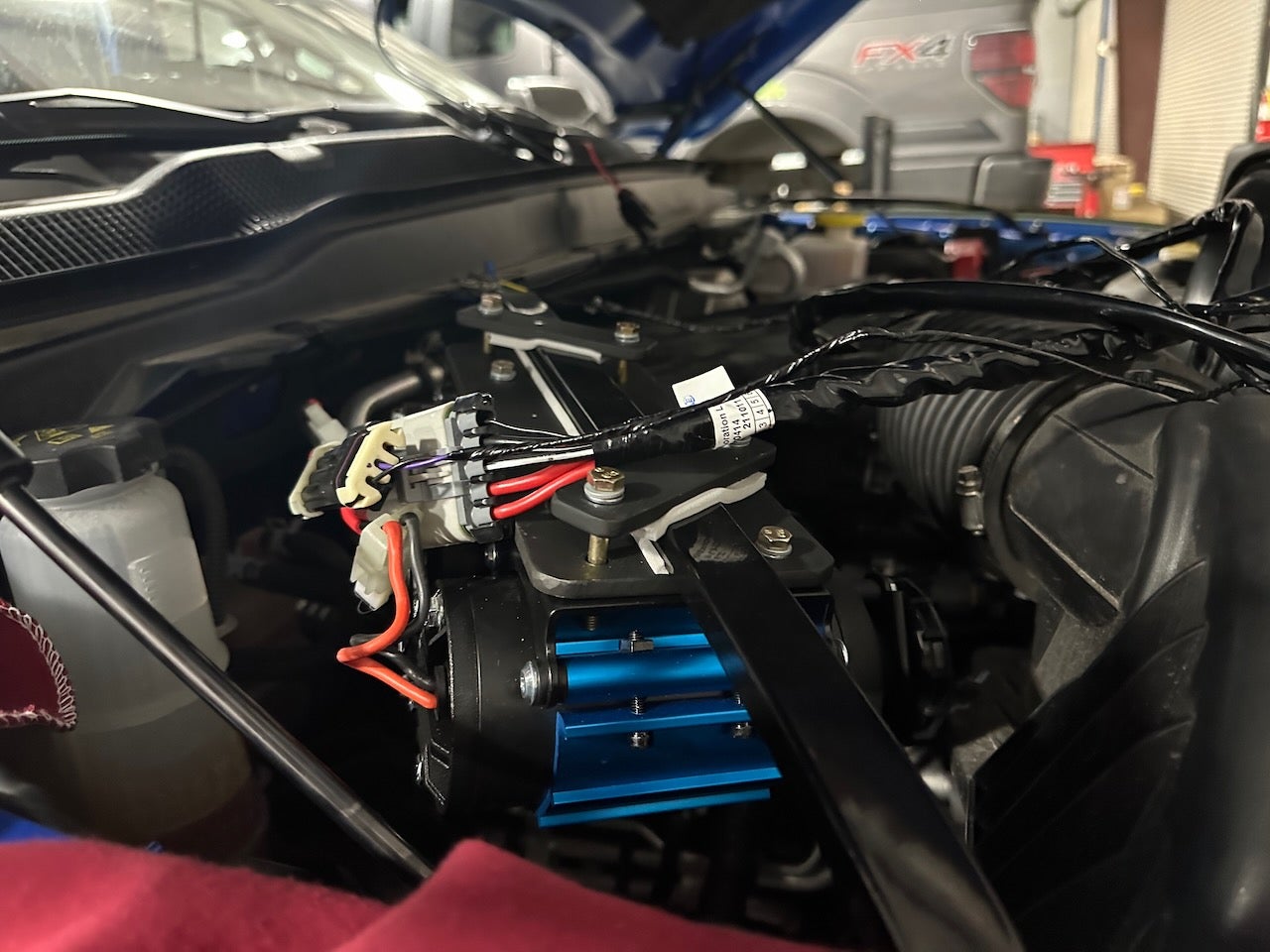 RigD Supply Ultraswing
One of the concepts I wanted to embrace on the Power Wagon was being able to strip back down to a somewhat normal truck if needed. The suspension and wheels preclude this, but everything else can be taken off easily. The bigger issue was what to do about the full-size spare–the stock location would not accommodate a 37-inch tire and wheel.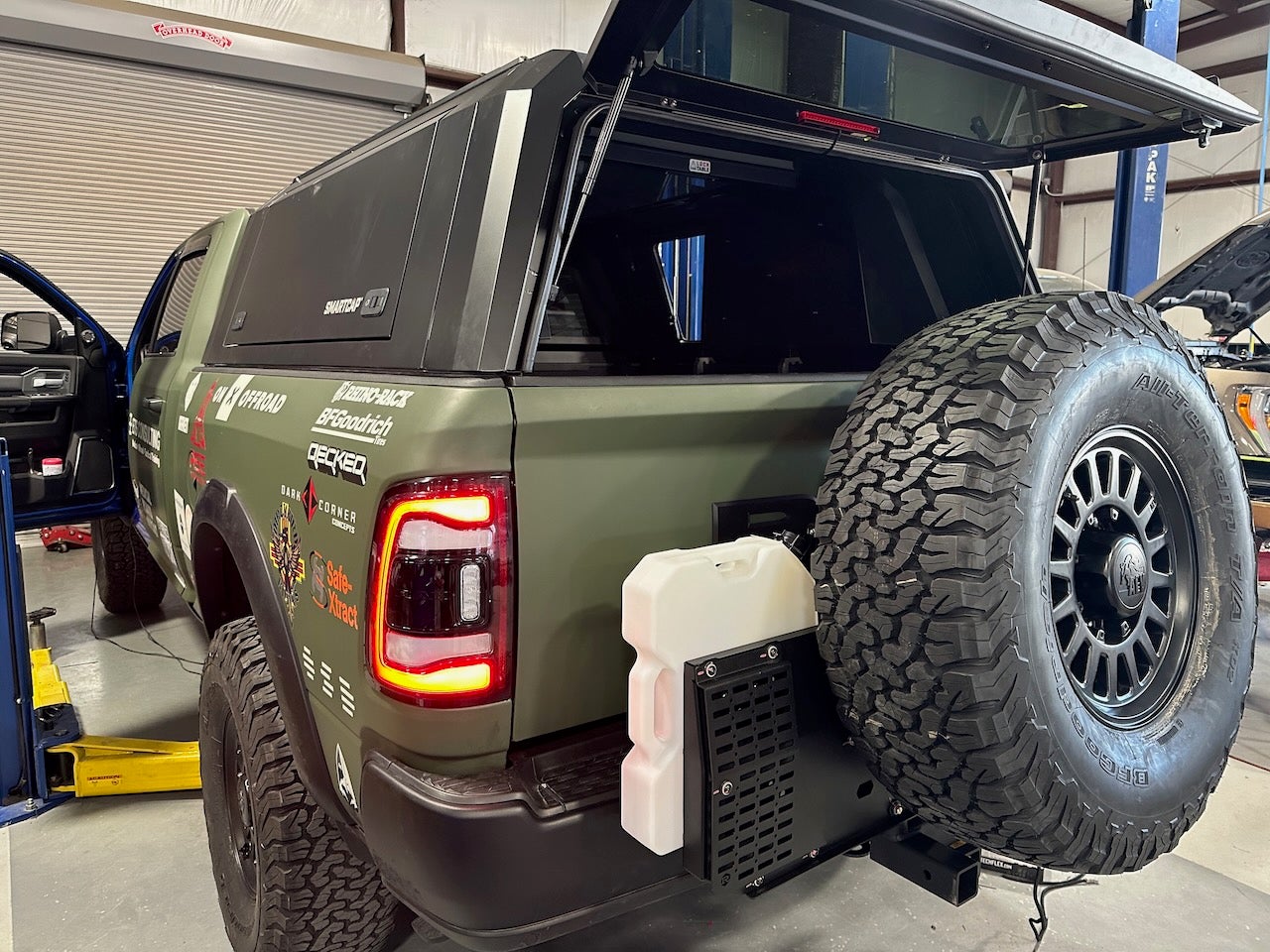 Normally this means you are going to be putting it up top (and a 37-inch tire and wheel are pretty heavy) or hanging it off the back. Hanging off the back generally means that you need to do a rear bumper swap. But then you have to manage sensors and worry about mounting locations, etc.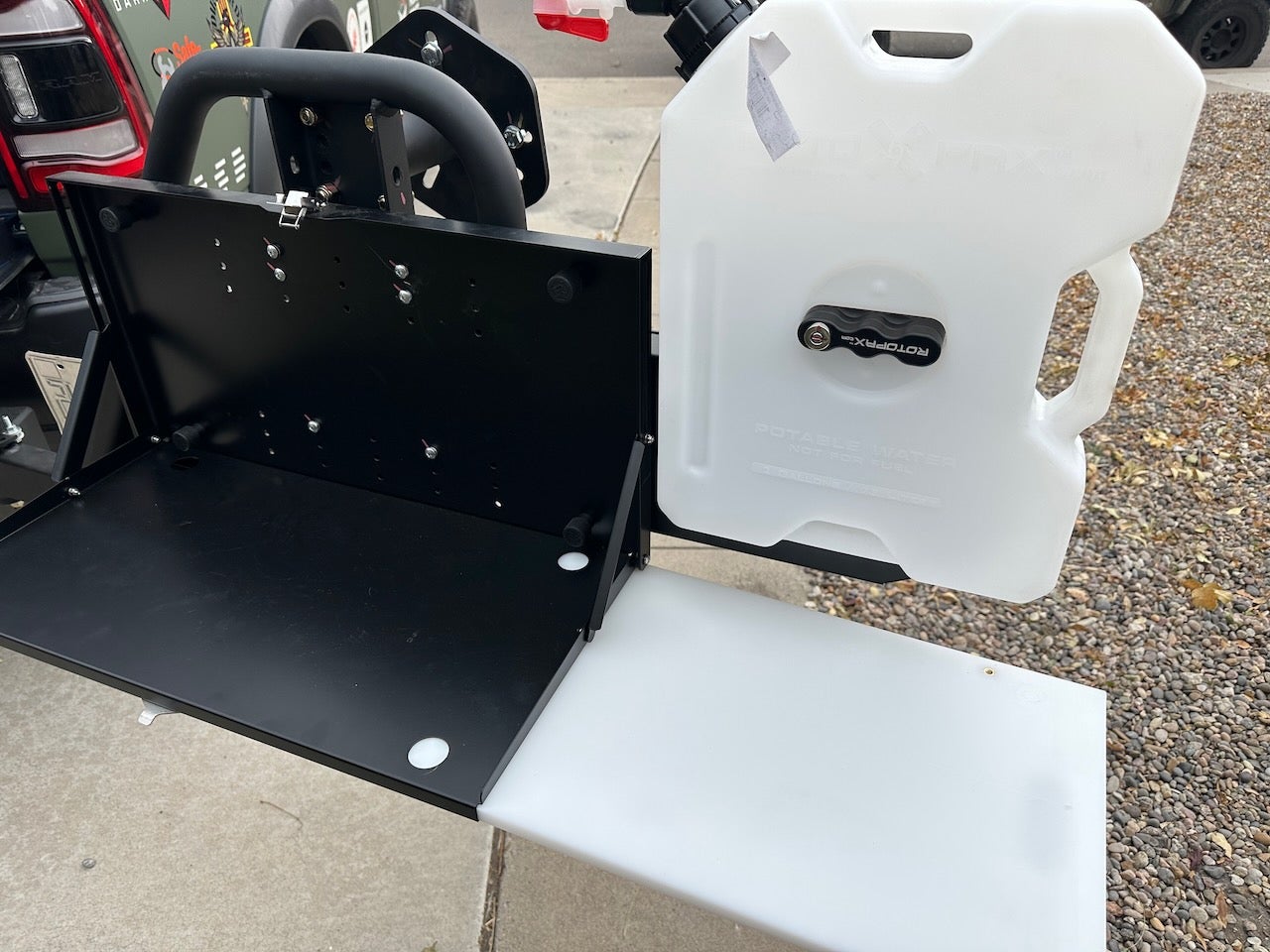 RigD Supply came up with a unique implementation using your hitch, the Ultraswing. Basically, the whole system locks into your receiver hitch. It also has some attachments like a table which is great for a two-burner propane stove and a grid panel where you can attach nearly anything.
Mountain Hatch
I had a Mountain Hatch on my Tacoma, a game changer for meal prepping at camp. I don't always take my trailer, and having a nice large kitchen area is key. Along with the RigD table, I have a perfect kitchen area to prepare meals.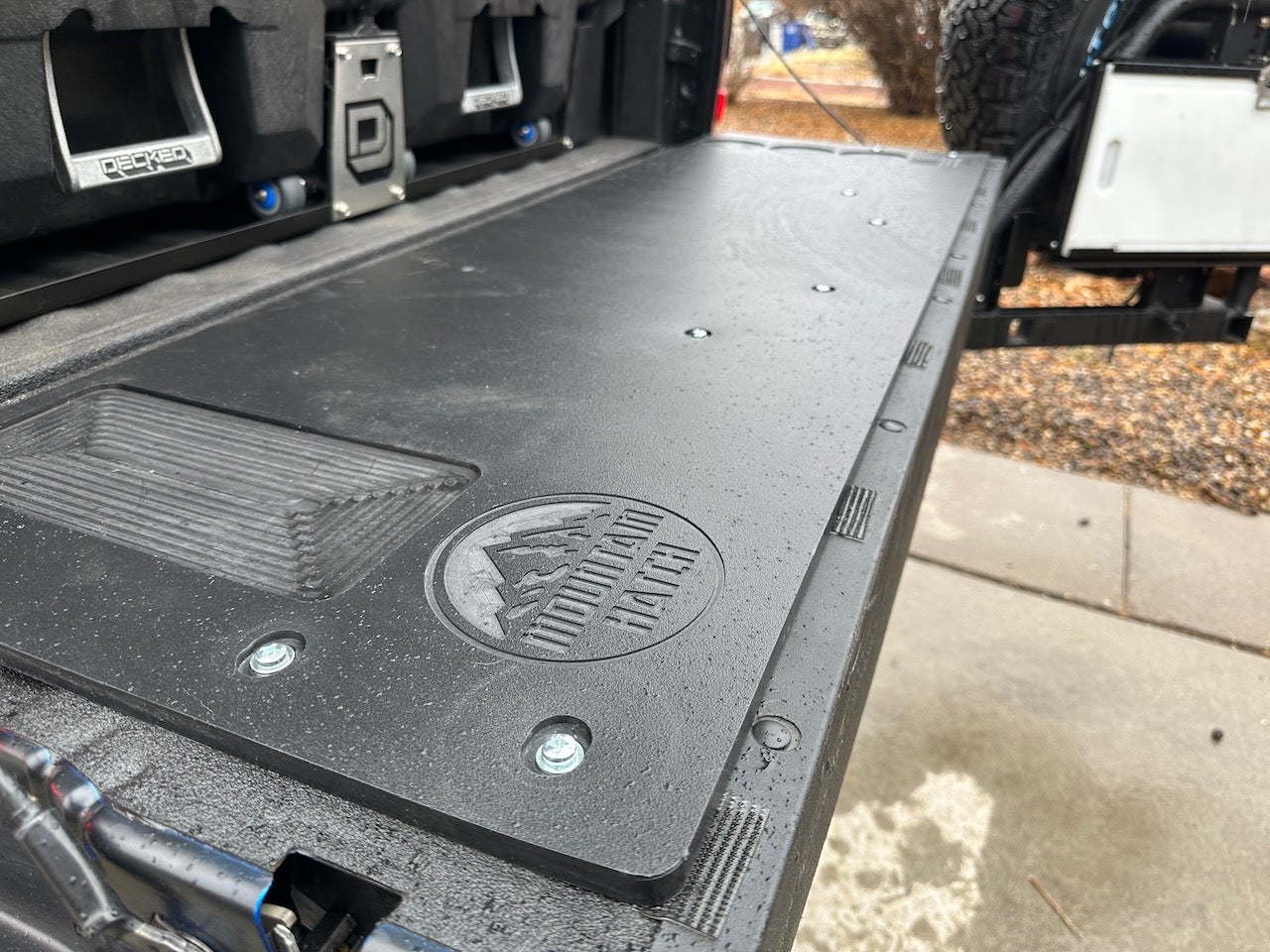 Basically, it is a giant food-grade cutting board that bolts to the inside of your tailgate. It is easy to clean and creates a nice large flat surface to work on.
Bulletpoint Mounting
RAM realized that people would add mounts to their vehicles and provide a convenient place that does not require drilling. Bulletpoint Mounting capitalized on this and provided a solid solution for using ball mount-type systems to attach your stuff.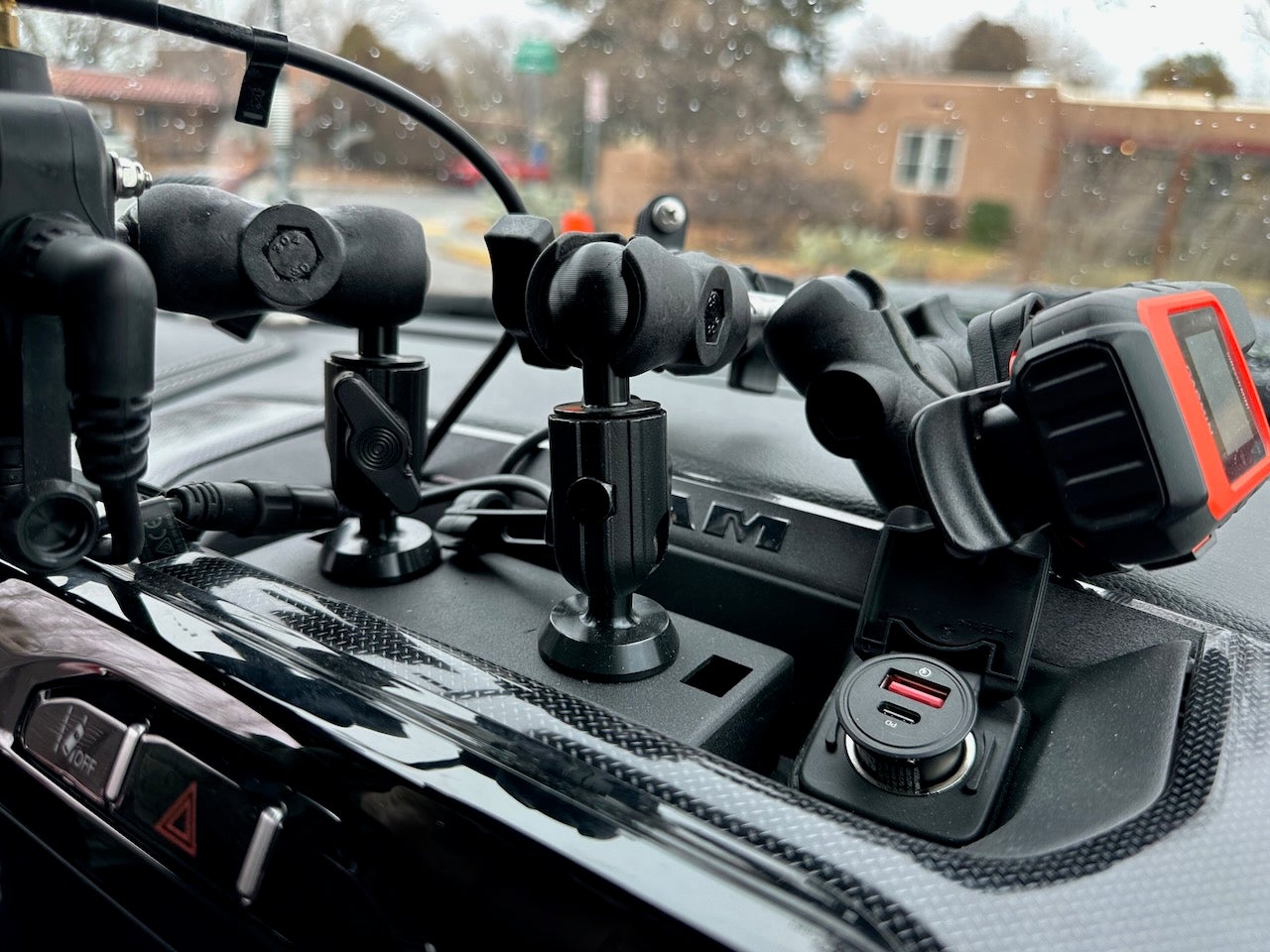 I currently have my Garmin Tread and InReach mounted with an open slot for a GoPro.
ProClip Phone Mount
Let's be honest. We should not be on our phones while driving–distracted driving is a problem. But we do use them for navigation and other legit uses. You do not want to have to manage a phone in your hand while driving, though, so having a secure mount is critical.
ProClip has a simple mount system that uses seams in your vehicle to attach holders securely. In the Tacoma, I had way too many RAM mounts for things. This keeps my Bulletpoint mount simpler and my dash less cluttered.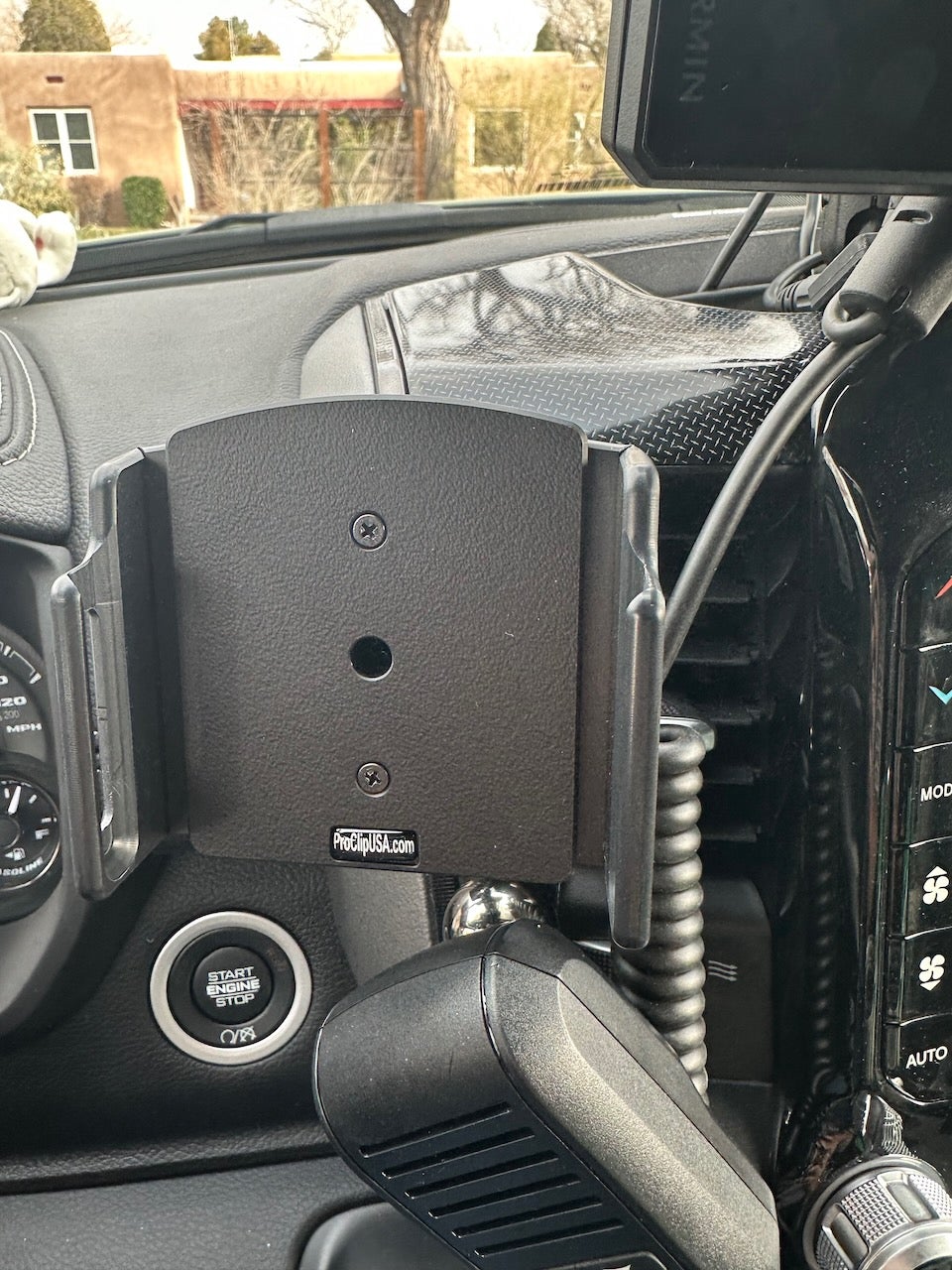 Escort Redline
Not that I am some lead-footed speeder, but I do like having advance warnings of revenue-generating locations since I drive 35,000+ miles yearly. I had been running an old venerable radar detector over 25 years old. It was time for an upgrade, so I went with the Escort Redline 360c on the recommendation of Lance from Hammer Performance. As a bonus, it integrates with a dash camera using the same power source and attaching to the body of the radar detector.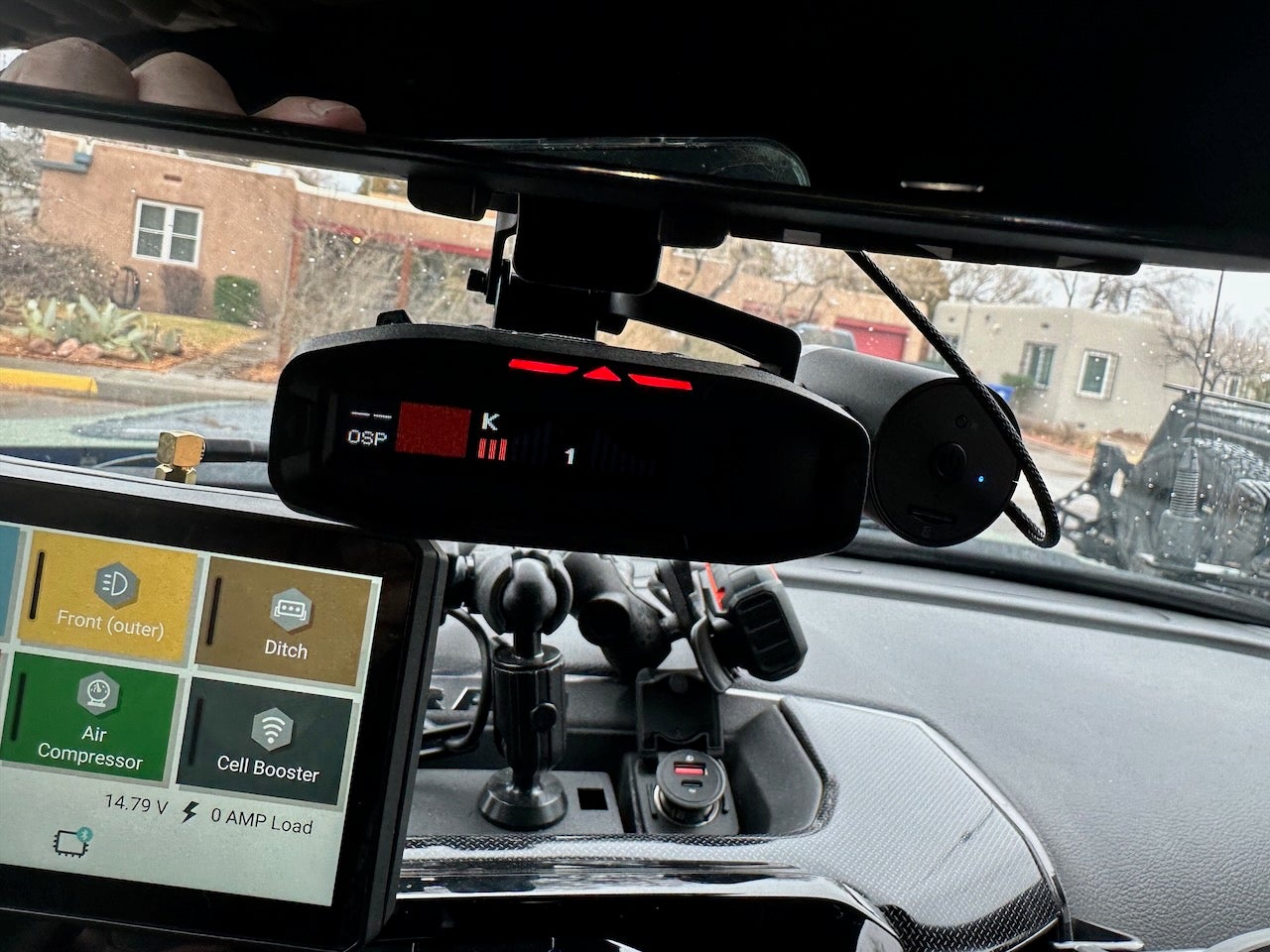 Since some janky states in our Union deem passive electromagnetic detection devices illegal because they may interfere with revenue generation, I wanted a unit I could easily remove. The Redline uses a super strong magnet mount and is hung from the rearview mirror using a BlendMount.
Magnetic Hooks
Since I finally have a steel cap for the rear of the truck, I can use some simple magnetic hooks for the back of the truck. I used Command Hooks in the Tacoma, but they are not designed for a lot of heat, and I was replacing them every season.
I use these hooks for a ton of things. An anchor to attach a clothesline. A place to hang dishtowels and soft wash buckets. Hooks for mugs when at camp. Utensils when cooking. Whatever. Tons of uses.
Final thoughts…
This build has a ton of components. I want to note that you really don't need most of this stuff to enjoy self-sustained "car camping," which is all Overlanding really is–don't let all of the Instafamous people tell you otherwise. We have been doing this for decades–long before we could buy expensive bougie components from Australia and South Africa. Don't get me wrong, some of this stuff is super cool and increases comfort while away from home.
Just don't forget the point is to get AWAY from home and enjoy some of the world's amazing places. In the US, you could spend a lifetime of travel just enjoying the National Parks and Monuments.
All this gear lets you camp in some rowdier places and stay out longer without having to resupply. Even then, I have stayed in beautiful areas on some public land on the bank of the Snake River that was accessible to….gasp….passenger cars.
Off-Road and Overlanding is sponsored by
To subscribe, visit: https://subscribe.onxmaps.com/offroad/purchase/membership