AllOutdoor Long-Term Review: 10″ Corcoran Jump Boot
Travis Olander 01.25.23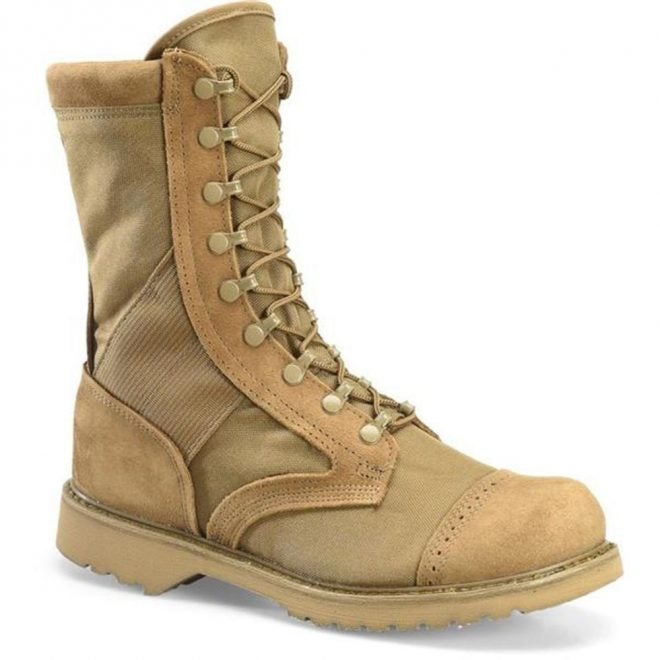 The Jump Boot was made famous in WWII by U.S. Paratroopers. It was a strong, reliable, but agile boot, made to mitigate twisted ankles and broken bones on hard landings. After all, the average Paratrooper, when fully loaded with combat equipment, had to tote at least an extra 90 pounds. The Corcoran Jump Boot was eventually replaced by the M43 Combat boot in 1945, to much opposition by the 82nd and after airborne units. But its popularity, simple and effective design, and high shaft compelled Corcoran to continue production.
Of course, this boot – which I wore in uniform through so many rain and snowstorms, swamps, and air assault jumps – is not the "OG" design. It's modernized with better stitching and ditches the original smooth grain, polished leather for tan suede.
Footwear Coverage on AllOutdoor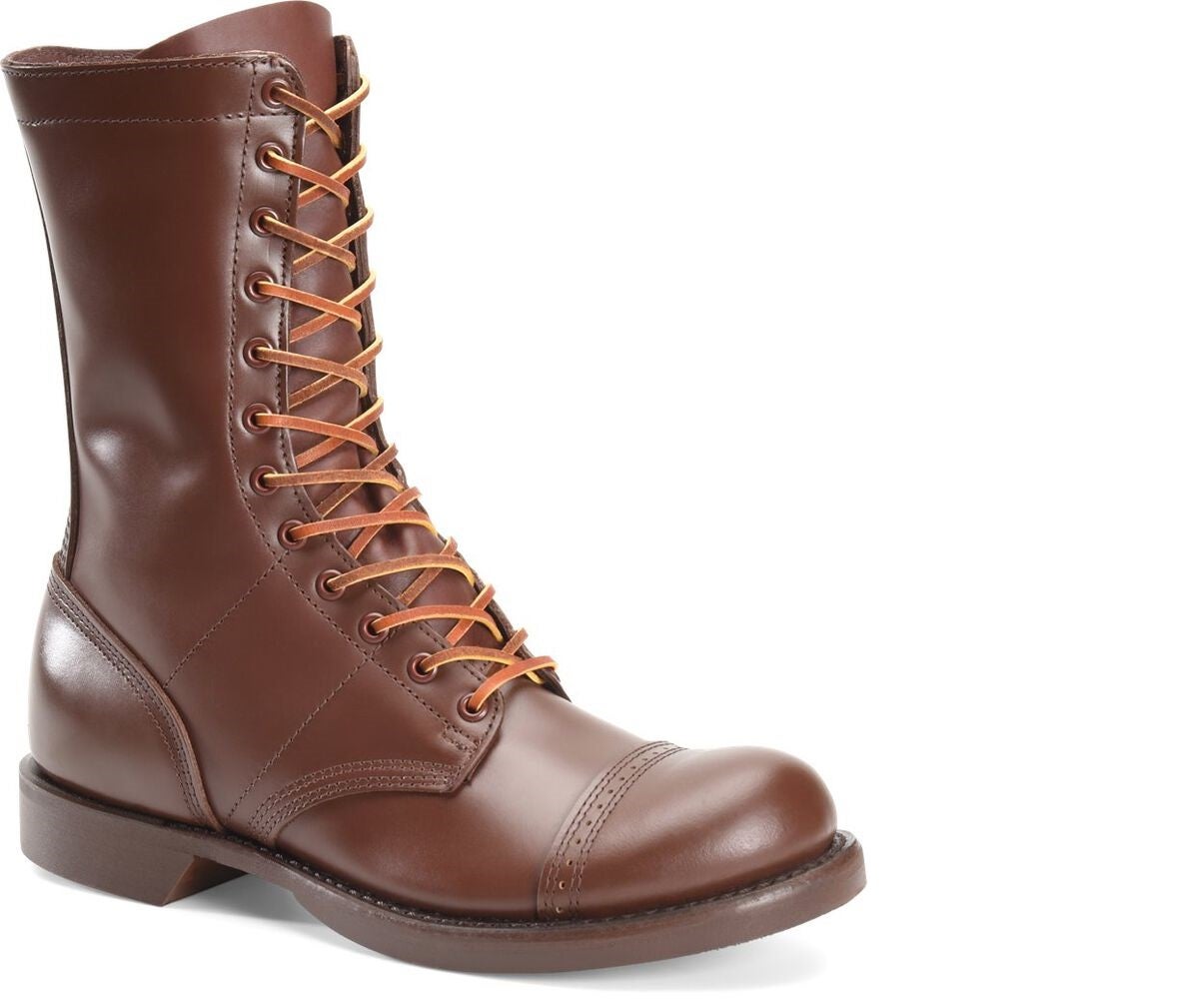 "Marauder" Corcoran Jump Boot – Specs
Rough-Out Leather
Polyurethane Insert
Polyurethane Outsole
Non-Metallic Shank
Welt Construction
Steel Shank Above Outsole
Cordura Fabric Reinforcements
Memory Foam Foot Liner
Berry Amendment-Compliant (100% US-made)
AR 670-1-Complient (Active Duty Wear)
MSRP: $225.99
Corcoran Jump Boot In-Depth Review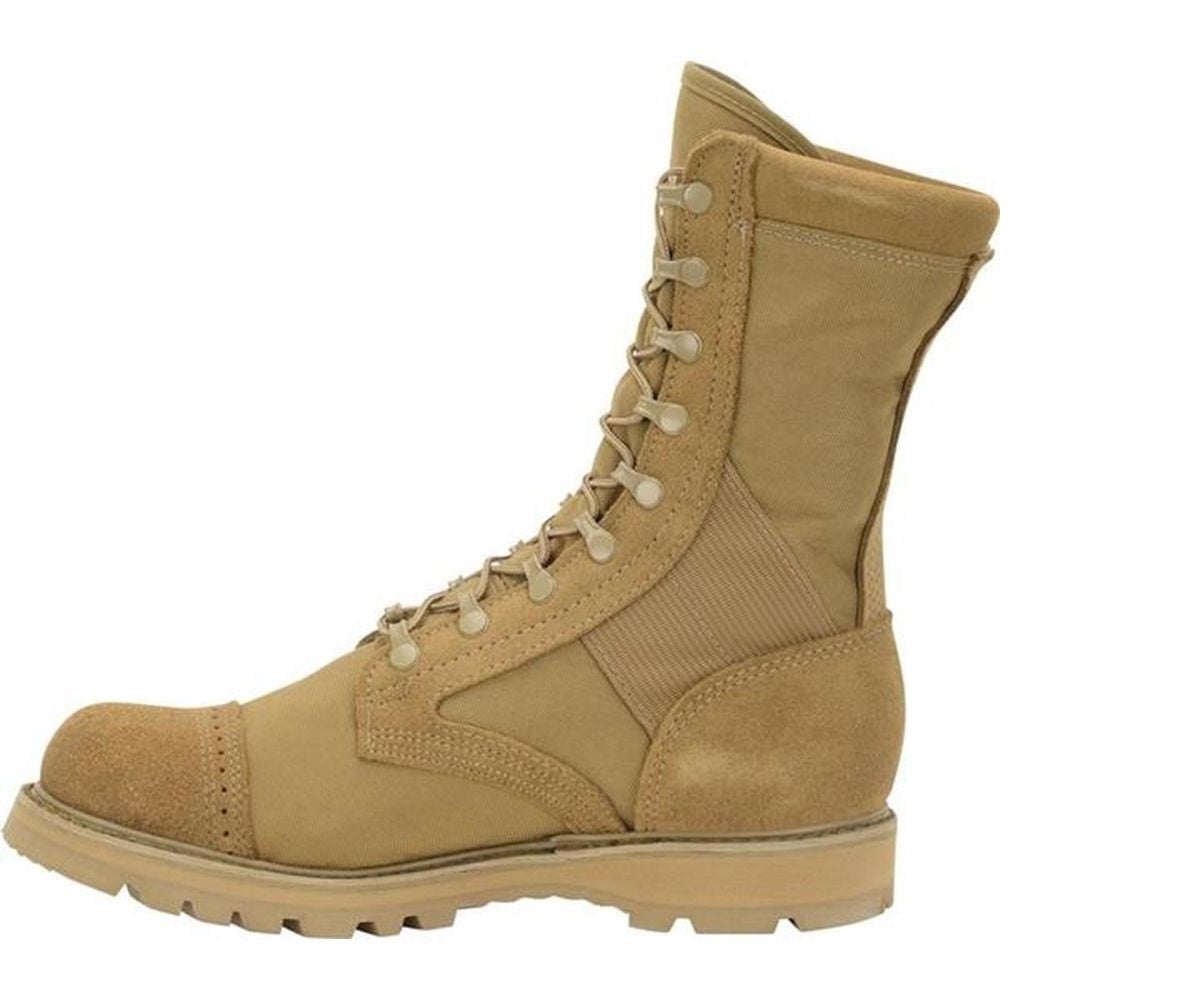 TL;DR: The Corcoran stays true (mostly) to its original design. A 10″ shaft, Munson profile, Goodyear welt, and nailed sole with steel shank provide plenty of ankle support, puncture protection, and good water and oil resistance. Comfort is left to be desired (unless you spring for the more expensive option, with the DryZ insole) but with an orthopedic insert, the Corcorans look old-school and feel great.
The look n' feel of the Jump Boot is largely "old-school," even in its current iteration. It retains the original Army Munson boot's shape, with a forgiving toe box. The box is double-layered leather with four rows of stitching wrapped around the main shell. Although it's not a steel-toe, the box provides decent protection against crushing.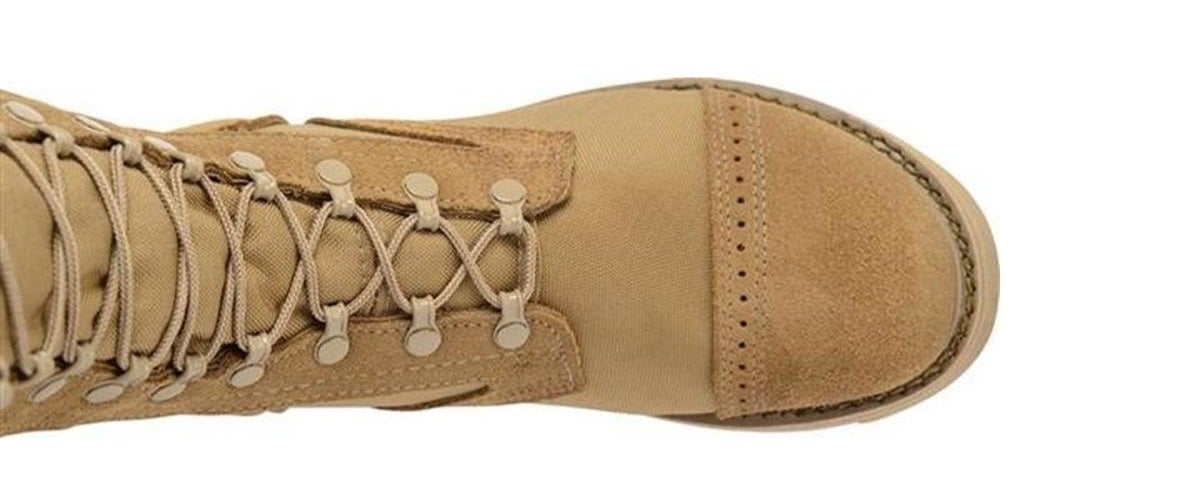 The box is wide enough for my fellow flat- and club-footed folks, with enough width for thick socks and insulating layers in the cold. Everything about the Corcoran's shell and construction is made for daily wear: All the rough-hide leather sports at least two layers of stitching (though mostly 3 to 4 rows) and in the ~6 years I wore mine, I've never had any seams come loose.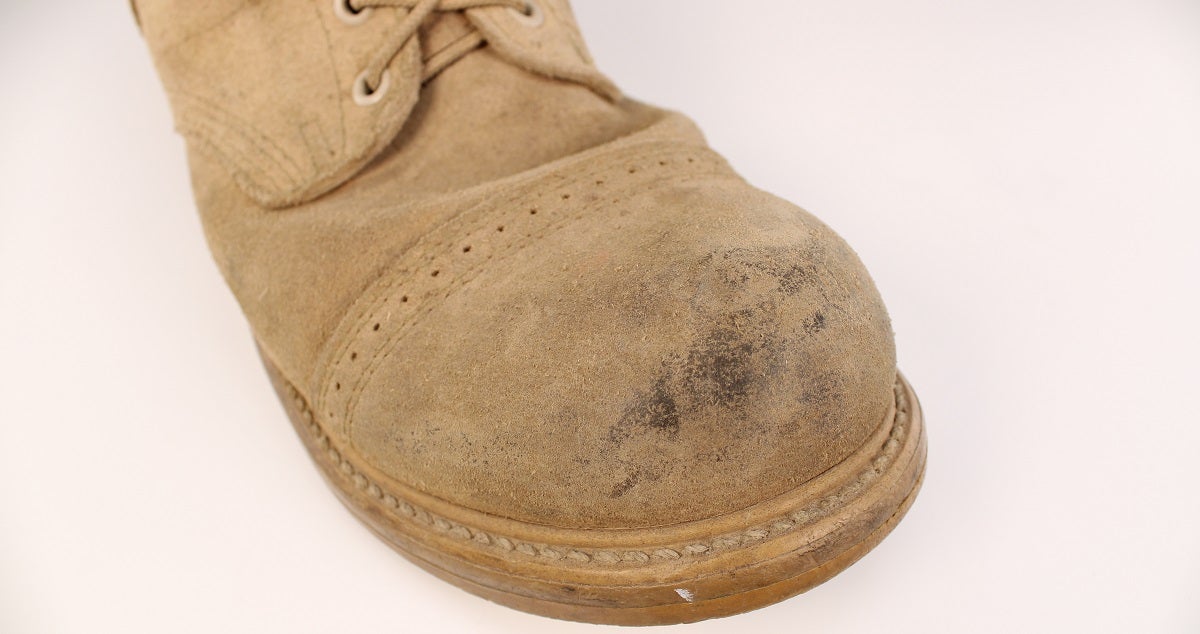 The toe boxes on my Corcorans have held up quite well over the years, even after having plenty of blunt strikes and wet, hot, and cold cycles — plus plenty of gear oil and impacts on vehicle hulls and the like.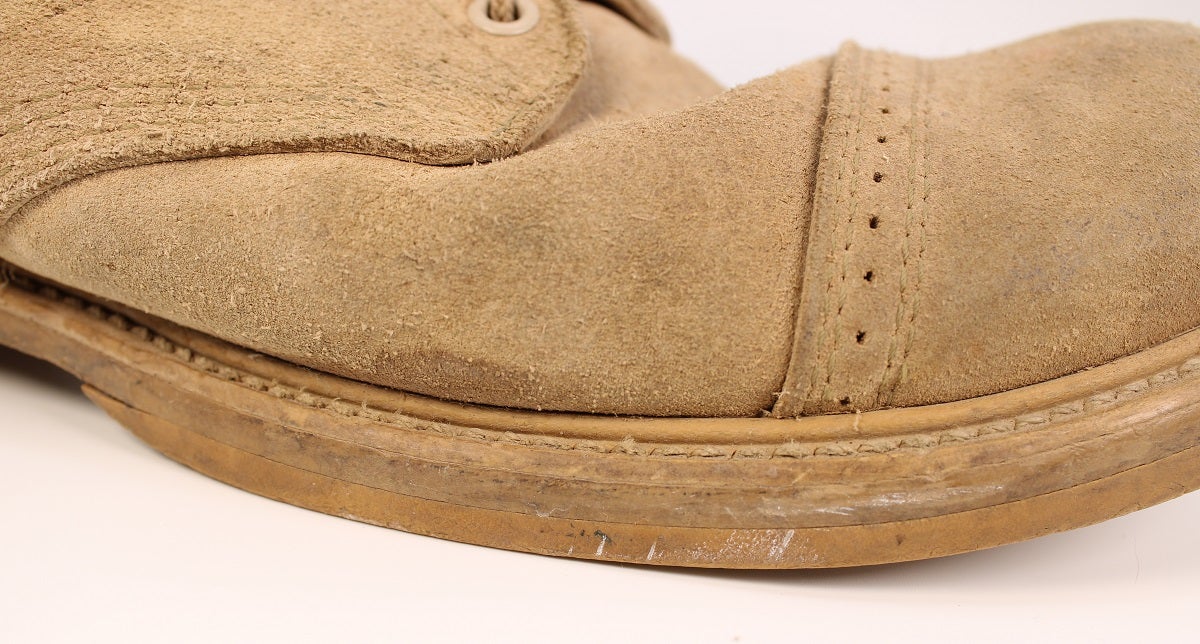 The Goodyear welt is proper rubber, with thick canvas stitching and adhesive for extra bonding and water resistance. My pair's suffered no separation from the leather shell and sole, and the welt has done a great job keeping water and oil from penetrating the inner liner.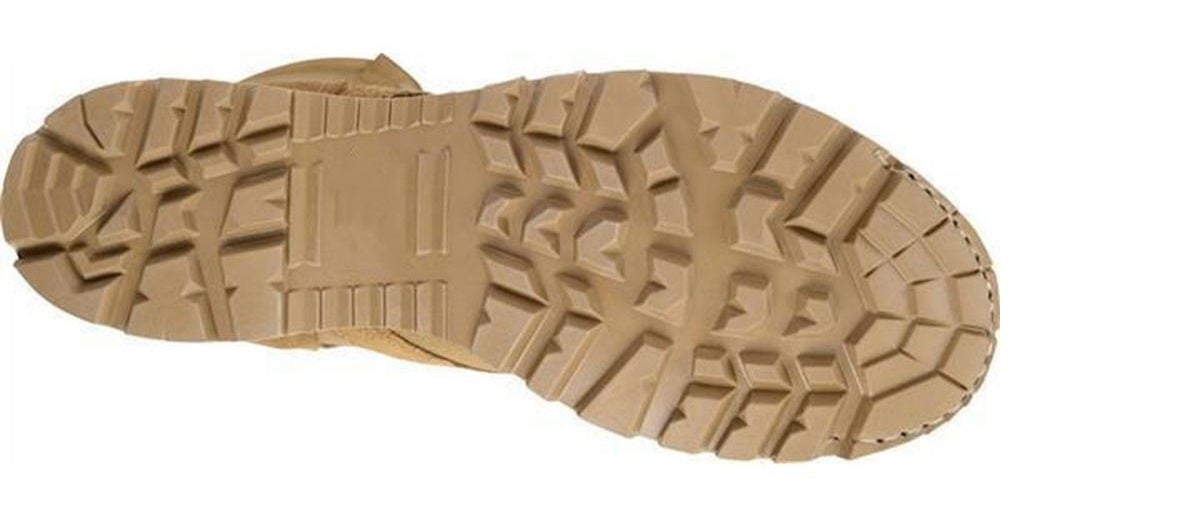 New iterations of the Jump Boot provide a relatively modern rubber, slip-resistant tread with deep lugs. My "OG" Corcorans stayed closer to the original design, sporting brass tacking and stitching with a split front and rear tread.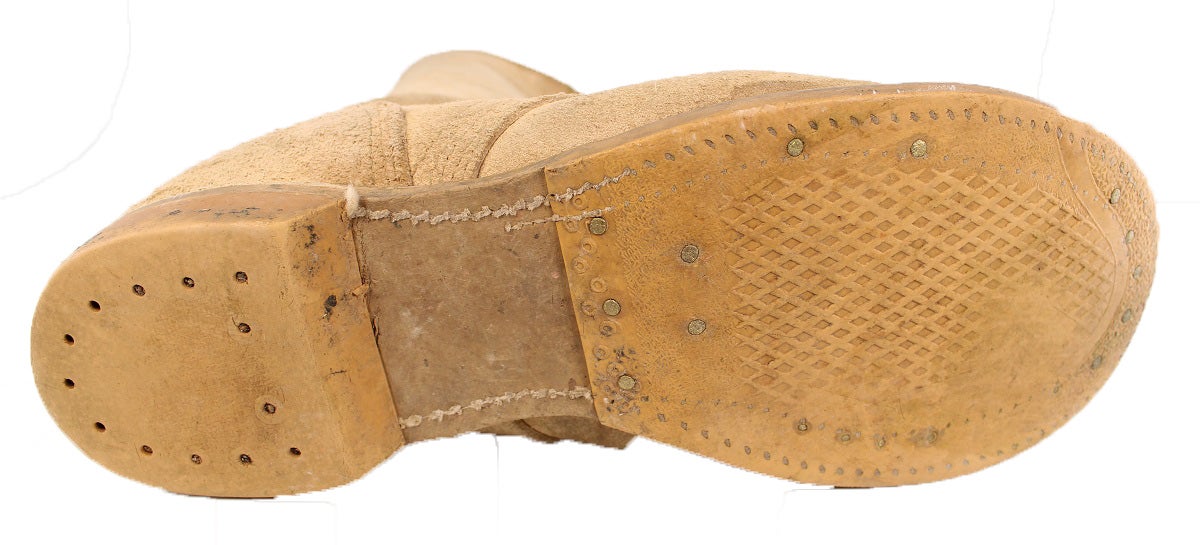 Normally I prefer originality, but in this case, the updated rubber tread is a massive improvement over the 81-year-old design. Of course, the heel and toes provided a nice tap, but there really was no advantage to keeping the Corcoran's original tread. It gripped well enough for me, but it struggled occasionally with oil. The real star of the show, though, is what you can't see: The Corcoran's interior reinforcement and the gusseted tongue provide the best stability and waterproofing I've found on a traditional military boot.
The gusset runs nearly the full length of the shaft and eyelets, providing a sealed interior up to the last 2″ of the boot. Even without chemical waterproofing, the Corcorans have kept my feet dry during hours' and days' worth of rain and snow. The rough hide is naturally water repellent and I've never had issues over time with soaking.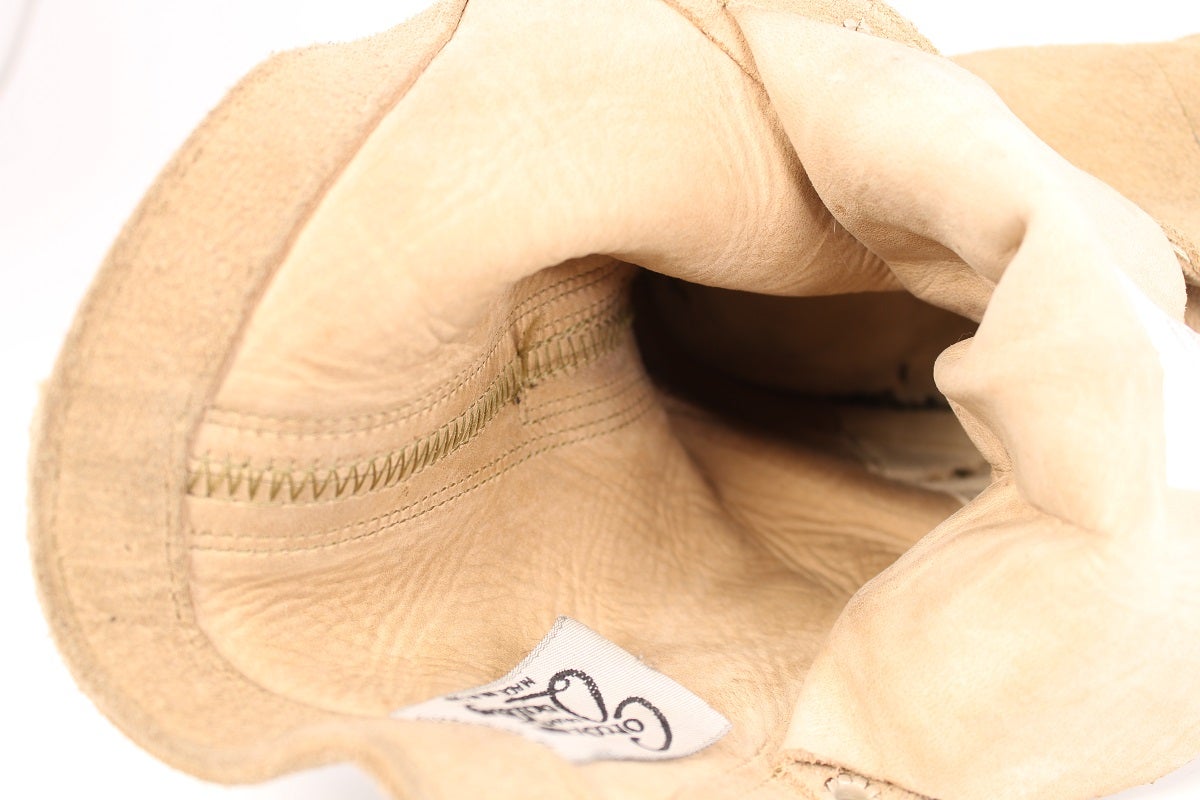 The double-layered shaft terminates with smooth-grain leather inside. The rear of the shaft sports a thick reinforcement of leather (or more Cordura, on other Jump Boot models) which further prevents ankle rolls and provide some extra stability.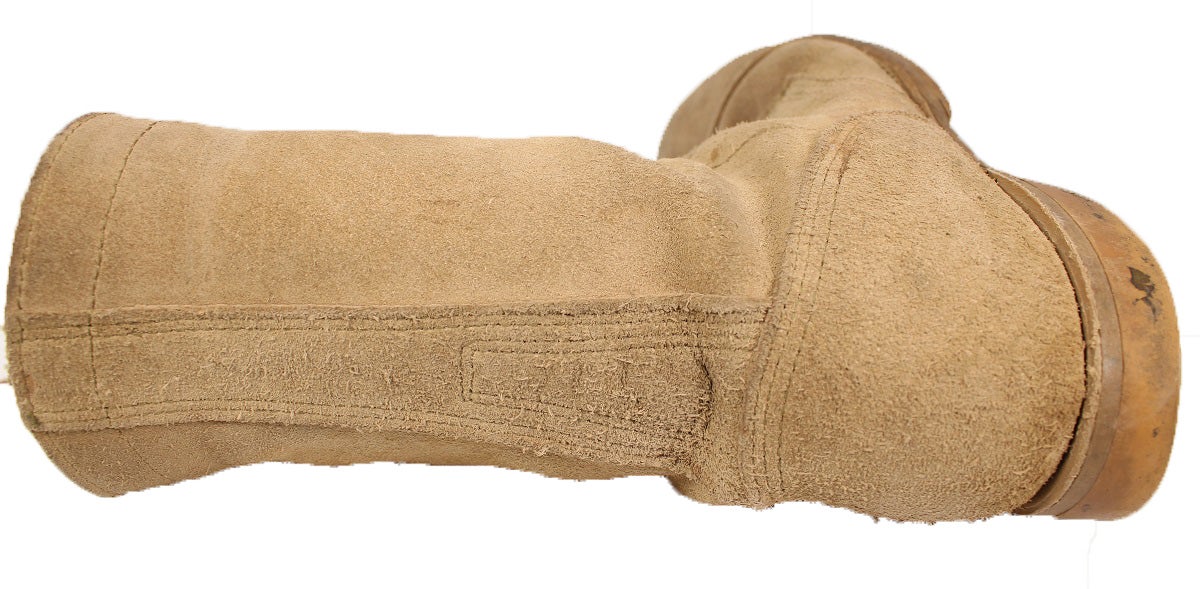 Again, newer models swap some of the rough-hide leather for Cordura. But the end result – durability, flexibility – is the same. The smooth-grain inside is comfortable and prevents chaffing and dirt build-up.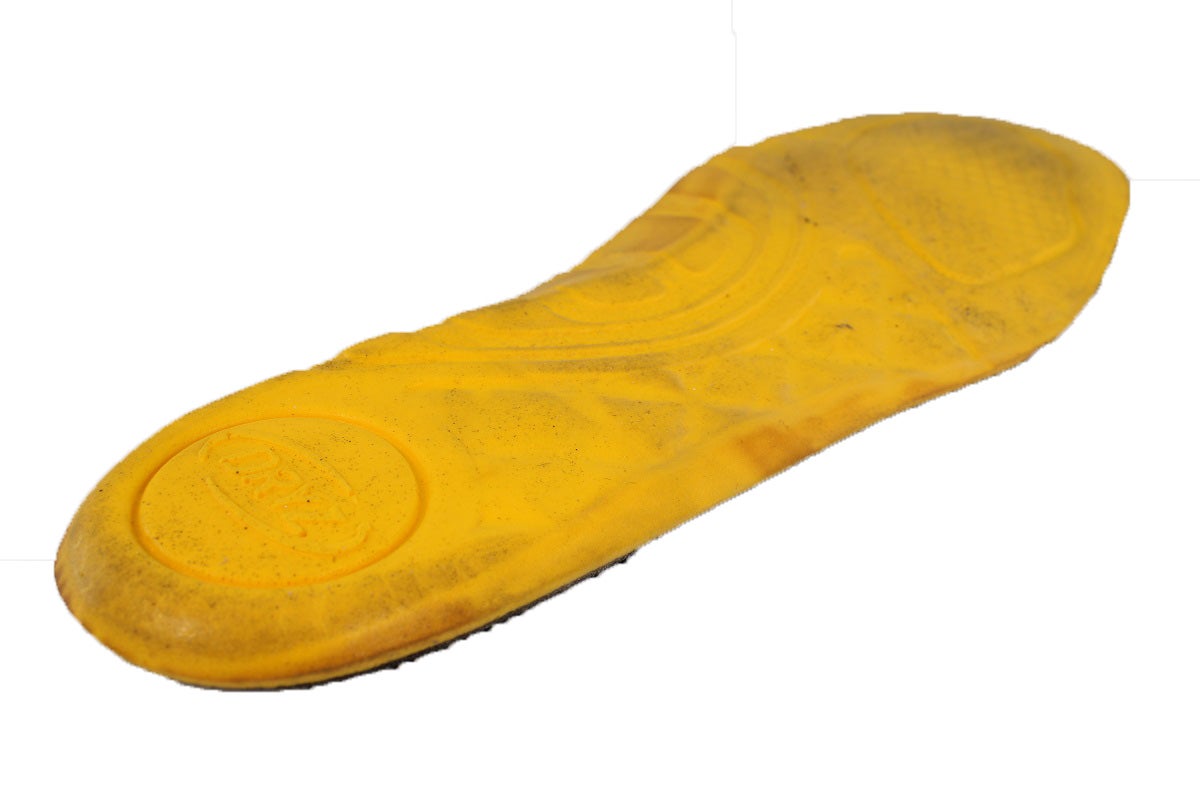 Although this might look like a slightly gross, simple, unattractive insole, it's actually quite a piece of work. The DryZ liner in the Corcoran Jump Boot has held up miraculously to serious abuse, sweat, and heat. It hasn't lost its cushion after being subjected to way too much weight and too many consecutive days of 24/7 wear. It's managed to avoid any mold and mildew, and has generally provided great support — even when wearing a modern load of "battle rattle."
Why These Simple Boots?
So, why review these admittedly simple-looking, perhaps even a bit ugly, boots? Because having been an FO (Forward Observer) for eight years, I rucked enough mile, climbed enough mountains, and trudged through enough cold, wet, hot, sticky, muddy, and plainly brutal stuff to just about ruin any pair of foot coverings – except these.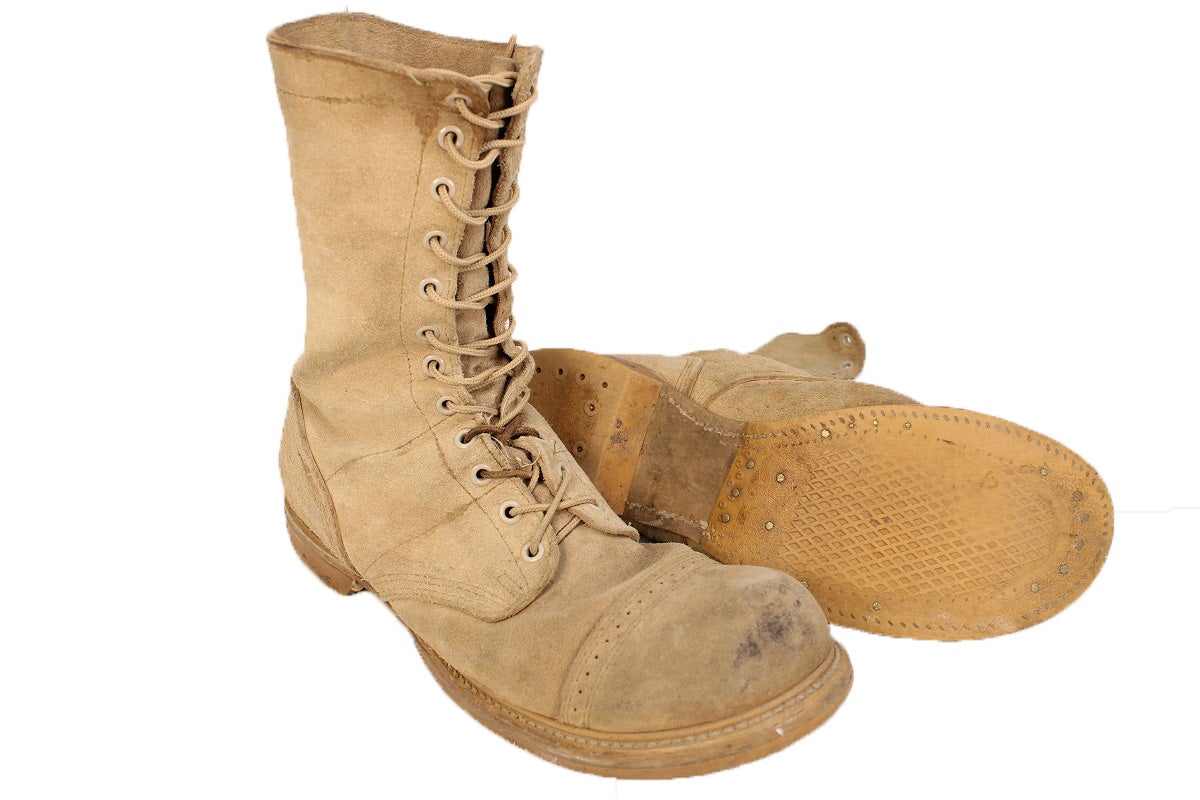 This is my pair, after all those years. Sure, they have a few stains and the soles are a little worn. But that's after a Hellish test of endurance. The leather looks nearly as good as it did when I first purchased them at my local PX. These boots prevented more rolled ankles and broken bones than I care to count. They never failed in the wet, and kept my feet dry through every spell of rain and snow.
And perhaps best of all, they stick daringly close to a design that's nearly a century old. That design was good enough for Paratroops dropping into German-occupied Europe, and that same level of reliability remains in these boots. I have yet to find another pair of boots that are as comfortable, waterproof, and surprisingly agile.
Plus, they're Berry Amendment-compliant. That means the Corcoran Jump boots (and its variants) are 100% manufactured in the U.S. and made to be supplied to active duty, to this day, still, via DoD funding. That's not necessarily important for the end user, but it's  sign of their continued quality.